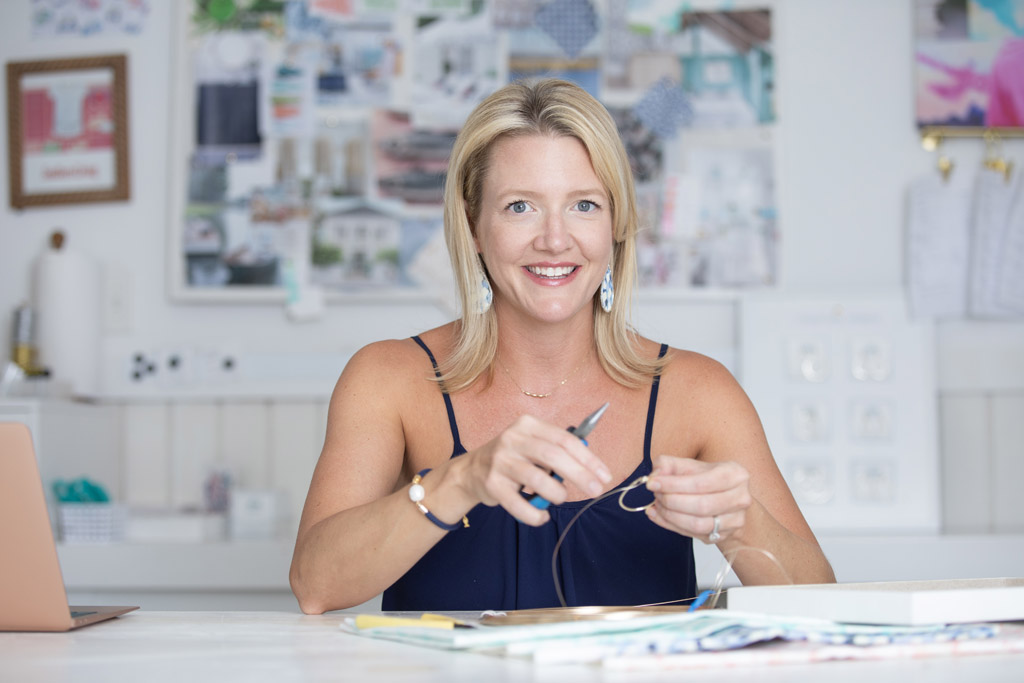 Local jewelry designer Lissy Rawl catches her balance in business
On a hot summer day in July, Lissy Rawl gleefully bounds into the little fish BOATEAK's home studio—a small space on Hilton Head Island's north end, packed with signature handcrafted inventory, as well as a smattering of fabrics, found objects, and sketches. The studio is light and bright, with four sliders offering breathtaking views of the Intracoastal Waterway and its transient sailboats: two things that seem to have permeated and inspired countless BOATEAK jewelry collections.
Rawl recently returned to Hilton Head after a quick visit to her home state, enjoying family time splashing on the shores of Lake Michigan, and is ready to roll up her sleeves and get to work.
"Pardon the mess," she said, smiling warmly. "I'm swamped, so no judgments!" 
It's a comical comment, as the "mess" to which she's referring is artfully contained in a way that would make The Home Edit girls—Netflix and Instagram darlings of organization—nod with approval. Rawl's background as an interior designer and keen eye for beauty is evident throughout the space, and one quick glance at the concept boards on her development table, set in front of the sliders so she can take in water views while dreaming up her next collection, shows how intentional she is in everything she does, from design and development to the branding and marketing of her boutique business.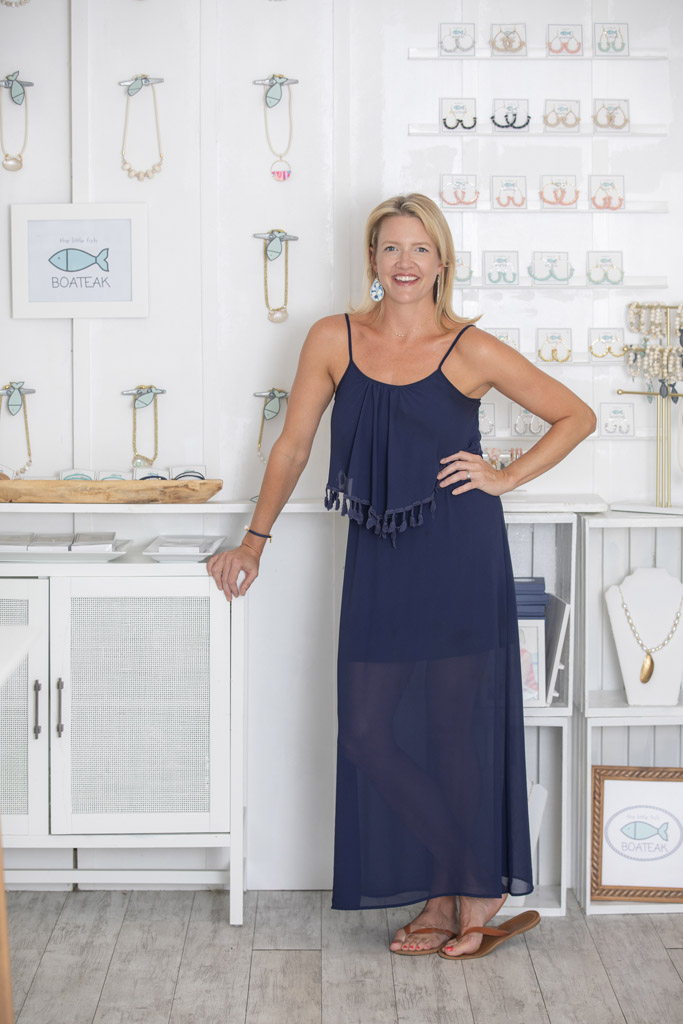 You  can find Little Fish Boateak jewelry in a multitude of Lowcountry shops. 
Of course, that wasn't always the case. Rawl's business originally started as a hobby, handcrafting pieces for friends and family or occasionally selling small batches to local retailers. However, in 2014, with a loving push from her husband, Bill, she made the decision to dive in and pursue the business full-time.
"Bill gave me the confidence and support to truly go after this. I had a craft room full of fabric sample books. Flipping through them sparked the idea of utilizing the principles of interior design—starting with a base and then layering colors and textures—to jewelry collections. Bill was the one who encouraged me to put my dreams into action," Rawl said.
With $500 and the steady support of her family, she converted their one-car garage into the original BOATEAK studio and, she adds with a laugh, "a borderline daycare."
The name little fish BOATEAK was created in part to recognize her own two little fish, Woodley and Willa, as well as a fun play on words highlighting the boutique's connection to natural textures and the nautical. Rawl spent her early days immersed in YouTube videos, teaching herself how to bend wire and shape metal while her youngest daughter played on a water sensory table or with the hose.
"It was chaos sometimes, but I wouldn't change it for anything," she said. "I love being with my girls, and knowing I was setting a positive example as an entrepreneur and a mother was incredibly rewarding."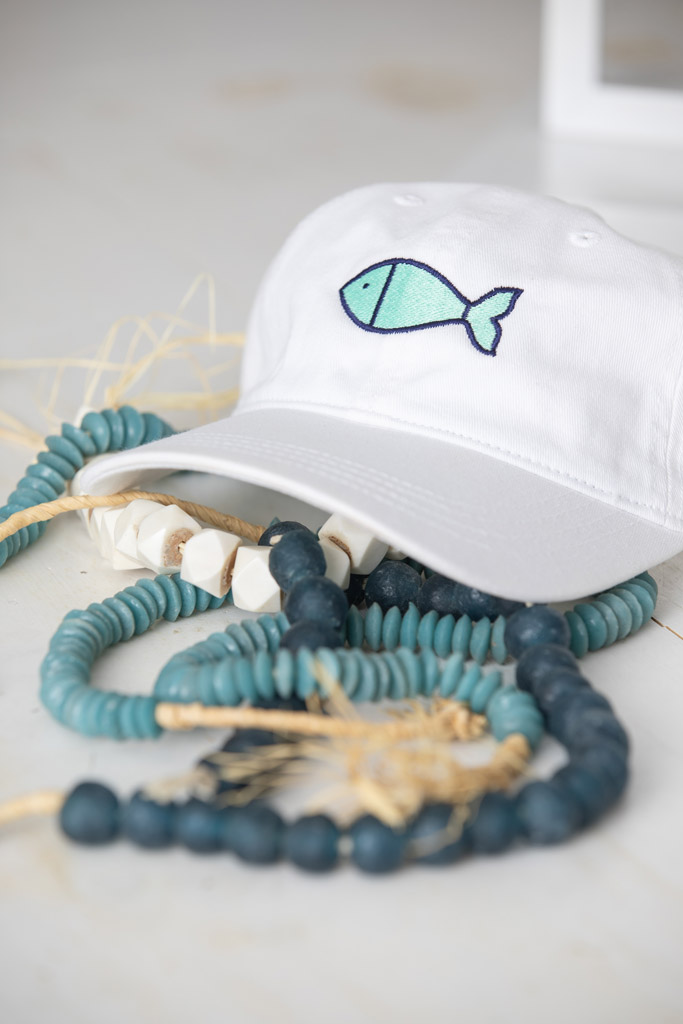 While Rawl felt confident in the creative aspects of her new business, she knew she needed help with the logistics of running a company and contacted the local SCORE chapter to partner with a mentor. As luck would have it, she ended up with two—Joe Eisenberg and Frank Lipari—who offered instrumental insights on managing cash flow, packaging, and marketing, as well as helping her develop a formal business plan.
"I'm blessed with mentors who essentially became my board, meeting quarterly to go over my successes, noting where we could do better, and helping set future goals," Rawl said. "Entrepreneurs have to do everything themselves including Instagram, marketing, and production, so having a team behind you on the business side is invaluable, especially ones as amazing as Frank and Joe, who have basically become family."
As Rawl continued to grow her business online and in stores, her hard work caught the eye of a Southern Living editor, and the little fish BOATEAK's Prepster Signature Pearl Necklace wound up being featured in the definitive Southern lifestyle publication's 2017 Gift Guide.
"Being featured in Southern Living was a huge moment that really expanded my following and client base" Rawl said. "All of a sudden, I had national recognition, with retailers in different states reaching out, wanting to carry the line. It was an incredibly exciting time."
After the Southern Living feature, the little fish BOATEAK practically grew overnight, with Rawl spending 14-hour days in the studio—something that wasn't sustainable with two small children. 
"My dad came onboard to help with hammering out the metal shapes, and I hired an assistant," she said. "We still needed help filling orders though, so once a month, I'd have six local makers come to my house to make jewelry around my kitchen island."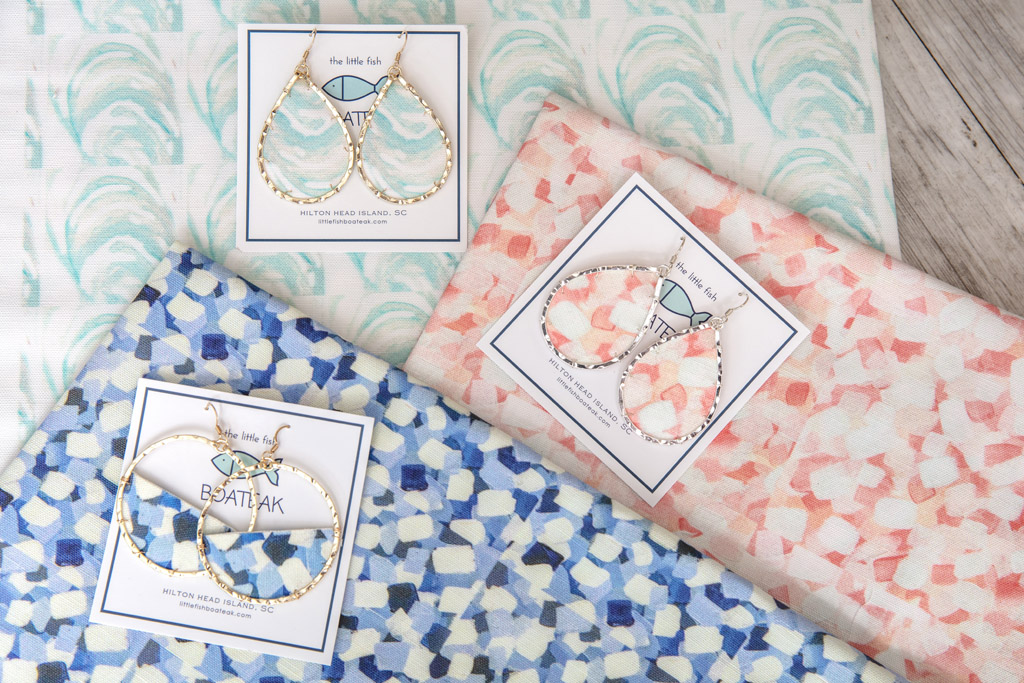 Rawl maintained this pace for years, but the hyper consumerism of COVID gave her the courage and confidence to scale back.
"It's hard balancing parenthood with business ownership. You're going through the motions because you're hungry for success, but over time—especially after COVID—I felt like the business' focus started to shift towards production instead of the creative," she said. "When you're a designer who's too busy to design, that's a problem."
With the continued support of her husband, Rawl made the decision to reduce her retail partnerships by half last year in an effort to return to her core values of offering original, beautifully handcrafted jewelry—something she feels is much more important than volume.
"I'm getting back to the creative," she said, contentment radiating from her as she described her process. "I'm inspired by so many things: fabrics and sailboats, the coast. Honestly, anything preppy and textured. Being outside in nature is so important; just the smell of jasmine can inspire a collection, or a piece of sea glass with a shell," she said. "Inspiration is everywhere if you look."
Drawing from her interior design training, Rawl relies heavily on concept boards to help organize her thoughts before she starts laying out different designs, and notes that even though many of her concepts fail, others work out brilliantly and have become anchors in BOATEAK's line.
While Rawl has scaled back jewelry production, she's remained true to her goal of increasing creativity as evidenced by her new fabric collection that was launched last spring.
"I experimented with painting on leather in 2018 and released a small capsule collection of painted fabrics in 2021. But I really wanted to dive in and explore the art of painting," she said. "I spent January [2023] in my studio working with acrylics on canvas and had the designs printed on linen cotton. It was incredibly fulfilling to design my own textiles to become part of the jewelry line. Hopefully, we can expand the painted patterns into candles, napkins, and other home accessories in the future."
At this, Rawl notes the importance of finding balance in business, expressing her desire to grow the little fish BOATEAK one day into a lifestyle brand that offers a mix of production-based and handcrafted goods, while still allowing her to prioritize her commitments to her friends and family.
In some regards, it's almost as if the BOATEAK has come full circle, with Willa and Woodley showing enthusiasm to follow in their talented mother's footsteps. Next spring, the little fish BOATEAK will be launching the "littlest fish," two collections inspired by and collaborated on with her beloved girls. 
"My older daughter will be doing more of a teenage line while my youngest will do a children's collection," Rawl said. "I'm teaching them the steps of building a business. It's fun seeing them eager to be part of something I started in our garage when they were little."  
Learn more about little fish BOATEAK at littlefishboateak.com.