There is an old proverb that says when a door closes, a window opens. It is one uniquely suited as an introduction to Teresa Knoll, interior design consultant with Carolina Window Designs.
When her husband Dennis retired, Knoll realized that while she was ready to pick up stakes in blustery Chicago and head south to sunnier climes, she was in no way ready for retirement.
"I had my own drapery workroom in Chicago, and had my own business doing sales, design and installation of window treatments for more than 20 years," she said. "I love what I do."
And what she does borders on the magic. Working with a client, she interprets their concept of their home, divining the details of what colors, fabrics and materials can come together to create a fabulous window treatment.
"If they have a vision, I will make it happen," she said. "And if they do not know what they want, I give them options. The clients are the ones who will ultimately have to look at it every day, so they need to love their selections."
After making her way to Hilton Head Island, her self-described "happy place" for 12 years of vacations, Knoll was excited to see how her decades designing artistic window treatments would translate to the South.
"Chicago is very cold and can be gloomy, I was typically doing heavier window treatments. Here you want to see the beauty, but you also must protect your furnishings and floors from the sun," she said. "People here tend to go more simple, neutral and lightweight to keep the view."
All she needed was a venue for following this new reinvigoration of her craft. She found it at Carolina Window Designs.
"This opportunity almost fell into my lap. It has worked great," she said. "They are growing so much—they have added me, an assistant designer, a new person at the front desk and another installer."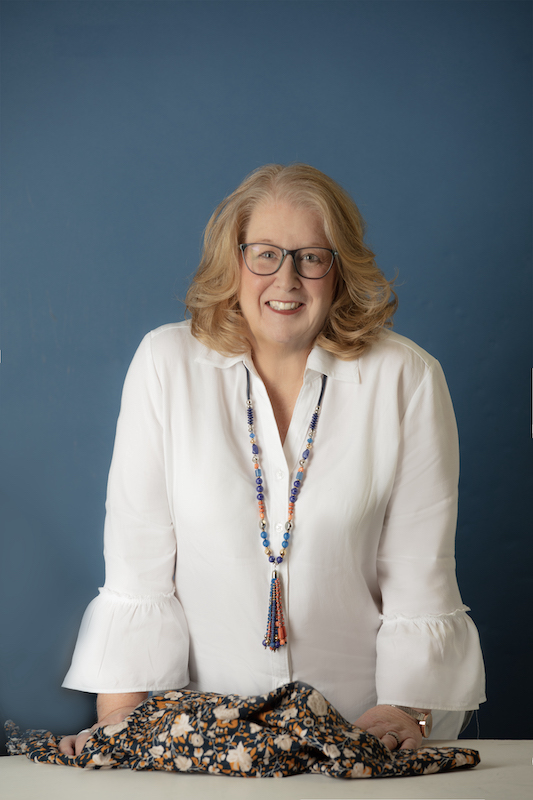 Adding Knoll not only brought her vast experience to a firm that has achieved massive fame locally for their stunning designs, but it also provided Carolina Window Designs with an entirely new offering. Since its inception, they have worked with some of the most celebrated architects, builders and designers in the area, creating window treatments, bedding and more that tied entire motifs together and added a brilliant finishing touch to homes. With Teresa coming on board, they are now working directly with homeowners.
"They had never done retail work directly with homeowners until they hired me, so I'm helping them branch out and grow the business," she said. "It was a real win-win."
Joining Carolina Window Designs, Teresa Knoll has hit the ground running—literally. Her work has taken her inside gorgeous homes from Sea Pines to Wexford to Palmetto Bluff and beyond. "I'm all over the place, and I enjoy all of it," she said.
You could not find a better situation. Not only does Carolina Window Designs get a chance to begin working directly with homeowners in addition to their celebrated work with professionals, but Knoll gets to fall in love with her calling all over again.
"I'm doing the same thing I've always done, I don't fabricate anymore, so now I get to just focus on the fun part: meeting clients and seeing their beautiful homes," she said, adding with a laugh, "And I don't have to work in a basement and brave the cold every time I go out."
This newest chapter has Teresa excited about each new client and all the styles and trends she now explores as she shifts from Midwestern gloom to coastal sunshine. From working panels on decorative hardware and roman shades that block harmful UV rays to plantation shutters and a vast array of shades, it is a new take on a career she has built for 30 years.
"Everything fell into place when we planned our move to Hilton Head. Dennis and I could not be happier here," Knoll said.
Homeowners of the Lowcountry, who now have a valuable new resource for making their home beautiful, would agree. Which makes this less of a "win-win" and more of a "win-win-win."
To learn more, visit carolinawindowdesigns.com.