Mr. Mean is, as his name implies, in a mood.
"What are you looking at?" he barks brusquely, his wild and wooly brow furrowed. It's the first thing he's spoken since being picked up by Bob Abdou just moments before.
"Mr. Mean, since you're a golfer, why should you bring two pairs of pants with you to the course?" Abdou asks, politely deferential to his temperamental co-star.
"Two pairs of pants? Why?"
"In case you get a hole in one," Abdou says, fully aware that he has just unloaded a groaner of a punchline on his puppet.
Mr. Mean seems less than amused, as he silently turns his head to the audience and somehow manages to furrow his brow even more. He may be a creature of plastic, fabric and felt, but in Abdou's hands, he comes to life with subtle irritation in his face and posture. Abdou might be the one telling the jokes, but Mr. Mean is by no means second banana.
"As a ventriloquist, I'm the straight man," Abdou said. "When the audience expects the obvious and you deliver the ridiculous, that's how God made us: to laugh."
He speaks with some authority on the matter as a touring comedian for the past 26 years. Across more than 7,000 shows, Abdou and his collection of 35 ventriloquist puppets and 75 marionettes have honed a variety of acts that have graced the stages of elementary schools and corporate conventions alike.
Divided between a spare bedroom in his funhouse of a Hilton Head Island townhome and a workshop in his garage, these puppets run the gamut. There are the working puppets, stowed in dry cleaning bags or suitcases around the upstairs room: Stinky, the sweet but sarcastic possum who wants to be, of all things, an elephant; Rufus Doofus, a cowboy whose entire act came to Abdou in a 20-minute flurry of joke writing; and Martha, the sheepdog whose antics leave Abdou exasperated and his audience in stitches.
Each puppet, like Mr. Mean, transforms into something completely different when Abdou picks it up. And it's in this blend of chemistry that Abdou can concoct a show that will kill for just about any audience.
"I can do shows for children, for comedy clubs … the only thing I won't do is funerals," he said. "Next week, I'm doing a show for Purim."
The Purim show, for a Jewish organization's Russian-themed get-together, provides the perfect avenue for Abdou to finally unleash a puppet based on Tevye from Fiddler on the Roof. As you can imagine, this deep roster allows Abdou to put on a number of different shows, but at the end of the day, it's the children that fuel his creativity.
"I never get in trouble when I do a clean show. When the children laugh, the adults laugh, too," he said.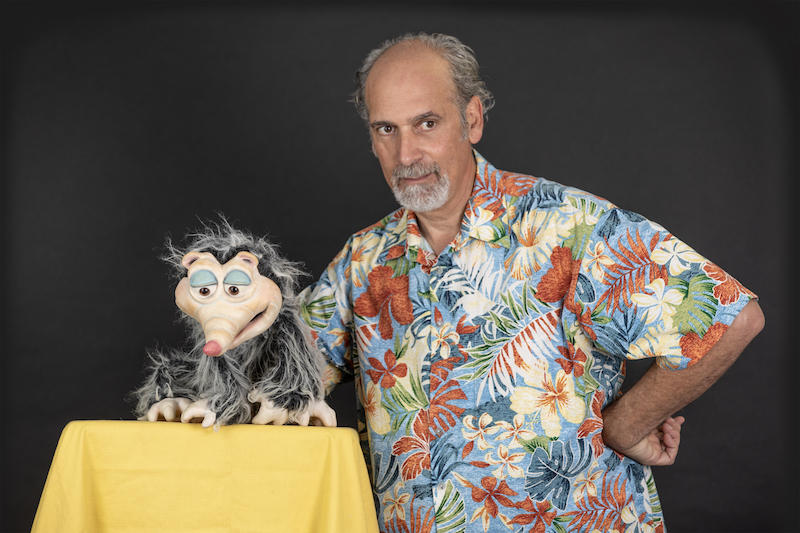 This is a true story.
Bob Abdou is used to speaking out both sides of his mouth; he's built his career on it. So, thankfully, when telling the wild story of how he came to be "Mr. Puppet," he'll punctuate his tales with one phrase repeatedly: "This is a true story."
It's a true story that he met legendary vaudevillian Soupy Sales after taking a chance on calling him for a magazine story when he was younger. It's a true story that the pair became dear friends, with Sales even attending Abdou's wedding. And it's a true story that the first thing Sales ever said to him was, "Agents are like Egyptian curses," and you know it's true because Abdou has had it engraved onto a wooden plaque on his wall.
It's a true story that he picked up puppetry to alleviate the stress of running his own successful printing business, putting in eight-day weeks in his early 30s. It's a true story that he eventually started volunteering at Atlanta's Center for Puppetry Arts, honing his act with free kids shows every Saturday for years.
In the late '90s, finding himself penned in by the business he'd built, he finally went into puppetry full time. "I was still bad, but I had nowhere to go but up," he said with a laugh. Diving into the artform, he soaked up everything he could learn about ventriloquism, the art of marionette puppetry, and the subtle science of writing a joke. "Over time, I became more polished. I've bombed so many times, I've learned how not to bomb."
It's a true story that the past few decades saw him become a beloved children's entertainer with a slew of appearances across the country. And it's also a true story that during his time in Atlanta, he was able to book a guest appearance on the legendary animated talk show Space Ghost: Coast to Coast.
"I got blasted by Space Ghost," Abdou said with a laugh. "Beat that, Carrot Top!"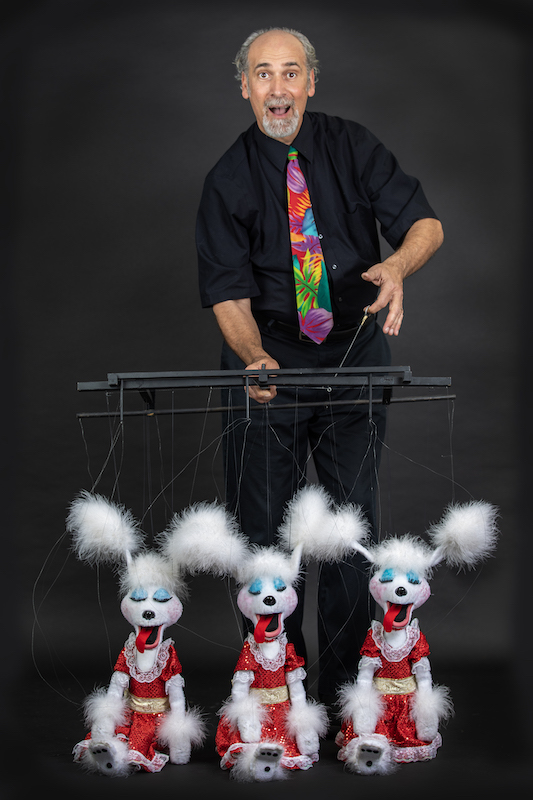 It may not be a true story that when he received his first puppet, Woody, as an adult, it was like a divine experience. But it's a good story.
"I opened the box, and light from heaven just beamed out and I heard angels singing. It was like seeing a newborn baby," he said. "I picked it up, worked it, and said, 'I love this.'"
The light from heaven? A slight embellishment. The love of his craft? That is a true story.
"I'm a terrible audience member. I get bored very easily," he said. "When I'm on stage, I visualize my mentors and myself sitting out there. If I don't bore myself, I know I have a good act."
His puppets would agree. Well, maybe not Mr. Mean.
You can see more of Bob Abdou's felt and fabric friends at mrpuppet.com.