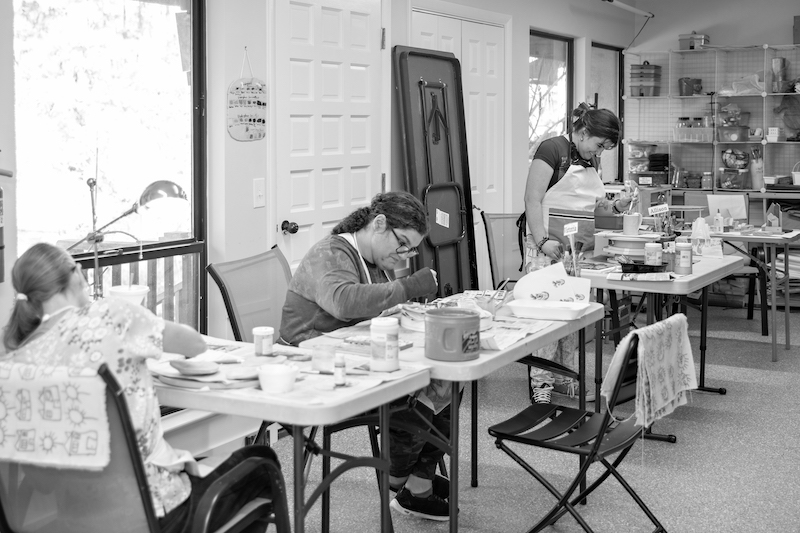 Cat McDermott, Victoria Bramson and Allison Good spend the afternoon painting.
The mention of the word "artist" typically conjures up ideas associated with a person's skill, creativity, and vision. Many famous artists are often labeled as "genius," a layer of exception that separates them from everyday people. And while many famous artists had great skill, they also had disabilities to work around.
Consider Michelangelo, the famous painter and sculptor. Due to gout and/or osteoarthritis, he had significant trouble using his hands and experienced both pain and limited function and mobility in his hands and feet. Mexican artist Frida Kahlo, who suffered from polio as a child, nearly died in a bus accident as a teenager. She incurred multiple fractures of her spine, collarbone, ribs, a shattered pelvis, a broken foot, and a dislocated shoulder, requiring 30 operations. She began to focus heavily on painting while recovering in a body cast. Vincent Van Gogh was born with a brain lesion and suffered from temporal lobe epilepsy as well as bipolar disorder.
While these artists' bodies of work and impact speak for themselves, each of their amazing careers began with the fact that someone, somewhere recognized their talent as their own unique voice and self-expression. Now, the Lowcountry has a place that offers studio space to artists with disabilities, a place to find their extraordinary voices and more.
"At Full Spectrum, we envision a world where individuals with disabilities are afforded the supported environment and resources to become professional artists, said Andrea Hattler Bramson, co-founder (with Judy Russell). "We are inspired by our artists and want them to have a place where they are supported and respected as artists. With the Full Spectrum Studio, our artists build portfolios, create a variety of art types, and market their work in a professional gallery space."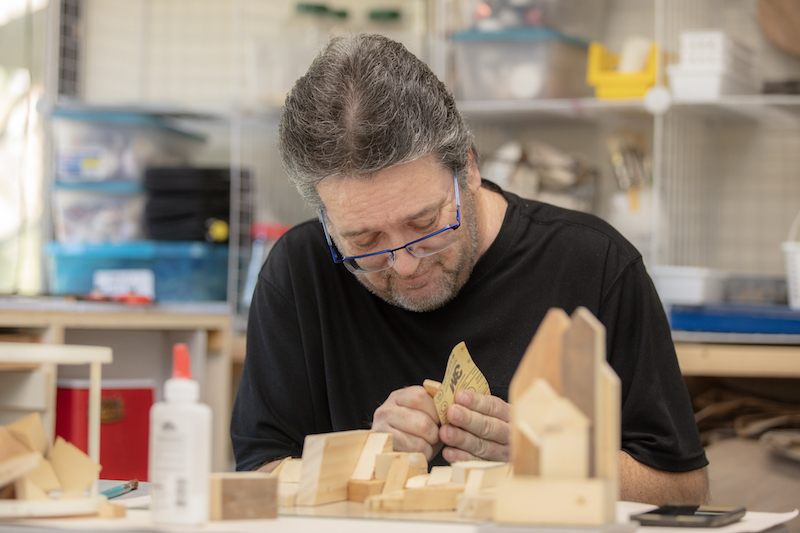 Sean Costello works on a New York Cityscape made out of wood.
The artists
Currently, there are four artists at Full Spectrum: Victoria, Cat, Sean, and Allison.
Victoria has been creating ever since she could hold a crayon, and her inspirations focus primarily on friends and family. She has an intuitive ability to combine and collate colors, whether with crayons or markers, and now with glazes. She creates from the heart and is sometimes open to suggestions, but more often prefers to work on her own. Her signature smiling sunshine and flowers bring a quick smile to anyone who sees them, and her large colorful platters brighten any table. Multimedia applications are becoming Victoria's norm, and her skills and abilities grow and evolve daily. She has worked with colleagues from BoArt, the community of artists at the Hilton Head Farmers Market, and Sea Pines' First Thursdays Art Market.
Cat's work is delightful, and the pride she feels in the results is unmistakable ("I'm good at it!" she often exclaims with glee). Her delicate use of lines and colors creates whimsical two-dimensional characters. She has shown a true instinct for the application of color in a subtle, yet bold manner, and she uses underglazes to great success. Cat primarily uses one eye to see, which naturally impacts her ability to perceive and interpret depths. She is conscientious and deliberate—both attributes that fuel her developing skills. She welcomes exploring new mediums and enjoys applying new techniques. Cat is decisive in her choices and is committed to seeing her pieces finished as she envisions. Cat has also been active in painting much smaller pieces, many of which comprise the Full Spectrum "Wind Chime" series.
Sean comes to the Full Spectrum Studio (FSS) thanks to the keen eye of his sister-in-law Kate. While visiting FSS, Kate saw the potential for Sean. On his first visit, Sean—who lives on his own—was unsure if the studio would be a good fit for him. He said he had no experience with art and was sure the neuropathy in his hands would impair his ability to create. But he was willing to try and expressed an interest in stained glass and lighthouses. Now, Sean has not only learned how to manipulate pottery, but he has also made prototype pieces in stained glass, pottery, and fused glass. Sean's rich life experience has not included much support for creative self-expression, but at Full Spectrum, he is encouraged to use his impressive mechanical problem-solving skills to find creative solutions to his artistic questions. On seeing an image of his first fused glass lighthouse light catcher, Sean reacted with, "WOW, I love it!"
Allison joined Full Spectrum a few months ago after moving to the area from Greenville, Pennsylvania. She is recovering from a stroke that left the right side of her body paralyzed. She is vivacious, witty, creative, and opinionated—which makes her a great fit for the studio. She has already produced several pieces, all of which have sold, and she is branching out to fused glass and weaving. Allison has some experience with pottery and has been a photographer, a skill that will be re-energized as she rediscovers and builds on her previously evolved talents. Allison wears a "Celebrate Recovery" bracelet to remind herself and everyone who sees her to celebrate all that has to do with being better every day.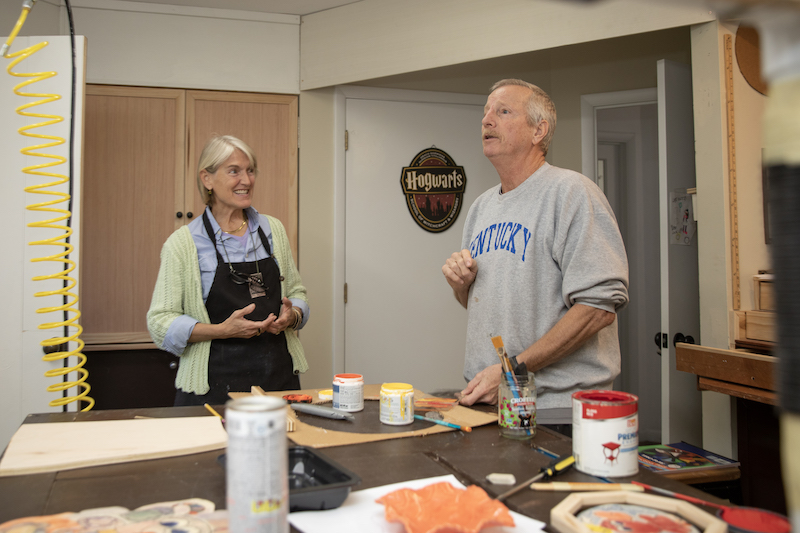 Andrea Bramson and Doug Loneman discuss a project with Sean Costello (off-camera).
Full Spectrum Studio founders, Judy and Andrea, are also mom to Cat and Victoria, respectively. Prior to opening Full Spectrum, the daughters were members at Programs for Exceptional People (PEP) in Bluffton.
"They have lots of activities at PEP, and the girls loved it, but they wanted more art," Judy said. "So, Andrea and I decided to provide this space for our daughters and other artists with disabilities to give them a chance to identify, develop and refine their skills and talents. All the Full Spectrum participants are artists, and we encourage them to think of themselves that way. We allow them to explore options for problem solving, participate in inventory control, and help purchase materials appropriate for the things they do. Our program centers on a more comprehensive inclusion of the artists in everything we do, so they realize art is a business. It is their responsibility to produce, sell and respond to their customers."
The Full Spectrum artists are kept busy. They participate in the Hilton Head Farmers Market at Honey Horn on Tuesdays; every First Thursdays Art Market at Sea Pines Center; and at Hilton Head Community Market at Shelter Cove every Saturday. In addition, each month, Spectrum hosts the Friday Rays from Pockets Full of Sunshine. They are currently working on a second project with them—the first of which was a collaboration on ornaments for a Christmas tree that was donated to the Hilton Head Prep Festival of Trees auction.
This rigorous schedule teaches the artists discipline and infuses them into the entirety of the local art community. They learn that what they are doing is not just a hobby, but a business.
"It's a big deal," Andrea said, "and it's good for our artists, our community, and other artists with disabilities to see them participating so actively. For example, Cat, Sean and Victoria are all members of the Art League of Hilton Head and show art at the Coastal Art Center. And they have already sold pieces there." 
In early January 2023, Full Spectrum Studio began working with Beaufort County Public School and Hilton Head High School's special education program to help young artists still in high school explore art as a potential field of study and work.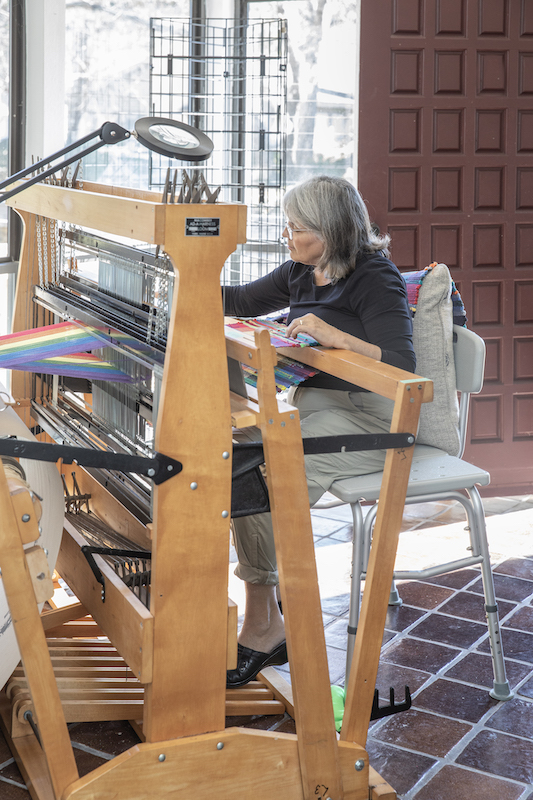 Michelle Good works on the loom recently donated to Full Spectrum Art Studio.
"Art is not usually a choice provided to the people in the special education community, yet a choice is what we want to make available," Andrea said. "We intend to identify future artists. In the special ed community, a student can graduate from high school in their early 20s. When they do graduate—even though the schools work to place them—there are dozens, if not hundreds, who sit at home waiting for something to happen. By working with the school, we hope to identify students with an affinity and interest in art before they graduate. This way, they know art is an option upon graduation and can consider our studio as a possible venue to continue developing their creative voice from a professional standpoint." 
And while everyone may not be an artist, studies indicate that cognition and creativity are not codependent. While every Einstein is not an artist, an artist may not have cognition for other things. Full Spectrum embraces those whose cognition may not be average, but their creativity surpasses the imagination.
"When a person looks at a work of art that has been created by one of our artists, it reveals their heart," Andrea said. "One of the most gratifying things is the positive reception we've received from the art community. The acceptance and support offered by both our customers and patrons has been nothing short of tremendous, and we are very grateful."
To learn more about Full Spectrum, to meet the artists, or to purchase their art, visit fullspectrumstudio.org, email info@fullspectrumstudio.org, or call (786) 371-5494.