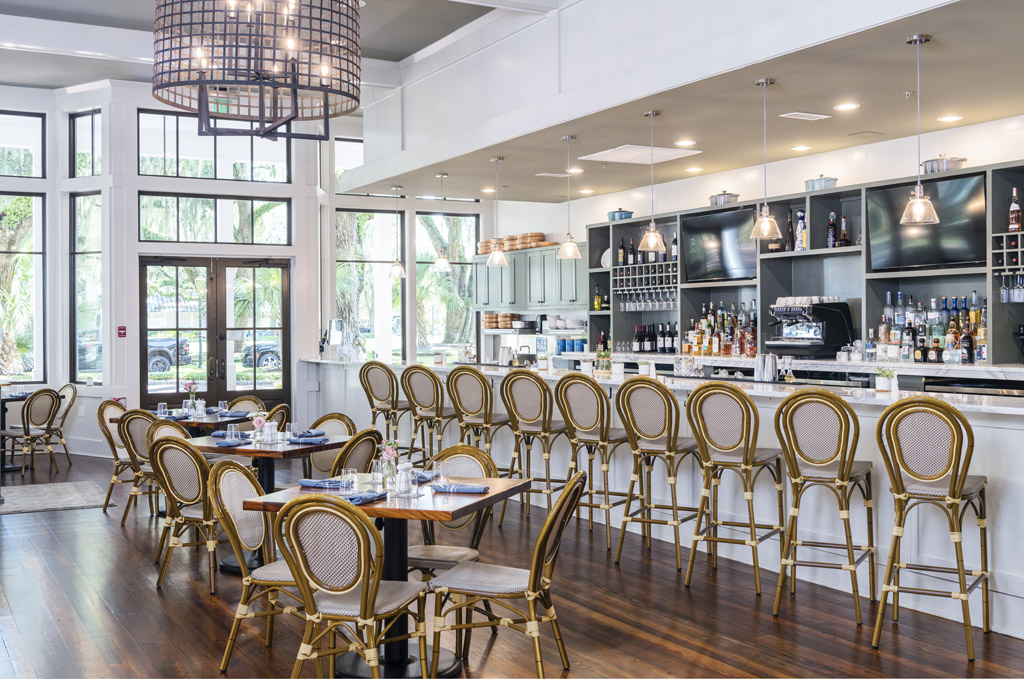 Buffalos newly remodeled bar is ready to welcome guests. 
Palmetto Bluff's Buffalos in Wilson Village reopens to rave reviews
While there are Southern menu-inspired restaurants boasting original flavor combinations and secret recipes on practically every main street in the Lowcountry, Buffalos in Palmetto Bluff's famed Wilson Village stands alone. This beloved mainstay known for its unique charm, idyllic corner location, and stunning views of the May River, May River Chapel, and the Wilson mansion ruins has unveiled reimagined interiors and locally sourced menus that are receiving rave reviews from property owners and guests alike.
South Street Partners ("South Street"), one of the largest owners of private residential club and resort communities in the United States (including Kiawah Island, Palmetto Bluff, The Cliffs, Naples Grande, Barnsley Resort and Residences at Salamander) recently announced the reopening of Buffalos, the longtime culinary staple of Palmetto Bluff's Wilson Village. The extensive renovation at Buffalos is part of a slate of amenity upgrades initiated by South Street to enhance the experience for everyone at Palmetto Bluff, and they've enthusiastically welcomed the community back to enjoy delicious food and drinks in one of the most beautiful settings in the South.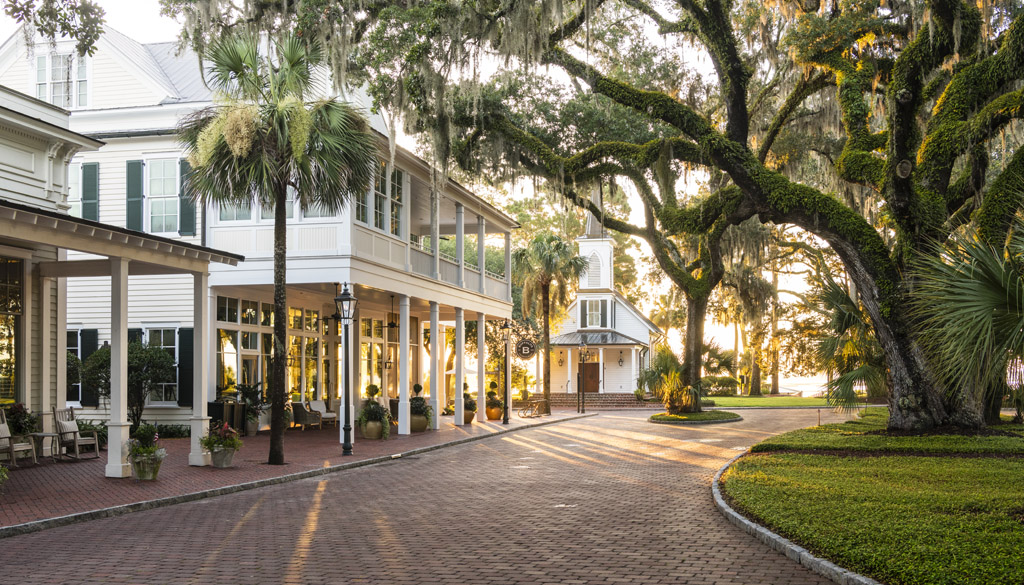 The  sun sets over Wilson Village in Palmetto Bluff, where Buffalos sits adjacent to the chapel.
Some things about Buffalos have happily remained the same—namely the friendly local hospitality that property owners and guests have come to revere and expect over the years—while some things have changed. Under the guidance of Palmetto Bluff Club's Director of Culinary and Events, Chef Rhy Waddington—a lauded early innovator of the farm-to-table philosophy—Buffalos' new mission is to create a convivial, authentic dining experience devoted to menus featuring the freshest ingredients from local suppliers.
"I came on board when South Street Partners purchased Palmetto Bluff, coming up on 18 months now," Waddington said. "This renovation was one of the projects that I wrapped my arms around. Previously Buffalos had been Italian food, which didn't really lend itself to the local produce and vendors that we have available here. We've changed all that."
Incorporating produce from Palmetto Bluff's own farm and other purveyors from the Bluffton environs, dishes on the menu are sourced locally as much as possible, with the Carolina rice for grits grown less than 10 miles away by Rollen Charmers of Rollen's Raw Grains and salad greens from Hardeeville just down the road. A big part of Waddington's philosophy of running the Palmetto Bluff Club's restaurants is to have a connection with the land, the sea, and local vendors, thereby creating a community. There is a large farm on the property, and on select Wednesdays they host their own farmers market which is open to the public.
"The farm boasts two full-time farmers led by Shane Rahn who dictates a lot of the menu items," Waddington said. "Currently, there is some unbelievable corn on the menu, beautiful eggplant, and so many tomatoes I don't know what to do with them, so we're making lots of different really cool and delicious tomato sauces."
While the Buffalos menu will change frequently to take advantage of the natural bounty of Palmetto Bluff, Bluffton, and the surrounding Lowcountry, early menu highlights include local shrimp-stuffed Padron peppers, Buffalos fried chicken sandwich, and an exquisite selection of breakfast pastries produced by the Palmetto Bluff Club's Executive Pastry Chef, Jae Newby.
"Our pastries change every single day and seasonally as well," Waddington said. "Chef Jae is amazing. She's making beautiful sticky buns and crumb cakes in the morning, and it's a bit of a problem for me because my office is right upstairs. The smell of all that wonderful baking in the morning and the dinner rolls and fresh bread coming out at lunch and dinner. Wow … just wow!"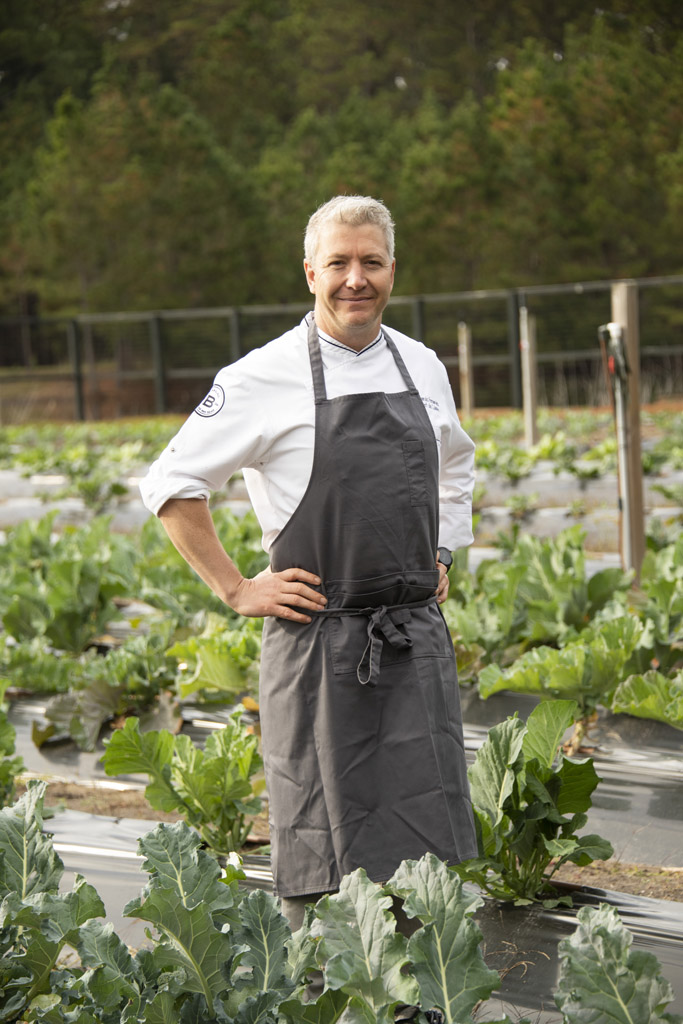 Palmetto Bluff Club's Director of Culinary and Events, Chef Rhy Waddington
Lunch items include lots of fresh salad produce that comes from the farm, like roasted broccoli, heirloom tomatoes, and carrot salad. Heartier options are the Southern Carolina shrimp and soba noodle salads with Thai basil, also grown on the farm. There is an astounding bigeye tuna poke bowl and a heavenly sprouted grain bowl. But you can still get some of what Buffalos was known for at lunchtime—their savory sandwiches. Some stellar dinner items have also emerged.
"At night, we step it up a little bit," Waddington said. "We have the tastiest grilled octopus and clams on the menu. One of our biggest sellers is our pork and ricotta meatball dish. It's one eight-ounce meatball served on cheesy stone ground grits. The steak frites are unmatched, and we do a whole roasted Beaufort flounder with an orange and chicory salad that is fantastic. It's walking out the door."
Buffalos' talented chefs and bar team are putting on a show each day for the community's valued property owners and guests, led by General Manager Cleta Yamauchi, and Chef de Cuisine, Alejandro Gomez Moran, originally from Mexico City, whose wealth of knowledge and passion produces an elevated Lowcountry experience that is both familiar and relaxed. Newly appointed Beverage Director Gene Castellino has worked closely with the food and beverage team to curate a wine list to elevate the dining experience, and the vivacious bar team—led by Shelby Ehrenreich who created the incredible cocktails—mixes, shakes, and stirs an endless array of amazing drinks.
The architectural renovations are no less spectacular than the menu changes. The rear patio has been significantly expanded to include not only a covered outdoor dining terrace, but also an open area showcasing some of the best views in the Lowcountry. The expertly designed porch roof doesn't block or intrude upon any of the existing windows and allows as much natural light into the screened porch as possible, maintaining the enviable views overlooking the May River on Boat House Street.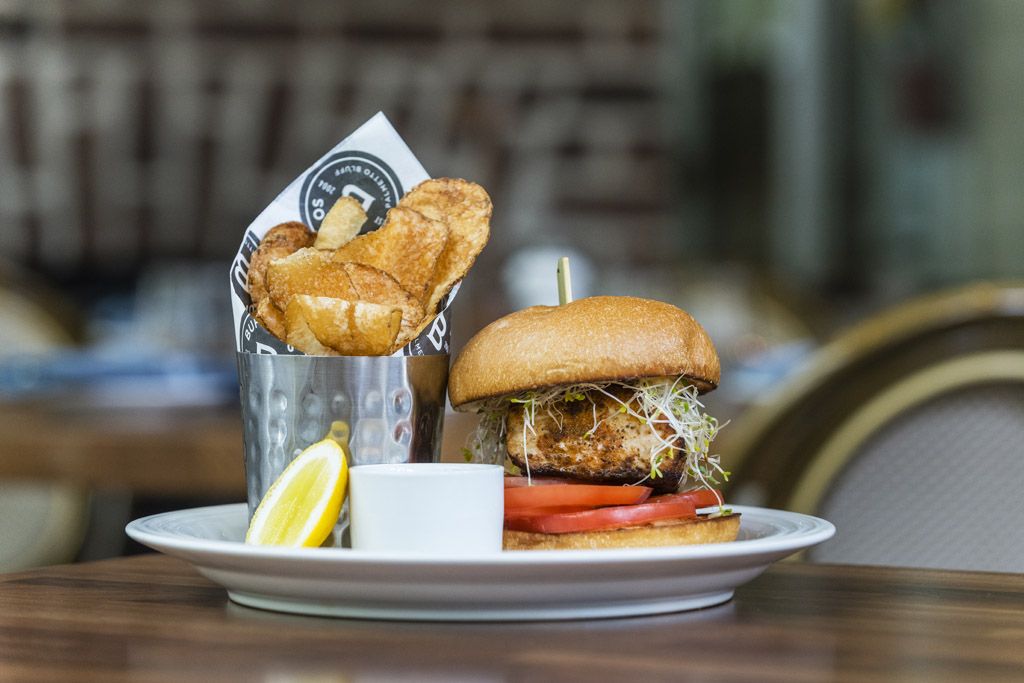 Blackened Swordfish Sandwich  Farm Beefsteak Tomato, Alfalfa, Chipotle Mayo, Buttered Brioche 
The fully reconceived interiors capture the unmistakable Lowcountry glow with refinished hardwood floors, cream-white walls, an exposed kitchen, a brick fireplace, high ceilings, and soft seating in front of the restaurant on the Village Park Square, which both beckons and welcomes patrons upon sight. The expanse of walls is enlivened by a revolving exhibit of works by local artists.
Perhaps the most popular addition to Buffalos is the new full bar with seating for 10, featuring a raw bar whose signatures are the great seasonal bounty of the May River including locally caught oysters, shrimp, flounder, and snapper. All this culinary abundance is elevated to another level of handcrafted elegance and personalization by Buffalos' partnership with Legendary French cookware brand, Le Creuset, a dinnerware collection used for food service, displays, and décor.
"Buffalos is such an important part of our community with arguably the best restaurant views in the Lowcountry, and we are excited to showcase the new and improved space to our residents, members, and the broader Bluffton community," Waddington said. "There is a real buzz in the air."
Palmetto Bluff and Buffalos are situated in the Lowcountry of South Carolina between Charleston, S.C. and Savannah, Ga. As the largest entitled waterfront property on the East Coast, Palmetto Bluff is a vibrant residential and recreational preserve enriched by wilderness and wildlife and enhanced by a commitment to conservation. The 20,000-acre property is surrounded by 32 miles of riverfront and features extensive nature trails; two vibrant Village centers complete with river access, boat storage and canoe club; a distinctive food and beverage program; the Forbes' Five Star Montage Palmetto Bluff resort; and a Jack Nicklaus Signature Golf Course. An array of Southern-style residential neighborhoods ranging from multi-million-dollar legacy family compounds to more traditionally sized, single-family lots are currently available. Buffalos operates on a first-come, first-serve basis. Visit palmettobluff.com/experience/food-wine for more information.