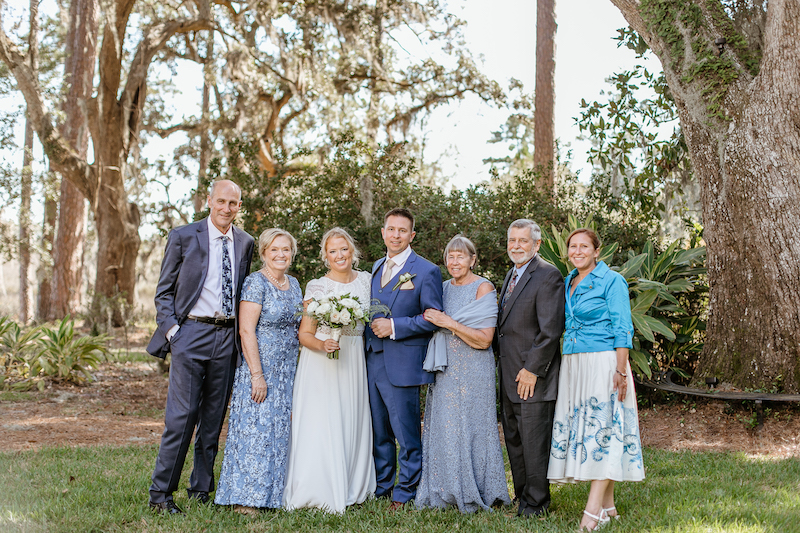 Mandy Matney and David Moses have never tended to follow tradition. The most obvious example would be the way they parlayed Matney's extensive reporting into the Murdaugh family into a smash hit podcast (and forthcoming Netflix show), pulling the story out of the dreary confines of the newspaper world and into the national spotlight.
In fact, if there's anything that has defined this couple, it's a staunch opposition to, or at the very least a willing eschewing of, tradition. Tradition is what put the Murdaughs in a position to shelter their reputation behind the good old boy network, hiding their less altruistic deeds behind a hedge maze of institutionalized silence. When it was finally pierced, it was Moses and Matney holding the pruning shears, hacking away at the traditions that kept out the sunlight of justice. So, it stands to reason that when this power couple finally said their "I dos," it wouldn't exactly be by the book.
"David never wanted a traditional wedding. He didn't even want to do a big wedding," Matney said. "We basically made it a giant food festival/wedding. We made it as fun as possible. All the traditional parts of our wedding, we got rid of."
At this wedding, there was no exchange of rings (Matney likes her engagement ring just the way it is); there was no garter toss (they've both seen too many that got way too weird with it); and the bride and groom walked down the aisle hand in hand.
"I get really nervous when the attention is on me, and I didn't want that," Matney said. "It was a beautiful moment."
The bride wore cowboy boots under her white dress. The groom wore blue jeans. And beautiful moments were everywhere.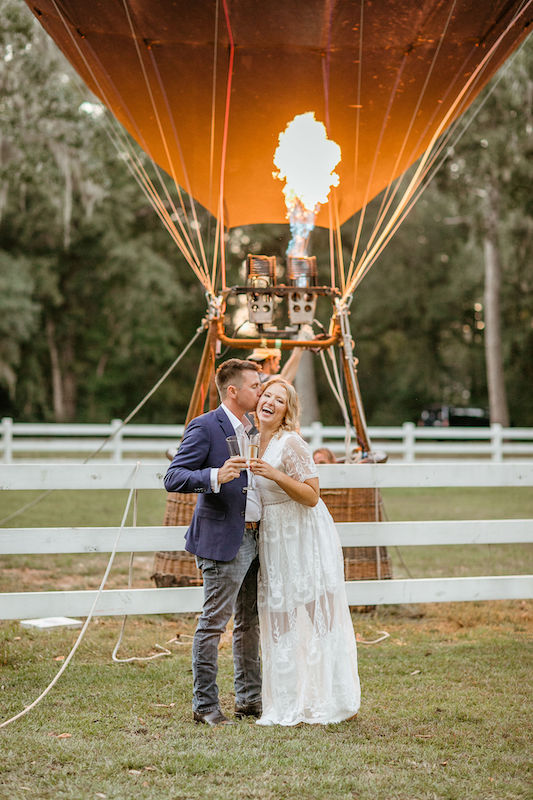 Up, up and away
Even before guests arrived on the picturesque grounds of HollyOaks on the Marsh, the rehearsal dinner set the tone for the festivities with the presence of a full-size hot air balloon. Over the course of the evening, guests could take a trip skyward, giving them a Wizard of Oz's-eye view of the dinner. The whole thing stemmed from Moses' vision or arriving to the ceremony itself by balloon, with the iconic strains of John Williams' "Raiders March" playing.
"The bride always gets center stage, and I'm fine with that," Moses said. "But I wondered, 'What if the groom had some fun way to enter? Kelly Corn was fantastic about helping us workshop the idea."
It was one of a legion of gonzo ideas the couple hatched for their wedding—ideas that wedding planner Kelly Corn was tasked with wrangling, fine-tuning and utilizing to make magic.
"Kelly really took our ideas and brought them to life with flawless execution," Moses said.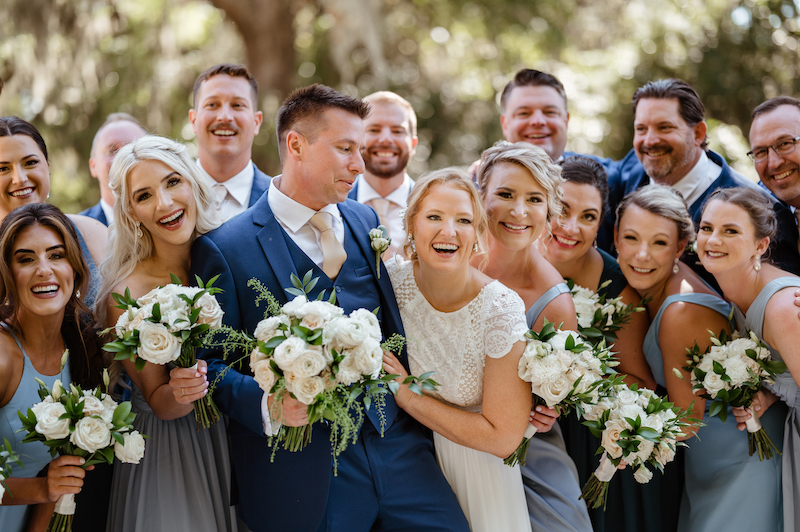 "She was super creative and awesome about filling in the details," Matney added. "I just wanted it to be nice, but I couldn't really get into the details because I didn't have space to."
Despite the heavy mental toll of tracking the Lowcountry's story of the century, creating content and producing podcasts, the couple was able to give Corn a punch list of their must-haves and let her run wild. If you want to talk about eschewing tradition, it doesn't get much more non-traditional than a living champagne wall.
"I love when you're at a party and there's some interactive element, so we figured if we're throwing a big party, let's incorporate some of that," Matney said. The massive sheet of faux greenery concealed a crew of Savannah's famed Stardust Pixxies, ready to hand-deliver a glass of bubbly through the wall. It served as a delightfully modern contrast to the stately elegance of the grounds.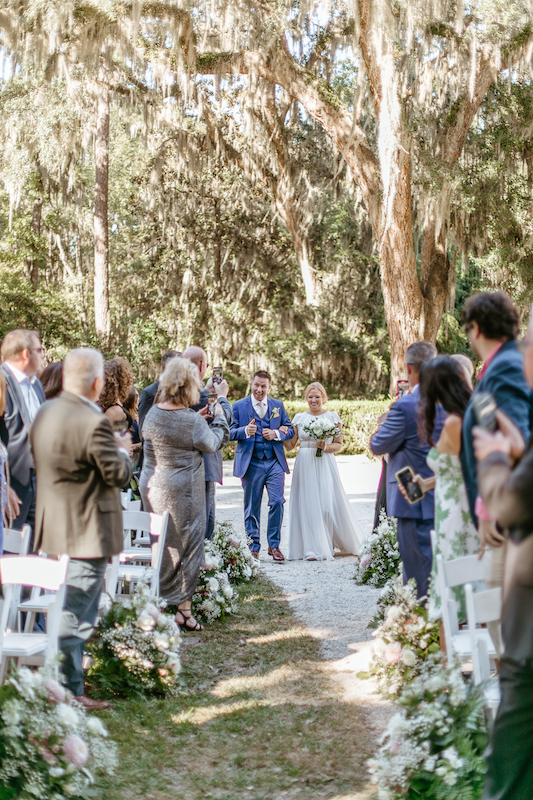 HollyOaks on the Marsh
Set along a bend in the Little Ogeechee River, HollyOaks on the Marsh has a rich history going back to its heyday in Savannah's social scene in the 1950s and 1960s. Its history stretches even further back, but its modern era has seen the storied grounds converted into a gorgeous wedding venue. The suggestion to hold the wedding at HollyOaks had come via Facebook from a fan of the podcast. From their first visit, the couple was entranced.
"It's a private residence, and they only open it for weddings something like 10 times a year," Moses said. "When we saw the property, it wasn't a question of wanting to hold the wedding there. It was a question of whether or not they wanted us in their home. The venue and Kelly worked together perfectly."
And with a canopy of gorgeous live oaks as a backdrop, the Lowcountry's premiere podcasting couple made their vows to love, honor and cherish one another. But, of course, there was one star of the podcast that had to sit and stay. Luna, their faithful dog and namesake of their production company, was canina non grata.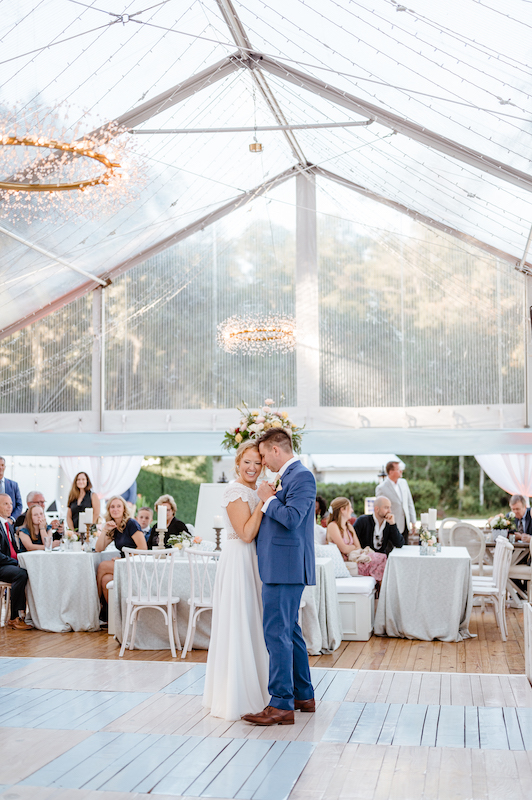 "She's an escape artist. She loves to run off and be the center of attention," Matney said. "As much as I wanted her to be a part of it, she stayed home."
Also conspicuous in her absence—at least in the bridal party—was Matney's partner in true crime, Liz Farrell. "She basically said to me, 'Do not ask me to be a bridesmaid.' I've been a bridesmaid many times, and I get it," Matney said with a laugh.
Instead, Farrell was with the crowd of friends and family to witness Moses and Matney exchanging vows (hers starting with "I don't know…" as a subtle nod to her podcast's famous intro). Afterward, they were all moved to tears by Matney's father.
"My dad's a very quiet guy who doesn't speak much in public, so I said I wasn't going to force him to make a speech and assumed he wasn't going to," Matney said. "Instead, he gave a full seven minutes of pure tear jerking. It was very emotional."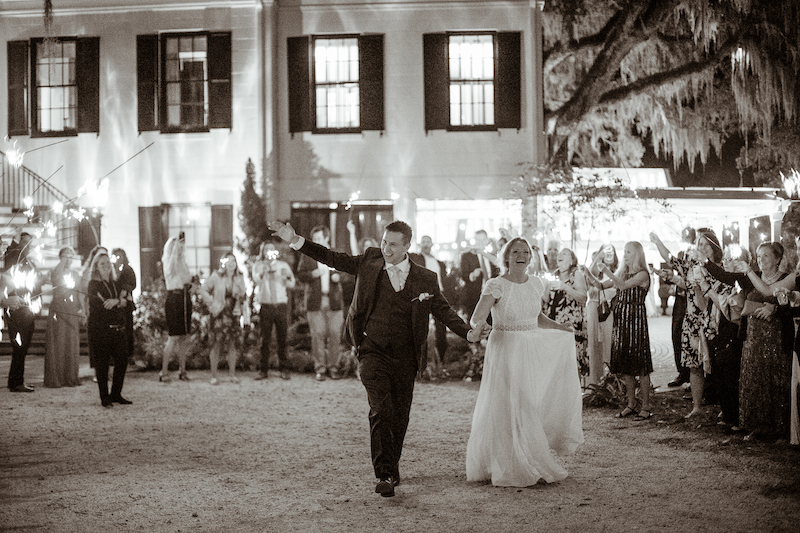 Duly wed, the couple raced off on their honeymoon to Napa—just in time for more breaking news on the Murdaugh front.
"They say you shouldn't be working on your honeymoon, but we like what we do," Moses said. "We might as well do it someplace pretty."