Those of you with long memories will recall one of the greatest celebrations we used to enjoy back in the before times. Back when masks were a Halloween-only accessory, hand sanitizer was only for germophobes, and COVID-19 sounded like something you'd name a robot.
In those bright and cheery times, people would come from miles around every year to sample the most delectable, savory treat known to man: the chicken wing. They called this celebration WingFest, and for thousands, it was the must-attend event of the year. Then one day, it was just gone, victim of social gathering restrictions handed down by the state governor just nine days before the twenty-fifth WingFest was to arrive.
For two years, we ate our wings in silence and solitude, dreaming of the day we could once again join our fellow islanders in deliciously fried exultation. Ladies and gentlemen, the good times are here again.
After a two-year hiatus, WingFest will return on March 19. Or, as organizer Joe Cain so cleverly put it, "It's only taken us 27 years to do the twenty-fifth WingFest."
Wing lovers will once again rejoice in the mouth-watering cavalcade of different flavors presented by local restaurants, with standbys like Wild Wing Café, One Hot Mama's and the Hilton Head Firefighters as well as newcomers like Driftwood Eatery and returning favorites like Captain Woody's. From fiery to fancy and everything in between, the wings will soar with flavors beyond imagination, proving once and for all that the Lowcountry is back.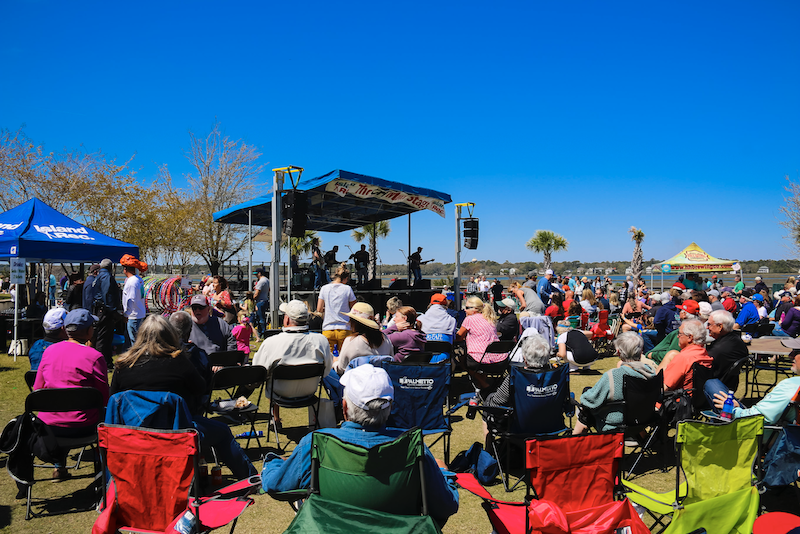 "We've been able to do some smaller events, and we did the oyster festival back in November, but being able to finally put on the twenty-fifth WingFest is pretty exciting," Cain said. "And this year, it's better than ever."
And while, yes, it is his job as organizer and famed WingFest hype man to say that, that isn't just hyperbole. This year's event will, in fact, be bigger than ever, moving to the wide-open spaces of Lowcountry Celebration Park for the first time.
"It's not only a bigger venue, but there's also so much more opportunity for people who want to walk or bike there," Cain said. "We were a little scared at first, having all that extra space. But we think we're going to need it."
He's not wrong. Apart from two years of pent up demand sure to drive up attendance, this year's event will include a performance by Naked Karate Girls (who, we feel compelled to point out for the sake of this being a family publication, will be clothed). Mainstays of the Tiki Hut's July Fourth bacchanalia, NKG will be joined by the Chiggers and True Gentlemen in creating a pulse-pounding festival atmosphere.
A panel of judges will select their favorite, and attendees will be able to vote for their people's choice award winner, but the wings won't be the only things victorious after the twenty-fifth WingFest rolls into town. The Wing Eating Contest will make its grand return, testing your ability to throw back wings.
It's been a long time coming, but at last islanders can rejoice. WingFest is back, and the world is a delicious place once again.
---
Welcome to Flavortown
While legally we wouldn't dare say that the WingFest poster draws direct inspiration from any donkey sauce-slinging TV chefs, you have to admit the resemblance is uncanny. Drawn by Cain's cousin Charlie, this year's artwork continues the festival's whimsical tradition of Buffalo inspired artwork.