"Robbie came into Al's and we ended up hitting it off," Vitto said, referencing his other successful restaurant, Al's Aloha Kitchen. "We met again at Michael Anthony's and I was like, 'Snapchat, dude, you're killing it (with photos Colson posted of his pasta). I told him I was thinking about starting a noodle thing…"
"We couldn't stop talking about it," Colson said, finishing Vitto's sentence. We spent hours talking about noodles and good mood food."
"That's how the name came up," Vitto added. "We wanted to make good mood food."
The way Vitto and Colson feed off of each other, it's obvious they serve up more than delicious Polynesian- and western Pacific-inspired plates. They feed each other with friendship, a shared enthusiasm for delivering a unique food concept to Hilton Head Island and its guests, and a mutual love for exotic ingredients like "gochujang," a Korean chili paste that Nood regulars and the restaurant alike call Gucci gang because, as Colson attests, "It's just that awesome."
What is equally awesome is Nood's supportive approach to other local restaurants. "It's not competition, it's community. With three million people hitting Hilton Head's beaches during the summer, there's plenty of love to go around," Vitto said. "And other restaurants have been super supportive of us. We come together and discuss things like purveyors and point-of-sale systems. We want to keep going forward and spreading good vibes."
Many people think starting a new restaurant venture takes guts. But launching one during a global pandemic takes, well, "Aloha rice balls" (Al's Aloha spicy tuna, sticky rice ball, nori, yummy sauce, tamari glaze, masago and fried rice "noodz").
"We had just gotten super comfortable with business at Al's," Vitto said. "We did not need to do this. But yet, we thought there is no way we can not do this."
To which Colson interjected, "And when Al says he wants to get something done, I'm more than positive he will get it done."
Both Colson and Vitto say that Nood Good Mood Food is an evolving restaurant. "When we first opened, we offered build your own bowls, but now we've decided to go with our signature bowls with plenty of variety," Vitto said.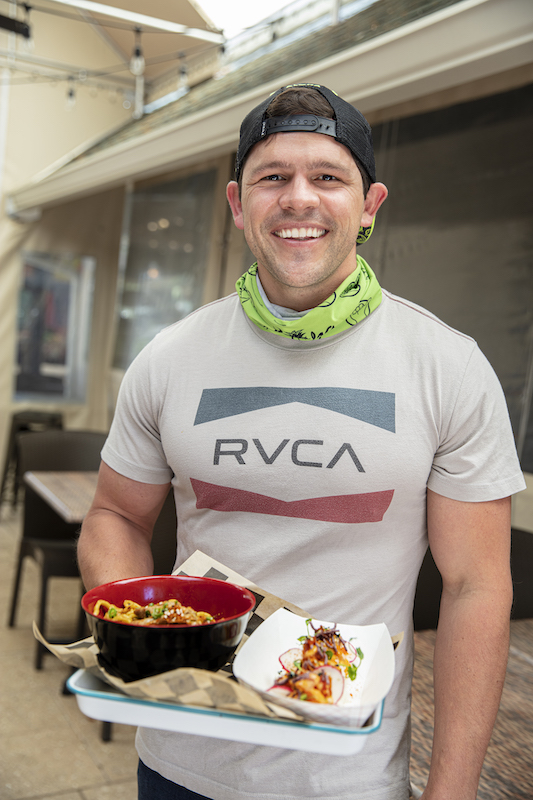 On the menu, you will find already local favorites like the House Made Noodz with Colson's crowning glory—his bone broth, in-house made kimchi, jalapeño, shaved onion, and your choice of chicken, beef or tempura shrimp; and Colson's favorite, the Wavy Noodz, again, with Colson's bone broth as well as green onions, gourmet mushrooms, soft boiled egg and pork belly.
With the exception of mainstays like the aforementioned Aloha rice balls ("Those should never go away, they're way too good!" Colson said.), the menu will continue to evolve in response to their commitment to support local growers and Vitto's and Colson's passion for experimenting with new ingredients and flavors.
In the near future, you will also see a pick-up window, a partnership with COOL Delivery and live music. But there's no time like the present to try out Nood Good Mood Food. 
Nood Good Mood Food is located at 1 North Forest Beach Drive, Suite 1 B. For more information, visit noodhhi.com or call (843) 715-9244.