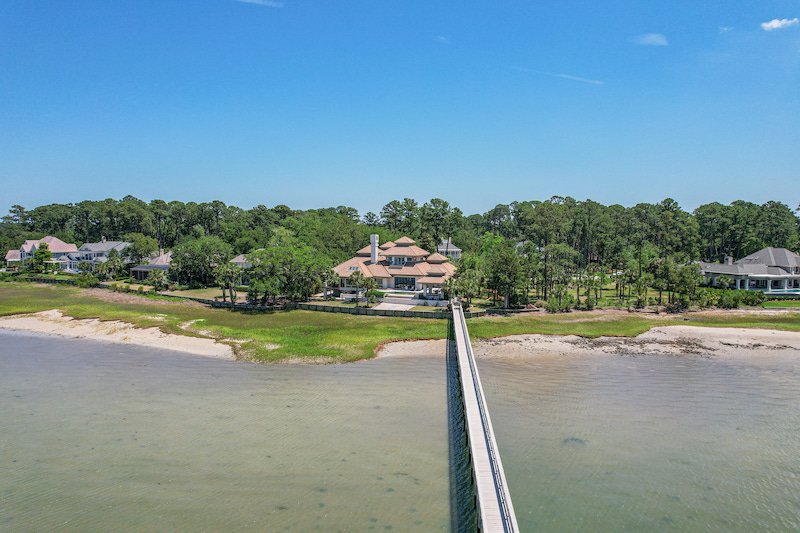 At the most northern tip of Hilton Head Island, residents of Ribaut Island enjoy a truly unique community, comprised of 63 single-family homesites located on 52 magnificent acres—a place that each resident is proud to call home and a place that many people (including locals) have never visited and may not even know exists.
Ribaut Island is linked to the northern end of Hilton Head Plantation by its bridge, which spans 400 feet of saltwater tidal marsh. Lots on Ribaut Island are oversized compared to many communities, ranging from half-acre to two-acre sites, so inhabitants enjoy not only the luxury of seclusion but also space. Half of the homes are waterfront (the other half have access close by), with panoramic views of the Intracoastal Waterway and Pinckney Island Wildlife Refuge, or Pine Island. Another 24 homesites front the golden tidal marsh, and some include private docks. Also exclusive is the physical setting. Framing the amazing residences is a dense woodland of native palms, gnarly oaks, and lofty pine trees 
One of those lucky enough to call Ribaut home  is Billie Trotter, who has lived here with her husband almost 32 years. "Ribaut Island is a special place," she said. "The Intracoastal Waterway on Skull Creek towards Pinckney Island provides spectacular views, especially sunsets. This time of year, the sunsets across the water are a brilliant red and orange—just beautiful. We must stop and just stare. Here, too, there is an abundance of wildlife. The birds are fascinating, and we even have an eagle's nest that we monitor within our community. It's truly like living in a wildlife preserve."
Ribaut Island is named historically for Captain Jean Ribaut, a sixteenth century French Huguenot explorer who discovered the island enroute to establishing Fort Charlesfort, on Port Royal Island, in 1562. Interestingly, the flags of six sovereign nations have flown on Ribaut Island. History and intrigue abound with tales of forts and fights commonplace in the more than 400 years of its recorded history. Prior to that time, Indians roamed the island and its vicinities, following the seasons and the bountiful harvests of Port Royal Sound (the deepest natural harbor of the Southern Atlantic Coast) and the surrounding islands. Evidence of the former inhabitants includes oyster shell and earthenware pottery fragments identified and traced back to 2000 B.C. when Indians of the Late Archaic Period of prehistory inhabited the island. Indians of the Woodland Period of prehistory (500 B.C.) left remnants of their time on the island in the form of stained pottery fragments and flint flakes. From 1100-1300, the Indians of the Mississippian Period of prehistory left artifacts including oyster shell, deer bones, and pottery fragments. During the 1800s, amid the Seabrook Plantation Era—a time when sea island cotton was grown—inhabitants of the island constructed tabby structures, including a tabby block formation now at the base of the Ribaut Dr./Charlesfort Place sign. Ruins of cotton workers' homes were found on Ribaut Island during its initial development, and from 1861-1865 (during the Civil War), Ribaut Island was a probable lookout post for Union and/or Confederate troops.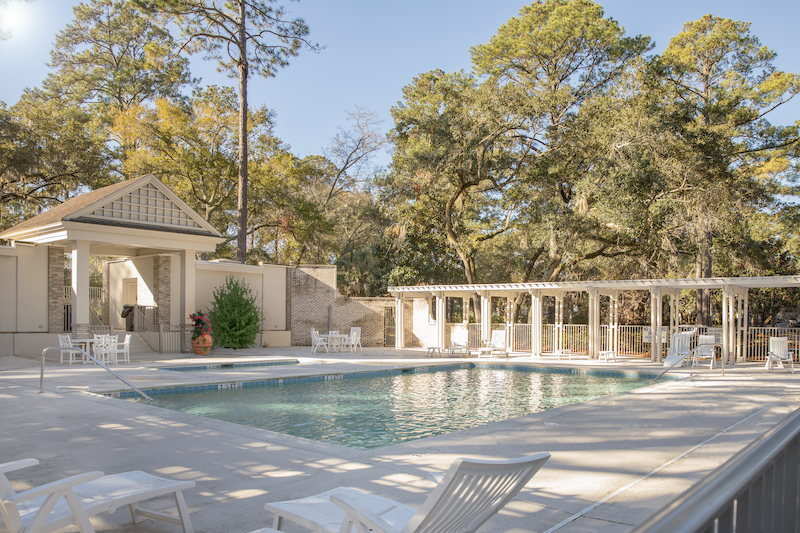 Along with its extraordinary setting and abundant history, Ribaut Island features special amenities in the tradition of Hilton Head's style of living. The private island community includes a private recreation center with a pavilion and a large swimming pool, a tennis court, a pickleball court, and a parking area. There is a community dock for access to the Intracoastal Waterway and daytime docking. Ribaut Island residents have their own property owner's association which hosts several social events during the year, celebrating holidays and other milestones. Additionally, residents enjoy the recreational and entertainment privileges of Hilton Head Plantation, including picnic areas, golf courses, playgrounds, and dog parks.
Tino Villani, owner of Mosquito Hunters, and his wife moved to Ribaut Island from Connecticut eight years ago. Anticipating a move south, they had looked all over, including the west coast of Florida, Georgia, North Carolina, and South Carolina. Determining that they like the weather and the natural resources north of Savannah, including the change of seasons and the abundance of trees, they almost bought a home in Charleston.
"When a friend of ours suggested we look at Hilton Head, we quickly changed our minds," Villani said. "We found Hilton Head equivalent to Charleston in many ways but more convenient to the things we enjoy doing—like golf and fishing. We toured everywhere on the island from Long Cove north and couldn't find a community that wasn't overly managed or overly engineered with homes so close together and in limited space. Ribaut Island is perfect for us with everything we need: good neighbors, beautiful homes on big lots, and very close to nature. It offers everything we want from the Lowcountry."
Architecturally, Ribaut Island's homes are masterpieces, sited to maximize the privacy and panoramic views, and they feature a variety of residential designs. Floor plans within the community typically offer between four to six bedrooms and three to five bathrooms. Many also feature guest suites, casitas, lavish outdoor spaces, and multiple fireplaces. Homes for sale within the Ribaut Island neighborhood are typically priced between $1 and $6 million.
Recently, the face of the homeowners is changing. Many new younger families are now moving in and are welcome neighbors.
"We bought our home right at the tail end of the first set of homeowners," Villani said. "At the time, many of the homeowners were older. The last five years have shown a turnover where the median age has dropped by about 50 percent. One of our neighbors has a newborn and a two- and a five-year-old. Another has three daughters under 10. There are a range of ages here. While some families are new, others are couples who have made Ribaut Island a final destination after living in other Hilton Head communities. Though some of the faces look younger, the character of our neighborhood is the same. It's quiet, serene, and beautiful."
"The way of life on Ribaut Island has remained pretty constant, and we are a relatively close-knit community," Trotter said. "We feel thankful that we have been able to raise our family here, and now, even in retirement, would not want to live anywhere else."
Clearly, Ribaut Island is a special place, perfectly positioned to enjoy million-dollar views, just enough seclusion, and magnificent homes amid the natural beauty and wildlife of the Lowcountry.