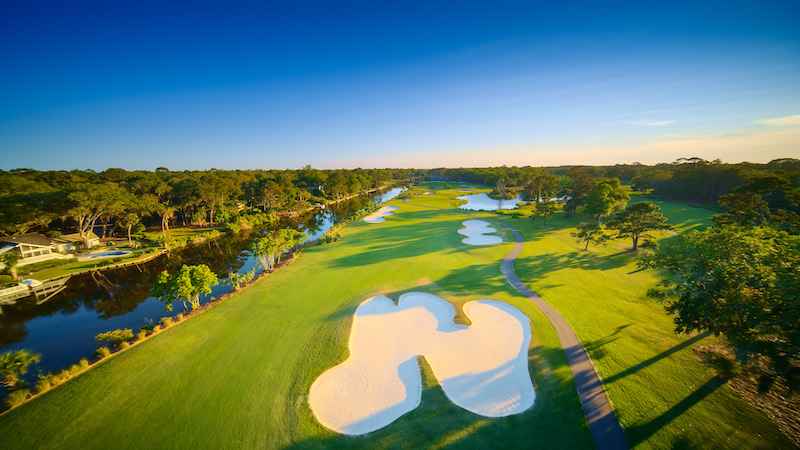 The Palmetto Dunes community of Hilton Head Island inhabits three miles of sun-kissed Atlantic Ocean beachfront and provides the perfect venue for three world-class golf courses, a tennis & pickleball center, vacation rentals, a full-service marina (the island's largest deep water marina with 178 slips), and an 11-mile lagoon system. As a resort destination, Palmetto Dunes enjoys a well-earned reputation for creating unforgettable vacation experiences for the entire family. So much so, that it's no coincidence, as vacationers return year after year, many decide to make Palmetto Dunes their permanent residence.
Sanjay and Frani Kumar are just those folks. Since their first visit in 1993, they never stayed anywhere but Palmetto Dunes. "We were part-timers here when we bought our first condo in 1997," Frani said. "We eventually purchased a home in 2004, then we sold that one in 2021 and bought our current residence. We now happily live here full time."
Jeff Hunt, Realtor at Dunes Real Estate, is a full-time real estate professional with more than 25 years of experience. He has owned and operated several successful multi-million-dollar businesses and bought, sold, leased, managed, and invested in both residential and commercial property. Hunt and his wife are full-time residents of Palmetto Dunes at Newport in the Shelter Cove community.

"So much about Palmetto Dunes is special and unique relative to other communities on Hilton Head Island," Hunt said. "When I'm selling property here, I use the acronym FAB, which stands for features, amenities, and benefits. It's truly amazing what you can do within the gates of Palmetto Dunes. I've sold many homes and rentals from a boat out on the lagoon. People are mesmerized by the beauty of the water with pristine golf courses on either side and surrounded by magnificent homes. Whether you boat, kayak, fish, play tennis, pickleball or golf, you don't have to go very far. We have it all right here." 
For over five decades, Palmetto Dunes has shined brightly as an example of what an exceptional golf experience can mean. With three magnificent courses and customer satisfaction that is second to none, exemplary golf is the cornerstone of the Palmetto Dunes experience. The three legend-built courses provide the heartbeat of the community and a satisfying experience for every level of player. The courses are consistently ranked with four or more stars by Fodor's Golf Digest's Places to Play.
• Robert Trent Jones course (18 holes, par 72): Located right on the Atlantic Ocean, the shifting winds ensure that every hole plays differently on this top-rated course, providing both challenges and rewards for any player. The panoramic views of the ocean from the elevated green of the par-5 10th hole make playing the Jones course one of the most memorable rounds of golf on the island. The Robert Trent Jones Course also features the first and only Toptracer Range on Hilton Head Island. Toptracer Range consists of 15 covered bays, allowing guests to compete against friends, play virtual courses and receive instant shot feedback. Food and beverages are available, and TV's have been installed for sports fans to watch their favorite teams.
• George Fazio course (18 holes, par 70): Hilton Head's only par-70 public golf course, the Fazio course is one of the island's most distinctive and challenging layouts. In fact, many golfers regard it as the most challenging public course on the island. It is designed to be a true but fair test for every golfer at any level of play. The Fazio course is one of the youngest golf courses to be featured on Golf Digest's list of America's 100 Best and was also recently named South Carolina Golf Course of the Year by the South Carolina Golf Course Owners Association. As well, the course boasts new state-of-the-art Diamond Zoysia greens that are sure to deliver an unforgettable, peak golf experience.
• Arthur Hills course (18 holes, par 72): The Hills course has long been regarded as one of South Carolina's most unique golf layouts and was recently named among the "Top 30 Best Courses You Can Play in South Carolina." It blends the topographic beauty of the Lowcountry with the inherent challenges of the game. Players are drawn to the course for the layout, which offers both precision play and natural beauty along with an extensive network of lagoons winding through 10 different holes.
But golf isn't the only lure Palmetto Dunes has to offer residents and guests. With 2,000-acres of activities, the community was named one of the top resorts in the South in Condé Nast Traveler's Readers' Choice Awards for the past three years in a row. The beautiful beach and world-class golf are only the beginning. Biking and water sports, along with a full-service marina at Shelter Cove, an award-winning tennis and pickleball center, and a sweeping 11-mile lagoon for kayaking, fishing or simply getting back to nature on a boat tour are all available to those who live within the gates.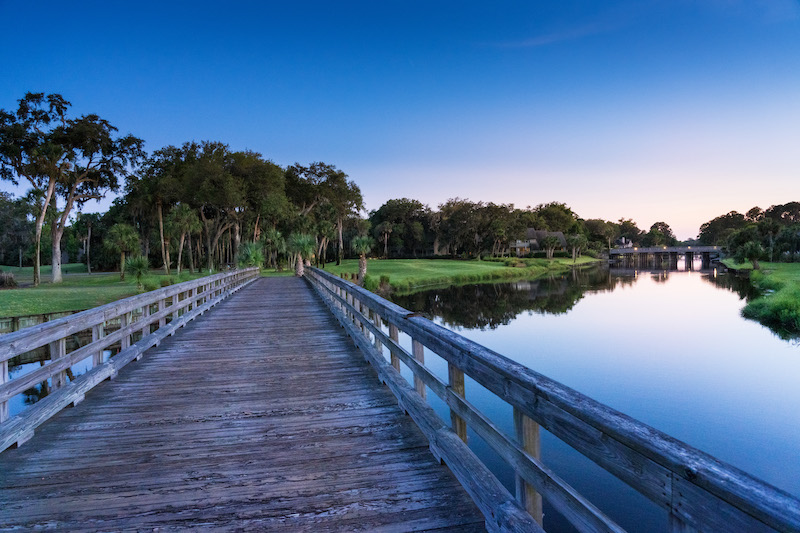 The Palmetto Dunes Tennis & Pickleball Center provides classes and clinics for players of all ages and skills. The award-winning complex is one reason Palmetto Dunes was ranked in the 50 Greatest U.S. Tennis Resorts by Tennis Magazine and named "Pickleball Resort of the Year" by Racquet Sports Industry magazine.
"For me, Palmetto Dunes is unique in that it offers all the amenities of a resort as well as the most wonderful, homey, relaxed feeling," Hunt said. "Everything is close, yet just far enough away. And there are things we can do in Palmetto Dunes that you can't do in the other communities on the island."
Hunt describes what he and his wife call their "walking date" where they meet friends at the Dunes House for a drink as the sun is setting, then they walk down the beach to the Omni for dinner at HH Prime, then over to Alexander's for dessert or vice versa. Then everybody walks home.
"I call the vibe 'Spanish moss and moon beams,'" Hunt said, "because everyone is so laid back, easy-going, and happy. There is literally something for everyone both in Palmetto Dunes and Shelter Cove. Anything you want, you can walk or ride your bike and get it."
Residents can also ride the Palmetto Dunes Buggy for free anywhere within Palmetto Dunes and the Shelter Cove Harbour and Marina community. Vans generally arrive within 10 minutes of the request and are available seasonally, April through September.
Jennifer Brown has been in Palmetto Dunes since 1995 when she and her husband began vacationing here with friends who had spent their honeymoon on Hilton Head Island. In previous years, they had visited several New Jersey beaches, then Myrtle Beach, but were not content. On their first visit to Hilton Head Island, they knew this was where they wanted to be. They were drawn to the relaxed atmosphere and pristine, uncrowded beaches.
"We never felt at home in any of the other vacation spots," Brown said. "We immediately fell in love with the beauty of Hilton Head and Palmetto Dunes. We bought our first property at The Moorings the year after our first visit."
Brown touts the well-kept beaches and well-maintained grounds as some of the distinctive features she enjoys within Palmetto Dunes. The 11-mile lagoon system is a unique and favorite feature.
"An evening cruise along this calm waterway as the sun is setting is a true joy," Brown said. "It's a very attractive and inviting community. The bike paths are wonderful, and there is always something to do. I also enjoy the Palmetto Dunes Women's Club. There are more than 30 different interest groups available, including cooking groups, lunch clubs, movie nights, a rowing group, bridge, or mahjong, even a group who performs various service projects."
Another attraction about living in Palmetto Dunes is the access residents and guests have to Shelter Cove Marina, home to a variety of watersports. Everything from kayaks to luxury pontoon boats to two-person catamaran boats are available.
In addition to the dining available at Palmetto Dunes, dining options at Shelter Cove Harbour & Marina abound. "When you incorporate Shelter Cove and the activities, dining and shopping there," Hunt said, "the Palmetto Dunes neighborhood is hard to beat. We frequently walk over to the Harbour to Bistro 17 or ELA'S, then walk to the Arts Center to watch a show before walking home."
Sunday mornings, residents may ride bikes to the General Store for a breakfast sandwich before heading to the beach. During select weeks in summer, they can enjoy a movie or fireworks or go to a concert at the park, all for free.
"Living in Palmetto Dunes is idyllic," Frani said. "Everything we need is in this little haven: the fabulous beach, the miles of bike trails, terrific golf courses, numerous tennis and pickleball courts, and the variety of restaurants from steak places right down to grab-and-go at the General Store. There are so many clubs to get involved in through the women's group—both couples and women-only activities—that a social calendar can fill up rather quickly. My husband Sanjay and I can't imagine being anywhere else."
The residents agree that the level of satisfaction they have with the lifestyle provided at Palmetto Dunes, the relaxed atmosphere, the experiences the neighborhood affords, and the feeling of belonging is second to none.