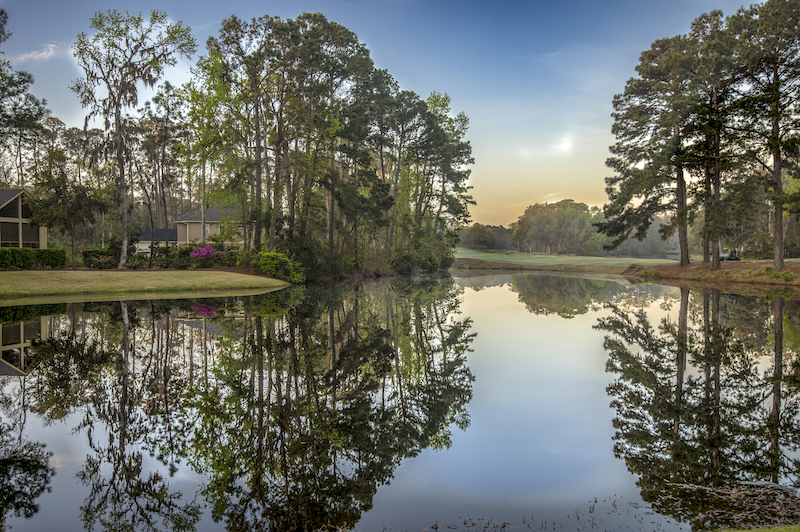 The developers knew they found the perfect piece of land to build a community that returned to the simple and exclusive principles of private, single-family residential living, removed from the hubbub created by island tourists.
Long Cove Club members have been enjoying this secure, private residential community since the early 1980s. The property graciously sweeps the salt marsh, weaves through lagoons, and is shaded by the beautiful pine and live oak forests that surround it. Situated on more than 600 acres at the south end of Hilton Head Island, its perfect location—among other attractive details—is a huge selling point for residents.
"We are so close to all the great things Hilton Head Island has to offer—restaurants, fitness, shopping, and beaches," said Lindsay Finger, director of marketing and communications for Long Cove Club, "and the setting inside our gates is incredibly beautiful. The property is warm and welcoming."
One of Hilton Head Island's best-kept secrets, Long Cove Club residents have been serenely enjoying the sweet life here for more than four decades. Andy Reed, partner and one of the owners of Charter One Realty, moved to Hilton Head Island with his parents in 1980 and graduated from Hilton Head Island High School. Reed and his wife have lived in Long Cove Club for 20 plus years.
"It's our haven," Reed said. "This island can get busy, but when I go through the entry gates every day, all that disappears, and I experience a tranquil 'welcome home' feeling. Long Cove Club is also a place where we loved raising our kids. Security is phenomenal. Chief Rice, Officer Young, and the entire security team provide a sense a safety, and we know there is always someone watching out for the community and providing a resource for assistance whenever anyone needs help. Plus, there are so many aspects of Long Cove I love, such as the marina, clubhouse, pool, tennis, and golf. It doesn't hurt that our course is one of the best in the country."
Hole #9 at Long Cove Club. The course is currently ranked  #12 in Golfweek's Top 200 Residential Courses in the U.S.
The Pete Dye golf course, currently ranked No.12 in the Top 200 Residential Courses in the U.S. by Golfweek Magazine, sets the tone for the community. A rare test of sport and spirit, this championship golf course takes you on an 18-hole adventure set within a breathtakingly beautiful Lowcountry backdrop.
Reed continued, "The beautiful lagoons wrapped throughout the course and hundreds of pine trees and live oaks strategically placed enhance how certain holes must be played. I've been playing for many years, and I never get tired of or bored with it."
The golf course continues to receive top accolades from Golfweek and Golf Digest magazines and is also host of the annual Darius Rucker Intercollegiate, the top women's collegiate event in the country, which is featured on the Golf Channel. In addition, Long Cove Club boasts a state-of-the-art practice facility with a driving range, putting greens, and chipping practice areas. A Golf Teaching Facility is being constructed and is expected to open later this year. The facility will feature top technology for members and their guests to use for lessons and club fittings.
Sharon Essler and her husband moved to Long Cove five years ago from Dallas. When they made the decision to move to Hilton Head Island, they thought they knew the community and where they wanted to live.
"All that changed when our Realtor brought us to Long Cove Club," Essler said. "We knew when we drove through security that this was the right place for us. Long Cove Club has a different feel than any other community, and the location was extremely important to us. The fact that the neighborhood is dedicated to preserving the natural beauty, the wonderful amenities, and the fact that short term rentals are not allowed all played a major factor in our decision. My husband and I are both avid golfers, too, so the course was important to us. Long Cove Club has one of the top private courses in the country, and it exceeds our expectations without a doubt."
Steve Tagert, Pennsylvania transplant and Long Cove Club resident for four years, agrees.
"My wife and I both play golf, and the course is phenomenal. It's challenging, yet fair and fun, and it was completely restored about five years ago, so it's in fantastic shape. I play with a group of men several times a week, and I can tell you, it plays differently every day. We never get tired of playing, and some of the holes on Broad Creek are simply breathtaking."
Members, as residents are called, enjoy a variety of amenities beyond golf. The Club has a sports center that features eight immaculately tended Har-Tru tennis courts, four pickleball courts and two bocce ball lanes, which is a popular gathering place during happy hour. The facility is lit and open for evening play and includes viewing areas to watch friends play or gather after your match.
The clubhouse is the community's gathering place providing a variety of culinary offerings and so much more.
"While our sports facilities are world-class, Long Cove Club offers so much more than sports," Finger asserted. "The community has a variety of clubs and activities that you can get involved with. It's really the people that make this place so special, and there is always something to do. People gather here and friends are made no matter where you moved from."
Members agree. One of the best features of living in Long Cove Club, according to Reed, Tagert, and Essler, is the camaraderie they enjoy with their neighbors. 
"Within months of moving here, we had more friends than we ever imagined, and when you are relocating, that says so much about what the members and staff have made of Long Cove Club," Essler said.
Featuring Lowcountry inspired décor, the clubhouse is warm and welcoming.
"It's very easy to get to know people," Reed said, "whether you are into sports or participating in one or more of the many clubs. We gather at the Clubhouse—which I call the HUB—and within minutes are chatting with long-time friends and being introduced to new friends. At the end of the day, I really enjoy the relationships I have made with other members."
In keeping with rich, Southern family tradition, the Long Cove Clubhouse is the community centerpiece. Members gather there for celebrations, to share a meal with friends, or to raise a celebratory post-round or post-match drink. The beautifully decorated clubhouse offers multiple dining options as well as unforgettable culinary cuisine.
Tagert and his wife go to the clubhouse to dine at least twice a week. He said, "The chef and kitchen staff are second to none—actually, the entire staff from the general manager, golf and tennis pros, and the servers are like family to us. Some have been there 35 years, and that speaks volumes."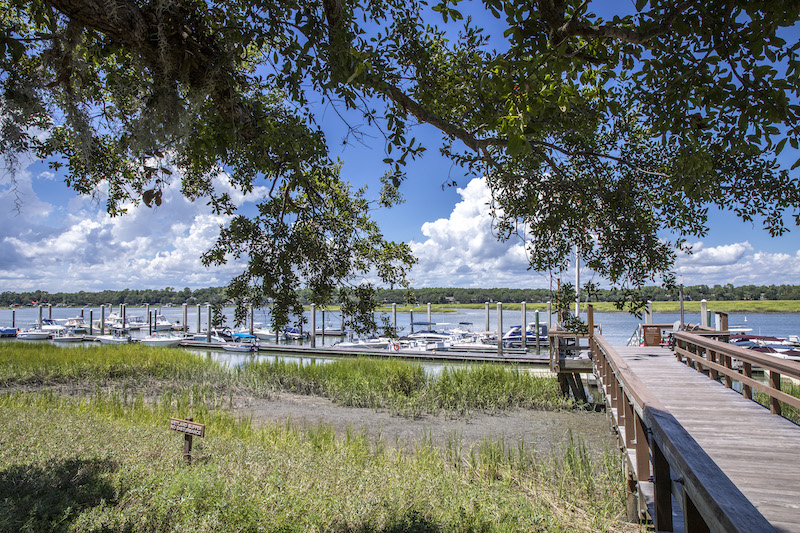 Whether you own a boat or not, the marina provides something for all members. Community kayaks are available plus the area is equipped with wifi – outdoor meeting anyone? This is a popular gathering place during the summer months to watch Shelter Cove Fireworks on Tuesday evenings.
The certified clean marina is another Long Cove Club allure. Whether you long to set out on a family adventure for the day or simply enjoy watching the local sea birds from a lovely tree-shaded shore bench, the marina presents a private gateway to the beautiful banks of Broad Creek, Shelter Cove Harbour, Calibogue Sound, and the deep blue sea beyond. Open to all Long Cove Club members at no additional service charge, this private water amenity features boat slips, kayak and paddleboard storage, and club community kayaks for members and their guests.
"For people who love the water, the marina is a beautiful place," Reed said. "At sundown, we love to walk out on the docks. There are chairs there, and like the clubhouse, we can meet up with friends or just sit in solitude."
"We go to the marina during the summer to watch sunsets and fireworks from Shelter Cove," Tagert said. "We also kayak on Broad Creek a mile or two down river, then stop and have a bite to eat. Many times, dolphins will follow us all the way back to Long Cove Club."
Members, too, enjoy the swimming pool at the club. The heated, saline, Junior Olympic-sized swimming pool is one of the best on the island. A lovely and lively summer hot spot, pool activities include water aerobics, family cookouts, and special club and summer holiday events.
In addition to relishing an extraordinary way of life, Long Cove Club members are dedicated to the rich tradition of philanthropy through the Long Cove Fund.
"Besides the amenities, the members and employees at Long Cove Club are the most caring and giving people," Essler said. "We love the fact that we have a sizable charity foundation that gives back to the island community."
The mission of the Long Cove Fund is to encourage and support charitable giving by members of Long Cove Club and to provide grants to nonprofits in support of current needs in the areas of health, housing, hunger, and education in Beaufort and Jasper Counties, with particular focus on projects and programs serving the Hilton Head Island and Bluffton communities.
"Since membership is only available to those who purchase property, our marketing team is available for tours or to answer questions about Long Cove Club. In addition, we are happy to work with prospective buyers who may want to experience the club to help them with their purchase decision," Finger said.
The incomparable natural beauty and casual, Southern elegance of the Long Cove Club community reflects a relaxed and unpretentious lifestyle as well as a commitment to excellence, well-being, and exclusivity. The beauty combined with the world-class amenities, spectacular homes and, most important, warm and friendly people are what make Long Cove Club so special.