Located along the still waters of the Okatie River in the heart of South Carolina's Lowcountry, Berkeley Hall offers residents a lifestyle of impeccable balance, blending private club sophistication and Southern hospitality. As you enter the gates, the scenery changes. Palmettos and live oaks stand like watchmen and the Spanish moss waves gently in the breeze, welcoming you home. The pace slows, people smile, and beauty is all around.
"One of the things I love about the Lowcountry in general is that most people who live here aren't from here; they choose to move here for the lifestyle and experience," said Rich Reed, agent, Lowcountry Specialist Team, Charter One Realty.
Originally a native of Tennessee, Reed spent his childhood summers on Hilton Head Island, vacationing with family. He made Bluffton his primary residence in 2001 where he soon met his wife Jamee (formerly a New Jersey native).
"It's the same with Berkeley Hall," Reed continued. "Those who live here could choose to live anywhere in the Lowcountry, but they chose Berkeley Hall for a reason: It's peaceful, active, sincerely friendly, and so much more!"
Lisa and Chris Yale are those people. They moved to Berkeley Hall in January 2020 from San Diego, California, where they were both born and raised. The couple own a business software company that allows them to work anywhere, so, as Reed described, they could have chosen anywhere. But they chose the Lowcountry and Berkeley Hall.
"We knew we wanted to visit somewhere new," Lisa said, "so Chris literally drew a line on the map from San Diego across the U.S. It landed on Hilton Head Island, so we decided to check it out."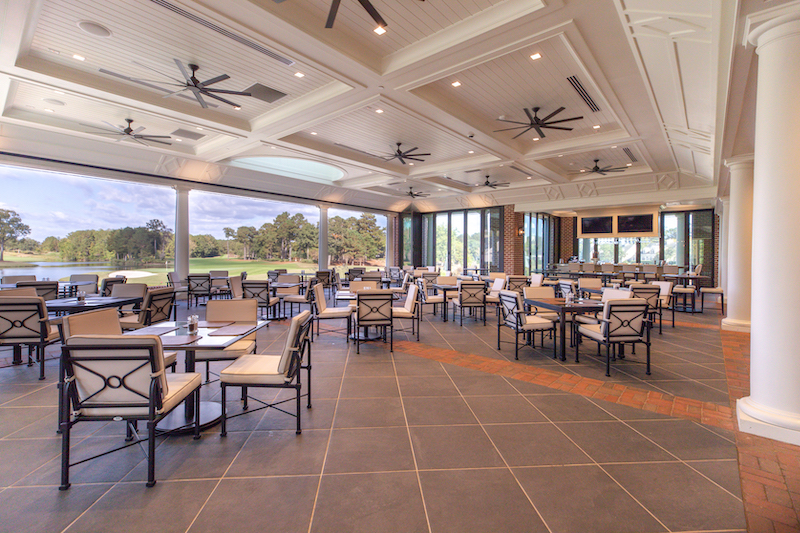 The full season Verandah features 4,500 square feet of casual space for dining, entertaining and social gatherings, with an open kitchen, expanded bar, and seating that offers gorgeous views beyond to the ninth and eighteenth holes on the North Course. 
After doing some research, the Yales knew they preferred Bluffton over the island, and when they arrived, they met Reed who began showing them around. Berkeley Hall stood out for the quality of the homes they saw, the amenities, and all the people they met.
"What we found that differentiated Berkeley Hall is that things here are a little more exceptional and elevated," Chris said, "and it offered us something completely different than what we had experienced before. We found some of the other communities to be awesome, but for us, Berkeley Hall was exactly right."
One of the details that draw people to Berkeley Hall from all over the country is the low density of homes. "We are an intentionally smaller community," said Adam Kushner, general manager and COO, Berkeley Hall. "This mindful planning provides a framework for people from all over the world to come together in a close-knit community that feels like family."
This low density allows you to enjoy the scenic Lowcountry location, while a myriad of private club activities keep the whole family engaged. While the landscape is plentiful, the homes and homesites are in limited supply. In fact, Berkeley Hall is the lowest density private golf community in the Southeast, with an average of 5.3 homesites per hole. With the ability to design your dream home, the community's momentum and new home builds have welcomed a good number of new members ready to find their special place in the Lowcountry.
"Berkeley Hall has the core golf experience, meaning all homes are on the periphery of each course," Reed said. "It contributes to a great golf experience because as soon as you step onto the first tee of either Tom Fazio-designed course, you never cross a road until you come off the eighteenth green. Playing here is more of a walk through a park instead of a ride through a neighborhood. It also benefits the homeowners' experience because homes on a Berkeley Hall course have views of manicured beauty in all directions instead of simply looking across a fairway at someone else's backyard. Also, most cart paths are on the opposite side of fairways from the homes and often hidden from view, which improves views and affords added privacy."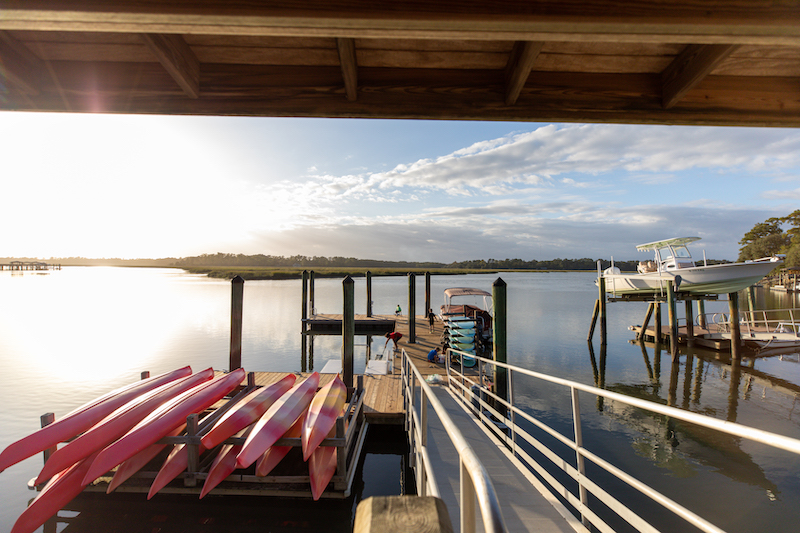 At the River Park – The Community Dock is a wonderful spot to watch the sun set and explore our waterways with kayaks, paddleboards, or a leisurely Pontoon Boat cruise.
For George McGuire and his family—who've been visiting the Lowcountry from Illinois since the 1970s when he was in grade school—it's all about the golf. Originally a timeshare owner, McGuire and his dad (an avid golfer) began playing the private clubs in the '90s. While planning their 2002 trip, he learned about Berkeley Hall.
"A friend told me about a new club my dad and I should check out called Berkeley Hall," McGuire said. "I was then connected with Rich Reed, who became my Realtor and one of my closest friends, who made us an appointment to play. That started it all for us."
McGuire and his wife Paula bought their first lot in 2002 to the joy of their parents. Both of their sons got their first birdies at Berkeley Hall, and now there is a whole new generation of McGuires enjoying the Berkeley Hall experience.
The Yales, too, attest to the luxury of having access to great golf as a big draw for them. "We really enjoy the beauty of being able to get into our golf cart and just go," Lisa said. "Chris is an avid golfer, and I am a novice, so the facilities here are great for both of us."
Berkeley Hall's highly acclaimed Golf Learning Center—the crown jewel of the practice facility—is the culmination of extensive research and brainstorming by a panel of golf experts and was designed to make learning both fun and effective. PGA Tour players have ranked the Learning Center among the world's best.
To help members enjoy the beautifully designed and expertly maintained Tom Fazio golf courses, Berkeley Hall dedicated 33 acres to creating its practice facilities, recognized by Golf Digest as a "Top 75 Golf Practice Facility." PGA Tour players visit Berkeley Hall with the express purpose of working on their game at the Practice Center, praising it as the best they've ever seen. Primarily, though, the members have benefited from and greatly enjoy this amenity.
Krista Dunton, a Top 100 Instructor and Berkeley Hall director of golf instruction, leads the Berkeley Hall Golf Academy's prestigious three-day golf instruction program, with access to the Learning Center and Practice Facility, including four climate-controlled hitting bays; the "Super Bay" with swing analytics technology including TrackMan 4; the Mobile Canopy Structure for practice regardless of weather; the Short Game Complex, with practice greens and bunkers; and the Tru-Putt indoor putting area with Sam PuttLab system.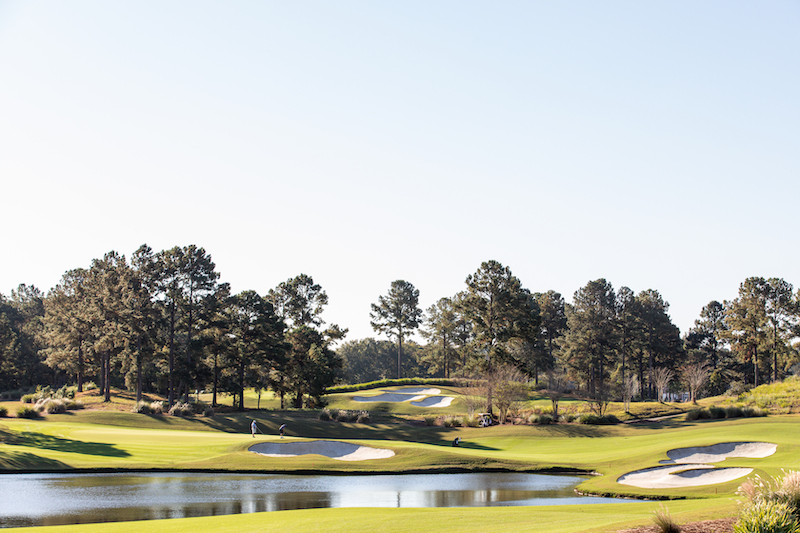 Berkeley Hall Club's Jeffersonian-style Clubhouse welcomes you to the distinctive private golf community, in the heart of the coastal Lowcountry.
"The community has more to offer than great golf," Reed said. "Berkeley Hall's developers recognize the value of family and made sure to include something for the non-golfers. There is a world-class spa and fitness center with indoor and outdoor pools, tennis, pickleball and more. There is a River Park with access to all the water fun, including kayaks, paddleboards, and even a community boat great for sunset cruises."
The two Tom Fazio golf courses, the golf center, and the plethora of other amenities flawlessly complement each other at Berkeley Hall, as does the blend of exquisitely crafted architecture set within the splendor of the natural environment.
"As we are an intentionally smaller community, the home architecture at Berkeley Hall is intentionally diverse," Kushner said, "and there are a variety of home sizes, too. When people are touring the neighborhood, they typically remark on our community's beauty and variety of home designs."
Styles range from stucco to classic Lowcountry, and the sizes range from 2,500 to 7,000 square feet. There is nothing cookie cutter here. Once you enter, you are greeted by the beauty of the Savannah gardens and the neighborhood flowing around it. The homes are set back in diverse ways, with custom landscaping, to create a welcoming village.
The member experience at Berkeley Hall has been recently enhanced by the completion of Phase I of the Master Plan for the community, which highlights the amenities of the clubhouses.
"Very special attention to Berkeley Hall's reimagined spaces begins in the central Grand Hall," said Anne Feldman, director of communications. "As the heart of the clubhouse, the gracious interiors set the tone for a welcoming entrance—a sense of what's to come."
These exquisite details include lighter fabrics and textures that elevate formal dining in the Palmetto Room, with luxurious interiors and a painted coffered ceiling with inset pearlized embossed leather. Handcrafted chandeliers with antiqued gold-leaf finish and quartz crystal accents cast soft light, and the fireplace—a special piece crafted by Francois & Co.—is a nod to the classic architecture of Lowcountry elegance.
The full season Verandah features 4,500 square feet of casual space for dining, entertaining and social gatherings, with an open kitchen, an expanded bar, and seating that offers gorgeous views beyond to the ninth and eighteenth holes on the North Course. Movable glass partitions and screens allow for year-round use, with relaxed sofas and comfortable armchairs anchored by a welcoming, large-scale brick fireplace.
The club's redesigned ladies locker room also features gracious interiors, with casually elegant seating by the fireplace and large windows open to golf views. Expansive rooms provide space for casual card games and group gatherings, a library, a private locker room area with luxurious showers, lockers, and more. Other club enhancements include a new River Park Pavilion and gathering area, expanded Fazio putting green, updates to the racquet sports facilities with covered seating and refencing and new seating for pickleball court area in process.
"Traditions, too, are a part of what we help create and celebrate," Kushner said. "For example, our members love sharing the holidays here with their families. We kick off the season the week leading up to Thanksgiving with an oyster roast, steamed up by our St. Helena-based oyster proprietor. That rolls into the Thanksgiving feast at the club. On the following Saturday, we have the Grand Tree Lighting on the Mall. Then everyone who visits has that 'wow!' moment as they approach the clubhouse and grand lawn all decked out with lights and holiday cheer."
With two world-class Tom Fazio golf courses and a stunning Jeffersonian-style clubhouse, the club experience is balanced through a range of indoor and outdoor activities designed for the entire family. And beyond all this amazing lifestyle, there is room for giving back through the Berkeley Hall Charitable Foundation.
"The Berkeley Hall community recognizes that we are part of an even bigger community," said John Kourakos, Berkeley Hall Charitable Foundation chair, and we are proud to do our part to serve it. Thanks to the generosity of the Berkeley Hall community, the Charitable Foundation has raised more than $2.5 million for Bluffton area charities since its inception in 2008. We are honored to help these worthy nonprofits make important strides in improving the lives of our most vulnerable neighbors. Throughout the Lowcountry, Berkeley Hall has become known for the foundation's incredible impact that we've had on so many lives. It's this compassion that represents the best of our community."
Berkeley Hall Charitable Foundation's vision is to "make a difference by addressing the basic human needs of the greater Bluffton Community, especially those who are most vulnerable, promote philanthropy, and be good stewards of the contributions our members donate."
Natural beauty, incomparable amenities, friendly and professional neighbors, unique and purposeful architecture, big giving hearts … it all comes together, perfectly, in one community.
Come discover the Berkeley Hall lifestyle! To reserve your personal Berkeley Hall tour, contact Alex Madeiros, director of sales and marketing, at (843) 815-8423 or amadeiros@berkeleyhallclub.com. To learn more about Berkeley Hall Club, visit berkeleyhallclub.com.