Namaste Spa's first location at Marriott's Barony Beach Club has always been one of Hilton Head Island's most luxurious retreats, offering clients a certain level of well-appointed service. Soon, however, islanders will be able to enjoy another location of this locally owned and operated boutique spa, opening this spring at the Marriott Grande Ocean. Now more than ever before, locals and visitors alike can enjoy even more Zen.
"The new Grande Ocean location will be just as beautiful and fabulous as the Barony Beach Club spa with the added appeal of an oceanfront view," said Sarah Metzger, spa director.
Namaste Spa at Grande Ocean will offer clients five treatment rooms (three massage rooms and two aesthetic treatment rooms), and its own signature style. Where the Barony Beach Club spa is warm and cozy, the Grande Ocean spa will be very white and bright with lots of natural light. As well, the Grande Ocean location will offer clients an outdoor lounge area where they can enjoy the ocean view and sip champagne and mimosas. 
"Both of our locations have their own unique appeal, including different signature services, so we encourage clients to visit both," Metzger said. "One special service that clients can look forward to at our Grande Ocean spa is outdoor massages."
Holistic Ayurvedic services, including Shirodhara and Abhyanga, are client favorites. 
"During Shirodhara, clients lie down and relax while the therapist pours a continuous light stream of warm oil from a copper vessel onto the forehead and scalp, where our nerves are highly concentrated," Metzger said. "This treatment serves to calm the nervous system and promotes a deep state of relaxation, like meditation. Abhyanga is a full-body massage with warm Ayurvedic essential oils, good for lymphatic drainage, cleansing, rejuvenation, and relaxation. Each essential oil is custom selected for each client according for their specific dosha, or body type."
If you've got an entire day to spend at the spa, then seriously consider the Namaste Spa Day, currently available at the Barony Beach Club spa. This lavish treatment begins with a bubble bath, then an exfoliating body brush treatment and nourishing shea butter wrap, followed by an 80-minute Swedish massage. After that, you'll receive the famous Namaste signature facial, which includes a customized facial plus a scalp, hand, and foot massage with herbal hand and foot wraps.
If you're unsure about what treatment to get, Metzger says her go-to recommendation is the Surf Watch Package, which is a Swedish massage with a foot scrub, classic custom 50-minute facial (includes deep cleansing/extractions, custom mask and facial and décolleté massage, serum, moisturizer, and SPF) and an herbal hand wrap.
"Every client who experiences this package leaves happy," Metzger said.
Clients at Namaste always have the option to add on special enhancements with any treatment. Though there are several to choose from, one is a stand-out: the LED light therapy add-on to any facial, which is currently the most requested.
There are three LED options to consider: blue, red, and infrared. The calming blue LED kills bacteria and treats redness and inflammation; the stimulating red LED is good for collagen production, elasticity and reducing fine lines, wrinkles, and sun damage; the healing infrared LED is good for tissue repair, inflammation, and pain relief.
The Barony Beach Club spa location offers an additional "most requested" add-on: the bubble bath, which comes two ways, with aromatherapy or Epsom salt. Either will help you relax and loosen up your muscles before any treatment. Additionally, a hot bath will prep your skin by softening it, allowing you to absorb the nourishment more fully.
If a special occasion is on your calendar, then consider booking a side-by-side service. For an additional $20 per couple, you'll enjoy side-by-side services with your special someone. Choose any two services of the same type and length to enjoy in the Namaste couples' suite. As well, Namaste Spa will accommodate groups, such as wedding couple groups or employee appreciation groups.
Specialized service is the norm at Namaste. The employees make every service a specialty with the expertise and passion they bring to their work. Metzger asserts that Namaste aestheticians and massage therapists are the best on the island, as they are rigorously vetted and hand-picked to maintain the highest quality of service. 
"Something we look for when we are hiring our professionals is the level of passion they bring to their craft," Metzger said.
The employees at Namaste' Spa are extremely knowledgeable of the new trends and modalities within the industry. They are always upgrading the level of expertise they offer by bringing new services to the menu and providing quality experiences that infiltrate all five senses.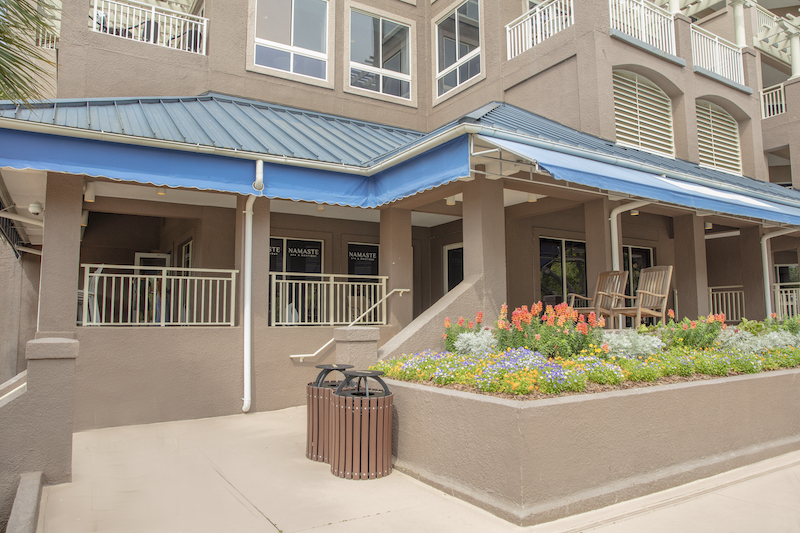 "The Namaste mission is to make clients feel and look their best," Metzger said. "We want to provide our clients a place to relax, get relief from pain, and leave with real results. We make our clients feel important and special, and we give them our undivided attention while they are with us."
Along with attracting tourists, Namaste Spa is deeply committed to their local clientele and is open to everyone, not just guests of the Marriott.
"Like all of our clients," Metzger said, "we treat our locals like VIPs because we want them to return."
Two levels of monthly self-care memberships are available to island residents: The Lotus membership is $175 to join with the first 50-minute treatment free. Thereafter, the member can experience any 50-minute service on the menu for only $100. The Nirvana membership is $224 to sign up with the first 80-minute service free. After that, the member can experience any 80-minute service for only $149 or any 50-minute service for $100.
To learn more about the serenity, space, and specialized service offered by Namaste, visit namastespahhi.com.