When this couple decided to buy a beachfront home, they were specific about what they wanted. Though their current residence is in Los Angeles, California, at the time they lived in Atlanta, Georgia. Married four years, each had visited Hilton Head Island separately but never together. They thought it would be wonderful to have a seaside property that would be a great place for their three children to enjoy growing up—a place that could double as an investment property when not being used personally, and for each other—a place to enjoy in retirement.
They looked at a few places online and selected Hilton Head over other coastal communities due to the island's beauty and the intent to preserve the natural environment over commercialization. Also attractive was the island's vibrant area for retail, restaurants, the vast beaches, the views of the Atlantic, and the outdoor activities available. On top of that, they noted the industry and infrastructure surrounding short-term rentals, whereas other places they researched had more hotels and lacked the support that Hilton Head offers.
They contacted their Atlanta Realtor and disclosed their intent and requirements; that Realtor connected them with Kim McElman, a local Realtor with Weichert Realtors Coastal Properties.
"We called Kim and told her we wanted a $2 million house on the water," the couple said. "She didn't tell us it was impossible. She simply sent us $4 million homes to consider and let us figure it out." From there Kim started their education of real estate on Hilton Head Island.
They decided to look at a few homes over a weekend visit. After visiting seven or eight homes, they walked into a private listing offered by Realtor, Kelly Ruhlin,a property that instantly they knew was very special. Though it was clear to the couple that the 5,000 square foot, six bedroom, five and a half bath home needed extensive updating, they could see tremendous potential. An offer was made and here we are today. 14 Juniper has become not only their home, but a home that takes anyone's breath away, both inside and out.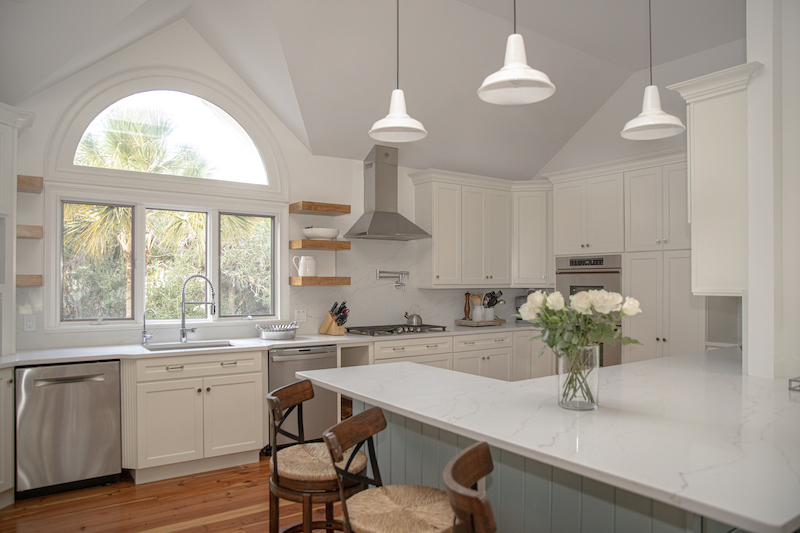 "We have a thing about space," the couple said. "A home is personal. It is one place you can go and be safe from the world. We enjoy making homes feel like the special places they are, and we love to delight others who come to visit. We were determined to do the same with this home. As it was, the home hadn't realized its potential. Though we loved the big, wide architecture and all the views, we knew we wanted to brighten up the interiors, make the home more welcoming, and bring more of the outdoors in."
To head up the renovation, the couple called on Barbara Weir Martin of Hilton Head Island Renovations, a company in business since 1989. When Martin's husband passed away 15 years ago, she decided to keep the business going and indulge solely in renovations of this caliber. Her award-winning business is thriving, and she has built a full-service company offering all aspects of the building and renovating trade.
"When we walked into 14 Juniper it was obvious we had to open up this home and grasp the beauty that surrounds it: the lush landscape, the pool area, and of course, the Atlantic Ocean," Martin said.
With a guiding principle to create a "WOW" effect so that this home would feel more special and different from any other beachfront home on the rental market, Martin's work commenced. First came the removal of walls and the raising of ceilings both inside and outside. This newly added height opened each room and allowed for stunning views. Next, 30-foot multi-glide sliding glass doors were installed on both the upper and lower levels, creating a beautifully dramatic effect.
"Instantly we were hit with spectacular natural light and a feel of space that was not present prior," Martin said. "The upper floor was calling for a featured ceiling, so we chose tongue and groove in white with natural solid pine beams to not only match the new, natural heart pine flooring, but also to give this oceanfront home a feeling of coastal chic."
Additionally, the couple updated all the lighting and hardware; replaced most of the furniture, including all the outdoor furniture; installed a completely new kitchen and bar, including all new gas appliances and a huge refrigerator to accommodate large families; installed an extra washer and dryer in the laundry room; installed a bunk room; upgraded new handicap accessible bathrooms and showers with no thresholds; and even completely moved the old staircase to open the view. Both the exterior and interior were painted.
The master suite has its own private deck and view, with new sliding glass doors that make the space bigger and wider. The master bathroom was completely gutted and now has a new tub, shower, vanity, and mirrors that offer a spa-like escape.
"We were not without obstacles as is the norm with renovating a home on the coast of Hilton Head Island," Martin said, "yet these challenges are why renovating is so exciting and satisfying."
Part of the challenge was installing all new mechanical elements and correcting the home's infrastructure. Newly refurbished, the renovation should last 100 years.
To assist with the new interior design, the couple enlisted a trusted friend with whom they had previously worked. Virginie Brochard, of Brochard Designs, understood that the couple's vision was to create a peaceful, Zen, feng shui and see to it that every room offered special seating with a view of either the garden or the ocean. In fact, more seating was added all over the home so that large gatherings and families would feel comfortable, while simultaneously providing a phenomenal outdoor view from every vantage point. Also, anyone working in the kitchen has a fantastic sight line to the ocean. The white color palette throughout the home creates a modern coastal aesthetic.
"Because the owners didn't want the house to be 'noisy,' we painted the walls and the molding in every room the same color of white but used a different finish on each to draw the attention to the outdoors," Brochard explained. "The couple used personal pieces of art as pops of 'jewelry' on the walls, each offering a special scene—mainly seascapes and skies—of how it feels to be on the island."
The hardwood floor is patterned, creating movement, so the couple invited balance by utilizing neutrals and calming fabrics, including pillows, linens, and rugs. They also stripped away all the former home's embellishments to minimize and create a cleaner, lighter feeling. The wood ceiling in the living area made the home warmer, balanced the proportions, and made each adjacent space make more sense.
The outdoor space at this home is one of its most unique elements, offering two separate spaces: the outdoor pool deck and a sanctuary conservancy in the woods with its own private walkway.
"We are at the end of the cul-de-sac, so no one else shares our beach walk," the couple said. "All our spaces are completely private. We have a nice area before we get to the beach, where we can sit and enjoy the view and then another space with rocking chairs. So, if we're here a few days, we have multiple options to relax. Then, when we get to our beach, it's one of the biggest widest spots on the island. It never gets too crowded. If we want to eat out, Coast is less than a mile's walk. Also, we can walk on the beach or ride bikes on the path to Coligny or go in the opposite direction to Sea Pines. We feel so safe here. Our location is ideal."
Phase two of the renovation will feature an outdoor fireplace, living, and kitchen area. The couple loves their new beach home and their neighborhood on Forest Beach. They are anxious to share their home with their guests and hope they will love it, too. Fourteen Juniper is the kind of luxurious seaside abode you will want to visit year after year and continue to make memories.  
For more information or to book your next vacation rental, visit vacationcompany.com or call (843) 686-6100.
---
Renovation by Barbara Weir Martin, Hilton Head Island Renovations, LLC and Interiors by Virginie Brochard, Brochard Designs