If you're a Lowcountry Southerner, the mere mention of "fish and grits" will make your mouth water. As well, when someone mentions a music festival, your legs begin to move, and a smile comes across your face. Then if these two joy-inducing events come together, ooooohhh shakalaka! You may as well get ready because it's here: The Lowcountry Fish and Grits Music Festival, organized by international recording artist and Bluffton native Latrese Bush, has arrived!
Bush is the owner of BurnBush Entertainment, and her company, in association with the Hilton Head MLK Committee for Justice and the Gullah Geechee Heritage Corridor, and presented by Watterson Brands, is bringing The Lowcountry Fish and Grits Music Festival to Celebration Park, 94 Pope Ave., on Hilton Head Island, from 1-6 p.m., October 1. The festival will offer attendees the tastes and sounds of the Gullah Geechee culture along with its connection to the vast African diaspora.
"Attendees can expect a taste of Gullah, a diverse presentation of live music, food trucks, local artists and craft vendors," Bush said. "There will be great food, great music and a great time!"
"Festivals that celebrate the heritage of our community are an essential part of the Lowcountry experience," said Billy Watterson, CEO of Watterson Brands. "Food, language, dance and song have been the generational currency of the Gullah people for hundreds of years—and we are proud to support businesses that elevate those artistic pillars."
From left to right: Billy Watterson, Louise Cohen, Galen Miller, and Latrese Bush at the Gullah Museum. 
Bush said she was inspired to create this festival out of a sense of urgency; she felt she had to do it. "It seems to me like we are losing our elders, the keepers of our Gullah Geechee history, more so now than at any time in my life," she explained. "The elders have sustained our culture and afforded folks like me the opportunity to explore and experience things they could only dream of."
Bush said she sometimes took for granted the safety and protection of her tight-knit village community—the pockets of extended family living, worshiping, and fellowshipping together. Her people lived off the land and the water. Back in the day, she relates how folks would grab some peas and collard greens from her father, the late Leon 'Lee' Bush Sr., then go up the road for some fresh catch from the local fisherman. Her mom, Laura Bush (retired Beaufort County school board member after 26 years of service) and a few of the other ladies would travel to Burton, a community outside of Beaufort, to can vegetables at her late Aunt Thelma Morrall's house just so they would have some okra and tomatoes over a fluffy bed of steamed white rice in the winter.
Sound familiar? Probably so. Every Southerner has these indelible soulful memories through our family and food experiences. No matter where we go or what we eat, somehow that soul food ignites our fondest sentiments. Bush is no exception. And that's why she chose "Fish and Grits" as the name of her festival.
"The Fish and Grits Music Festival will bring a different vibe to the Lowcountry in the fall," said Thomasena Fields, who along with her husband, chef Melvin, owns the popular Melly Mel's food truck. "In our culture, music and food go hand in hand—especially when you talk about our traditional favorites like gumbo, red rice, oxtail stew, and conch stew. We can't wait to be a part of this wonderful creation. Melly Mel's plans to offer some of the traditional items we are known for and more!"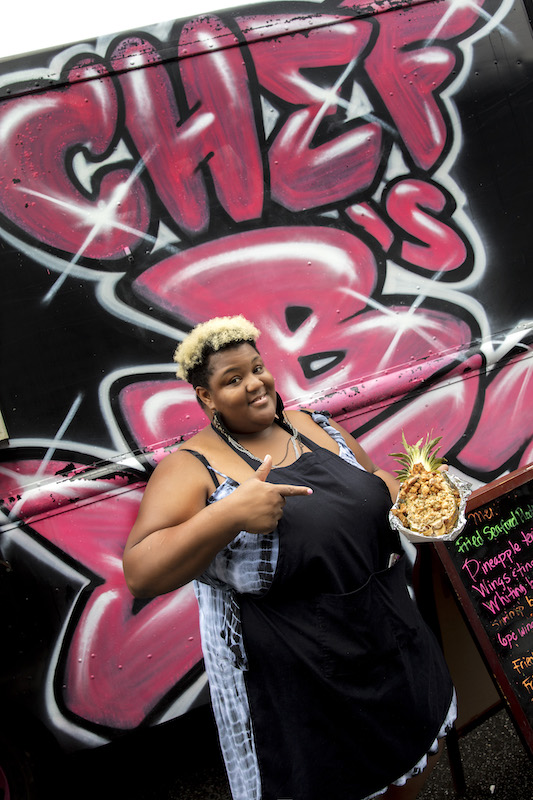 Brigette Frazier's food truck Chef B's Eatz wil be one of the featured vendors at the festival.
When it comes to food, Bush has a well-traveled palate. "I have eaten paella in Spain, pasta in Italy, even currywurst in Germany," she shared, "but hands down, my favorite dish is 'fish and grits.' There is just something about a hot piece of lightly seasoned, golden fried fish (preferably whiting), over a bed of grits, topped off with a dollop of creamy butter, light salt, and pepper."
It is the simple and sophisticated Gullah Geechee way that made the very ordinary so extraordinary for Bush, then, now, and forever more, and it's exactly why she is determined to share a taste of what she's been blessed to experience growing up Gullah.
"I simply want to tell everybody about my culture and how much it means to me," Bush said. "I consider the festival a part of my personal journey, as I am still learning about our great culture. I also want to point folks to organizations like the Gullah Geechee Heritage Corridor, the Native Island Business and Community Affairs Association (NIBCAA), Gullah Geechee Nation, and Louise Cohen's Gullah Museum—all organizations that have done amazing work keeping our culture top of mind in our community and beyond."
Cohen will be a featured Gullah storyteller at The Lowcountry Fish and Grits Music Festival, and on October 29; she will be hosting a Gullah Food Festival at The Gullah Museum of Hilton Head Island, where she has featured traditional cuisine such as Joy Mitchell's Mama Joy's Kitchen, who will also be at The Lowcountry Fish and Grits Music Festival.
Mama Joy plans to feature fish and grits the traditional way—bone-in whiting—with a nice big bowl of buttery grits with some cheese on top. Joy said, "When I think of Gullah food and Gullah cooking, all I think is yumm! It's just all the flavors coming together making a pot of goodness and comfort food. Gullah food means that the culture is still alive. We have seen the area get developed and transformed, but the people and the traditions are still here." 
The festival will offer several incredible food options. Popular chef, Gullah Geechee preservationist, and owner of Chef B's Eatz food truck, Brigette Frazier, will be one of the featured food vendors at the festival. "Gullah is more than its food," Frazier said. "It's a way of life; it's a perspective; it's a philosophy."
The Fish and Grits Music Festival will feature an array of musical artists. Bush herself, who has performed all around the world and worked with artists such as Gloria Gaynor, Jennifer Holliday, even Justin Bieber, will be performing. Sharing the stage will be Latin percussionist Frankie Quinones, Lowcountry natives Gwen Yvette (currently opening for the O'Jays), Angela Bonaparte, Votte Hall, and more. From gospel, to jazz, this music festival has something for everyone.
Not only will the festival feature great food, and great music, but it will also serve as a way to give back to the local community. A portion of the proceeds will benefit the Hilton Head MLK Committee for Justice, helping support their programming and events that have a positive impact on the community and promote Dr. King's legacy of love, equality, peace, and civil rights.
Galen Miller, committee president said, "For the last two years, I have been wanting to have Latrese perform for an MLK event. Her brother Leon 'LJ' Bush Jr. of Side Hustle Brewery called me and said Latrese wanted to talk to me about the festival she's planning. As soon as he said 'Fish and Grits,' I was in. The Hilton Head MLK Committee for Justice is beyond excited to be a part of such a great community event."
Miller also reminisced that family reunions and neighborhood gatherings are a big part of growing up in the Hilton Head Gullah community where foods like BBQ, fried fish, fried shrimp, Lowcountry boil, and crab boils were staples, along with sides, like red rice, mac 'n' cheese, potato salad, seafood salad, collard greens, and green beans. "All of the seafood we would go out and catch ourselves," Galen said. "We would play spades, listen to music, and dance in the yard."
Festival goers can expect to get a taste of this traditional Gullah experience and much more. The Lowcountry Fish and Grits Music Festival is a cultural, family-friendly event for all, promoting great music, great food, and a great time—powered by the amazing Gullah Geechee people!  
For tickets and more information, visit fishandgritsmusicfest.com.