Great blue herons, green loggerhead turtles and glowing golden seahorses will be among the illuminated creatures to meander along the island's most popular beach Nov. 18 when the fifth annual Hilton Head Island Lantern Parade steps off at 5:30 p.m. Lit with colorful LEDs and flashlights and held aloft by anyone who wants to participate, these and other imaginative paper creations will set out from the Alder Lane Beach Access, 2 Woodward Ave. in North Forest Beach.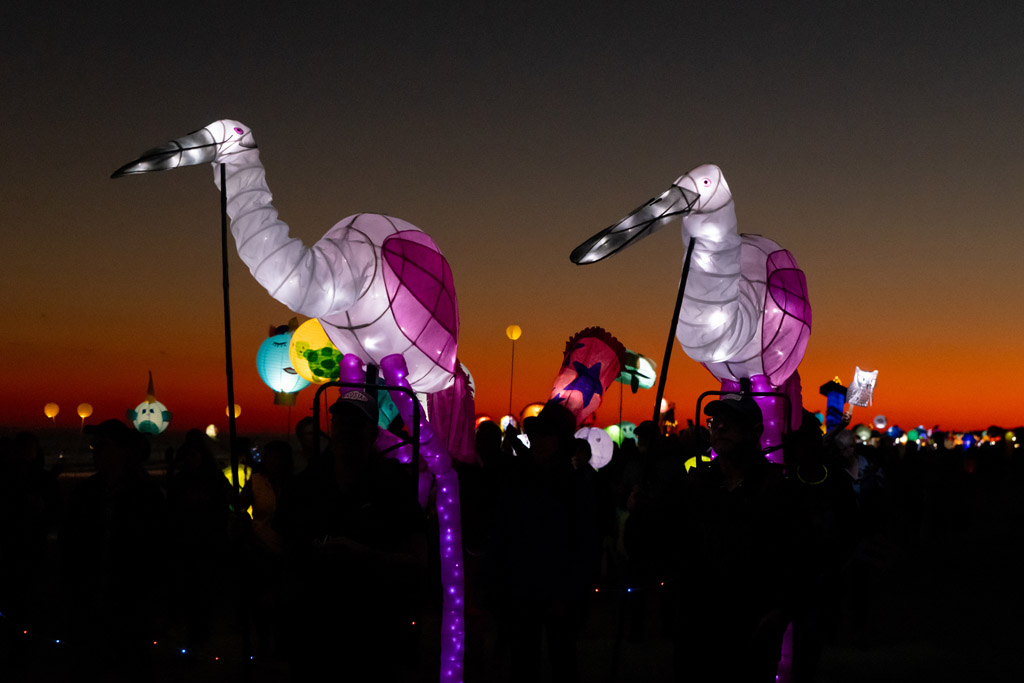 The exuberant party, complete with a band, will wend its way along the sandy shore toward Coligny Beach Park, then proceed to the after-party at Lowcountry Celebration Park.
"It's really an amazing sight!" said Natalie Harvey, director of the Office of Cultural Affairs, which plans and executes the event for the Town of Hilton Head Island. "I have been fortunate to have participated since the beginning by marching in it, then as a spectator, and now organizing it."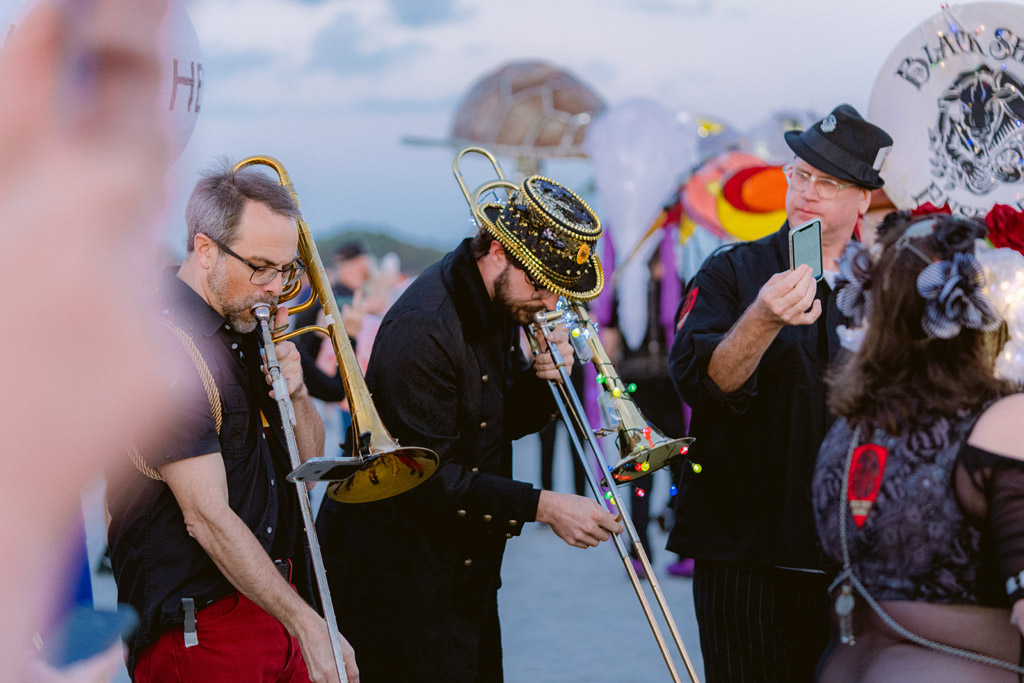 The parade was created by Chantelle Rytter of Atlanta, founder of the original Atlanta Beltline Parade, which celebrated its thirteenth year in May. That parade came about because Rytter was homesick for New Orleans, where parade culture is a part of life. She also had been fascinated by lanterns featured in parades around the world.
"You know how on Fat Tuesday, everyone is in costume," Rytter said. "It's lots of individuals participating wildly. So, I wanted to combine Mardi Gras with lanterns, to create a community of joy."
Every year since the Hilton Head parade started in 2019, Rytter has added new large nature puppets, "so I'm excited to see what she's created for us this year," Harvey said.
Though Rytter is not from the Lowcountry, she has studied local sea life, shore birds, and loggerhead turtles, and created magical lanterns to represent and celebrate them in the parade. Rytter said she read this year about a species of fish not necessarily well known in this area, though it is a threatened species. To bring about awareness, the 2023 puppet additions are a pair of lined seahorses, created in gold to mimic their natural coloring. Rytter brings helpers—about 20 folks, lovingly referred to as her Krewe of the Grateful Gluttons—to handle the large puppets. Some shorebird puppets such as egrets and herons have long legs, and their human carriers strap the lighted bird's legs to their own, so that as they walk, so does the bird.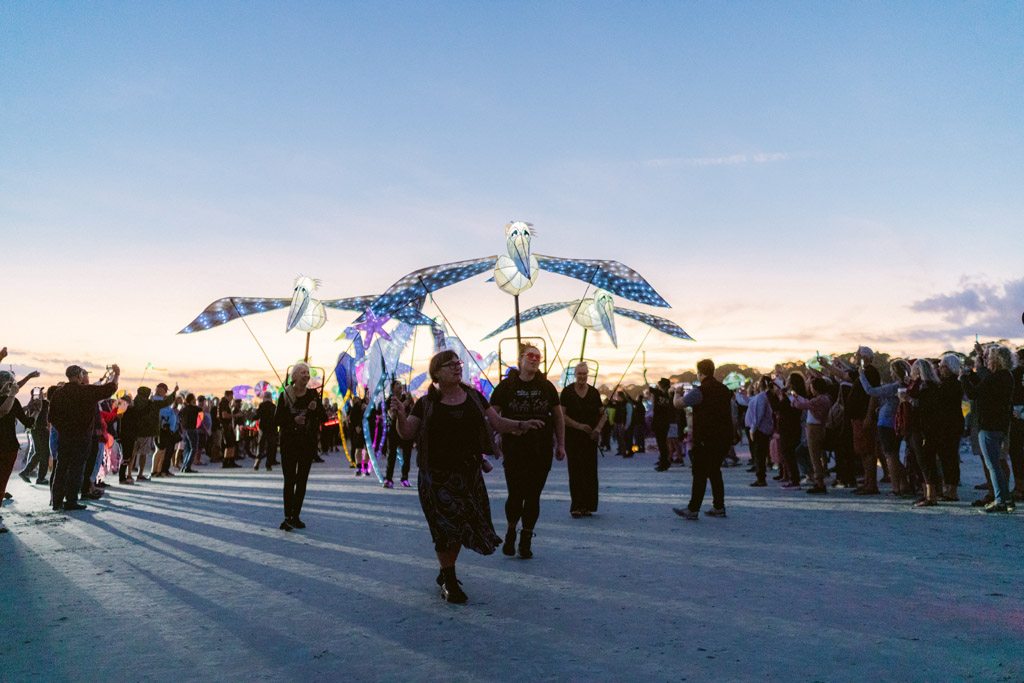 Also accompanying the Atlanta contingent is the 20-piece Black Sheep Ensemble, the band that follows the featured lanterns and helps maintain a festive atmosphere. Adding to the musical element are the Soda City Brass Band from Columbia and the Hilton Head Island High School Band.
"We love the Hilton Head Lantern Parade," Rytter said. "The beach is so beautiful—just the darkness of it. It's so cool how turtle awareness keeps it dark. We look really good in that."
Town of Hilton Head Island Mayor Alan Perry attended last year for the first time. "It was just so beautiful to see all the lights on the beach, and all the different lanterns," he said. "It was fantastic—so much fun, so special."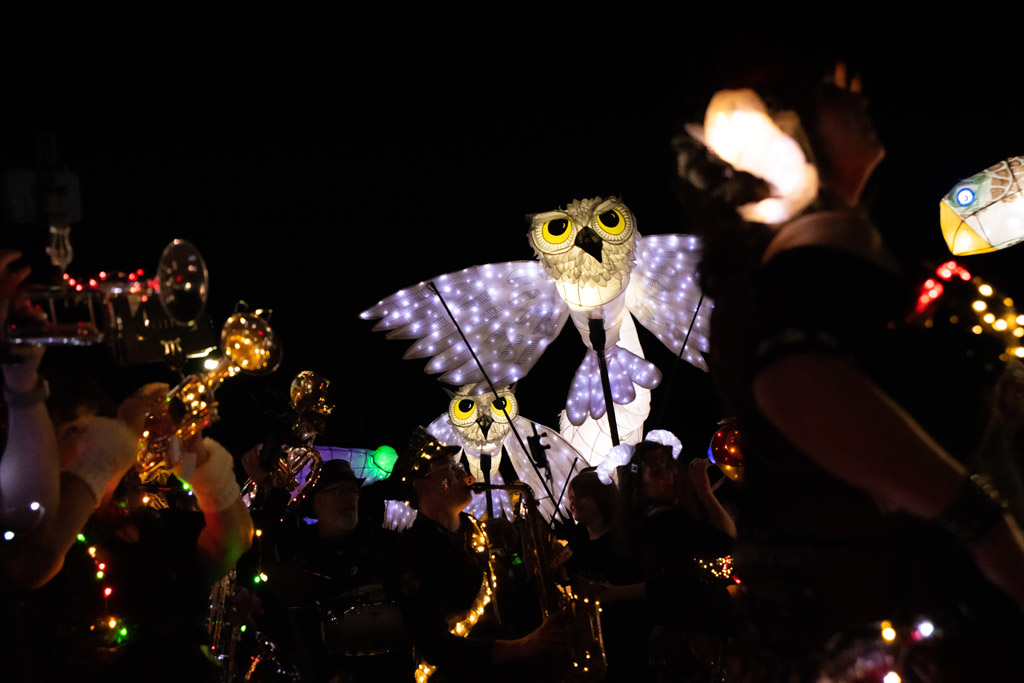 Harvey encourages residents and visitors to walk in the parade. "The thing to remember is anyone can march; the only requirement is that you must have a lantern," she said.
Lanterns can be as simple or as elaborate as one's imagination. Those who need help can attend a free lantern-making workshop, set for 5 to 7 p.m. Nov. 14 and 15 at Carolina Coffee & Crumbs in Coligny Plaza. Attendees may bring their own materials or use those provided.
Inspiration is available on Rytter's website, www.weirdgonepro.com/lantern-parade-resources.  "I have lots of ideas there," Rytter said, including downloadable printouts and a video. "We love invention! One of the funniest was made out of toast; it was the weirdest, cutest thing!"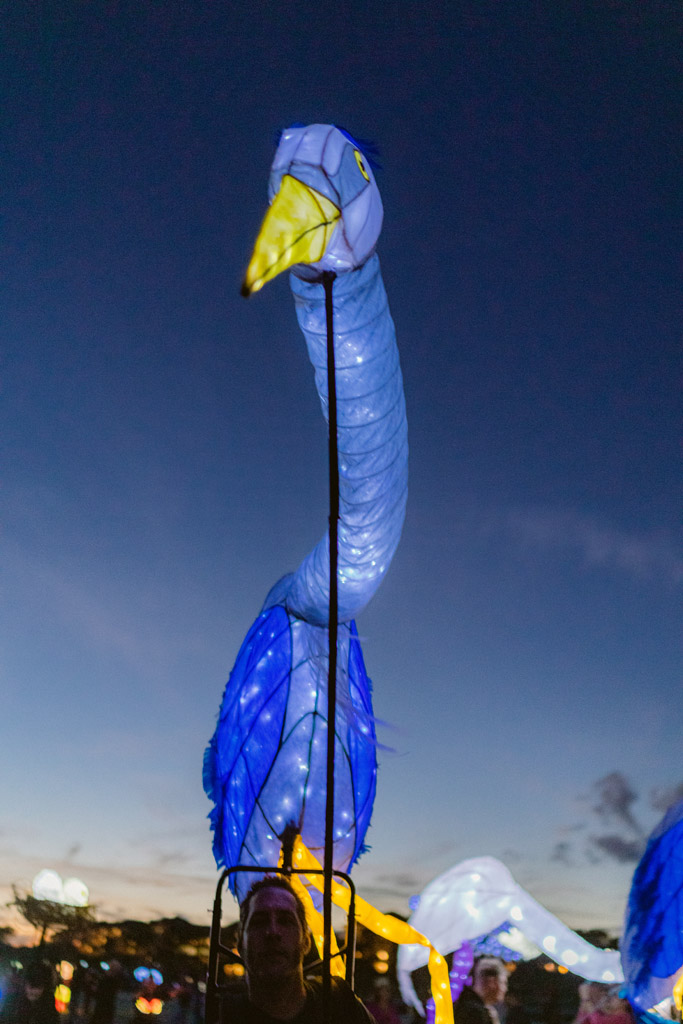 Another option is to use a free lantern kit available (while supplies last) at a community get-together just prior to the parade, starting at 3 p.m., at Loggerhead Landing Bar & Grille at Marriott Grand Ocean Resort, adjacent to the path at Alder Lane Beach Access.
The gathering, which is free and open to the public, will include face painters, food and beverages, and live entertainment with Darryl E. Van Horne as Tha Sole Mate.
"We're so fortunate Loggerhead Landing is adjacent to Alder Lane," said Laurie Savidge, director of operations at Grande Ocean. "This event caters to families and celebrates the community day that it is. It complements what's going on out on the beach."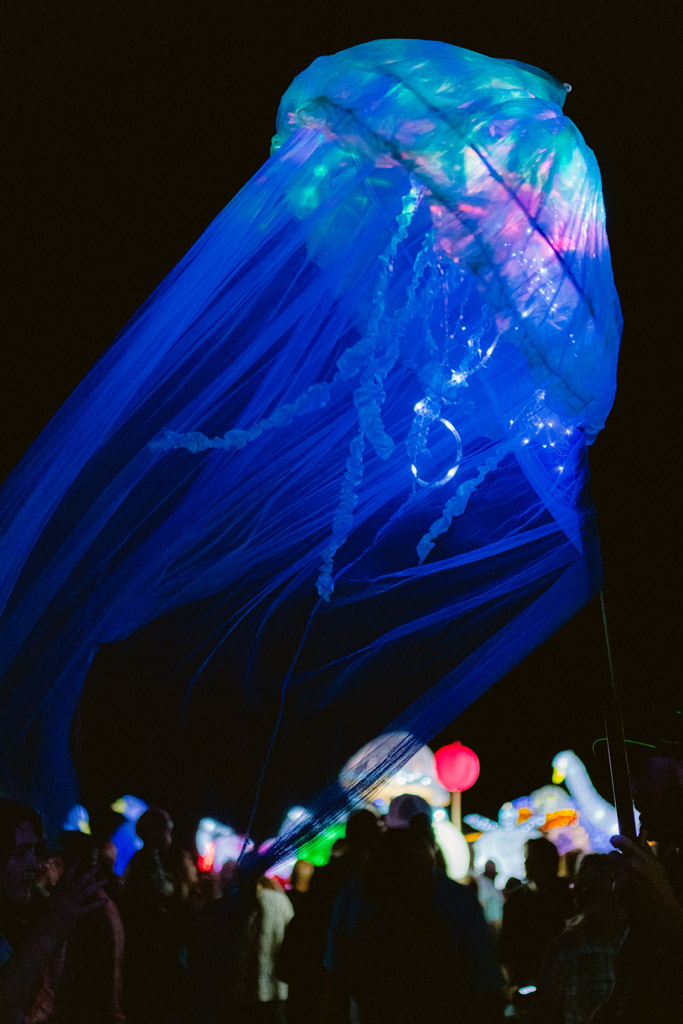 The property is booked solid with guests and owners that weekend, Savidge said, and she hopes they will participate. "We ordered 80 loggerhead hatchling lantern kits from Chantelle," she said. "We hope they will encourage our owners and guests to learn more about the Sea Turtle Patrol program, be good stewards of our beaches, and learn more about the loggerheads."
Participants should be at the Alder Lane access by 5 p.m. with their lanterns. Volunteers will be on hand to assist. Pets, bicycles and motorized vehicles are not allowed.
"Be ready to take a stroll down the beach," Harvey said. And remember, "it's not a race; there are no awards for finishing fastest."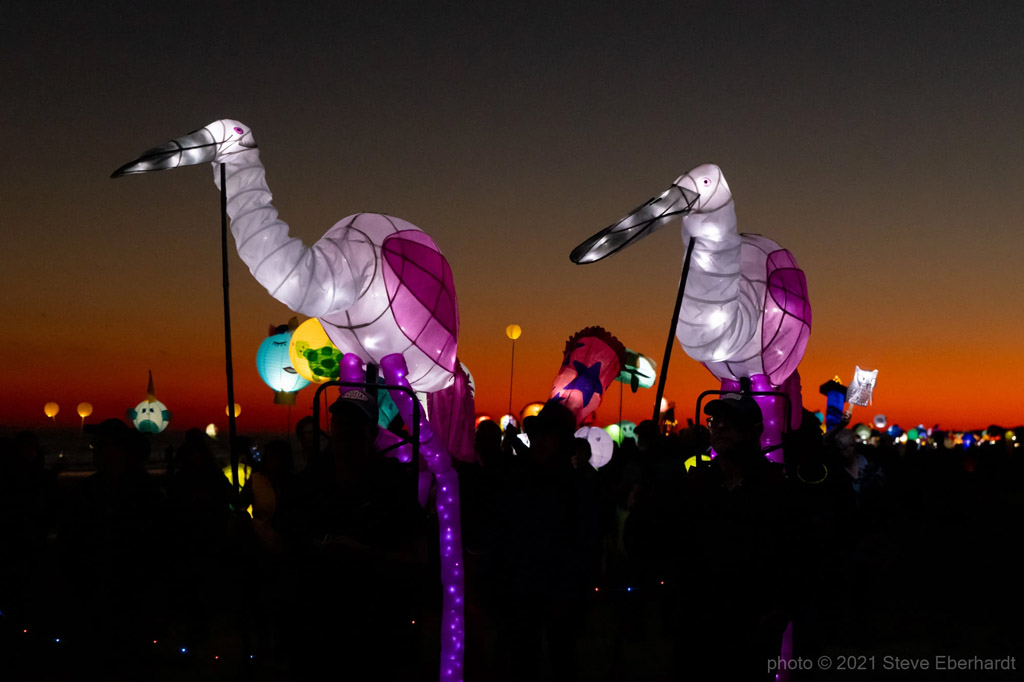 Those who wish to attend as spectators are welcome anywhere along the beach route. Free parking is available at Coligny Beach parking lot as well as the USCB campus off Pope Avenue. Shuttles will run from that lot to Coligny and to Alder Lane and back.
In years past, the parade ended at Coligny Beach Park, where participants mingled with spectators and the Tiki Hut was open for libations. This year, the Tiki Hut is being remodeled, so the parade will stroll to the town's beach access point and, with police escort, around Coligny Circle and over to Lowcountry Celebration Park.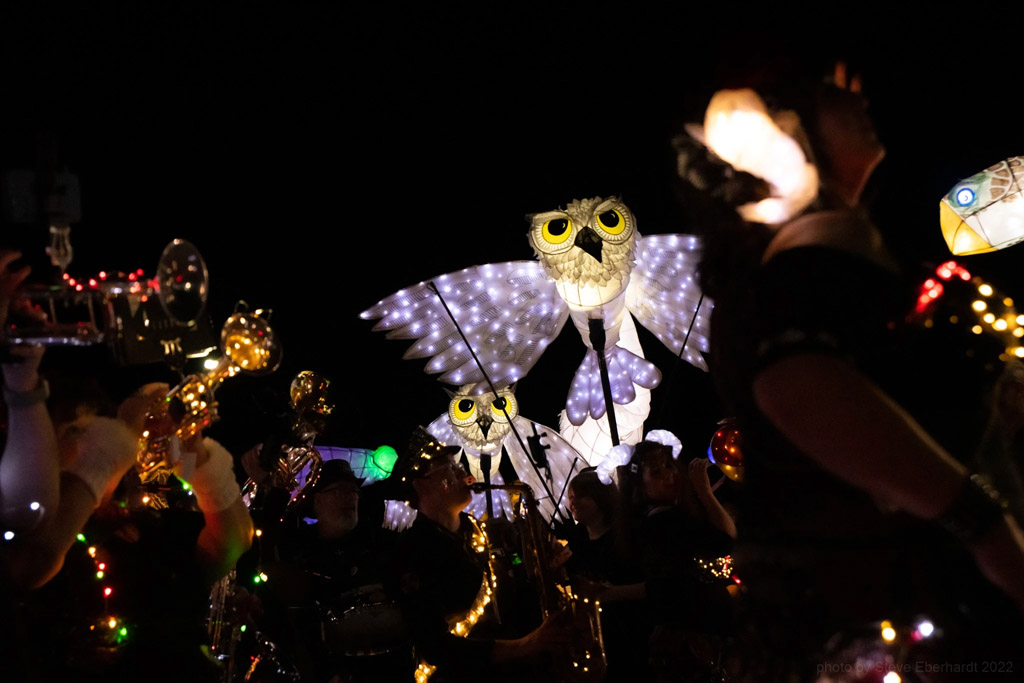 Spectators are encouraged to follow and enjoy the after-party. Food and beverage trucks will be in place, and live music will be provided by the popular local band Groove Town Assault. 
"Civic play like this parade connects people to people, and people to place," Rytter said. "What's different about our style of parading is that we invite everyone to participate."