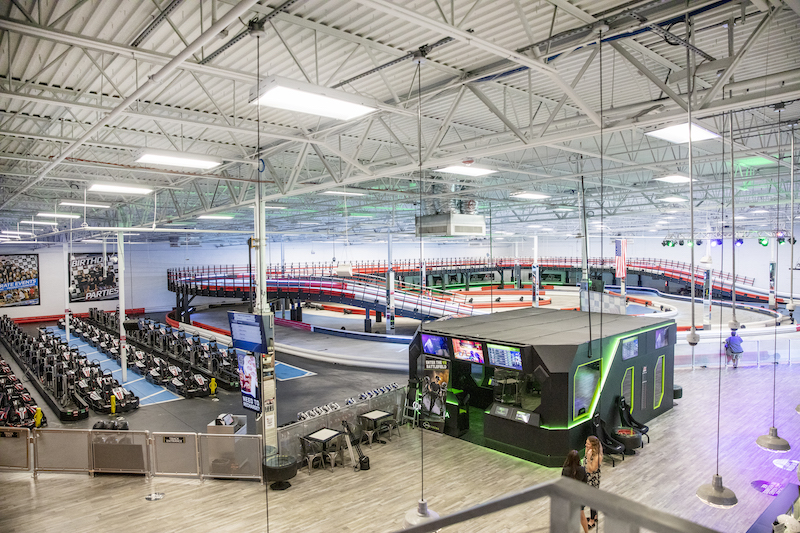 When the Promenades Aériennes opened in Paris in 1817, people were astonished by the speed and thrills of this so-called "roller coaster." Hitting 40 miles per hour was unheard of back then, so thrill seekers came from all over the world to experience it.
Of course, it can't hold a candle to today's giga coasters, which average about twice that speed. And, of course, that's dwarfed by the fastest coaster in the world, the Formula Rossa at Ferrari World Abu Dhabi in the United Arab Emirates, which hits nearly 150.
The point being, fun is always evolving.
And if you need an adrenaline-pumping example of just how far fun has evolved, strap yourself into one of the 48 Italian-made superleggero speed machines at K1 Racing, recently opened in Belfair Towne Village. You might think you're in for just another lap around the go-kart track. But as soon as you punch the accelerator down, sending your adrenaline skyrocketing and stiffening every hair on your body, you'll understand that this experience is worlds beyond the typical go-kart.
"That's why we chose K1 Speed—how authentic they are to racing. We didn't want something that was a novelty," said Paul McBride, co-owner along with his wife Nikki. "We push it to the limit, where it's still safe but people can really get that feeling of racing."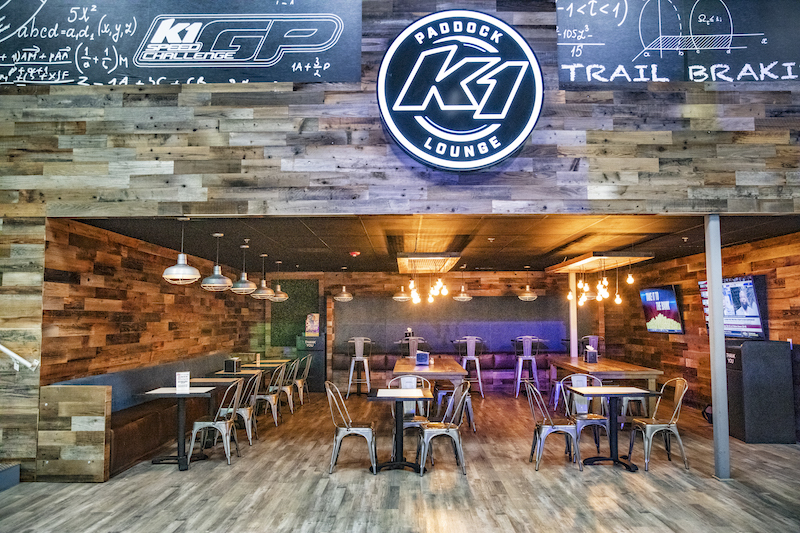 The carts are remotely tuned, with operators able to adjust the performance on the fly to ensure a fair lap for racers of different experience and skills. By default, they are tuned to run at speeds upward to 40 mph, a speed which feels very different when you're just a few inches off the ground. However, Paul notes that when a driver has come in enough times, they can be kicked up to the next speed bracket.
These thrill machines are at center stage of the entire experience at K1 Racing, precision-tuned to deliver authentic racing within a track that's unique to anywhere in the world. "Of the 55 K1 Speed locations worldwide, we're the only location with a multi-level track," Paul said. The 325 feet of elevated track arcs above a series of harrowing hairpin turns below, a necessity when putting a racetrack inside a former department store's footprint. "We made 45,000 square feet work when they usually need 60,000," Paul explained.
Outside the track
The go-kart track definitely takes center stage, but it has some tremendous supporting players at K1 Speed. A full-fledged family fun center, K1 gives you plenty of options to get some thrills in while you're waiting for your lap to start. The arcade stocks a good mix of skill and arcade games, with the punching bag and soccer goal machines being huge standouts. Plus, a recent addition of an Omni Arena gives you completely immersive VR thrills, with games ranging from military-style combat to fighting off hordes of bloodthirsty zombies. And you're not standing still while you play; an innovative gimbal and harness system lets players feel like they're running through virtual worlds.
"It's funny seeing the kids playing the Paranormal game and just start screaming," Paul said with a laugh.
Combine that with a large assortment of beer and wine, and a full food menu, it's easy to see why K1 Speed has become as much of a hangout for families as it has for those seeking a different kind of night out.
"What I love most about this business is people come in with a smile and leave with a smile," Paul said.
The family that races together
The Bluffton location of K1 Speed is the latest venture for the McBride family, a clan of serial entrepreneurs who have made Bluffton their home since 1991. Former owners of Carolina Car Wash (now Island Car Wash) as well as Sea Castle Custom Homes, Palmetto Real Estate Group, a handful of restaurants, and other local companies, the McBrides have been a vital part of the community for years.
The launch of K1 Speed represents a dream that Paul and Nikki had long followed. "We've wanted to do this since 2007," Paul said. "We just couldn't find the right spot."
Typically, K1 Speed courses are located in commercial business parks, but the closure of Stein Mart presented a tantalizing possibility of opening the first K1 Speed in a retail center. There was just one problem. "The town initially said no," Paul said. "The Planned Unit Development written 20 years ago prohibited go-karts specifically … but it was written before the technology was available."
Fortunately, they were open to the McBride family's suggestions. "The town was super helpful. It took three months, and we had to change the law, but Mayor Sulka was behind us the whole way," Paul said.
And thus, a family who had made their name giving Bluffton the new businesses they need opened something every parent has been begging for. "We've been here since 1991, and we have a 21-, 20-, and 16-year-old. There was a void," Paul said. "Like everyone else, we love bowling, the beach, and mini golf, but we wanted another family-friendly alternative. This definitely filled a need."
If anyone could fill that need, it's the McBrides. Paul notes that this project, like each one he's undertaken, would not have come to fruition if not for the overwhelming support from Nikki and both their parents. When this opportunity became a possibility, he received an enthusiastic thumbs up from his father/consigliere Dennis, who has worked with him for 30-plus years. His children Brandon, Lexi and Madi all work to manage and run their business, either behind the counter or in the race pits. And his sister Colleen has led the charge with group sales/manager.
"She is amazing at what she does," Paul said. "That's a part of the business I didn't realize was so strong. People love coming here and being able to call it work."
Joining the family is Zach Hellstrom, who had taken point at Carolina Car Wash and followed the McBrides on their new adventure as a member of the management team. 
"K1 Speed has some great systems in place, but we've really made this our own," Paul said. "It feels like a McBride business vs. a corporate business."
And around here, the term "A McBride Business" means something. Paul said, "We've been here 30 years, we're part of the community and it's been great to see people support us."