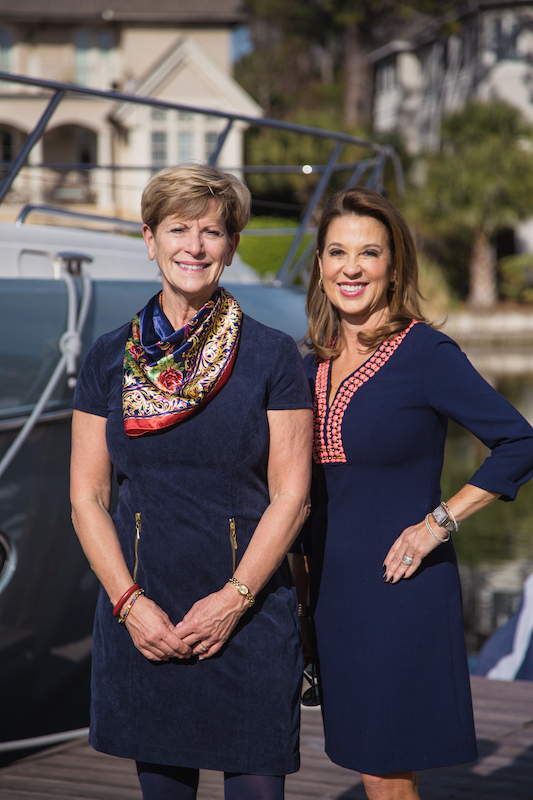 Jenny Brasington, Cindy Creamer
For 16 years, locals and visitors have been looking forward to the Yacht Hop, a premier luxury event hosted this year at the Inland Harbour in Wexford.
"We are delighted to be able to have Yacht Hop this year at Wexford," said Jenny Brasington, executive director, HCL. "This year's Yacht Hop represents so much—most importantly our fortieth year of operation in the community."
From 5:30 to 8:30 p.m. on May 14, guests will tour 21 lavish yachts. Each vessel ranges in length from 35 feet to upwards of 66 feet and in price from $150,000 upwards of $2.5 million.
"This year, yacht hop will be more exclusive and have more yachts than any other previous year," said Cindy Creamer, board of directors HCL and Yacht Hop committee chair. "As the committee says, it's no longer just a special event; it's an experience."
"We are very excited to bring this awesome experience to our friends and neighbors," said James Dismond, director of business development HCL. "It is truly the premier luxury event on the island."
On each of the lavish yachts, event patrons will be served mouthwatering hors d'oeuvres and masterfully crafted cocktails prepared by some of the area's most acclaimed chefs, showcasing Lowcountry cuisine and Southern hospitality.
"We are thrilled to show our support by participating in this year's Yacht Hop, showcasing the club and the talents of our award-winning executive chef, Josh O'Neill," said Jessica Burt, manager at The Golf Club at Indigo Run. Hospice Care of the Lowcountry is a fantastic community-driven organization that has touched our club family and our loved ones."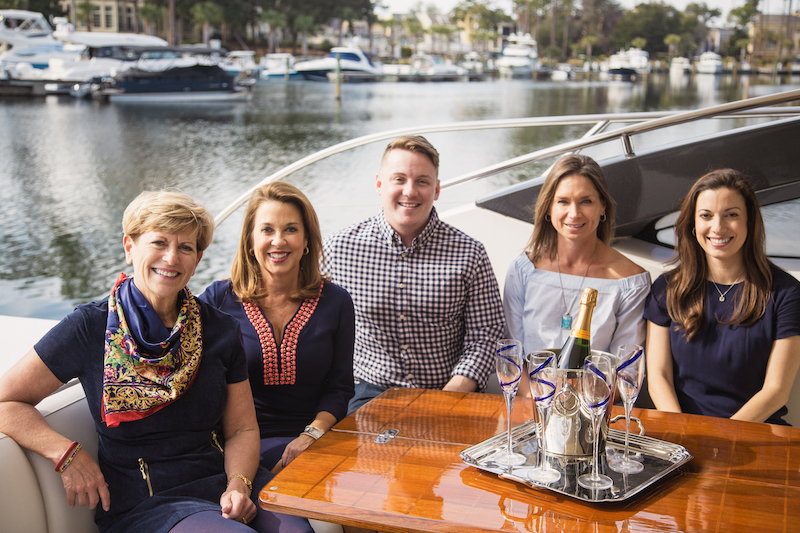 From left to right: Jenny Brasington, Cindy Creamer, James Dismond, Lynsey Rini, Courtney Daniels
In addition to enjoying the food and libations, attendees can mingle with other guests around the multi-level venue overlooking the Inland Harbour, listen to live music, lounge on the VIP lawn or the VIP scenic overlook, and bid on exclusive event items and luxury vacations during the live auction before the night draws to a close. The 2022 Yacht Hop's premier sponsors are Winslow Design Custom Kitchens, Hilton Head Bicycles, and the Great Frameup.
"The Team at Winslow Design Studio is honored to support Hospice Care of the Low Country," said Charmayne Winslow, owner. "The end of life often comes too soon and unexpectedly. A diagnosis of pancreatic cancer brought Hospice into my life as my husband was losing his. In my 30 years as an emergency and ICU RN, I learned the quality of death matters just as much as one's quality of life. Hospice helped in providing that and more to his life and mine as his caregiver. Because of the care, compassion, and understanding, they will always have a place in my heart."
"My wife and I are personally connected to Hospice Care of the Lowcountry," said Jim Hall of Hilton Head Bicycles. "When we saw an opportunity to give back, it was an easy decision. Plus, we get to hop yachts while supporting a phenomenal organization."
"It promises to be a fabulous, elevated evening to celebrate 40 years of Hospice Care of the Lowcountry," Dismond said.
The island's first hospice began more than 40 years ago where a roundtable of individuals was discussing the futures of their aging family members and friends and the fact that there was no island support. From that conversation, a volunteer network was formed that eventually evolved into today's HCL—a $3 million dollar organization that serves 300-350 patients annually.
The volunteers and staff at HCL pride themselves on their core values: "It's not about dying; it's about living." "Our pursuit of excellence never ends." And their slogan, "Hospice Care is your choice and our privilege."
"When I was asked to be the event chair of this committee, it was an easy yes," Creamer said. "Yacht Hop embodies the Lowcountry Life that I sell every day as a Realtor. It's a five-star event that you don't want to miss."
A limited number of tickets will be sold, making this an exclusive charity event. Two levels of participation are available: General admission tickets (5:30-8:30 p.m.) are $250, and a variety of Sponsor/VIP tickets (4-8:30 p.m.) are still available at $7,500 and lower.
"HCL is committed and connected to our community," Dismond said. "Yacht Hop is a magnificent event for our supporters to come together and enjoy themselves while supporting HCL."
For more information, visit hospicecarelc.org/sponsor-yacht-hop, call (843) 760-2296, or email jdismond@hospicecarelc.org.