I like to cook. No, I love to cook.
Generally, a trip to the grocery store is not on my top-10 list of favorite things to do, but if I know I'm going to prepare dinner for a group of family or friend, I enjoy it a lot more. When people find out who my mother is, they assume I'm a fabulous baker. Surprisingly though, I didn't learn to cook and love it until my early- to mid-20s.
Most of my cooking skills came from watching the men in my life work their magic in the kitchen. My friend, Vinnie (yes, he's Italian) used to cook big Italian feasts for us to enjoy while watching The Sopranos back in the day. Then one day I crossed over from observer to participant when, in the middle of a 48-hour recipe for Tom Colicchio's braised short ribs, Vinnie got a call that a family member was sick, and he had to leave town. I remember him looking at me and saying, "Maggie, you have to finish the short ribs!" with all the seriousness an Italian man who loves food could muster.
Oh, I did finish those ribs. It has now become one of my favorite things to make for a group of friends and arguably one of the best dishes in my repertoire.
For a few months now, I have wanted to get together with Chef Lynne Michelle and Cassandra, Schultz, owner of Cassandra's Kitchen (online and in its new location on Promenade Street in Old Town Bluffton). I've photographed these women at work on multiple occasions and thought a collaboration for our Christmas issue would be festive and delicious.
We decided to keep the recipes simple and easy with not too many ingredients. These dishes make wonderful appetizers for your holiday table and can be doubled or tripled if you're feeding a herd.
Look for our next collab this spring. Oh, and a very special shout-out to Vinnie from West Virginia who introduced me to pepperoni rolls.
---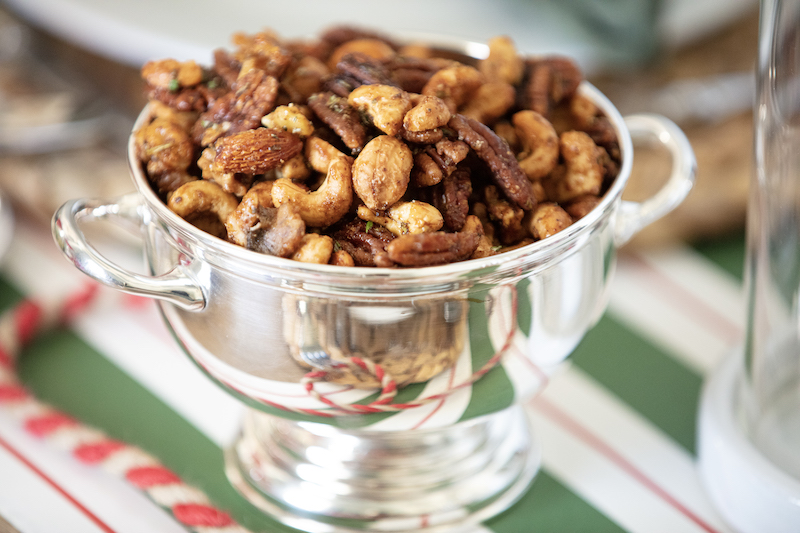 Ina Garten's Chipotle and Rosemary Roasted Nuts
Ingredients:
Vegetable oil
3 cups whole roasted unsalted cashews (14 oz.)
2 cups whole walnut halves (7 oz.)
2 cups whole pecan halves (7 oz.)
1/2 cup whole almonds (3 oz.)
1/3 cup pure maple syrup
1/4 cup light brown sugar, lightly packed
3 tablespoons freshly squeezed orange juice
2 teaspoons ground chipotle powder
4 tablespoons minced fresh rosemary leaves, divided
Kosher salt
Directions:
Preheat the oven to 350 degrees F.
Brush a sheet pan generously with vegetable oil. Combine the cashews, walnuts, pecans, almonds, 2 tablespoons of vegetable oil, the maple syrup, brown sugar, orange juice, and chipotle powder on the sheet pan. Toss to coat the nuts evenly. Add 2 tablespoons of the rosemary and 2 teaspoons of salt and toss again.
Spread the nuts in one layer. Roast the nuts for 25 minutes, stirring twice with a large metal spatula, until the nuts are glazed and golden brown. Remove from the oven and sprinkle with 2 more teaspoons of salt and the remaining 2 tablespoons of rosemary. Toss well and set aside at room temperature, stirring occasionally to prevent sticking as they cool. Taste for seasoning. Serve warm or cool completely and store in airtight containers at room temperature.
Copyright 2010, Barefoot Contessa How Easy is That? by Ina Garten, Clarkson Potter/Publishers, All Rights Reserved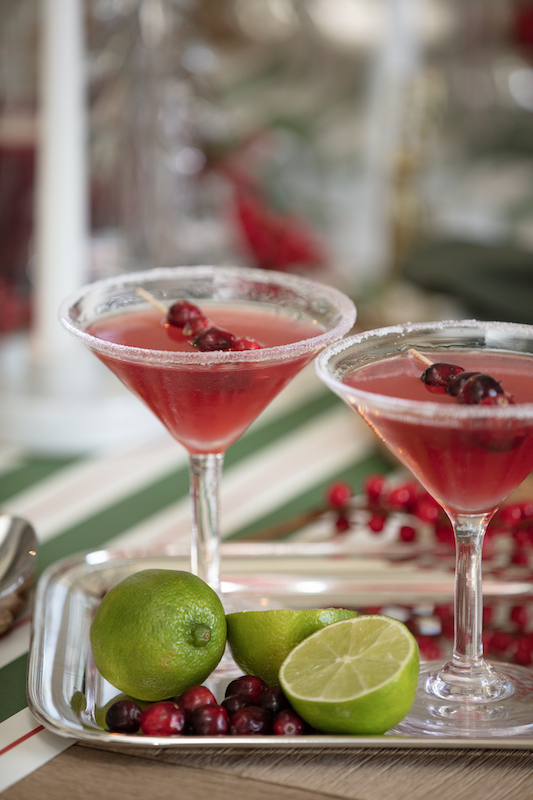 Ina Garten's Pomegranate Cosmos
Ingredients:
2 cups (16 ounces) good vodka (recommended: Stolichnaya or Finlandia)
1 cup (8 ounces) orange liqueur (recommended: Cointreau)
1 cup (8 ounces) pomegranate juice
(recommended: Pom Wonderful)
1 cup (8 ounces) cranberry juice
1/2 cup freshly squeezed lime juice (3 limes)
Lime peel strips to garnish
Directions:
Combine the vodka, orange liqueur, pomegranate juice, cranberry juice, and lime juice in a pitcher and refrigerate until ready to use. Pour the mixture into frozen martini glasses with a twist of lime.
Copyright 2006, Ina Garten. All Rights Reserved.
Chef Lynn Michelle's White Truffle Smoked Salmon Crostinis 
White Truffle Smoked Salmon
Ingredients:
½ pound smoked salmon, cut into small pieces, removing the brownish section
¼ teaspoon, white truffle oil
1 tablespoon light olive oil
Salt, to season
Black pepper, to season
1 tablespoon fresh lemon juice
1½ tablespoons fresh dill weed, chopped
Directions:
Place smoked salmon pieces into a medium size bowl. Gentle fold in the white truffle oil, olive oil, salt, black pepper, fresh lemon juice, and freshly chopped dill. Season to taste. NOTE: you can always add more white truffle oil, if desired; a little white truffle oil goes a long way.
Serve cold on top of dilled cream cheese and herbed crostini.
Dilled Cream Cheese
Ingredients:
Small container whipped cream cheese
Salt
Black pepper
Fresh dill weed, chopped
Directions:
In a small bowl, blend whipped cream cheese, salt, black pepper and fresh dill weed. Chill.
Herbed Crostini
Ingredients:
1 loaf fresh bakery bread, sliced
on an angle in thin ½-inch slices.
Italian seasonings or dill weed seasoning, to sprinkle on top
Salt, to season
Black pepper, to season
2 cups robust olive oil, placed
in a shallow bowl
Directions:
Preheat oven to 350 degrees F.
Arrange baguette slices on a large, rimmed baking sheet; dredge the baguette slice quickly into the olive oil on one side and place back onto baking sheet. Sprinkle and season with salt, pepper, Italian seasonings or dried dill weed. Place in hot oven and bake, rotating sheets halfway through, until golden, 15 to 20 minutes. Let cool on baking sheets. Top crostini with desired toppings and serve.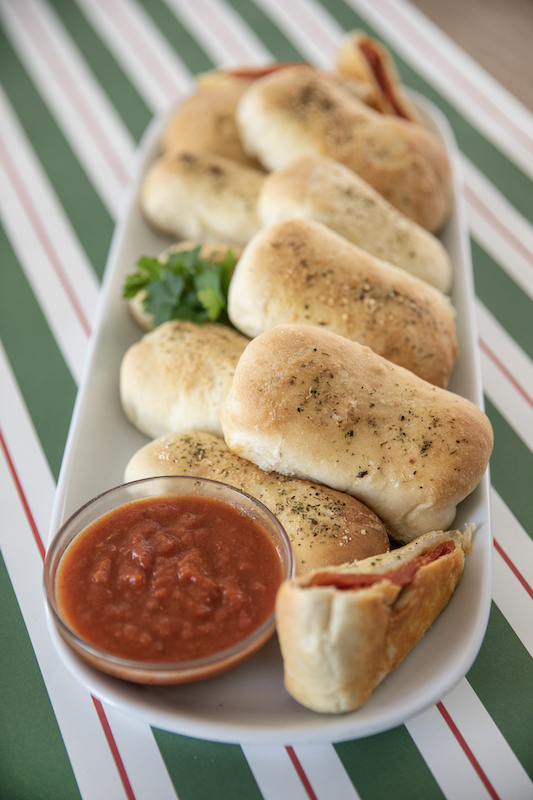 Pepperoni Rolls
Classic Dough
Ingredients:
3 cups warm water
1 tablespoon white sugar
3 envelopes (.25 oz. each) active dry yeast
1⁄4 cup milk
2 eggs, slightly beaten
1 tablespoon salt
10 cups all-purpose flour
1 cup white sugar
1⁄4 cup shortening
1⁄2 cup butter, melted
Directions:
Preheat oven to 400 degrees F.
In a large bowl, mix warm water and 1 tablespoon sugar. Sprinkle yeast over the top, lightly stir, and let stand for about 10 minutes or until foamy.
In a separate large baking pan, add flour,1 cup sugar, and shortening; using your fingers, mix together until shortening is barely noticeable.
In a small bowl, blend milk, eggs, and salt together; add into the yeast mixture and stir.
Gradually add the wet ingredients into the flour mixture, using a wooden spoon or your hands until the dough pulls away from the sides of the bowl and starts to form a ball. Leave in large pan.
Cover with a hot, damp towel and set in a warm place to rise until doubled in bulk, about 45 minutes.
When the dough has risen, pour melted butter over the top and knead for about 2 minutes. Let the dough rest for a few minutes, then roll out on a lightly floured surface to 1-inch thick. Cut dough into 2-inch squares; roll the squares into balls and place them in greased pans about 1 inch apart. Let rise again until doubled in size. The dough can also be refrigerated and left to rise overnight for baking the next day.
Bake rolls for about 12 minutes or until golden brown.
Pepperoni Rolls
Ingredients:
Classic Dough recipe or store bought
pre-made pizza dough
1 pound pepperoni
Block of cheese, sliced into small strips (optional)
½ cup olive oil
2 tablespoons Italian seasoning
Directions:
Preheat oven to 350 degrees F. Grease a baking sheet.
When using Classic Dough recipe, punch down dough; divide into 20 equal pieces about the size of a 3-inch small circle. Using your hands, flatten each piece into a small rectangle, about 4 inches square.
Place 3 overlapping slices of pepperoni down the center of each dough square. (Optional: this is where you would add the cheese.) Place another row of 3 pepperoni slices next to the first. Roll dough around pepperoni, pinch the edges closed, and place rolls on the prepared cookie sheet.
Brush each pepperoni roll with olive oil and sprinkle with Italian seasoning.
Bake rolls in the preheated oven until bottoms are lightly browned and topsare barely golden, 14 to 18 minutes.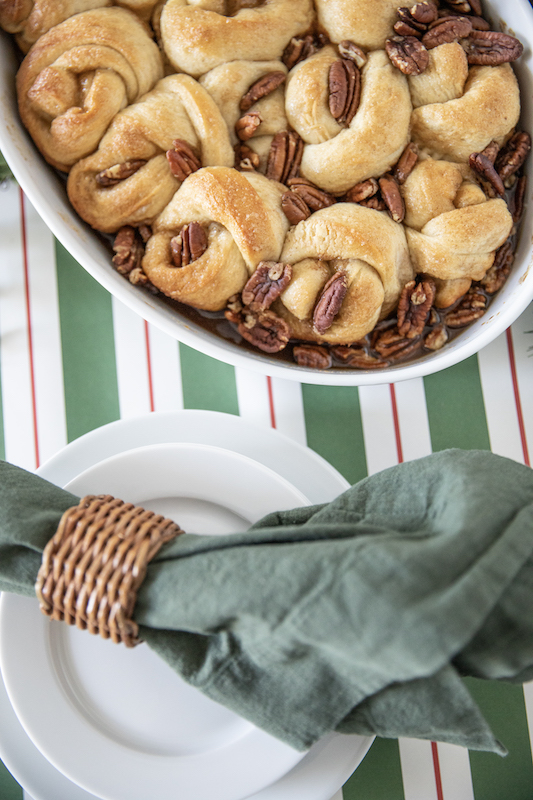 Gooey Cinnamon Rolls
Ingredients:
Classic Dough recipe or store bought pre-made dough
3 tablespoons cinnamon
4 sticks butter, melted
1 ½ cups brown sugar
2 cups, Pecans (optional), whole or chopped
Directions:
Preheat the oven to 350 degrees F. Grease a large baking dish.
When using Classic Dough recipe, punch down dough; divide into 20 equal strips, 3 inches long and 1 inch wide.
In a large bowl, blend melted butter, brown sugar, and cinnamon. (Optional: add chopped pecans.) Mix well.
Using your hands, slightly stretch the dough and dredge through the cinnamon butter mixture; tie into a knot and place in baking dish. Optional: Place the pecans throughout the cinnamon rolls in the baking dish or they can be placed on the bottom of the baking dish with some of the melted butter mixture covering the bottom of dish.
Bake Cinnamon Rolls in the preheated oven until bottoms are lightly browned and tops are barely golden, 14 to 18 minutes.