This year Hilton Head Island's wine and food enthusiasts will welcome the fall with a five-day celebration embracing the fruits of global wine partnerships, signature Lowcountry cuisine, grassroots cultural happenings, and the authentic fabric of a unique community. What unfolds will be an inspiring series of events that draw guests to Hilton Head Island from not only across the country, but from all over the world. The festival will celebrate this post-pandemic year with an amazing schedule of events, including spectacular local chef showcases, intriguing wine education sessions, live entertainment, the famed Grand and Public Tastings, and more.
The festival began 36 years ago as a one-day event held in a parking lot and has since grown into a multi-day event held at the best venues on the island to showcase all that Hilton Head has to offer. For the past six years, the festival has been held at Harbour Town, and prior to that it was at Shelter Cove, Honey Horn, and other Sea Pines venues. This year, the Wine & Food Festival is making a move to the new Celebration Park in Hilton Head Island's Coligny area.
"The officials at Celebration Park offered us their brand-new park," said Jeff Gerber, executive director of the Hilton Head Wine and Food Festival. "The move is good for everyone. We will now literally be right across from the beach, and we know that is why people come to the island. Everyone loves the fact that the venue is new, and the design is great. We are utilizing the rooftop bar at the Marriott Courtyard High Tide Bar & Grill for our kick-off events, and the whole area affords easy access. No more passes are required as there is a parking lot right next to the venue, and we are happy that the festival will also be really good for the businesses in Coligny." (In 2019, around 3,000 people attended events related to the week-long festival, which had an estimated $3.5 million impact on local businesses.)
Celebration Park opened on Hilton Head Island's south end Dec. 10. On a portion of the 10-acre park, a large green space has been outfitted with electric hook-ups for food trucks, music, and vendors for festivals and other events.
The dates, too, have changed. Gerber explained that the organizers have been talking about switching dates since last fall.
"We had to decide on dates in October 2020, so our hand was forced," he said. "There was no way to do an event in March—even Heritage, held in April, was only partially open. Part of our job is to bring visitors to the island. Logistically speaking, Hilton Head doesn't need any more visitors during summer, and we didn't know back in October '20 how open things would be in April and May of '21, so we decided on September. It has turned out to be a great decision because we also don't want to compete with other events."
Gerber also stressed the fact that the highly anticipated festival is a nonprofit event that awards scholarships and financial support to culinary arts and hotel management students at the University of South Carolina at Beaufort and the Technical College of the Lowcountry. In the last few years, the festival has awarded more than $85,000 in scholarship money.
"Mark your calendars and get your tickets now," Gerber said, "because these events will sell out quickly."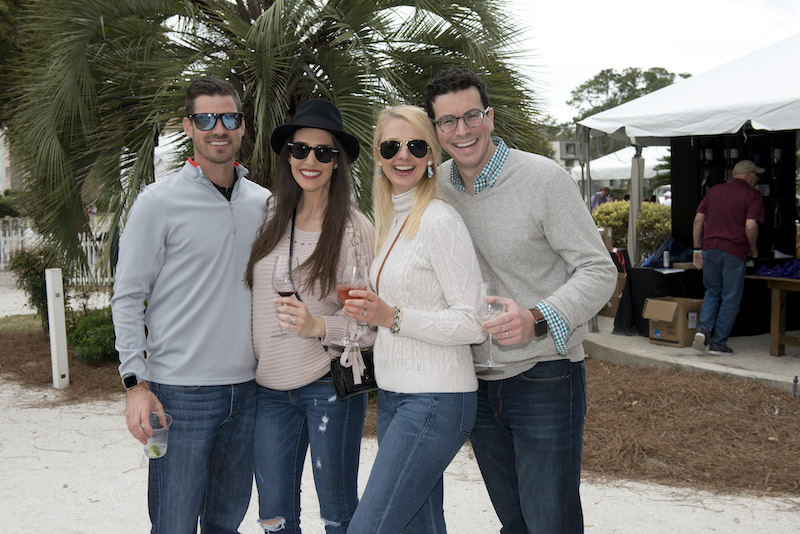 The Hilton Head Wine and Food Festival event schedule is as follows:
Uncorked
Thursday, Sept. 9
6:30-8:30 p.m.
Marriott Courtyard Rooftop Bar
79 Pope Ave
$35/person
Limited to 100 people
Join this kick-off celebration of fine wine, friends, and food. Bring that bottle of wine you have been keeping around for that special occasion that never seems to arise. Share with friends, old and new, while sampling appetizers and hors d'oeuvres at the Rooftop Bar. It's time to uncork that bottle!
Movie Night at Park Plaza
Tuesday, Sept. 14
6-9 p.m.
Park Plaza Theater
33 Office Park Rd.
$40/person
Limited to 75 people
Park Plaza Cinemas will feature Bottle Shock, a movie about the 1976 Judgment of Paris, the year that put U.S. wines on the map. Appetizers will be prepared by Rockfish, and an array of wines will be offered for tasting. The tasting and reception will start at 6 p.m. with the movie starting at 7 p.m.
Sip and Stroll
Wednesday, Sept. 15
4-7 p.m.
149 Lighthouse Road
$49/person
Limited to 200 people
Grab your glass and sip and stroll your way through the Shoppes at Sea Pines Center. Treat yourself to a great selection of wines and enjoy discounts at participating shops, while taking in the beautiful atmosphere and music by local performers. Friends, fun, and of course wine made this one of the most popular events in 2019, so grab your tickets before they sell out!
Stay Gold – a Lowcountry Wine, Music and Food Experience
Thursday, Sept. 16
6:30-8:30 p.m.
Beach House
1 South Forest Beach Drive
$100/person
Limited to 200 people
The Stay Gold Experience will take place at sunset along the beautiful North Forest Beach, Hilton Head Island and showcases the best of the best: amazing food paired with the festival's best wines, and people sitting on the beach watching the sunset. The event will feature live music, Double Gold wines from the festival's international judging competition and delicious Lowcountry food pairings from the Chef Ambassadors from the S.C. Dept. of Agriculture.
Grand Tasting
Friday, Sept. 17
5:30-7:30 p.m.
Country Club of Hilton Head
70 Skull Creek Drive
$125/person
Limited to 175 people
This traditional tasting is the festival's most exclusive celebration, featuring award-winning wines and an array of light hors d'oeuvres. This event will be held at the Country Club of Hilton Head, a fantastic setting for some fantastic wines. This event sells out every year, so get tickets early.
Hilton Head Island Wine & Food Festival Public Tasting General Admission
Saturday, Sept. 18
Noon-3 p.m.
Celebration Park
94 Pope Ave.
$65/person
The Public Tasting is the largest event celebrating the festival's thirty-sixth anniversary at the new Celebration Park. Attendees can taste over 250 world-class wines from all over the world, see chefs in action at the Sysco Outdoor Gourmet Challenge, enjoy live entertainment and local craft beer at the new Beer Garden, and bid on award-winning wines at the silent auction, where the proceeds support the John & Valerie Curry Scholarship fund.
VIP Lounge at the Public Tasting
Saturday, Sept. 18
11a.m.-3 p.m.
Celebration Park Pavilion
94 Pope Ave.
$125/person
The VIP Lounge at the Public Tasting is located at the Pavilion in Celebration Park and will have a special selection of medal-winning wines and light hors d'oeuvres catered by the Chef Ambassadors from the S.C. Department of Agriculture.
For more information on ticket purchases, on vendor opportunities or to become a volunteer, visit hiltonheadwineandfood.com.