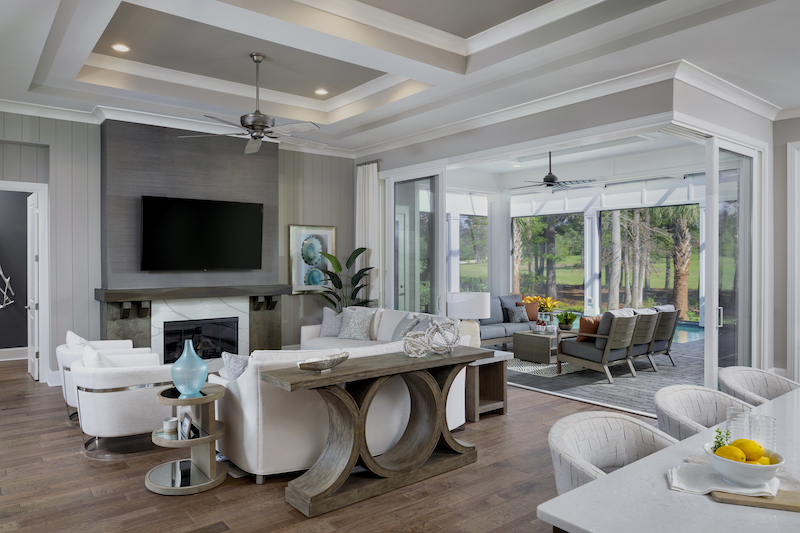 Lee and Shannon Peters, both corporate executives (he, CEO at Learning Ally, a Princeton-based tech firm; she, CFO at Lunchskins, a manufacturer of sustainable consumer storage products), have been married for 27 years and only recently moved to Bluffton's beautiful Berkeley Hall two years ago. Perhaps most remarkable, however, is that in the nearly three decades since they married, they have owned and lived in 17 homes together.
"We met right out of college in our 20s and first lived in the Syracuse area in upstate New York," Shannon said. "From there, we moved to New Jersey, then to New York City, then to Seattle, Minnesota, Utah, North Carolina, Virginia, Maryland, back to North Carolina, and now Bluffton. And while our Berkeley Hall home is our primary residence, we still have a home in Southport, North Carolina."
While almost all these moves were related to vertical career moves, one was distinctly not.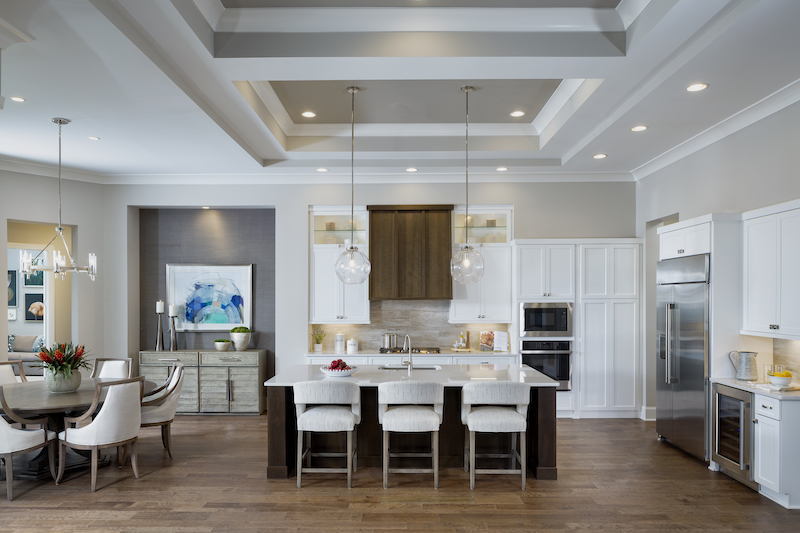 In 2001, Shannon's office was on Wall Street where she enjoyed a view of the now memorialized World Trade Center. On September 11, 2001, she was in her office looking out the window when she witnessed the plane crash that changed the world.
"Shannon was one of those ash-covered people that everyone saw stumbling around in the aftermath," Lee said. "She somehow made it out of the city—in a state of shock—across the bridge to New Jersey where I picked her up and brought her home. She never wanted to go back."
Following that life-altering incident, the couple decided to move as far away from NYC as possible. They moved to Seattle, and because Shannon vowed to never get on another plane, they drove across the country. The couple, previously solely focused on their careers, also decided they wanted to have a child—a son, who was born in Seattle.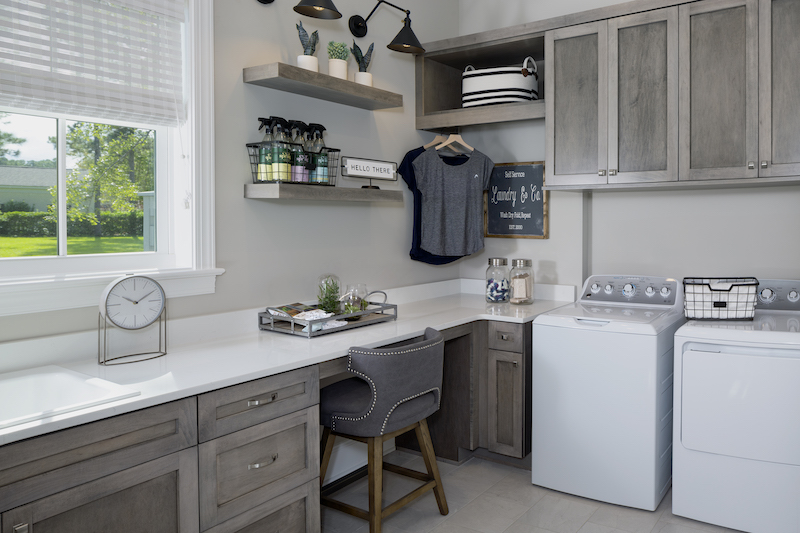 So how did they find their way to the Lowcountry? Like most of us, it wasn't work that brought them here.
More than 20 years ago, the couple began visiting Charleston where they fell in love with the food, the architecture, and the culture. On one of their trips, they began conversing about where they might like to put down roots and retire. They ventured farther south to explore Hilton Head, Savannah, Tybee, Jekyll Island, even Florida. On one of their adventures, they stopped in Old Town Bluffton for coffee and pastries at the Corner Perk, where Shannon took out a notepad and began writing herself notes about what they liked in Bluffton and what they might want to see again.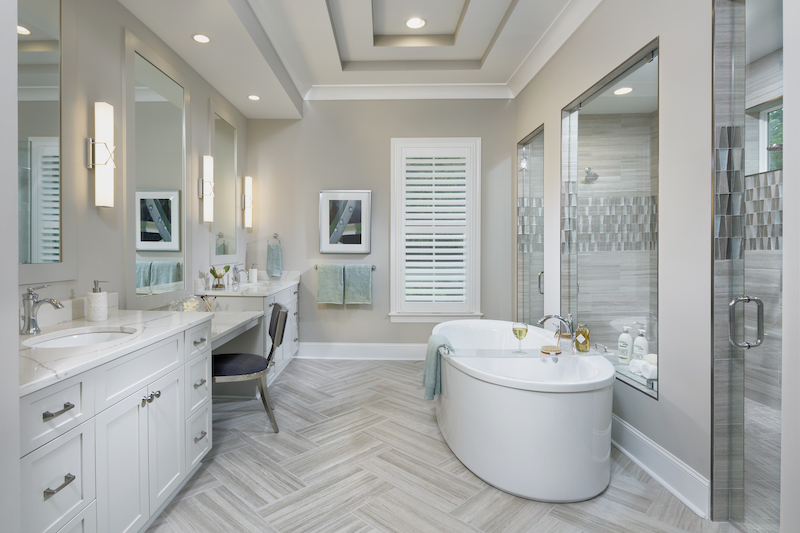 "We got serious about it in 2020 and began talking to agents in Savannah, Charleston, and Bluffton," Lee said. "We were looking for a community where we could get the best amenities and the best neighbors and the best price."
Their "must-have" list was specific: They wanted access to water; amenities that included an upscale health club, spa, and golf; lots of trees, nature, and places to walk and play with their fur baby; easy access to Charleston and Savannah; a home that included a pool, a modern kitchen and entertaining space; and as working professionals, they desired a similar demographic.
The Peters spent a couple of days touring Bluffton. The first house they visited in Berkeley Hall was too big, according to Shannon. While Lee prefers larger homes, Shannon insisted they downsize. "We are empty-nesters," she said, "and while our son does visit—he's in school at the College of Charleston—we don't need 4,000 square feet."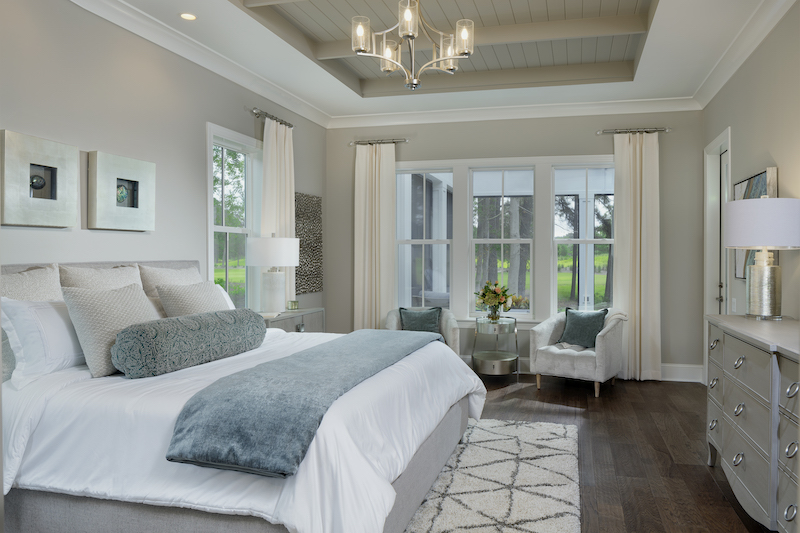 Then, they walked into the perfect abode, which was then an AR Homes Model Home. Shannon knew immediately this was their home. As soon as you enter, your eye is drawn through the main living space, which is open and modern, all the way to the back of the house, which is outfitted with retractable glass doors, to the screened in pool and lanai.
"We can slide the glass doors open and the entire outdoor space becomes accessible to the indoors—a heated, salt-water pool with a five-foot fire trough; open space for ample seating; an outdoor kitchen and dining area… all of which overlooks the third tee box on the North Course. It's heaven," Lee said.
The 3,200-square-foot home (close to 5,000 when you count the outdoor living space) feels much larger due to meticulous architecture, like the tray ceilings and open concept. The exterior is charming Lowcountry cottage, while the indoor aesthetic is more contemporary.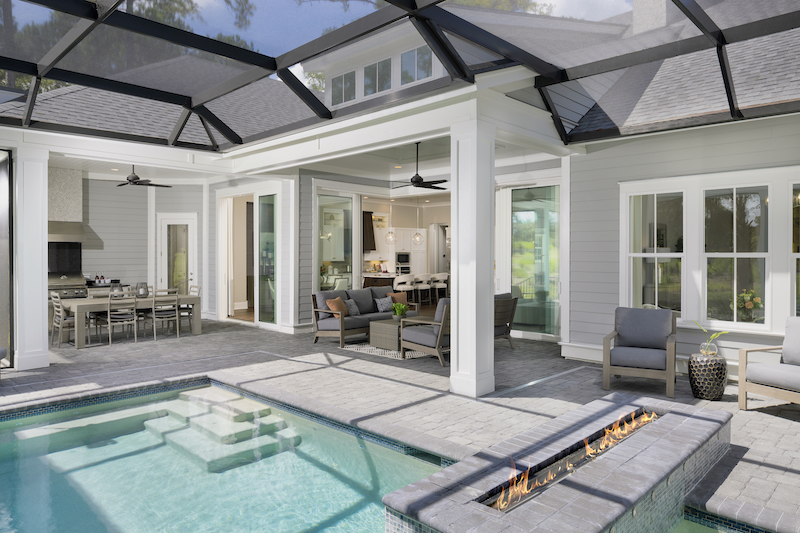 When designing this home with the AR Homes architectural team, builders Deb and Doug Durrant wanted to keep open living at the heart of the design. The vision was to have the kitchen, dining room, and great room all within "speaking" distance.
"This openness creates a level of connection within the home that is not present in other designs," Deb explained. "The way the living areas open up to the screened-in porch adds to that connection among friends and family."
"Everything else was secondary to that core concept," Doug added. "Yet, you'll still see that visual connection between the den to the great room or the owner's suite to the lanai. We love what the team came up with both architecturally and in the overall look and feel of the interior color palette. It's all there."
Colleen Roach, who designed the interiors for the model home (pictures of her original selections are featured in the photos alongside this article) shared that her selections for the model were inspired by the coastal community surrounding Berkeley Hall.
"Warm tones with splashes of blue highlights are reminiscent of the ever-persistent local shoreline," Roach said. "Soft curves were incorporated in the original furnishings to create a consistent sense of flow throughout the home. The intent was to create a space that is balanced and soul-soothing."
Though the Peters did keep some of Roach's selections, because they have lived all over the country and furnished more than their share of homes, selecting their own furnishings and art is second nature.
"We have our own style," Shannon said, "so we didn't keep much of the staged furniture. We incorporated our rather eclectic favorites with new pieces that we chose primarily for comfort. Kind of a rustic-slash-contemporary fusion. Everything must be comfortable or have a story to tell."
Each piece is thoughtful. For example, the couple commissioned a Warhol-esque profile portrait of their new puppy, an English bulldog named Chief. A treasured antique cabinet they acquired in Utah lives next to their Manhattan-style penthouse sofa. Framed photographs from every city they've lived in line the walls, along with both recent and historical family photos. The shelves crowning the kitchen cabinets display a collection of art acquired from local artists.
There are pops of bright color—pinks, purples, poppy, and gold—throughout the home to accentuate the neutral tones that define the walls, floors, cabinets, and countertops. Each room has its own personality, incorporating multiple textures, great ceilings, wallpaper, and more. As for their favorite rooms, each has a preference. For Lee, the kitchen and office run neck and neck. The kitchen offers a crisp, white, clean aesthetic and a view of every common area in the home.
"Not only can the chef interact with everyone in the living area and the outdoor environment, but even the office (another favorite space) is accessible. Typically, home offices are dark and remote places," Lee said, "but our office is not only front and center, it's a really inviting room."
The office boasts an impressive wooden accent wall and two floor-to-ceiling glass panes—one a sliding pocket door, so even when working, the couple isn't disconnected.
Shannon's favorite spot is the lanai. Because her job can be stressful, when she needs a moment to breathe, she simply moves outside to allow the sound of the waterspouts in the pool and the ease and natural beauty of the outdoors to shift her perspective. 
Both Shannon and Lee love their master suite, which is decorated with an English countryside vibe. Windows and a door offer direct access to the pool deck. The master bath has a soaking tub and a huge walk-in steam shower with three shower heads. The Japanese-style toilet is completely modern, including a remote control, a seat warmer and bidet.
The Peters offer high praise for the AR team. "The entire crew was amazing," Shannon said. "They take great care with their clients and make the entire process not only easy, but enjoyable. And we loved the virtual tour access, which made preparing to move in quicker and less stressful."
Because they were able to use the AR Homes online measurement tools and play with arrangement, they knew ahead of time exactly what existing furnishings would work and what they might need to purchase. They bought almost everything prior to moving in and describe their finished home as comfortable, elegant, and inviting—an impressive home in an impressive community where friends and family feel welcome.
Future plans include finishing out the space over the garage and staying put. "This better be the last move we make," Lee said.
"Unless AR Homes builds another dream spec in this area," Shannon said. "Then we might have to move again."