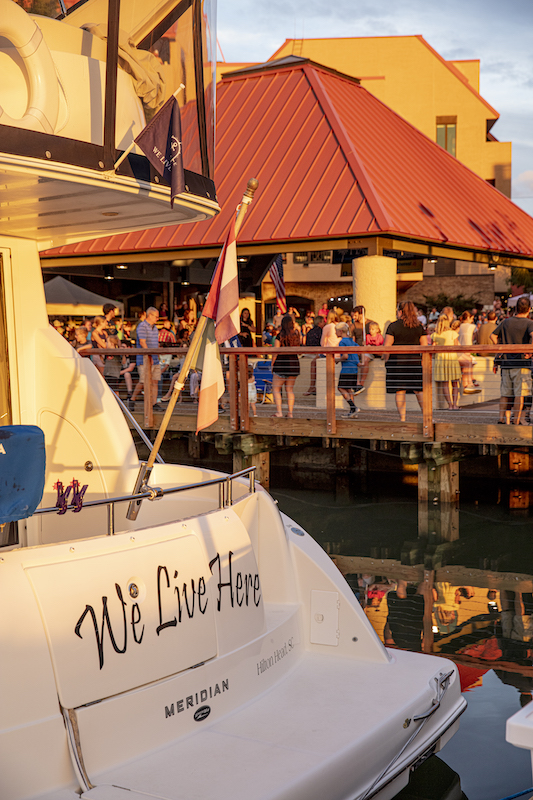 As we walked around opening night of HarbourFest entertainment at Shelter Cove Harbour & Marina, it was clear that this thirty-second year of the island's iconic shows from Shannon Tanner and kids' activities with Cappy the Clown holds an even more special place in visitors' hearts. After having to cancel last year's event due to the COVID pandemic, fans are ready to have more fun than ever.
"When they canceled last year and didn't have events, we understood, but you wondered if we're ever going to get this fun back," said mom of three Sally Unger, on vacation from Pennsylvania and celebrating her twenty-fourth overall HarbourFest. "Seeing Shannon Tanner sing, that's like the kickoff of summer for us. And try telling the kids they're not getting balloon dogs and selfies with Cappy the Clown. It was hard to be away, so it is just incredible to have it back. I felt like it was my first HarbourFest all over again."
"It's hard to explain the excitement we all feel. There have been a lot of meetings, a lot of hoping and planning. We typically commit to fireworks and the HarbourFest plan by January or February, but even by mid-March, we still weren't sure we could do this," said Karen Kozemchak, the director of marketing for Palmetto Dunes Oceanfront Resort, Shelter Cove Harbour & Marina's neighboring sister property. "It's been the one question every staffer has been getting for 18 months. 'Are you having HarbourFest this year?' So, to have that answer, to be at the forefront of driving visitors and bringing smiles, it was a joy to be able to finally say, 'Yes, it's on.'"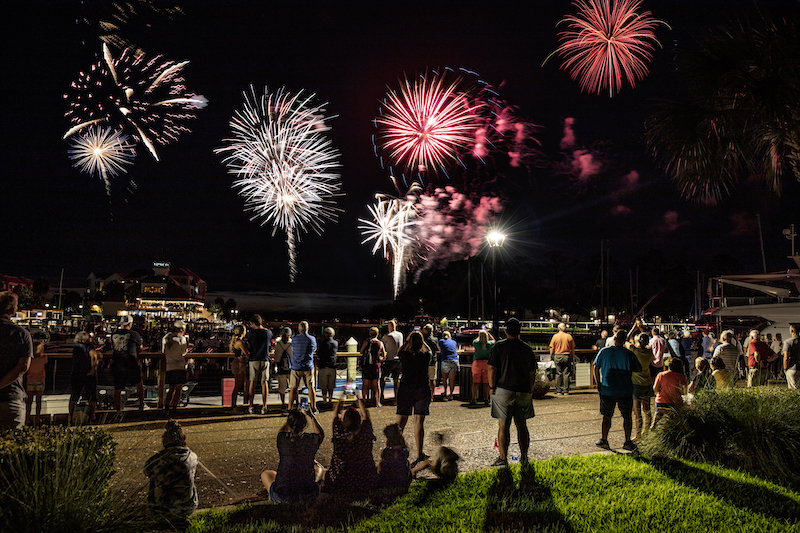 Cheers ring out through the crowd as HarbourFest attendees gather between San Miguel's and ELA's on the Water to watch the pyrotechnics show. 
Pyrotechnics master Brent Fisher and his expert crew from Falcon Fireworks plan year-round for multi-week events like HarbourFest and prepare for a much larger special show on Sunday July Fourth.
For the July Fourth celebration, to ensure safe and smooth entry and exit from the event, Shelter Cove Harbour & Marina offers a free shuttle service from 5:30-10:30 p.m. at two alternative parking lots—one north of Shelter Cove at Chaplin Park and one at the Hargray building—for attendees to be shuttled to the HarbourFest events. Parking is free at these lots, with several shuttles running continuously from 5:30 p.m. until 10:30 p.m. (Visit ShelterCoveHarbourFest.com to view the shuttle map.)
"It's pretty spectacular to see what Brent and his team pull off," Kozemchak said. "We've worked with Falcon Fireworks for six years, and they are truly committed to giving fans the absolute best show possible. Every week [Fisher] does this show, it's his Super Bowl. They are incredibly professional, and we all get a sense that these shows this year mean a little something extra to our fans."
After July 4, fireworks return to a regular Tuesday schedule on July 13, 20 and 27 and August 3, 10 and 17.
Fireworks are just one part of the fun. Entertainment by Shannon Tanner includes two family shows at 6:30 and 8 p.m. on Monday, Tuesday, Wednesday, and Friday, through Sept. 3, during which Tanner wears his signature beanie hat and signs children's hats with inspirational messages during his breaks.
On Thursdays through August 19 (plus Sept. 4-5), Tanner shifts into Caribbean sunset celebration mode for Parrot Palooza, an islands-inspired show with his Jimmy Buffett tribute band, Shannon Tanner & The Oyster Reefers. The show is fun and family-friendly.
Cappy the Clown, a fellow Lowcountry legend, returns for another year of wowing kids with her encyclopedia of facial expressions and masterful balloon-animal skills. Her endless positivity teaches and inspires at the same time. Cappy is set up at Shelter Cove Harbour from 6-9 p.m., Monday through Friday, through Sept. 3—as well as Labor Day Weekend, Sept. 4-5—ready to make your child feel like the star of the show, with face painting, balloon animals, sand art, glitter tattoos and more.
With eight eateries at Shelter Cove Harbour & Marina, including the newest addition, Top Dawg Tavern, set to open in July, there is a little something to satisfy every appetite.
And of course, be sure to visit the Shops at Shelter Cove Harbour & Marina, featuring everything from island apparel and souvenirs to meats and cheeses, Christmas gifts, art, fine clothing, and spas.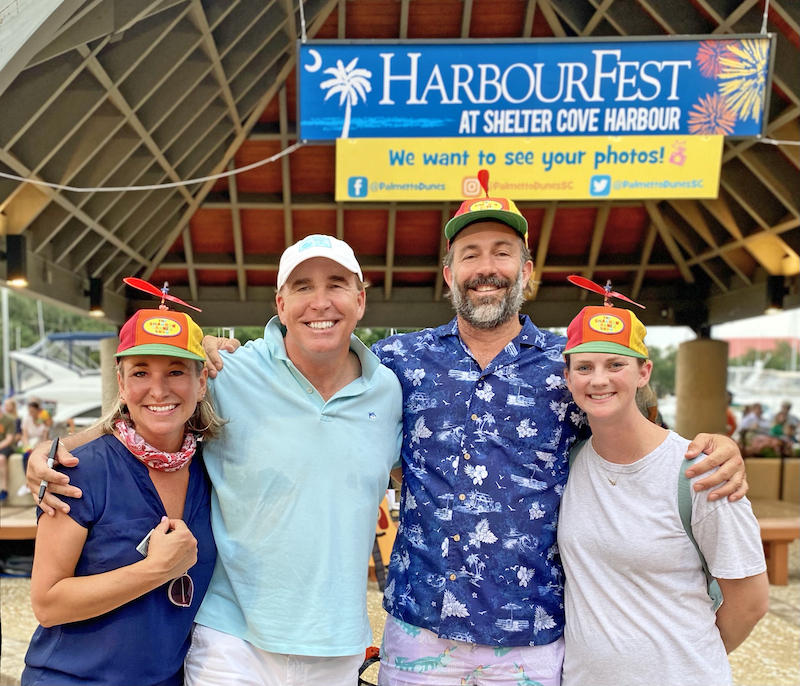 CH2's Maggie Washo, Hunter Kostylo and Jevon Daly pose for a photo with Shannon Tanner before the 8pm show.
SHANNON TANNER & CAPPY THE CLOWN
Shannon Tanner Family Shows (two shows at 6:30 p.m. & 8 p.m.):
Monday, Tuesday, Wednesday & Friday now through September 3,plus Sunday, July 4.
Cappy the Clown (6 p.m.–9 p.m.):
Monday – Friday now through September 3, plus Sunday, July 4th & Labor Day Weekend (Sept 4 & 5)
Parrot Palooza Caribbean Concert (one show at 7 p.m.):
Thursdays, now through August 19, plus Labor Day weekend
(Sept 4 & 5)
*Free parking, free admission. Residents and guests of Palmetto Dunes Oceanfront Resort can schedule a complimentary ride from the Dunes Buggy to get to the marina. Call (843) 689-4222 for more information.
2021 FIREWORKS SCHEDULE (shows start at dusk):
Sunday, July: 4 (no show Tuesday, July 6)
Tuesdays: July 13, 20, 27
Tuesdays: August 3, 10, 17
For a truly unique view of the show, book a sunset cruise at the Shelter Cove Marina. Visit sheltercovehiltonhead.com for more information or call the marina at (843) 842-7001 to book your cruise.
For more information and the full schedule of summer entertainment and fireworks, please visit the HarbourFest website at www.ShelterCoveHarbourFest.com. For event updates, please visit the Shelter Cove Harbour & Marina Facebook page at www.facebook.com/ShelterCoveHarbourMarina/ or sign up for mobile alerts (including alerts on events, special offers, contests, closures and more) by texting PD at (855) 634-3221. By participating, you consent to receive SMS/MMS promotional messages. No purchase required. Message & data rates may apply. Reply HELP for help, STOP to end.