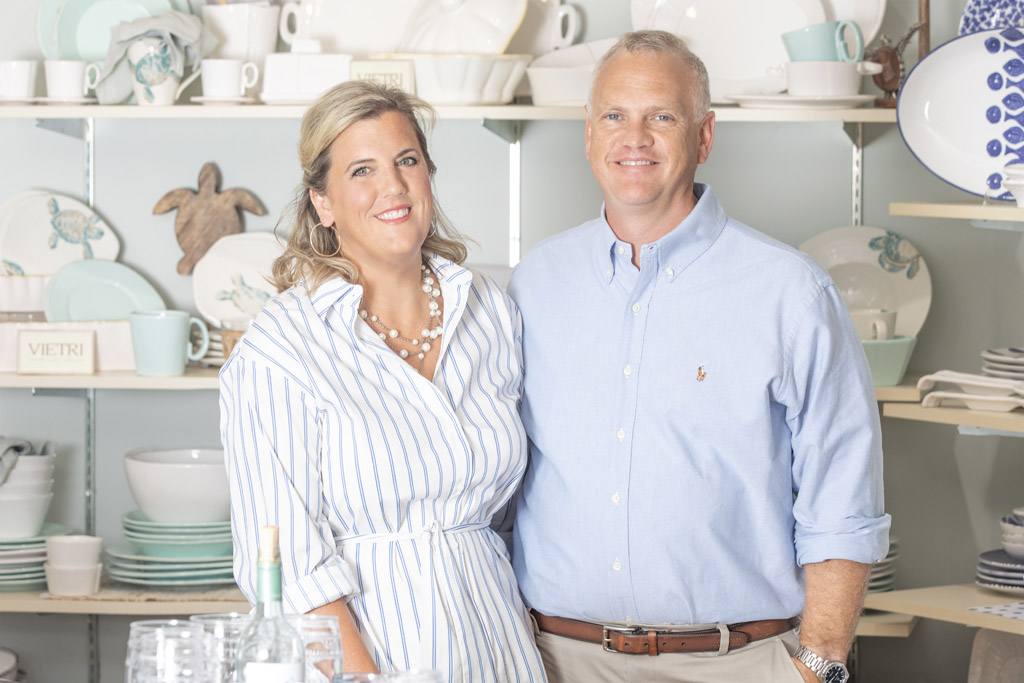 Owners Rachel & Michael Lively
Rachel and Michael Lively want to inspire you to get cooking. With a shared love of cooking and entertaining, the Livelys embarked on a new adventure a little over a year ago when they purchased Le Cookery and Hilton Head Olive Oils and Balsamics, both located in The Village at Wexford. A few months prior to their purchase of the businesses, the stores had been combined into one location. As Rachel explained, they knew that they would be separating the businesses and expanding each store's offerings.
"The two businesses do complement each other, though," Michael said. "Le Cookery supplies customers with all of the tools, cookware, and tabletop and serving pieces they need, and Hilton Head Olive Oils & Balsamics supplies customers with the highest quality ingredients to cook wonderful meals for their families and friends."
"When you come into our stores, you will find the highest quality product of its kind without being outrageously expensive. Our clients can trust that we have researched all the items we carry in both stores, and having relationships built on trust with our customers is the most important thing for us," Rachel added.
In addition to olive oils and balsamics, the store carries its own line of delicious sauces, marinades, and olives. 
"We have really curated everything you need to make your kitchen a well-equipped kitchen with the best quality products and the healthiest, highest-quality gourmet foods we could develop or find. We want to make it as easy as possible to make delicious meals," Michael said.
The Livelys believe food made with love feeds more than just your appetite. "Any time you can pull your family in and have multiple generations planning, preparing, and serving food, it teaches the spirit of generosity and hospitality," Rachel said.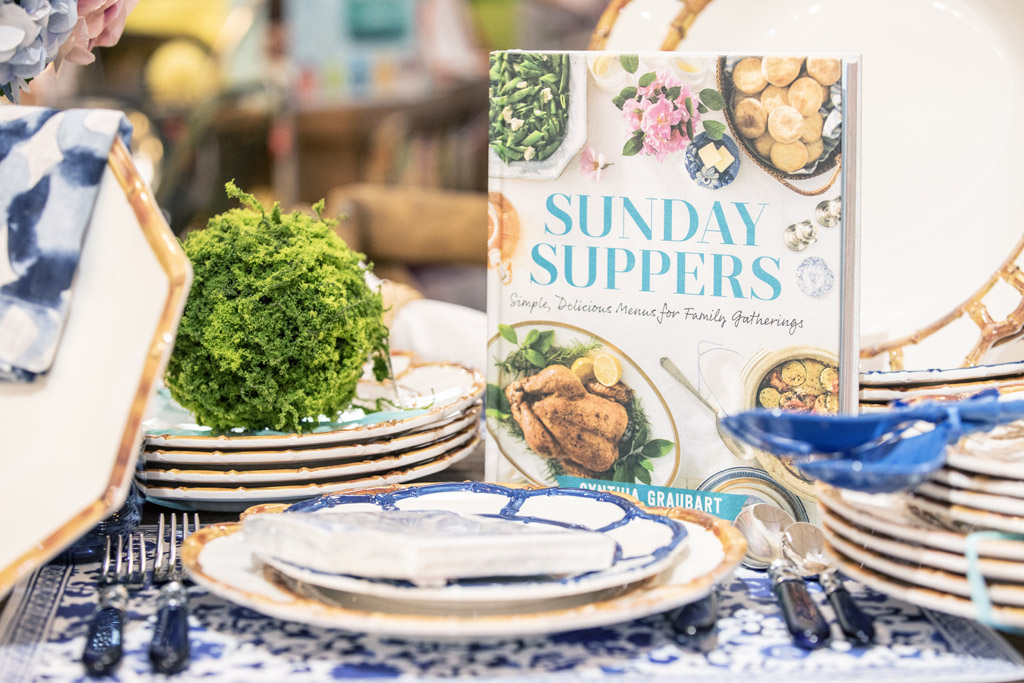 Cookbooks, meal prep ideas, and tabletop accessories to make everyday and special occasion dining easy & enjoyable can be found at Le Cookery.
And the Livelys take great pride in the fact that many local chefs shop weekly in their stores and that local restaurants including Pomodori, The Jazz Corner, Cowboy Brazilian Steak House, Piatti, and the Sea Pines Country Club, are using their oils and vinegars in their kitchens. "There is no better testament to the quality of our products than for the fine chefs at these establishments to not only choose our products, but also to send their customers to us to get them. We are honored," Michael said.
When Rachel and Michael talk about their products for both stores, there is a sense of pride you will not find in a superstore. They believe in what they are selling and the vision of those to whom they are selling. They employ knowledgeable and customer-oriented staff and expect every customer in their store to be treated with the same Southern hospitality they would receive if they walked through the front door of their home. The Livelys have updated the stores to feel inviting, light and coastal in celebration of all that is distinctively Lowcountry.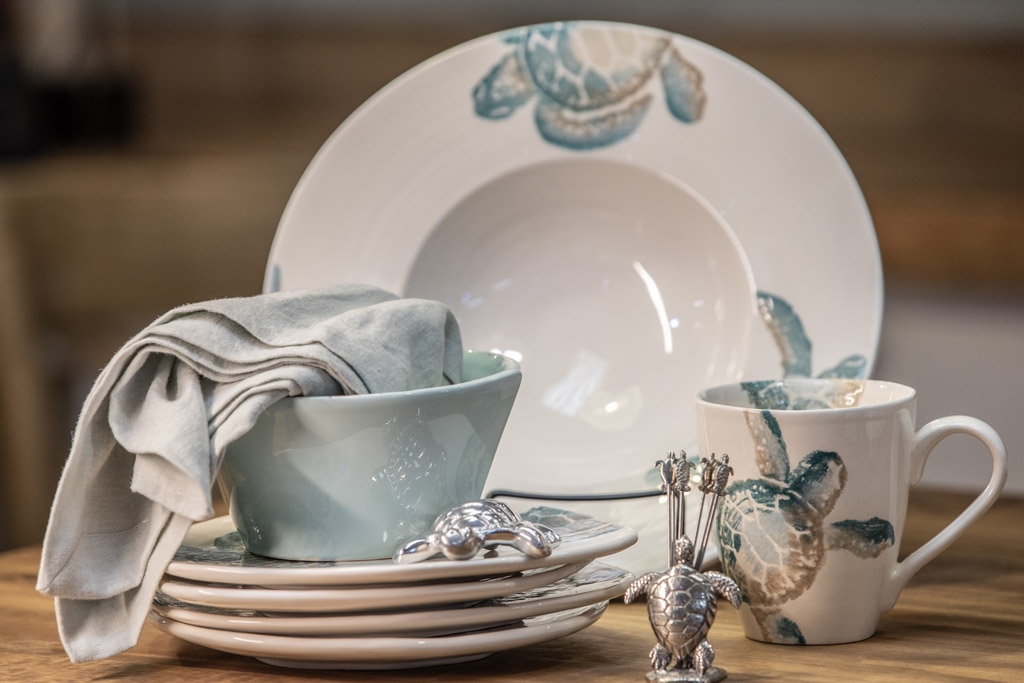 Tortaruga Dinnerware & accessories by Vietri to celebrate lowcountry turtle season now in stock at the shop, located in the Village at Wexford. 
They also regularly update their products. "We are constantly adding to and rotating what we offer in both stores," Rachel said. "For example, at the olive oil store, in addition to our regularly stocked favorites, we highlight seasonal flavors as well. In the coming weeks, we will feature fall flavored balsamics like coffee, maple, and mushroom sage. At any given time in the store, customers will find over 50 flavors of extra virgin olive oils and balsamic vinegars, as well as our very own gourmet food sauces, pastas, olives, and more."
To keep things interesting, Le Cookery updates its inventory weekly. "We are focused on being a boutique shopping experience. For us, it is not transactional. We want to establish relationships with our customers, and we want them to come back on a regular basis to see what's new." Some of the brands they represent include Jura, Wolf, BB Prime, Breville, Moccamaster, Vitamix, Swiss Diamond, Heritage Steel, Smithey, Vietri, Juliska, Casafina, Chiliwich, Bodrum, Beatriz Ball, Pampa Bay, Mason Cash, Emile Henry, USA Pan, Shun, Wusthof, Zwilling, Epicurean, and Schott Zwiesel. They also represent two furniture lines, Park Hill Collection and Porch View Home.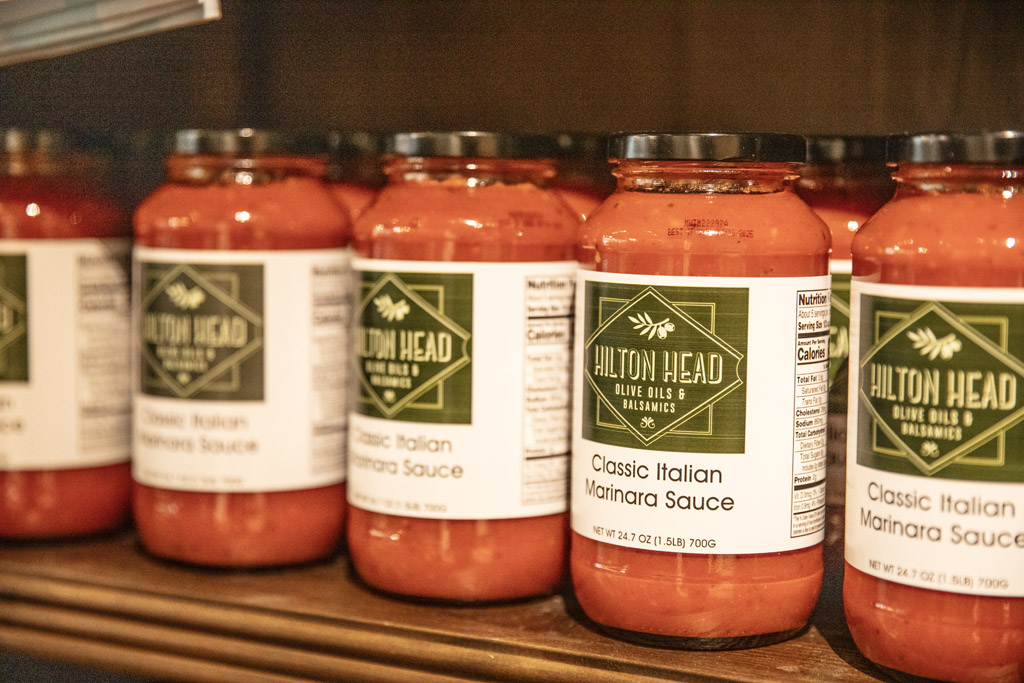 The store's own marinara sauce is a Hilton Head Olive Oils & Balsamics customer favorite.  Add it to the Italian pasta sold in the store and you have an instant dinner.
You have the opportunity to sample the goods, too. "We really want people to try our products. We know if they sample it, they will love it," Michael said. "We have great food in both stores and great tools to use to make it. We want to show everyone how easy and fun quality food preparation can be."
Equally fun, the Livelys are hosting private parties for groups such as book clubs, neighborhood associations and businesses. You can also attend tasting classes and demonstrations with chefs. "We think this is a fun way for people to experience the stores," Michael said.
"We're excited about doing these classes so we can educate people about what they are using and putting in their bodies. There are so many health benefits to olive oil and balsamics. We want to teach people everything we have learned," Rachel added.
In addition to special events, Le Cookery is quickly becoming the area's go-to place for bridal registries, making it convenient and approachable for couples to get expert guidance in choosing products to set their kitchens up for years of memorable meals and successful hosting. The couples' registry items are available for in-store purchases or online purchases through the store's website, and Le Cookery's free signature gift wrap is available.
Inasmuch, the business has also expanded into completely stocking kitchens for their clients. As a newly offered service, they go into a client's kitchen, inventory the contents, make recommendations and supply the kitchen with tools—from pots and pans, to dinnerware, to glassware, to appliances, to placemats and more. Le Cookery has stocked kitchens from the ground up on new builds, refreshed kitchens getting ready to go onto the rental market, and guided second home buyers who may not be able to be physically present for the setup of their kitchens.
"We are tie Island's only full-service kitchen store and olive oil and balsamic store," Rachel pointed out. "We want to exceed our customers' expectations every time they walk through our doors. We appreciate them shopping locally with our local family, and we want them to feel as valued as they make us feel every day."