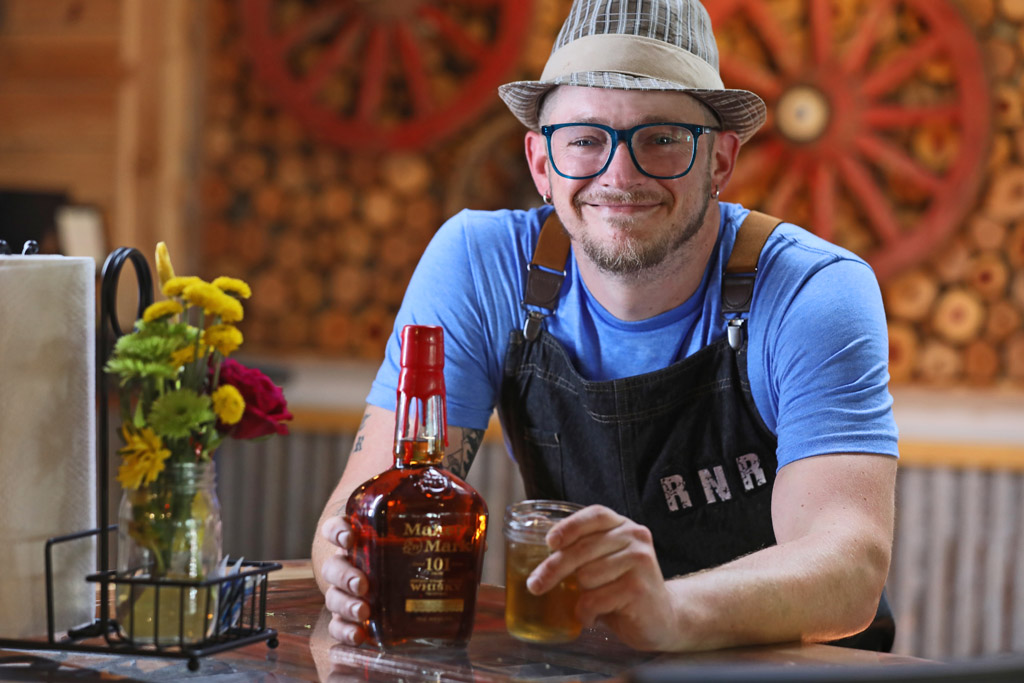 Scott Forrest Bodkin, the pitmaster in residence at Forrest Fire BBQ.
In December of 2021, I got an invite to come try some food. The location wasn't a secret, but the nature of the food kinda/sorta was. I wasn't given too many details. There were no secret knocks or passwords to remember, so I assumed it was safe.
"Wednesday at 7. See you then."
Fair enough.
That night, the tiny group—maybe seven of us total—was treated to some of the best BBQ I'd ever had. Brisket, pulled pork, chicken wings and more. Phenomenal didn't even begin to describe it.
BBQ pork is on the menu, along with brisket, smoked chicken, ribs and more. 
The group, which included a couple of chefs from across the region, sat around talking shop for a couple of hours. I had opinions, sure, but I mostly listened. I've never claimed to be a chef, don't even play one on TV. So, when I am in the presence of serious talent, I prefer to listen. And I did.
The tweaks and suggestions were minimal. Everyone in attendance agreed we were enjoying a superior product. If this concept could get off the ground, Hilton Head Island was in for a treat.
Well, 18 or so months after that mid-week gathering, Forrest Fire BBQ is not only off the ground, but open to the public at Coligny Plaza. The pitmaster behind it all? Scott Bodkin, middle name Forrest. Do you see what he did there?
"All of this is inspired by my childhood in Kentucky," Bodkin said. "I've just always had a passion for it."
Bodkin knew he couldn't do it alone, so during his tenure as Corporate Chef for FISH and Local Pie, he found a home with owner JR Richardson and restaurateur Lee Lucier. Between Richardson's branding and development, Lucier's experience building concepts and Bodkin's talent with the smokers, they believe they have an explosive combination. I think they are right.
The atmosphere is decidedly laid-back; be sure to check out the black and white family photos. 
"He's so passionate," Lucier said of Bodkin, "near obsession with getting it perfect every time. We spent so much time the last two years talking about what this would look like and how we would execute it—testing smokers, testing product. So much work has gone into this."
You can sense their excitement as the smiles on their faces say it all. I'm not sure how many brand-new restaurants would be this excited about opening days before the teeth of the summer hits. These guys were almost giddy when I was there a few days before their opening.
The space they've filled very nicely is the previously little-used spot behind FISH, in the heart of Coligny Plaza. You know the one, right behind the outdoor bar on your way to Rita's. They could comfortably seat about 70 indoors. There will be a few more seats outside.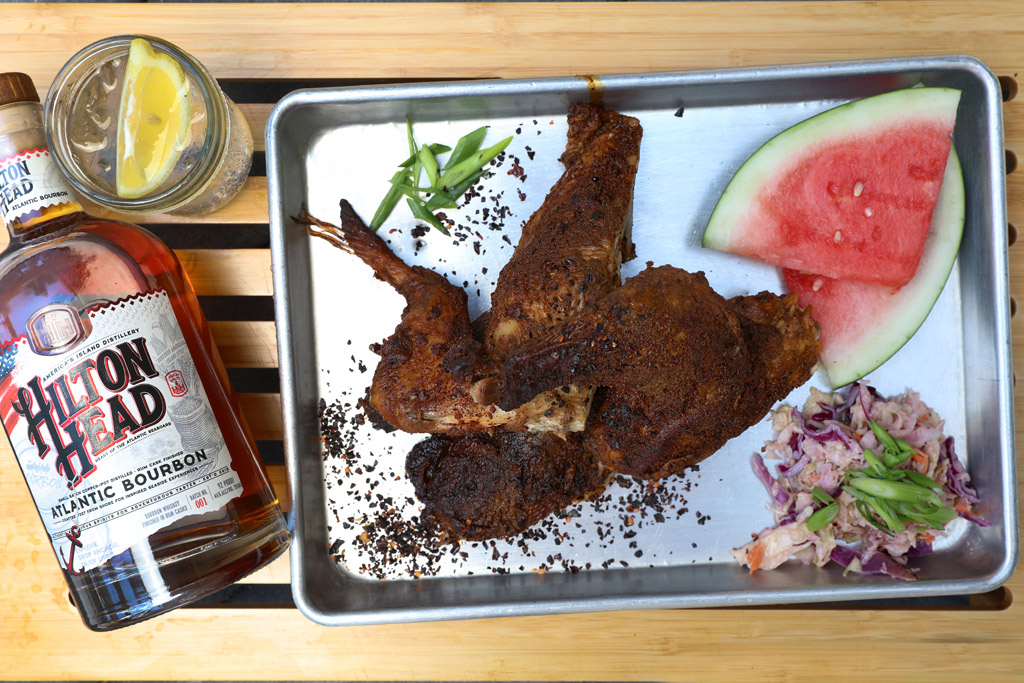 Meats at Forrest Fire BBQ will be smoked twice a day – in the morning for lunch service, and another batch before dinner. Side choices are abundant and include watermelon and cole slaw. 
So, what about the BBQ? Dual large screen menus will hang on the wall at the top of the cafeteria style serving line. You grab a tray and make your way down the line, getting some of this and some of that—just like in grade school. At the end of the line, you grab a dessert and pay for it all. The dining room is open seating.
I already mentioned that the proteins are all outstanding. Bodkin will tell you his favorite is the brisket. I can attest to said brisket being five-alarm awesome. Lucier, meanwhile, isn't a fan of making it. Why? Simple enough: He didn't grow up with it in Kentucky. He is indifferent about it. He's been told, however, that it is too darn good to not offer.
Lucky you.
Same with desserts. Lots of Jell-O in a few different flavors, inspired by holidays at Bodkin's grandmother's house. This is not your average Jell-O. Trust me on that one. You may not love it, but you have to try it.
At the back of the room is the full liquor bar. Forty different bourbons adorn the wall behind it. Bourbon bar? Meh, they aren't claiming to be. They have a bar with a few dozen bourbons, how about that?
Planning a trip down here? The menus on the wall are directly linked to their social media and their website. When they run out of a particular item, it will update in the store and online immediately. That allows you to take a peek at what they might have left if you are in the area and care to stop by. Of course, it won't tell you how much they have left, so proceed with caution.
"We are planning to smoke meats twice," Lucier said. "Some will be done in the morning for lunch and the others about 4 p.m. for dinner. There's no way we are going to have meats come off the smoker at 10 a.m. and still serve them at dinner time."
Good call.
That doesn't mean they won't sell out. I am here to tell you they will. When word gets out, I think it could happen regularly in the summer. At that point, this, like any other legit BBQ joint out there, is done. When it's gone, it's gone.
Just make sure you get some soon. You will eat it and like it!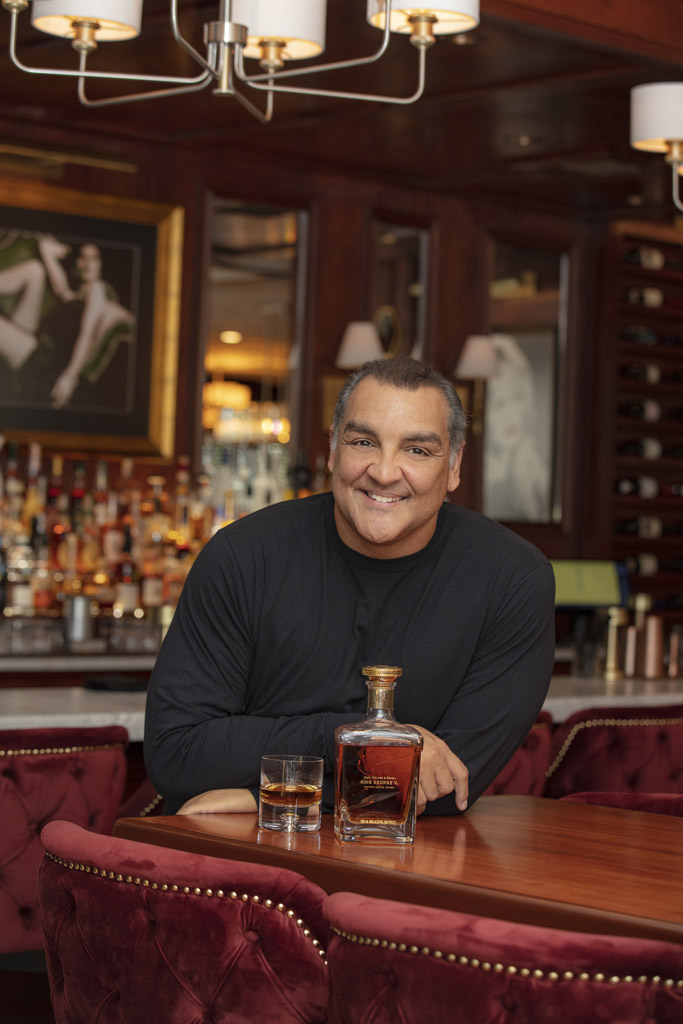 Jesse Blanco
Forrest Fire BBQ is located behind FISH in Coligny Plaza. Visit the online at www.forrestfirehhi.com