Beautiful Island Square, located on Marshland Road near the Mathews Drive traffic circle, is an oasis of food trucks, complete with covered seating and misters to cool you down. 
On an island packed with amazing restaurants, it's easy to assume food trucks would have difficulty carving out a niche for themselves in our competitive market. Yet as Hilton Head has attracted more young families and college students over the past decade, the food truck trend has persistently grown stronger, particularly with epicurious folks eager to expand their palates.
While there's an undeniable whimsical sense of nostalgia surrounding food truck culture—particularly where funnel cakes and turkey legs are concerned—accessible, economical, on-the-go food is deeply rooted in human history. Archaeologists have unearthed a street food counter in Pompeii that dates back 2,000 years, while the chuck wagons of the American West could arguably be considered the first "true" food trucks, as cowboys often referred to good, hearty food as chuck and would purchase beans, meats, and coffee from these mobile vendors.
Of course, that was just the beginning of America's love affair with portable "cheap eats." The late 1800s saw savvy street merchants targeting hungry students by setting up sausage carts and wagons outside Ivy League dorms, but it wasn't until 1936 when the Oscar Meyer Wienermobile made its debut that food truck culture irrevocably changed. Within a decade, ice cream trucks were cruising countless suburban streets. By the late 1970s, college "grease trucks" and California's burgeoning taco truck movement had begun to change the food landscape of America.
Nowadays, many food trucks boast a variety of gourmet foods that rival some of the best brick and mortar establishments as well as culturally diverse fare that puts '90s mall food courts to shame. But what's even more commendable is that most food truck owners spent years working in someone else's restaurant kitchen before embracing their entrepreneurial spirit and venturing out on their own.
If you find yourself hankering for always-delicious, sometimes-exotic comfort foods that just hit the spot, be sure to check out one of the many food truck vendors that call Hilton Head and our surrounding areas home. Odds are, you may think you've died and gone to food truck heaven.
A Buffalo chicken stuffed baked potato and a side of street corn from LowCo Grub Food truck at Grayco on Palmetto Bay Road. 
LowCo Grub Food Truck co-owners Eduardo Avila and Alexander Manrique
LowCo Grub Food Truck
Co-owners Eduardo Avila and Alexander Manrique have been friends since age 12, so when the chance to purchase their own food truck emerged, after years working in the food and beverage industry, they jumped at the opportunity. The pair did an entire refit of the van from the inside out, finally bringing in Charleston artist Reese Signs to give the exterior its signature look.
LowCo Grub opened in November of last year, offering a small, flavor-packed menu of juicy smash burgers, loaded baked potatoes, and tacos. The LowCo Burger has a unique twist on toppings with bacon jam and a fried green tomato, but the star of the show is the Steak Loaded Baked Potato. Stuffed with ribeye steak, sautéed mushrooms and onions, bacon, sour cream, and served with a side of Mexican street corn, it's easy to understand how LowCo managed to develop a cult following so quickly.
LowCo Grub Truck can be found outside the South End Grayco on Mondays, Wednesdays, and Fridays from 11 a.m. to 4:30 p.m. Find them on Facebook or Instagram @lowcogrub843.
The seating area with a marsh view between Jahmerican Jerk and the Gaucho Grill, located behind Barnacle Bill's off of Hwy. 278. Try the Oxtail, served with rice & peas and steamed cabbage, a traditional Jamaican specialty served at Trudy's Jahmerican Jerk food truck.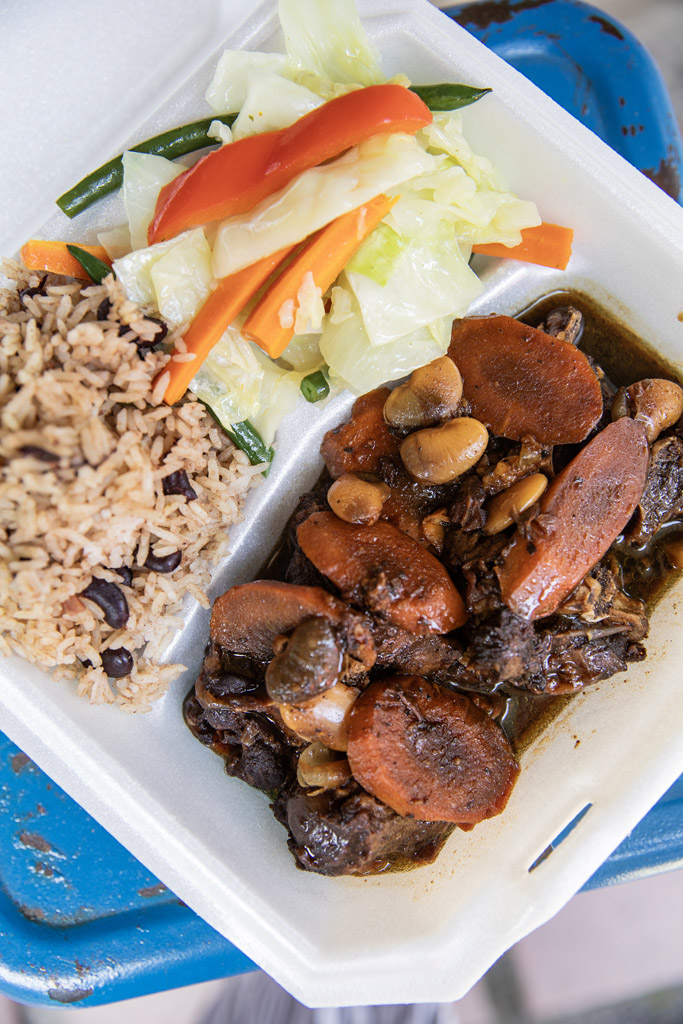 Jahmerican Jerk
As the busy mom of two boys, Trudian McDonald had long thought it would be more efficient to work for herself than someone else before jumping into the food truck game in May 2019. Drawing from Jamaican and American roots, she and her husband Dave developed a fusion menu that has become an island favorite.
The Jerk Chicken is a crowd pleaser, but with flavorful curry, plantains, oxtail, and an assortment of seafood dishes, there's something for everyone. Be sure to arrive early; this beloved food truck makes everything fresh and sometimes sells out.
Jahmerican Jerk can be found behind Barnacle Bill's Fish Market seven days a week from Memorial Day to Labor Day from 11 a.m. to 5 p.m. They close on Sundays during the off-season.
Find them on Facebook @Jahmerican Jerk-Food-Truck.
Dollar Billy's Ice Cream & Sweet Treats
Dollar Billy's Ice Cream & Sweet Treats has seen an evolution over the past few years. Originally a small, mobile food cart named "Benjamin's Southern Fried Pies," the business transitioned to a food truck in August 2021, shortening their moniker to "Benjamin's."
But with a permanent location at Hilton Head Island's newest instant-hit and local beer garden, The Bank, co-owners Benjamin Watterson and Desmond Bush decided to expand the menu with more kid-friendly and healthy offerings.
In June of this year, the team removed the fryers from Benjamin's, rewrapped the truck with new Dollar Billy's signage, and decided to focus on soft serve ice creams and Boba Teas as well as coffee and pastries in the off-season. Meanwhile, the original Benjamin's has found new life as a cigar cart at The Bank.
Dollar Billy's offers delectable, sweet treats seven days a week, from 2 p.m. to 10 p.m. at the old Bank of America Building at 59 Pope Avenue. Follow them on Instagram at @benjaminsfoodtruck.
El Corazón de la Carne
In Spanish, corazón means heart, so it only seems fitting that this island food truck's name would be in nod to its origin: owner Jimmy Paz's need for a heart transplant. With surgery insurance wouldn't fully cover on the horizon, Paz and his wife Glencys started El Corazón de la Carne by taking their food truck to baseball fields and parks in 2021 to make extra money to cover the gap.
After a successful procedure, Paz decided to pursue the truck full-time with a permanent spot at Beautiful Island Square. Offering a wide range of Venezuelan foods including mouth-watering cachapas, a sweet corn pancake with cheese and cream, and wood-fired meats, they're now expanding to a second food truck in Savannah.
El Corazón de la Carne is moving to Stokes Toyota in Bluffton, 100 Fording Island Rd., and will be open Tuesday to Sunday, 7 a.m. to 9 p.m. Find them on Facebook and Instagram at @elcorazondelacarne_hiltonhead.
Fra Amichi Food Truck
Twenty-five years in the restaurant business just wasn't enough for Vencenzo Alongi. After owning two well-reviewed Long Island Italian restaurants and retiring to South Carolina, he decided to keep going by opening Fra Amichi six years ago.
Alongi specializes in bringing New York style pizzas, including his famous Sicilian pie, to the Lowcountry. But the surprise star has been his mouthwatering pastas. With ravioli, gnocchi, and homemade lasagna, as well as a traditional chicken and eggplant parmesan, one bite from Alongi's food truck and you'll be quickly transported to Long Island, the Bronx, or Boston's North End.
Fra Amichi spends two days a week at the Lot 9 Brewery on Red Cedar Street in Bluffton but also makes satellite stops from New River and Sun City all the way to Indigo Run.
Alongi confesses his social media skills are not quite as up-to-par as younger generations would like, but he can be reached via phone at (516) 779-5785.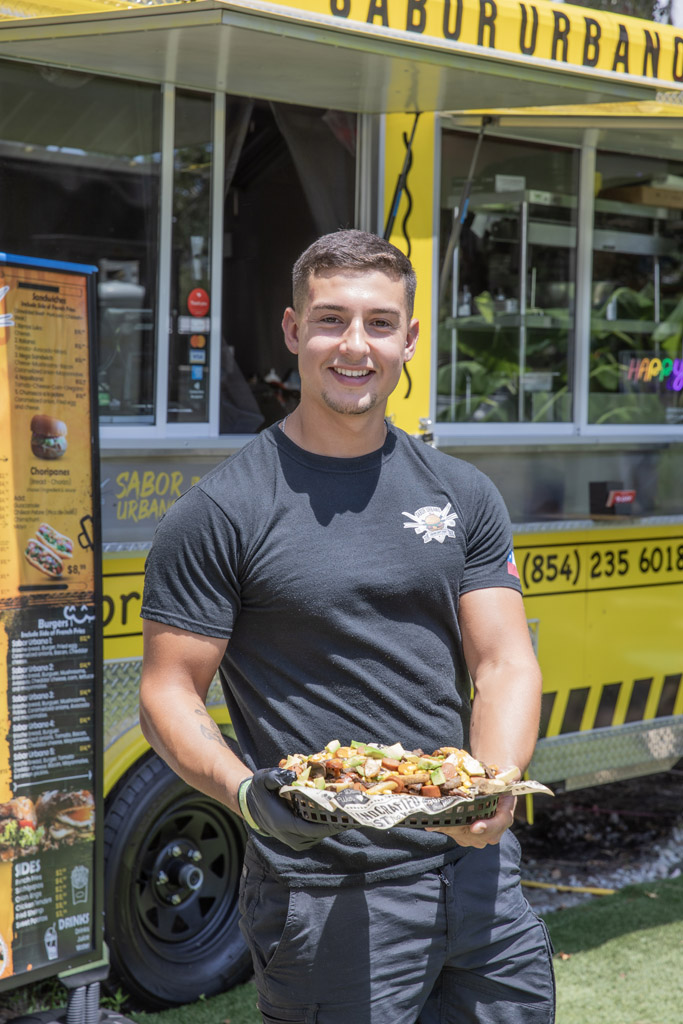 Diego Morales highly recommends the french fries, topped with almost anything you can think of, at his food truck Sabor Urbano, located in Beautiful Island Square.
Sabor Urbano
One of the newest kids on the block is Sabor Urbano owner Diego Morales. Morales always wanted his own business and enjoyed cooking in restaurants, so in May 2023, he decided a food truck was the way to go.
Many of his recipes are throwbacks to the street food he enjoyed growing up in Chile. The empanadas are a slam dunk, but when asked what makes his food special, Morales said, "Lots of toppings!" His menu showcases this beautifully, with the French Fry #2, topped with beef, chicken, sausage, bacon, cheese, caramelized onions, and fried eggs, vying to be the Sunday morning cure for a too-fun Saturday night.
According to Morales, his meals are "full of colors and textures representing who we are as Latinos: diverse, fun, and exotic."
Sabor Urbano can be found in Beautiful Island Square from Tuesday to Sunday from 10:30 a.m. to 8:30 p.m. They can also be found on Instagram @saborurbano843 and Facebook @Sabor-Urbano.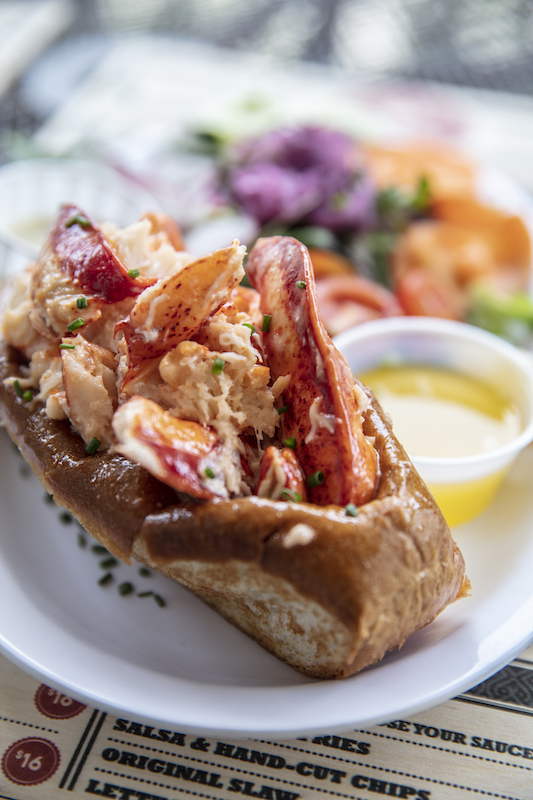 A lobster roll at All About the Benjamin's at The Bank on Pope Avenue. 
All About the Benjamin's
Seafood is king on Hilton Head Island, which is why owners Desmond Bush and Benjamin Watterson decided to open All About the Benjamin's in March 2023, with the truck truly taking off this June when The Bank beer garden officially opened.
Specializing in a plethora of seafood- and Lowcountry-inspired dishes including po'boys, crab balls, and seafood baskets, All About the Benjamin's has quickly become an after-beach destination for locals and tourists alike.
Bush highly recommends the signature lobster roll. "Our Maine-style lobster roll is made fresh daily," he said. "Since it's cold, it's super refreshing after a day at the beach or game of pickleball."
All About the Benjamin's is open seven days a week from 2 p.m. to 10 p.m. at 59 Pope Avenue, located at the old Bank of America Building. You can also find them on Instagram at @benjaminsfoodtruck.
Gaucho Grill fully embraces its carnivorous menu. 
Gaucho Grill
One thing can be said about South American cuisine: They love their meats!
Gaucho Grill fully embraces its carnivorous menu with an assortment of steaks, ribs, chorizos, and chicken, all grilled to perfection and available with any number of traditional South American sides.
The truck's name was chosen, in part, to pay homage to gauchos—hard-working individuals who oversee restaurant grills in kitchens across South America. Gaucho Grill owners Lucas Vieira and Ivana Miralla have been in business since October of last year and offer unique items like picanha, the most highly sought after cut of meat in Brazil. But if you want to throw your tastebuds a party, run to their location behind Barnacle Bill's for the X-Tudo—a fun, delightfully messy burger that's so tall, you can barely fit it in your mouth.
Gaucho Grill is open from Tuesday to Sunday, 11 a.m. to 7 p.m. Find them on Instagram and Facebook @GauchoGrillFoodTruck.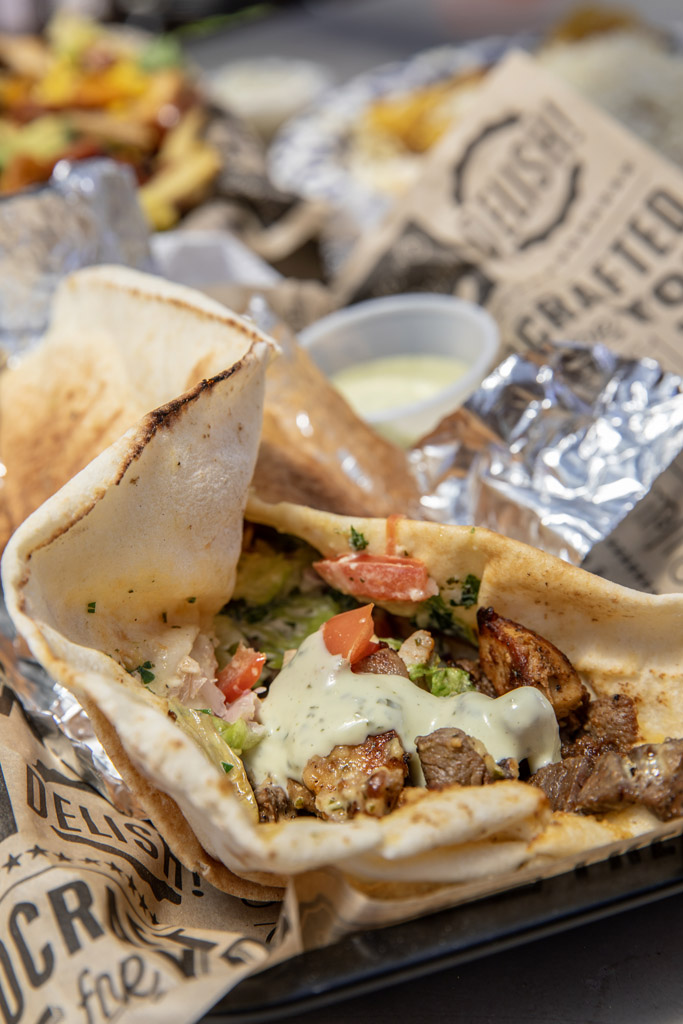 Marinated beef or chicken served with falafel, lettuce, tomato, onion and pickles wrapped in pita bread.  
Shawarma Station
America isn't the only country with a love of culturally diverse foods. Shawarma Station owner, Venezuelan-born Julio Piña Hernandez, associates Lebanese cuisine with home. So, in March 2023, he and his son, Cesar Piña, decided to open their food truck in Beautiful Island Square to celebrate their sundry background.
Sweet desserts, refreshing smoothies, and sub sandwiches are on the menu, but the sharwarmas—thinly cut meat stacked and roasted on a vertical spit—are the highlight. A common street food in the Middle East, shawarma is shaved off the cooked surface as the rotisserie rotates, ensuring every juicy bite is perfectly cooked.
Their signature dish is the Shawarma Station, which is marinated beef and chicken served with falafel, lettuce, tomato, onion, and pickles and wrapped in pita bread. 
Shawarma Station is located at Beautiful Island Square off Marshland Road seven days a week from 11 a.m. to 9 p.m. and can be found on Facebook @Shawarma Station sc.
Antojitos Authentic Mexican
If you're in the mood for traditional Mexican street food, look no further than Antojitos Authentic Mexican. Drawing inspiration from market street vendors in Mexico, owner Sergio Zumaya started the truck in March 2023 after working in restaurants and wanting to try something for himself.
Traditional street food such as tacos, nachos, and quesadillas are all part of the menu. But Zumaya decided to take his menu a step further by incorporating long-standing family recipes as well, with the Fajita Bowl being one of Zumaya's best-sellers.
Antojitos is open from Monday through Saturday, 10 a.m. to 6 p.m., at Beautiful Island Square on Marshland Road. Find them on Facebook @antojitosmexicanosRP.