September Shrimp Baiting Season
There is nothing finer than the simultaneous September full moon rise and sunset, the changing colors of the marsh grass for a Lowcountry fall, and shrimp baiting season in South Carolina. And these succulent shrimp recipes are a fabulous addition to add to your list of Lowcountry shrimp dishes.
"Catch them bugs" is usually chanted as shrimpers await their draw, as their cast nets bring in the bounty of local shrimp. According to the SCDNR, shrimp baiting season 2022 starts at noon September 9 and ends at noon November 8. All individuals over the age of 16 must have a fishing license and shrimp baiting tags for shrimp poles. Visit dnr.sc.gov for more information on state rules and regulations.
Southern Shrimp Sliders
Ingredients:
1- 1/2 pounds, peeled and deveined raw shrimp, cut into large pieces
1/4 cup butter
1 stalk celery, finely minced
1/2 cup onion, finely, minced
1 cup mixture of yellow, red, orange peppers, finely minced
4 large sleeves, RITZ Crackers, crushed
2 eggs
1/4 – 1/2 cup milk, start with 1/4 cup
1 tablespoon dill weed
1 tablespoon Old Bay seasoning
1/2 teaspoon salt
1 teaspoon black pepper
1 teaspoon fresh lime juice
Melt butter in a large saucepan over medium heat; add celery, onion, and mixture of peppers and slowly sauté until translucent, not brown. Set aside and let cool.
In a small bowl, whip together eggs and milk with a fork.
In a large mixing bowl, place crushed RITZ Crackers, dill weed, Old Bay seasoning, salt, black pepper, and lime juice. Blend together. Add shrimp, cooled pepper/onion mixture, and egg mixture and blend all ingredients. Note: Best is gloves on your hands and blend with your hands.
Place in refrigerator for 30 minutes.
Make small round shrimp burger patties, around 24 patties.
Two ways of cooking the shrimp burgers:
Oven method: Place shrimp burgers onto a greased baking sheet and bake in a hot oven at 350F for about 20 minutes.
Sauté method: In a large saucepan, melt butter on medium heat. Place shrimp burgers in the saucepan and cook on each side for roughly 6 minutes on each side until slightly golden brown, making sure the shrimp is cooked to pink/white in color.
Serve shrimp burger on a nice bun with toppings such as spinach, sliced fresh tomatoes, sweet onions, roasted red peppers, pimento cheese.
Creamy Dill Remoulade
Ingredients:
2 tablespoons dill weed
1 cup mayonnaise
1 teaspoon fresh lime juice
1/4 teaspoon salt
1/2 teaspoon black pepper
1/4 teaspoon Worcestershire sauce
Mix all ingredients together, season to taste,
and place into the refrigerator until serving.
---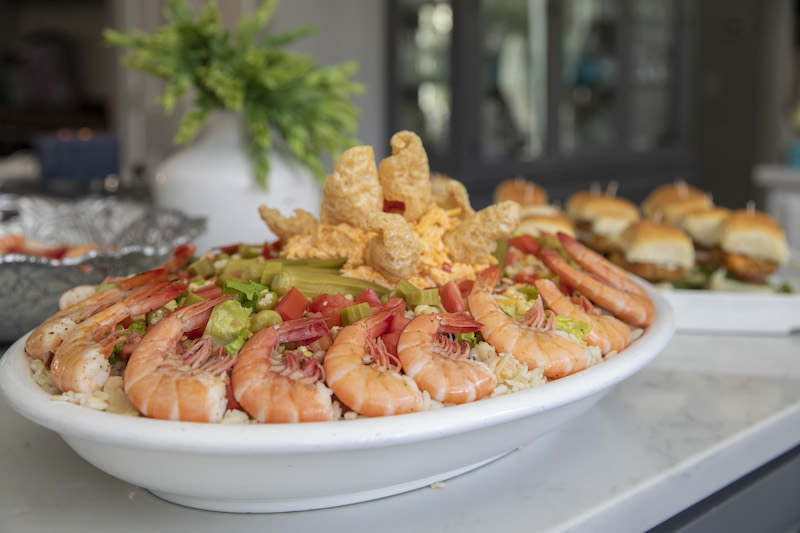 Chef Lynn Michelle's Southern Pimento Cheese 
Ingredients:
1 – 1/2 cups Hellman's mayonnaise
3 cups softened cream cheese
4 cups shredded sharp cheddar cheese
1/2 teaspoon salt
1 teaspoon ground black pepper
1 tablespoon onion flake
1/4 cup water
1/4 teaspoon garlic powder
1 cup chopped pimentos (roasted peppers)
1/2 cup pimento juice from jar of roasted peppers
1/2 cup cold water
In a mixer, cream together mayonnaise, cream cheese, water, onion flake, salt, pepper, and garlic powder; add chopped pimentos. Continue to blend slowly; this will create the creaminess mixture.
Slowly add shredded sharp cheddar cheese while mixing on low to medium alternately with pimento juice. More water may be needed for desired texture of pimento cheese.
Notes:
Use sharp cheddar cheese as anything else will prevent the nice pungent flavor which you are looking for in your pimento cheese. The onion flake is key as well. Because it is dehydrated, it's the need for potentially some extra water.
You may also use block sharp cheddar cheese and shred it yourself for creamier pimento cheese. Why, you ask? Because the pre-shredded sharp cheese has a dry coating on the shreds to prevent them from sticking together, hence the need for some extra moisture from the pimento cheese juice and water.
Serves 6
---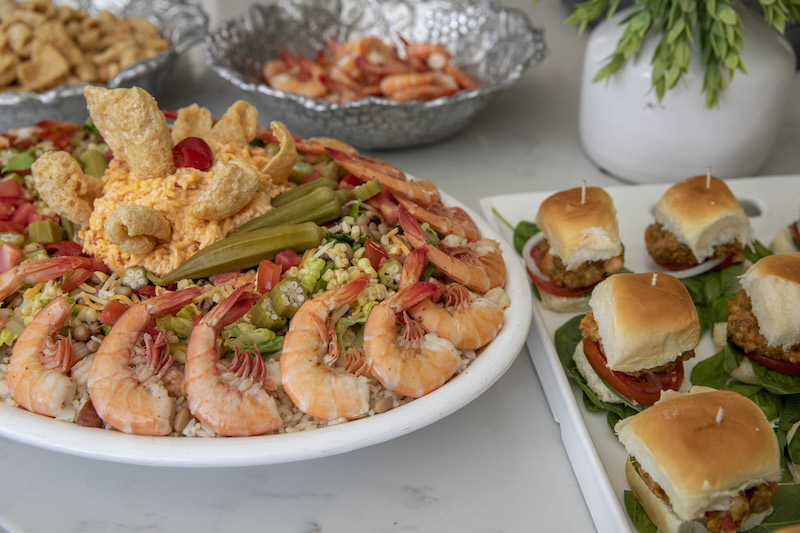 LowCountry Shrimp Extravaganza
Ingredients:
1 pound fresh shrimp, whole with shell and cooked for display around the platter
1 pound fresh shrimp, peeled, raw, deveined and cut into large pieces; save shrimp shells
4 cups cooked rice
1 large Vidalia onion, roughly chopped
2 stalks celery, roughly chopped
1 cup, colored peppers, roughly chopped
2 cups beef sausage, cut into bitesize pieces
1 stick butter
Shrimp shells
1 – 1/2 cup water
1 large container sour cream
1/4 cup Old Bay seasoning
2 bunches romaine lettuce, washed and sliced into thin strips
1 large tomato, roughly chopped
2 small cans black eyed peas, drained and rinsed
2 cups shredded cheese
1 small jar pickled okra, some whole and some sliced into bitesize rounds
1 cup roasted red peppers, roughly chopped
3 ears fresh corn, char on grill whole and cut corn off cob
Pimento Cheese (see recipe above)
Pork Rinds
Fritos® SCOOPS®
In a large saucepan, melt 1/2 stick butter; add raw shrimp shells and cook the shrimp shells until pink. Add water to create shrimp broth and simmer for 20 minutes. Using a colander, strain the broth into another pot.
Set aside.
Using the same large saucepan, melt other half of the butter. Add onion, celery, and colored peppers. Sauté until translucent. Add beef sausage and shrimp pieces to slowly cook together for 4 minutes. Do not boil. Add shrimp broth to this mixture. Turn off heat and set aside.
In a medium bowl, mix sour cream and Old Bay seasoning.
Set aside.
To Assemble:
Using a large deep serving platter, place the rice on the bottom and push rice out to the edge. Cover the rice with the shrimp, beef, pepper mixture. Cover with sour cream mixture, thinly sliced romaine lettuce, chopped tomatoes, black eyed peas, shredded cheese, sliced pickled okra, chopped red peppers; sprinkle charred corn, and top with Chef Lynn Michelle's Pimento Cheese. Serve with Pork Rinds and Fritos SCOOPS
or serve as a meal.
Serves 4-6
Book your next meal with Chef Lynn Michelle – for intimate gatherings of up to 50 people, prepared in your own home. Call 843.422.5480 or visit cheflynnmichelle.com for sample menus and more information.