Seemingly festive, soulful and uplifting, the word "holiday" comes from the Old English words "hālig" meaning holy and "dæg" meaning day. But for a great many of us, the word holiday means an obligation to tradition. For some of us, that obligation is associated with positive feelings. For others, negative. And for me and maybe you, too, it is a mixed gift bag of positive and negative. (For example: We love Aunt Edna, but we hate her oyster pie we are forced to eat every Christmas Eve.)
This is due in part to the fact that, despite the "good tidings we bring," many of us have some misgivings about accommodating our extended family when we feel we need to concentrate on our nuclear family. This age-old conflict has only been enhanced by our current state of affairs. Over the past several years, we as a nation (and even globally) have been served a heaping Thanksgiving Day portion of polarizing politics, COVID concerns (from the loss of loved ones, to travel restrictions, to varying views on immunization and protocol), higher gas prices, anxiety and economic uncertainty—just to name a few "turd in the punch bowl" contributors.
But, as humans, we are essentially pack animals, and we biologically gravitate toward tradition. This is especially true during the holidays when we feel compelled to adhere to customary practices and honor our relatives.
"Ritual offers a sense of safety, security and predictability," Dr. Debi Lynes said. "Also, from an evolutionary standpoint, ritual (or tradition) offers a way we can continue our legacy and our culture. It is also a form of oral storytelling. Handing down memories from one generation to the next is the oldest form of communication, entertainment, and the development of family culture. 
"Equally as important as family traditions and rituals is a family's psychological flexibility, or the ability to shift, pivot, and change when unforeseen circumstances interfere with a family tradition," Lynes continued.
Because of the number of people moving to the Hilton Head Island-Bluffton area, new residents here have the added challenge of proximity to extended family members during the holidays. "When we moved here in 2016, we had no choice but to start new traditions because I was firm that we would not be traveling on the holidays," Kelly Luckasevic said. "I want our family to wake up in our home on Christmas morning and not crazy from the chaos of holiday travel."
When they lived in Pittsburgh, their nuclear family hosted 99 percent of the holiday meals for their extended family. So, their new tradition is to have a calm and quiet "just the four of us" kind of day, Luckasevic explained. "Christmas morning breakfast is always Pillsbury cinnamon rolls. That was a carry-over. I was busy prepping Christmas dinner on Christmas morning for a large group, so the easy Pillsbury cinnamon roll breakfast was what happened so that the kids could eat in the middle of gift-opening chaos and so it did not take me much effort and I wouldn't miss out on the happy Christmas morning moments. Our first Christmas here, I asked what they wanted for breakfast on Christmas morning, and my oldest daughter replied, 'Well, it is always cinnamon rolls.'"
Blended families also must be responsive to shifting dynamics. When Steve and Julie Tilton married, they suddenly had five adult children. "I think we are respectful of each other's traditions. Julie knows how important the holidays are for me. I'm a holiday geek. Especially Christmas and Christmas Eve. I'm honored the Edwards kids have bought into the Tilton traditions," Steve said.
"We all do our best to honor everyone's schedules while holding true to our traditions," Julie added. "Steve and I created a couple's vision statement early in our relationship. One aspect was creating a home where our grown children feel welcomed, wanted, and loved. I feel we're accomplishing that."
The key to enjoying the "holi-yays" is all about setting boundaries. Whether we are setting boundaries with our relatives and/or our adulting children, it is important we are clear and direct about how best to truly celebrate the season with loved ones.
Family means the people you want to spend time with and are there for all the 'stuff.' And you are more than happy to put up with all their 'stuff,'" Luckasevic aptly pointed out.
"Oftentimes it can be even more gratifying to find creative ways to connect with family members. With the availability of social media, FaceTime and other technology options, gathering with your family can look many different ways," Lynes said. "The big take away is, as a family, we can embrace ways we are alike and ways we are different. We can embrace, grow, and learn from different family members. The key here is not forced family fun but festive family fun."
Becca Edwards is a freelance writer and owner of Female IQ (femaleIQ.com).
---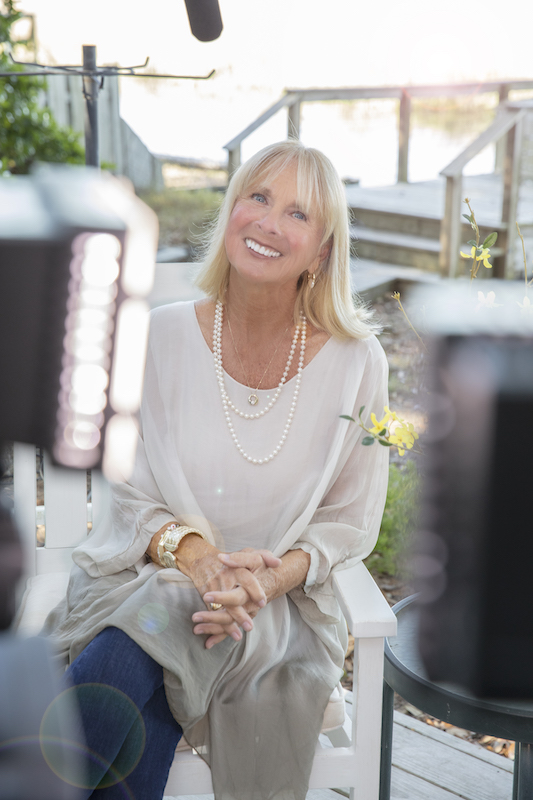 Ideas for Celebrating Holidays with Extended Family
"I've known families that celebrated Thanksgiving on the weekend after so that all the family members could be there!"
—Julie Tilton
"All of us are living our own lives. We each have work, play and family, and it looks different for all of us when coming together. As an extended family, it can be enjoyable to allow each family to shine their own nuclear family rituals and traditions. For example, each night one family is in charge of the meal and activities. This could mean high tea for one family and a Lowcountry boil for another."
—Dr. Debi Lynes
"Since I have to ship gifts now, I try to be creative. Last year I found a company that sends all the parts to mix fancy holiday cocktails or fancy hot chocolate bar supplies for families with young ones."
—Kelly Luckasevic 
"I love the idea of secret Santa, and we did it in our extended family. Also, I think more virtual experiences are on the horizon."
—Steve Tilton