As summer fades into memory, Hilton Head locals know that it's time for the real fun to begin.
Fall is essentially spring break for locals, and few places understand that like Hilton Head's downtown, Coligny. Which makes sense, since Coligny has served as the heart of our community for more than 50 years, giving locals a place to come together in celebration of island living.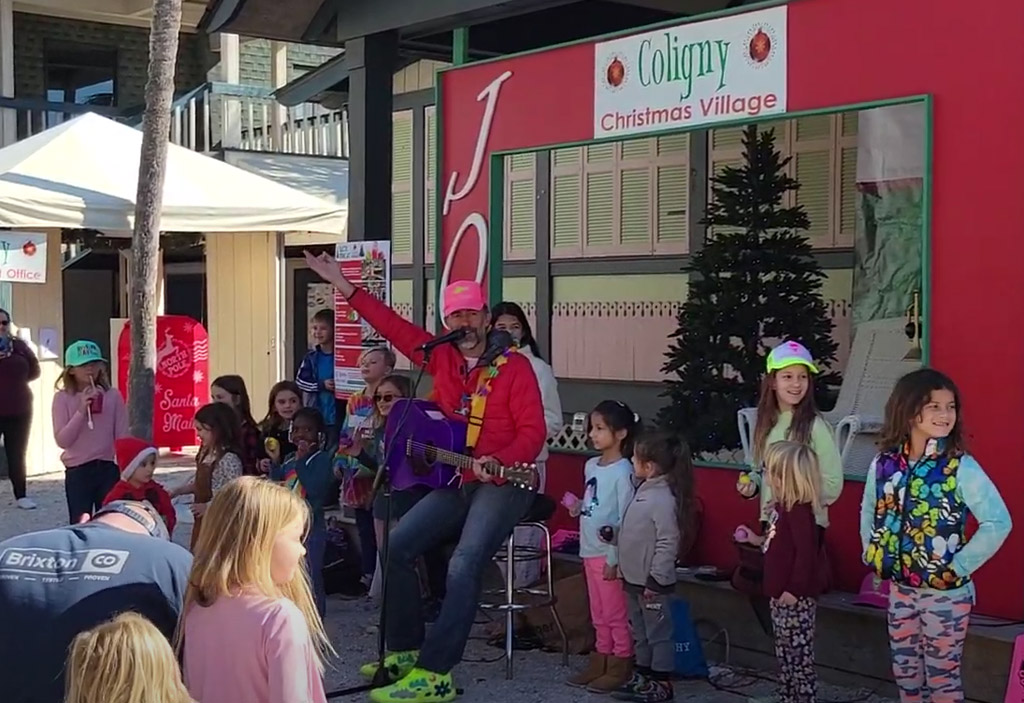 Jevon Daly kicks off the holidays during Black Friday at Coligny on November 24. ColignyPlaza.com/Events
And this fall will be no different with a pair of events that define the fall season on Hilton Head Island. 
The Hilton Head Island Lantern Parade
Quickly becoming one of the island's most beloved annual events, the Hilton Head Island Lantern Parade will once again see the night air in the Coligny District lit up with a kaleidoscopic array of gorgeous glowing lanterns. Creating a spectacle of pure inspiration and a heartfelt sense of community, this event brings the entire town together in celebration of illuminated artistry.
This year, you'll definitely want to make Coligny  your first stop, as they will be hosting a pair of outstanding lantern-making workshops from 5-7 p.m. November 14 and 15. Carolina Coffee & Crumbs will be the site this fun and educational hands-on seminar as you create your own piece of luminous artistry under the guidance of the island's resident lantern-making guru, Emily Holyoak.
Then, with your very own lantern ready to shine, come back to Coligny on Saturday, November 18 for the Lantern Parade! Step off is at Alder Beach and the entire event finishes at Lowcountry Celebration Park.
View Santa from the sky on Black Friday at Coligny Plaza. Check out
 for more holiday fun.
Black Friday at Coligny
Why stand in line and jump through the big box stores' hoops when you can get great deals, support local business, and – get this – actually enjoy your Black Friday experience? Coligny always does it LOCAL and does it right!
Black Friday on November 24 at Coligny is the year's biggest shopping spree, with entertainment all day, fantastic deals from the plaza's famous mix of exciting locally owned retailers, and absolutely no need to camp out in line the night before. 
While you stroll through Coligny snapping up great specials and savings, you can enjoy a packed schedule of fantastic events starting with the 11:30 a.m.-1 p.m. Kids Show with Hilton Head Island's Clown Prince of Music, Jevon Daly. His storytelling songs and toe-tapping tunes bring out the kid in everyone, creating a show your young ones will rave about. But keep your eyes on the skies at 12:45 p.m. as St. Nick himself, Santa Claus, makes his annual flyover by helicopter (as the reindeer have the day off). He'll touch down just in time for Photos with Santa on Coligny's Center Stage from 1-2:30 p.m. And to truly get you into the holiday "spirit," hop on the Santa Bar Crawl running from 2:30-3:30 at spots around Coligny.
And if you're lucky, the best gift of the year may be the one you get from Coligny, with a $1,000 prize drawing! Just enter your receipts at ColignyPlaza.com/Christmas and you could put a grand in your pocket.  Giveaway of $1000 is announced on Christmas Day on the Coligny Facebook Page! At Coligny, they're truly all about making the season bright.