"The boutique was a place I always really enjoyed as a shopper," Holaus said. "I liked all the people I met there, and the selection of merchandise was so fun. I also loved that you could go shopping with your girlfriends and sit on the porch for a glass of lemonade."
Holaus ended up getting hired at Eggs 'n' tricities, where she worked in sales for two years. In May of 2020, the original owner, Nancy Golson was ready to retire. Knowing that Holaus' family has a firm background and knowledge of the retail industry (the Holaus' own two Fretworks music stores—in Bluffton and in Yuma, Arizona), Golson was thrilled to be able to transfer ownership to Holaus, who is committed to preserving the traditional Old Town Bluffton atmosphere.
"I was truly honored and thankful that Nancy trusted me to take over her life's work," Holaus said. "I knew she didn't want the store to go to someone who wouldn't stay true to the vibe."
After three decades in business, Eggs 'n' tricities, or Eggs for short, has been dubbed the "Party Line" by local author Marge Agin. There's a little something for everyone on Lawton Street, and at this chic boutique, shopping is an event.
You'll find clothing for the hip, young chicks to mature hens. Johnny Was is a popular brand, with embroidered and embellished pieces from tunics to kimonos. "Everybody should have at least one Johnny Was," said Holaus. "They are like a little treasure in your closet."
Every good Southern boutique offers a linen line, and Eggs carries Flax, a brand that can go to church or happy hour, indoors or out. "It's Southern perfection," Holaus said. "It's a flowy, light, linen that looks just fine a little wrinkled and can stand up to those days when you might be glowing under the humidity a teeny bit."
Renuar is a Canadian line that's best described as wash-and-wear, comfy casual. The fabrics are soft and stretchy solids and prints. The brand has become the top selling pant at Eggs that Holaus says are "like yoga pants, but, well … they are real pants." You'll also love their Liverpool jeans, which are made to fit every woman's body, with a little essential stretch.
"Our jewelry is one thing we are known for around town," Holaus said. The store is stocked with everything from inexpensive and fun items to one-of-a-kind, classic statement pieces. There is always a wonderful selection of freshwater pearls … long, short, baroque, even coin-shaped, with great color ranges and sizes.
The best-selling pearl jewelry is from designer Catherine Canino, whose drop pearl earrings are super popular. Then there is the Virgin, Saints and Angels (VSA) collection, whose archetypal, iconic religious pieces are handcrafted and infused with romance and magic. Each tells a story.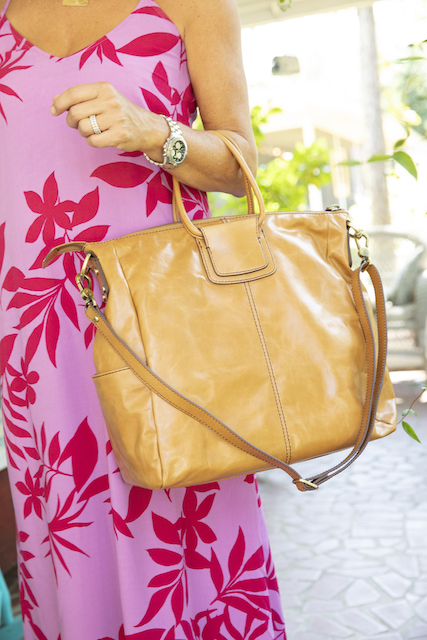 Another line with a story is MADE IN THE DEEP SOUTH by Michela Bruno Swafford. Every unique piece is fashioned with a vintage jewel that is then mixed with other elements to create a standout piece; each has a special history.
If you are looking for the perfect bag, then look no further. At Eggs, Boho Fly and Hobo are the best-selling lines. Each Boho Fly bag is handcrafted and features a piece of vintage jewelry. The Hobo bags are the yummiest leather ever in all the classic shapes, from coins to wristlets to shoppers and more.
In addition to clothing and jewelry, Eggs sells tons of gift items such as scarves, pendants, and décor with local flavor. You'll love the oyster shell vases, mirrors, bowls and bookends crafted by local artist Lena Meeks. The driftwood and buri rope (straw weaved into rope) items are fabulous. And there are men's must-haves, too, like the multi-tool, exceptional flasks and shot glasses, or cuff links.
You'll also find paintings by local artists including former owner Nancy Golson and Margaret Pearman, whose work features recognizable Lowcountry marsh themes.
Mixed in are painted furniture pieces labeled "Brocante Rustique," which is akin to shabby chic, along with some Archipelago candles and hand-painted signs, hilarious cards and cocktail napkins, vintage lamps with bottle lampshades and driftwood fish. Most of the home décor is made by local artisans.
"Our customers love our books," Holaus said. Eggs offers the coolest selection, among which are photography books by local photographers Marge Agin and Eric Horan.
Customers can look forward to some craft fair events in the courtyard in October and November where local artisans will be featured. Any interested persons should contact Holaus at georgia@eggsntircities.com.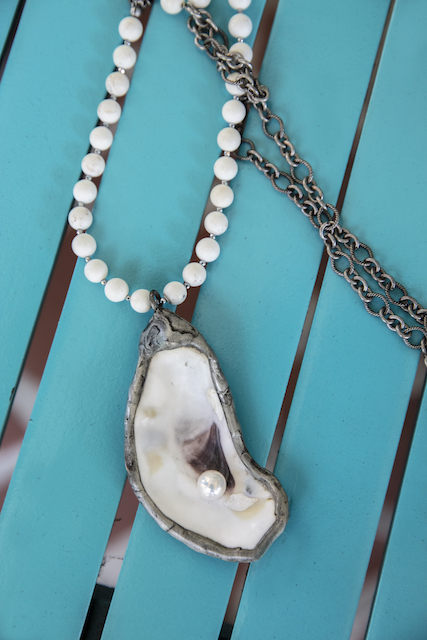 Mark your calendars, too, for upcoming sales on Labor Day weekend and the day after Christmas or stop by anytime to enjoy the front porch sale 365 days a year. Online shopping is in the works. The new website will allow online shopping, shipping, and curbside pickup in time for the holiday season.
"Customers love the unique items at Eggs," frequent shopper Paula Harper Bethea said. "It is the friendliest place in town and has a great selection. I always feel like famif ly when I come in."
Holaus gives credit to her squad when she hears these kinds of compliments from customers, both old and new. Her team consists of Patsy Hodge, who has worked at Eggs for more than 20 years, knows everyone and everything about the boutique, and helps purchase, sell, and model clothing; Andrea Crews, who creates the store displays, helps to select the clothing, and does in-store sales; and Joan Walsnovich, the Eggs newbie who also works in sales and helps create displays. Holaus wears all the hats.
"I'm so thankful for this opportunity to be a part of the Old Town business community," she said. "It is especially important to me to carry on the tradition that is Eggs 'n' tricities. It's the best place ever."
For more information, visit eggsntricities.com, or follow them on Facebook at Eggsntricities Bluffton or Instagram at eggsbluffton.