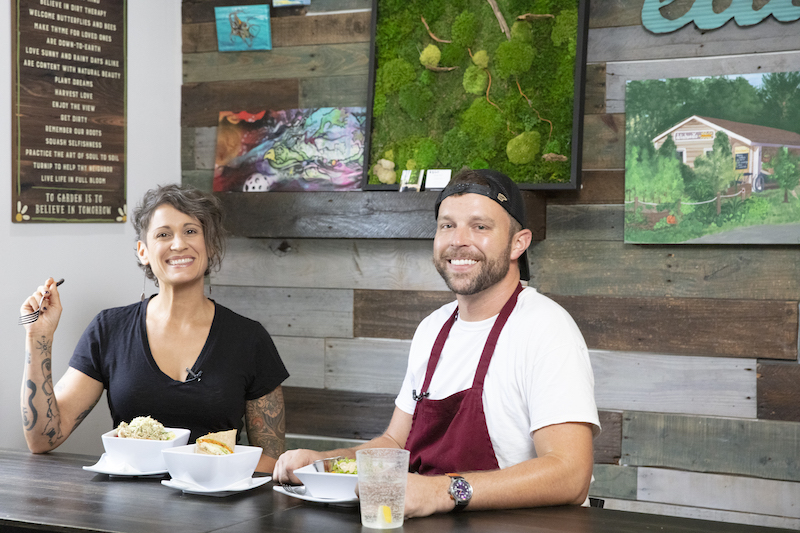 If you didn't know any better, you'd swear that the restaurants of the world existed solely to expand your waistline. Just witness Diners, Drive-Ins and Dives, in which celebrated bleached dudebro Guy Fieri seeks out the nation's greasiest and most artery-clogging fare, or Man vs. Food, which celebrates epicurean abominations like the 190-pound Absolutely Ridiculous Burger™.
But what about those of us who want to travel without packing extra Rolaids? Where is the show to satiate the wanderlust of the wellness-minded?
The bad news is, there isn't one yet. The good news is, we say "yet" because the pilot is in the can, as they say, and a few streaming services and networks have already shown interest. The great news is that said pilot was filmed right here on Hilton Head Island and stars one of our most beloved chefs, Amanda Russ Cifaldi.
"My wife and I, and our children, we plan our trips around healthy activities and good food…. Food is always my compass. It's always the reason I travel," Cifaldi said. "We were traveling, and I said, 'Wow, this would make a really good show.' It's something that people can connect with right now. It's on trend, it's going that way, and I just want to be the person to bring it to you."
Bringing together her deep culinary knowledge, boundless energy, and love of wellness travel seems like a no-brainer. The concept is called Destination: Wellness. Each episode will see Chef Cifaldi visiting another small town, seeking out the freshest eats and the most exhilarating activities. If you're looking for an elevator pitch, think of it as the anti-Diners, Drive-Ins and Dives.
"It's basically taking your healthy lifestyle on vacation," Cifaldi said. She draws inspiration from the places she visits, like California's Café Gratitude, a plant-based restaurant where you order via an affirmation (like the "I am Magical" black bean burger or the "I am Humble" curry bowl), or the surprisingly large vegan scene in Austin Texas, arguably the steak capital of the world. "It's highlighting connections. It's not just healthy food and activities; it's highlighting ways to reconnect with people around the country."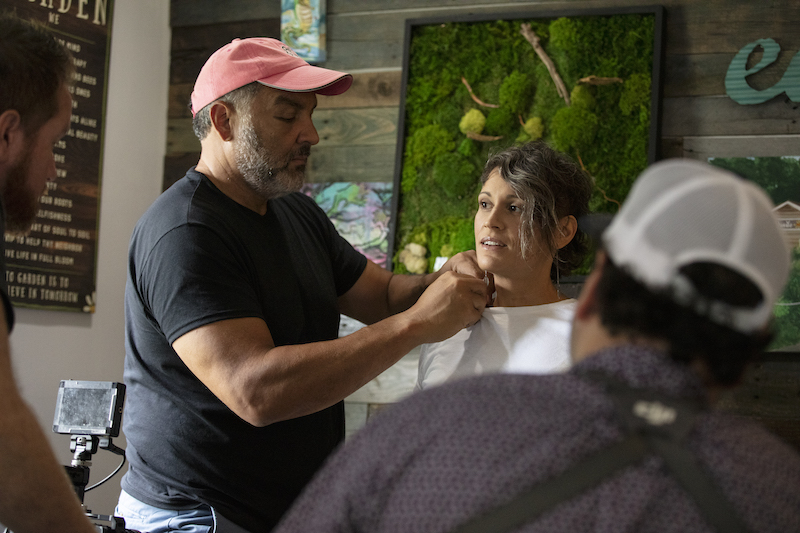 Lights, camera, action
Beyond serving as owner and restaurateur of Pomodori on the island, Russ has already shown the world her infectiously bright personality on Food Network's Bite Club, taking home a win against other area chefs. "That was such an excellent experience," she said. "I got a lot of really good feedback about how I was on camera."
While Cifaldi already has TV chops and a lifetime of performance experience, hitting the stage with The Young Americans in her youth and as part of island-based band Finkle and Einhorn, she knew that making Destination: Wellness a success would require some help.
Fortunately, she just happens to be close friends with one of the Lowcountry and Coastal Empire's biggest TV personalities, Eat It and Like It star Jesse Blanco.
"I've known Amanda for six or seven years … we had instant chemistry. We got along from day one when I featured her on my show," Blanco said. "This is just a wonderful human being."
Cifaldis' pitch for Destination: Wellness came over a dinner between the two friends at Chez Georges. "She pitched me her idea, her vision, her dream … and not that I'm any high-profile TV executive, but I've been taken out for coffee and ideas a few times. Not all of them are good ideas, much less amazing. This was the best idea that has ever been brought to me. I told her, 'This is a slam dunk.'"
He may not consider himself a high-profile TV executive, but Blanco has built a solid broadcasting brand in Eat in And Like It. As an executive producer on Destination: Wellness, Blanco says his job is pretty simple: just showcase Russ' personality and charm.
"When I brought the crew to her, they didn't know her from Adam. They'd never met her," he said. "After shooting one segment, the guys were like, 'If we can bring her to life on camera, if we can share what she is, we will have done our job.'"
"The great thing about Jesse is he doesn't give advice. He just says keep it natural and leaves it open ended," Cifaldi said. "We wrote the art of an episode, then allowed the experiences in the filming to dictate where we went. He gives me a lot of confidence in that."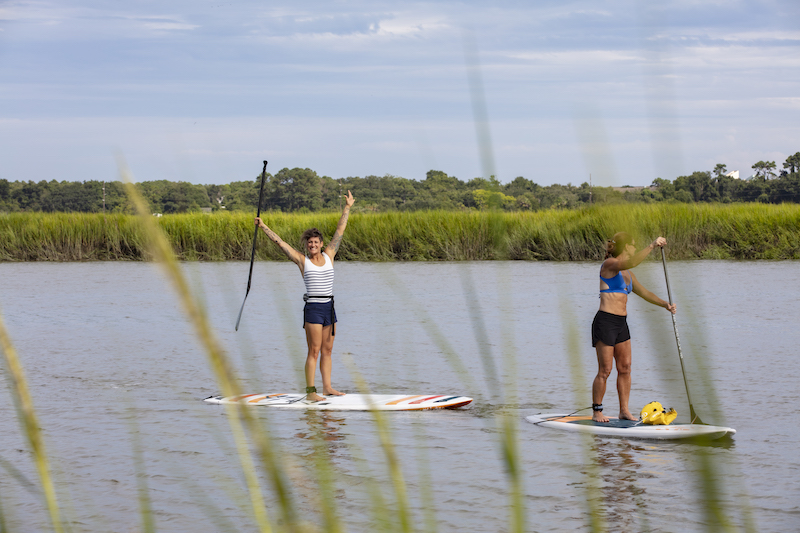 This is your pilot speaking
With all the pieces in place, it was time to start filming. Fortunately, Cifaldi didn't have to go too far to get her new travel show off the ground. There's a world-class health and wellness destination literally outside her back door.
"We started with Hilton Head because, obviously, I live here, but also because this is a very lifestyle-oriented, beautiful place for people to come to."
Spring boarding off Hilton Head Island's rising profile as a wellness destination was a natural first step, and the pilot episode sees Cifaldi showcasing our healthy lifestyle and natural beauty. On the culinary side of things, you'll see a visit with Delisheeyo ("I crave that Buddha Bowl," Russ said) as well as Healthy Habit, before heading outdoors for paddleboarding, sunrise yoga, a trek through the Sea Pines Forest Preserve, and so much more.
The hope is to not only create a compelling pilot for Destination: Wellness, but to introduce a healthier side of Hilton Head Island that some people might not be aware of.
"And it's the type of tourism we want: people who are very conscious of others and the planet," Cifaldi said. "They won't litter Miller Lite cans all over the beach. They will find our local restaurants, and they will help our community. That's a nice bonus for this pilot episode."
The relationship between the pilot and the setting is symbiotic. True, the pilot will help showcase the island. But the island provided the perfect proving ground for a show aimed at traveling well.
"There's so much saturation of programming on any channel, including social media, with everyone trying to find their groove. I don't think what we're attempting to do exists out there," Blanco said. "It's a perfect match."
Stay tuned for more later this year as the pilot episode wraps production and Amanda Russ Cifaldi's  journey to stardom continues.