What began in 2022 as a small fleet of boats parading along Skull Creek decked out in holiday style has now evolved into one of the most highly anticipated waterfront holiday events of the year. Deck the Hulls, A Christmas Boat Parade returns this year on Saturday, December 9, from 6–8 p.m.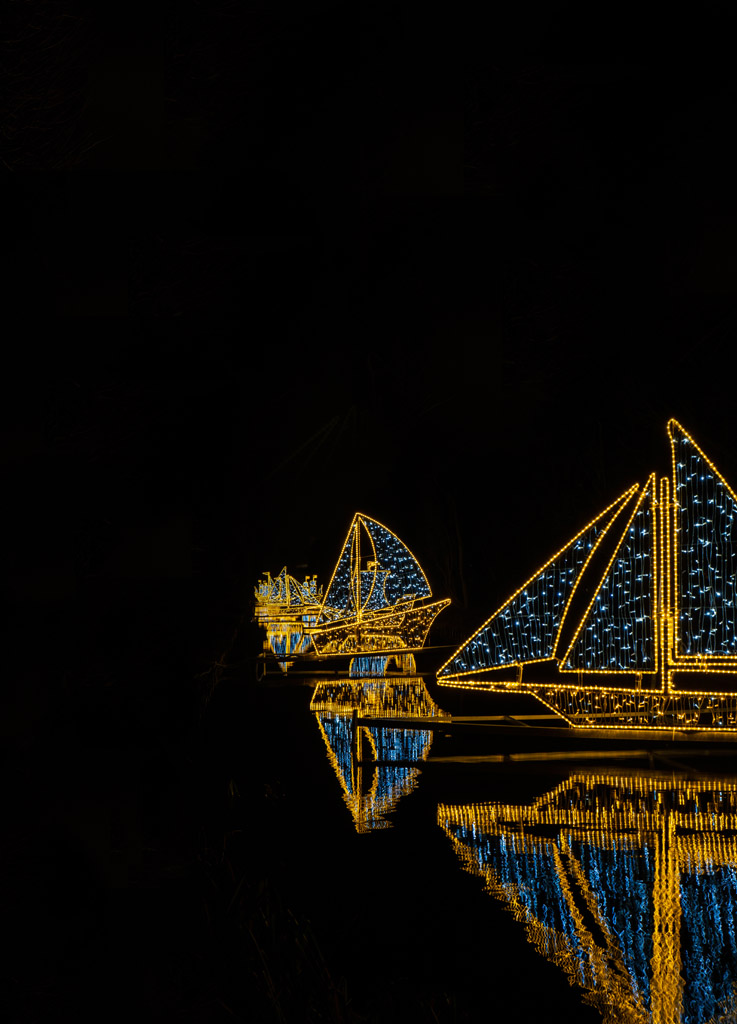 Deck the Hulls is presented by America's Boating Club Hilton Head (ABCHH) in conjunction with the event's presenting sponsor, Safe Harbor Skull Creek Marina. "This family-friendly holiday boat parade features a variety of boats 'decked out' in their holiday finest, including dramatic light displays, costumed crews, special effects, music and creative holiday decorations," said Deck the Hulls event chair and ABCHH member Lisa Ennis.
Deck the Hulls, A Christmas Boat Parade is open to the public, and attendance is free. ABCHH is a is a not-for-profit organization that promotes safe boating through educational seminars, on-the-water activities, and community outreach projects such as Deck the Hulls.
While Hilton Head Island has a large and prestigious boating community, some ABCHH members identified Hilton Head as one of the few coastal communities that didn't have a holiday boat parade. After attending parades in other cities, Ennis and others were inspired to organize the first boat parade on Hilton Head last year.
"If you've never attended a holiday boat parade, it's just so much fun. There's no better way to kick off the holiday season than enjoying a beautiful night on the water with family and friends," Ennis said, adding that the committee was thrilled to have 14 boats participate in the first Deck the Hulls and thousands of spectators attend. "It was amazing to see just how much time and effort boaters put into decorating their boats, but we never expected they would carry that same level of enthusiasm into their costumes."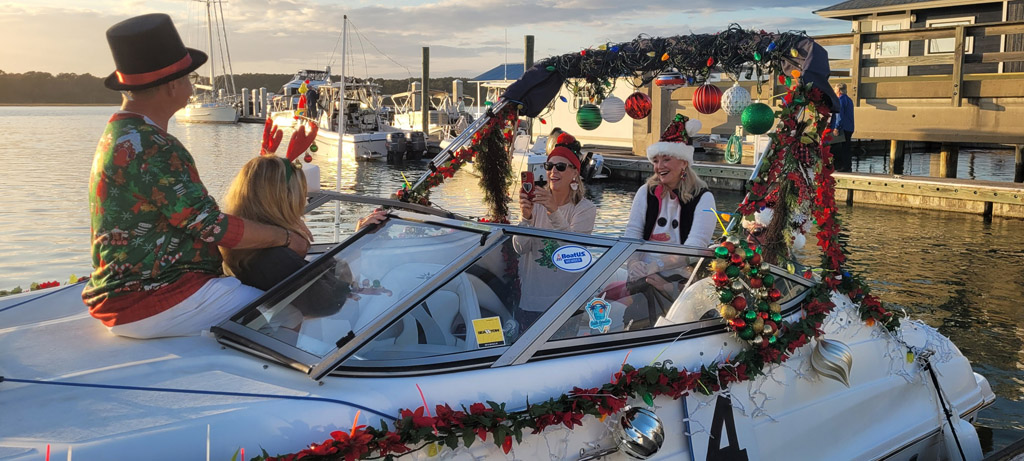 While many residents who live along Skull Creek host viewing parties, there are a number of public viewing locations as well including Fort Mitchel, The Rowing and Sailing Center, and all the waterfront restaurants. 
Many boaters chose a specific theme when decorating their boat, including the Grinch, angels, elves, and Santa's workshop. "The boaters really put on a show," Ennis said. "We had a great turnout, and the support from the community was incredible."
Last year, the first Deck the Hulls was purposely limited to ABCHH members. Organizing this kind of event requires a lot more effort than people realize, so a smaller fleet of boats was more manageable, and the committee learned a lot from the experience, Ennis said. "We got great feedback from both participants and spectators that propelled us to make some changes, and with unwavering support from ABCHH Commander Craig Loomis, we knew we could make this an annual event."
Ennis said they are ready to take Deck the Hulls to the next level by announcing that boater registration for Deck the Hulls will be open to the public this year, and the size of the parade has been expanded to 40 boats. Beginning Oct. 1, registration will be open via their website.
Spectators will also have something big to cheer about. This year, Deck the Hulls will debut their new parade route. The new and improved route will bring boats as close to shore as possible, particularly past the waterfront restaurants. The boats will cruise within feet of the docks, allowing spectators to see the boats and costumes up close and hear the music.
"We are so excited about the changes to our parade route, which has been aptly named the 'along the shoreline parade route,'" Ennis said. "We are confident the new parade route will be a game-changer in terms of the overall experience for not only the parade-goers but boaters, too." 
While many residents who live along Skull Creek host viewing parties, there are a number of public viewing locations as well including Fort Mitchel, The Rowing and Sailing Center, and all the waterfront restaurants. A complete list of viewing locations can be found on the organization's website.
Dave Medvedev, Deck the Hulls marine coordinator and boat captain, will lead the seven-mile boat parade. The boats will assemble in Port Royal Sound and proceed south along the revised route past Pine Island, Dolphin Head, Skull Creek Marina, Village North, Bayshore, Dockside, The Boathouse and Hudson's before turning around at Hilton Head Harbor and ending back at Safe Harbor Marina Skull Creek. Judges will view the parade from Safe Harbor Marina Skull Creek and award prizes in several categories.
With an emphasis on safety first, ABCHH provides support to boaters who may not have experience participating in a boat parade or cruising at night—from a complimentary boat decorating workshop to "dry runs" of the parade route at night accompanied by experienced boat captains, free Vessel Safety Checks, and a pre-parade captain's meeting.
"We try very hard to ensure that everyone who wants to participate, has the opportunity to do so with the support necessary for a fun and safe experience," Ennis said. Safe Harbor Marina Skull Creek also provides complimentary overnight dockage for participating boaters so that no one is transiting back to their home marina or slip in the dark. 
According to Ennis, an essential component to the success of the parade is the dedicated ABCHH volunteers and officers from Beaufort Water Search and Rescue (BWSAR). "No one wants any problems out on the water, and these individuals really do the 'heavy lifting' in terms of taking care of everything to ensure the parade is as safe as it can possibly be," she said.  
For more information or to register, visit ABCHH.org/deckthehulls.