Some ideas are just born great, and some things just work when brought together. Things like music and food—it's hardly a revolutionary idea to bring them together for a community party. But when done correctly, when curated with both the seasoned palate of a chef and the experienced ear of a musician, the resulting mix becomes something greater than the sum of its parts.
Take last year's inaugural Rock N' Ribs at Coligny, for example. As soon as our community saw the lineup of world-class pitmasters, amazing chefs from all over the South, great local bands and musical icons in the form of Blues Traveler, it was almost a foregone conclusion that a new island tradition had been born.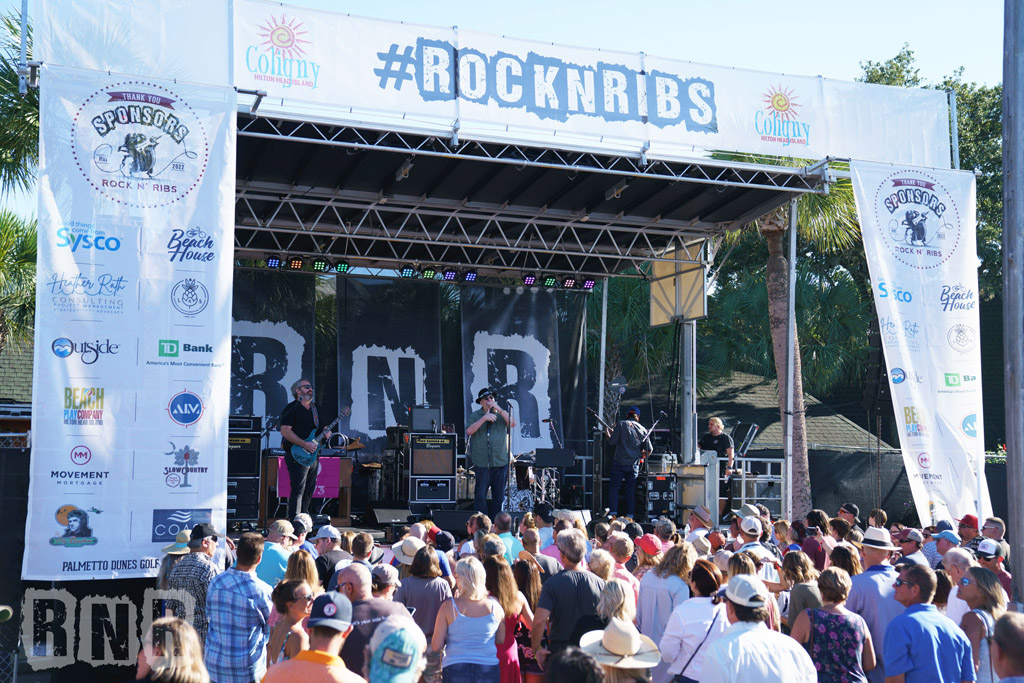 Blues Traveler rocks a crowd full of locals and visitors on a large stage set up in the center of Coligny Plaza. 
Event organizer Lee Lucier remembers the moment that conclusion hit him. "As soon as we opened the gates last year and we saw it all come to fruition, we just said to ourselves, 'Wow. Now let's start all over again on the next one.'"
The immense popularity of the first annual, er, inaugural event not only meant that the recurrence of Rock N' Ribs was inevitable. It also meant that the encore, which will be held October 19-22 at Coligny Plaza, had an extraordinarily high bar it had to clear. Fortunately, that immense popularity also meant that this young event's reputation had already preceded it when it came time to plan the second installment.
"Last year, we had to convince people that this was actually going to happen," Lucier said. "This year, we have people reaching out asking how they can be a part of it. That was a great feeling and such a compliment to the work my team put into this."
And some of the people who reached out make up a veritable who's who of the American barbecue scene, with nationally recognized pitmasters making their way to Hilton Head Island.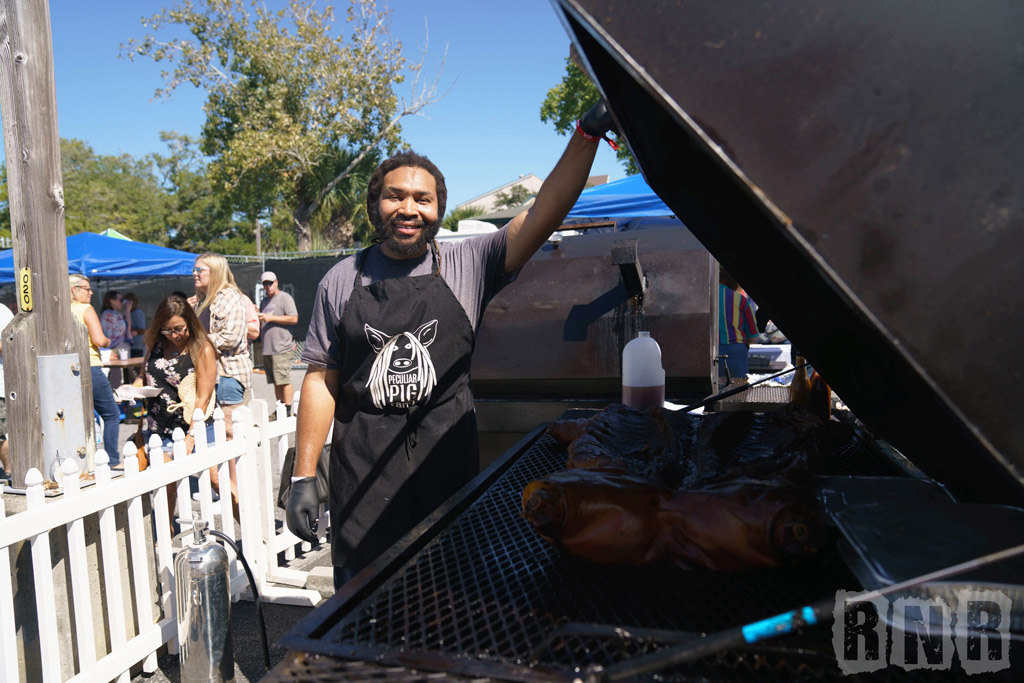 "I was looking at the pitmasters we have lined up and thinking, 'This is crazy,'" Lucier said. "Everyone across the board is awesome, but you have some really well-known people coming here."
Alongside celebrated local chefs like Forrest Fire's Scott Bodkin (and, it must be said, Lucier himself), you'll see a veritable who's who of the slow-roasted world. Names like five-time Mississippi State BBQ Champion Leslie Roark Scott; the "new blood" of the Charleston BBQ scene Anthony DiBernardo; Bar Rescue mainstay Brian Duffy; and renowned chef and TV personality Beau MacMillan.
MacMillan will be sharing the stage with another nationally renowned chef when he co-hosts a "gourmet BBQ Kitchen Collab" with Scott Bodkin and Top Chef winner Kevin Sbraga.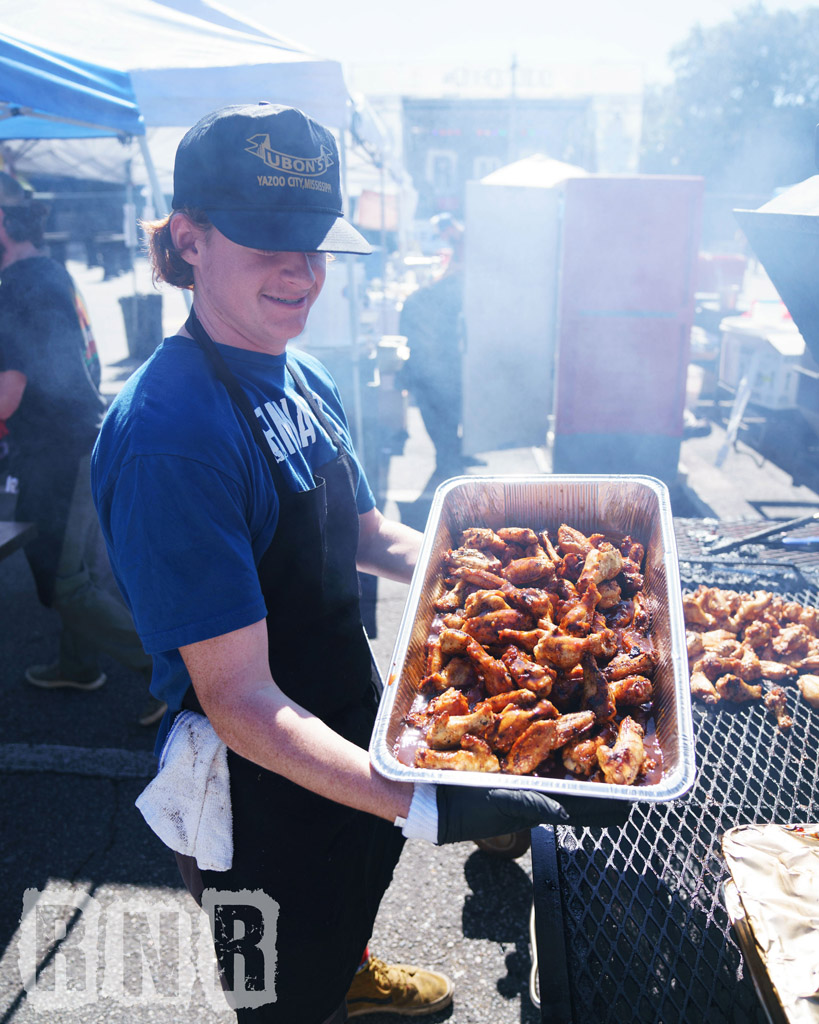 Chicken wings, fresh off the smoker, are served to festival attendees.
"To have our own local talent sharing a stage with Kevin Sbraga and Beau MacMillan, that's not something you can usually grab for an event," Lucier said. "But when we went back to the drawing board, we asked ourselves, 'Who are the best people we could add this year? What are the best events?' This year it's really becoming what we wanted this event to be."
The result of the team at Coligny aiming as high as they could is an event that stretches across four days to truly celebrate two of the greatest art forms America ever produced: barbecue and rock 'n' roll.
It all starts on Thursday with the Pre-Q event, which is free and open to the public and will serve as an introduction to anyone who might need it to the dynamic blend of shopping, dining and entertainment that Coligny offers. "Many of the restaurants and eateries in Coligny will have barbecue specials," Lucier said. "Showing off the entertainment and shopping all over the plaza lets people feel the vibe and really sets the tone for the whole event."
The next day will see a quartet of events, starting with Atlanta's famous Fox Brothers judging the BBQ Food Truck Rodeo and Competition while patrons go truck-to-truck sampling delicious 'cue, and local rock legends CornBred keep toes tapping. That will be followed by the aforementioned BBQ Kitchen Collab as well as a VIP cooking class featuring Brian Duffy and Beau MacMillan. The evening wraps with a new wrinkle in the rock and ribs formula, an evening of side-splitting laughs called Rib-Ticker Comedy and Music with touring comic Sarah Tiana and the island's own Campfire Tyler.
But the centerpiece of the event will be Saturday's BBQ Grand Tasting, where the biggest names in barbecue will dish up mouthwatering 'cue for charity while Cranford Hollow does what they do best: provide the blistering soundtrack to the best party on the island. As a special twist to this year's event, organizers have rolled out all-inclusive pricing so you can pay once and enjoy all the music, food, and drinks the event has to offer. "It's really nice to not have to reach into your wallet every few minutes," Lucier said.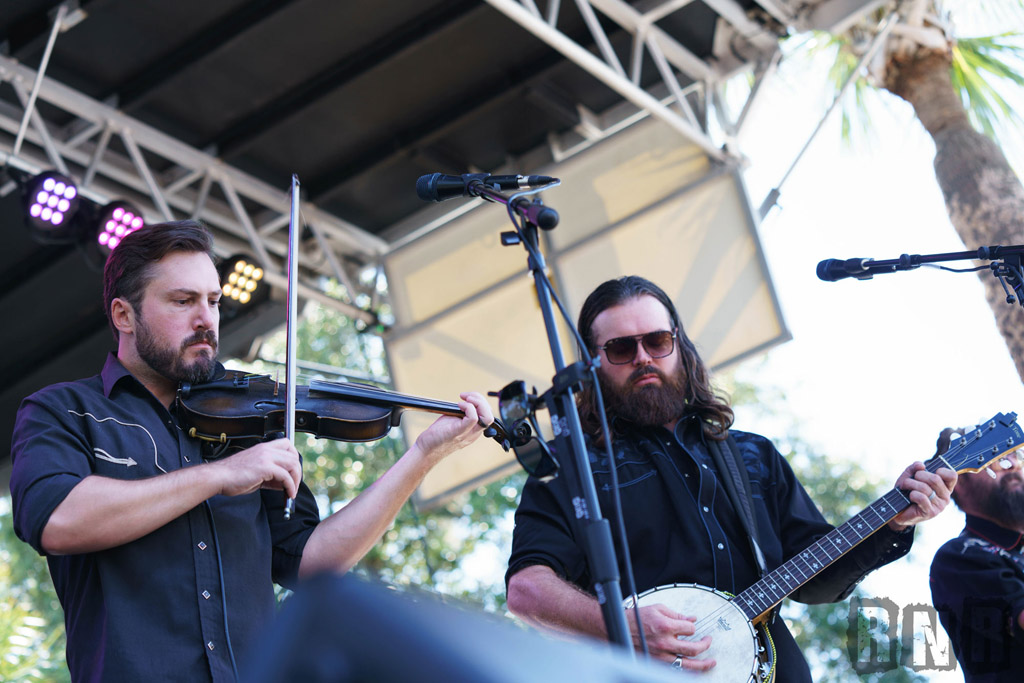 Eric Reid and John Cranford of Cranford Hollow get the crowd ready for Blues Traveler
Providing the "rock" for the "ribs" will be a band that shows how quickly the event's profile has grown. Beyond the gold and platinum albums, .38 Special has carved out a nearly 50-year history creating some of the most memorable rock songs to ever grace the radio.
"When looking for a band that perfectly pairs with BBQ in the South, we could do no better than .38 Special," Lucier said. "Their catalog of hits like "Caught Up In You" and "Hold On Loosely" defined Southern Rock for decades and provides the perfect soundtrack for Rock N' Ribs."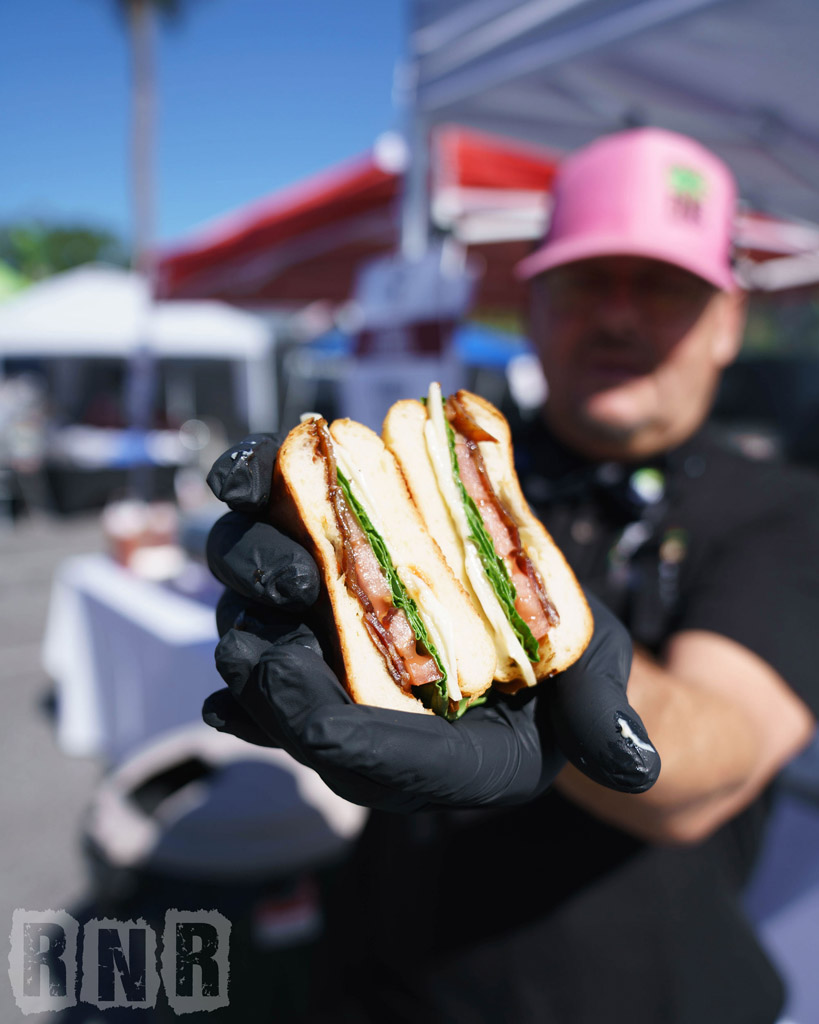 The food stations featured slow-roasted BBQ dishes and tasty cocktails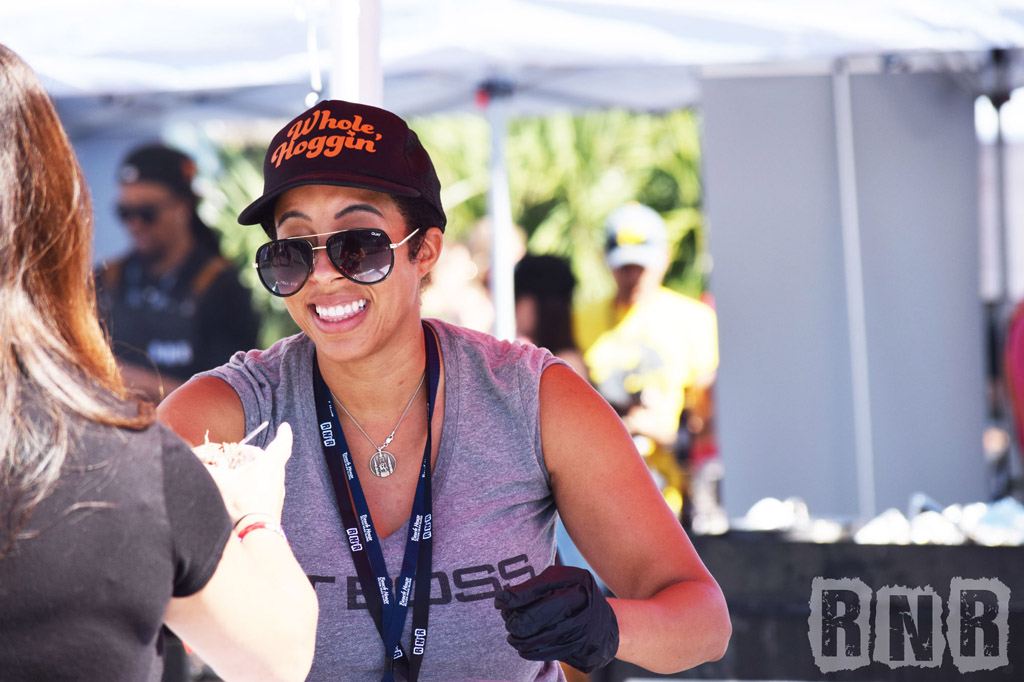 Speaking of fun, the clown prince of Hilton Head Island, Jevon Daly, will open for the live music stylings of renowned chef and TV personality STRETCH the next day at a Bloodys, Blues and Brunch event at the Tiki Hut, followed by the Pitmaster's Ocean Olympics. This last event, Lucier describes as "a bunch of chefs being subjected to silly summer camp games while roasting each other the whole time."
And in the end, fun is what it's all about. Well, that, and giving back.
"It's really becoming a year-round job that's a passion for us just because of our secondary partners," Lucier said. "It was important to us to select beneficiaries that are close to our hearts as well as ones that affect our local area. We hope that the surrounding community recognizes the importance of the missions of Second Helpings and the Carl Ruiz Foundation and chooses to support Rock N' Ribs!"
Put on your dancing shoes and your stretchy pants as Rock N' Ribs returns to Coligny October 19-22. Visit rocknribshhi.com for tickets and details.