Some people's career path is like a superhighway. They know where they're going and barrel full speed ahead toward their dream job. Others follow a winding road, exploring along the way, while the life work that is meant for them reveals itself and evolves.
Wellness practitioner Charlotte Hardwick was never directionless or lost, but she allowed her career to unfold organically as she learned more about herself and discovered her personal passions. The former preschool teacher turned health advocate describes her journey as "layered," as she has accumulated knowledge and skills over the years to create a unique practice—for herself first—that she is now called to share with others. Today, she is a yoga instructor and holistic health counselor who helps women discover a way of life that works for them—one that encourages them to catch their breath and find their balance.
Her program is two-fold, incorporating yoga and nutrition/cooking. "The heart of my work is inspiring people to slow down and give their bodies what they need," Hardwick said. "Our bodies appreciate beautiful food cooked with love and a yoga practice that nourishes the nervous system. This combination creates balance in every aspect of our lives."
It's safe to say Hardwick knows her stuff. In addition to her advanced yoga training and certification, her studies around the world include MA degrees in nutrition and early childhood education as well as training in over 100 dietary theories with leading health experts such as Dr. Andrew Weil, director of the Arizona Center for Integrative Medicine; Dr. Deepak Chopra, leader in the field of mind-body medicine; Dr. David Katz, director of Yale University's Prevention Research Center; Dr. Walter Willett, chair of Nutrition at Harvard University; and many other innovative researchers and doctors at the Integrative Institute of Nutrition in New York.
Hardwick now boasts over 20 years' experience developing wellness and life balance programming and workshops for individuals, families, and organizations across the country. Current offerings include health counseling, yoga instruction, meal planning, and cooking classes—in person and/or via Zoom.
She also leads multiple restorative retreats for women throughout the year, with upcoming opportunities in the Lowcountry at Montage Palmetto Bluff, January 13 – 16 as a part of their Well Living series. She will also have retreats at Blackberry Farm in the Great Smokey Mountains of Tennessee in January, and in the lush tropical paradise of Costa Rica in February (learn more at flowandnourish.com).
The route to improved health
We all know that unhealthy habits die hard, and most of us don't even consider changing them until we feel bad … or bad enough. Even then, we may find it impractical to follow restrictive diets and hardcore workout schedules pushed by mainstream media. Besides, it's a well-known fact that extreme measures and quick-fix plans are unsustainable and inevitably fail or backfire.
Hardwick understands this. Instead of forcing a set of hard, fast rules, she holds space for her students to learn, grow, and make changes at their own pace, helping them design a plan that is reasonable in the context of their busy lives. By listening (never judging) and meeting people where they are, she expands their options rather than restricting them—a technique she refers to as "crowding out" unhealthy habits.
One client, for example, who was in the habit of stopping each morning at the Starbucks drive-thru for a latte and a sugar-laden muffin, was introduced to a delicious smoothie and homemade, make-ahead breakfast/snack bar (Char Char Bars—a recipe Hardwick developed for and named after her son Charlie). She was encouraged to try it for a week. At no time was she told that she could never again have her favorite caffeine and sugar hit. She was simply led to a healthier alternative that became an easy choice.
Demystifying the kitchen
With our modern lives and demanding schedules, cooking often feels like another overwhelming and exhausting task. According to Hardwick, it doesn't have to be that way. She is not interested in teaching you how to use a knife. She's far more passionate about helping you get organized in the kitchen, making food preparation less complicated and meals more nutritionally sound.
"You don't have to love cooking or cook three meals a day," she said. "My goal is to make it attainable—to show you how it can work in your life and where you can start."
The recipes that follow are what she calls templates. "Most show the way to do something, but it's about making it work for you," Hardwick said. Nothing has to be exact, and if there is an ingredient you don't like, leave it out or substitute something you do like, she suggests.
Practical, doable, sustainable: Your new healthy habits await!
To connect with Hardwick and learn more about her programs, please visit flowandnourish.com, call (415) 722-2654, or email charlotte.hardwick@gmail.com.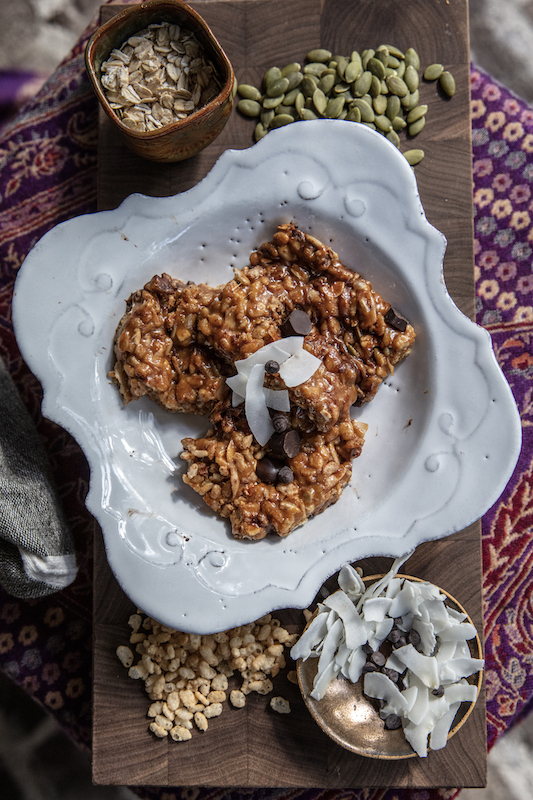 Char Char Bars
Makes 24
Ingredients
16 ounces brown rice syrup
16 ounces crunchy peanut butter
1 cup unsweetened coconut flakes
1 cup sunflower seeds
1 cup oats
3 cups rice cereal
1 cup chocolate chips
Directions
Stir brown rice syrup and crunchy
peanut butter over low heat until
creamy. Add in the next four ingredients. Allow to cool for a few minutes before adding in chocolate chips. Stir and press into a wax paper lined cookie sheet.
Cut into squares.
I started making these when my son Charlie was a baby and had terrible eczema. There were very few gluten-free snacks 16 years ago, so these became a favorite. You can play with the ingredients and add as many different nuts and seeds as you like. You can also leave out the chocolate chips and add raisins or dried cranberries/cherries.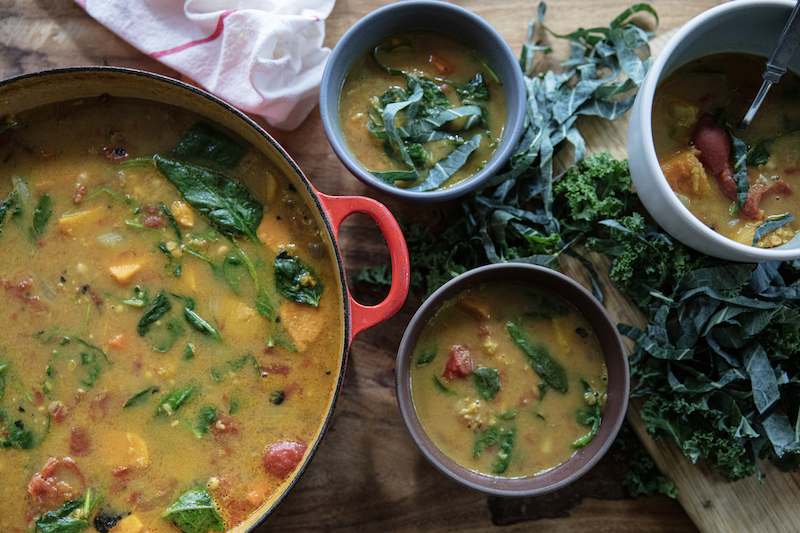 Curried Coconut Red Lentil Soup With Root Vegetables and Greens
Makes 15 cups
Ingredients
2 Tablespoons coconut or olive oil
3 Tablespoons curry powder
Salt and pepper to taste
1 medium red or yellow onion, peeled and chopped
4 carrots, peeled and chopped
2 sweet potatoes, peeled and chopped or 1 small butternut squash, peeled
and chopped
14 ounces dried rinsed red lentils
1 can chickpeas (you can use more if you want more of a stew)
2 13.5-ounce cans full fat coconut milk
1 28-ounce can diced fire roasted tomatoes (plain diced tomatoes are fine too)
28 ounces of water or broth (I fill empty can of tomatoes and pour in)
A big handful of baby spinach or chopped collards/kale.
Directions
Sauté cubed carrots, onions, sweet potatoes and/or butternut squash in the coconut oil with salt, pepper, and curry powder until caramelized. Add rinsed lentils and coat. Pour in tomatoes, coconut milk, and water or broth. Add chickpeas and simmer for 45 minutes until everything is cooked. Add more water, broth or coconut milk if needed. Add the greens at the end so you don't overcook. They will stay bright green.
It is delicious just as it is, or you can serve over couscous, quinoa or rice.
I love it sprinkled with lots of fresh cilantro.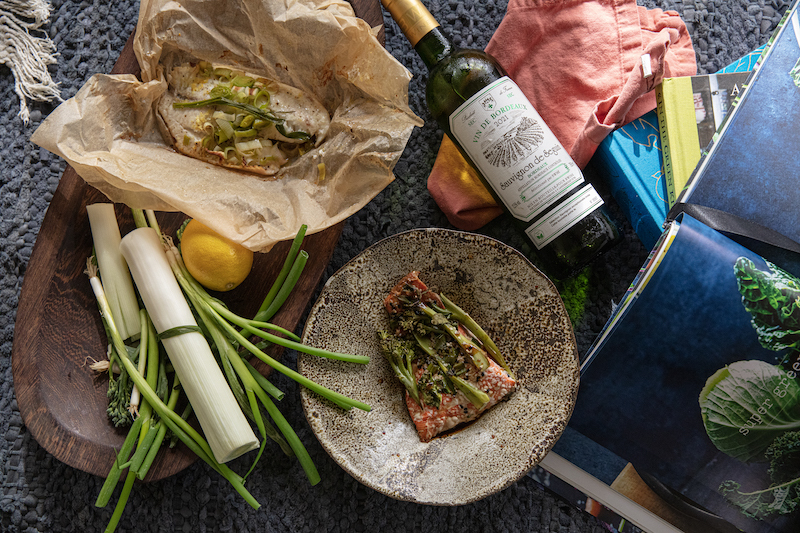 Fish in Parchment
Directions
Place fish on parchment paper.
I usually use a 16 x 12 piece
of parchment.
If cooking a white fish like grouper, cod or halibut, drizzle with olive oil, splash of white wine or lemon. Sprinkle with salt and your favorite herbs. You can also top with diced vegetables, leeks or scallions. This is delicious with zucchini, chopped tomatoes,
and olives.
If cooking salmon, drizzle the fish with coconut aminos or tamari, sesame seeds, and grated ginger; top with asparagus or broccoli.
Seal the parchment and bake for 20 minutes at 350 degrees F.
You can be as creative as you like with vegetables and flavors.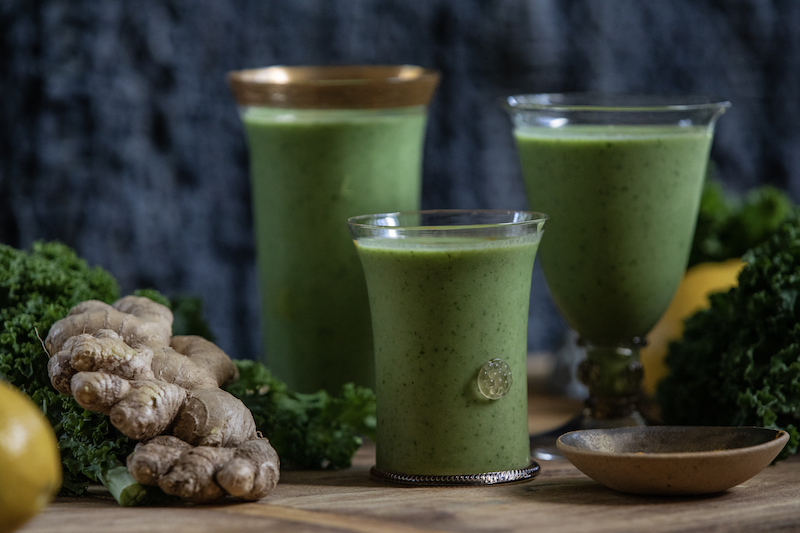 Sunshine Smoothie
Ingredients
1 frozen banana
Juice of 1 lemon
A big handful of spinach
1/4 cup frozen pineapple
1/4 avocado
1 cup milk (I like cashew)
Pinch of turmeric
Fresh grated ginger
Directions
I love how the ingredients in this smoothie work together. Greens are the least consumed food in our diets and the most essential for our health. Greens build a healthy gut microbiome to encourage the growth of good bacteria and contain digestive enzymes. The chlorophyll in the greens will elevate your mood and give you lots of energy. Spinach is loaded with iron and helps build strong red blood cells. It helps with cell renewal, cleanses the blood and is high in fiber, vitamins and minerals. Pineapple is full of bromelain—a digestive enzyme to help you absorb everything in the smoothie. Lemon alkalizes the blood, is high in vitamin C and helps the body absorb folate and iron in the spinach. It is a powerful antioxidant. Ginger is an anti-inflammatory, plus it encourages circulation. Avocado makes the smoothie creamy and is loaded with essential fatty acids to boost the immune system. Banana is full of magnesium to relax the nervous system and boost the mood.