Planning for the end is no simple process. There are countless variables to consider and countless more you don't even know you should be considering. It can be a labyrinthine process, but the result, knowing that your loved ones will be well taken care of when you're gone, is worth it.
It can be a lot. Which means you need to ask a lot of questions. And Hunter Montgomery asks a lot of questions.
"By becoming an estate lawyer, I kind of turned a personality flaw into a living," he said with a laugh. "I ask every question I can—about kids, grandkids, previous marriages, financial situations … I want to get a really big picture of what the family looks like in order to put in as many protections as possible."
Armed with the information you give him, Montgomery then gets to work. For most attorneys, this part feels like wrangling. But for this architectural engineering student-turned-attorney, it feels more like designing and crafting a beautiful building for your family's future.
"I need a lot of input from the client, because I'm creating a design," he said. "When I'm drawing up these plans, which protects everything they've worked for, I tend to stress the details."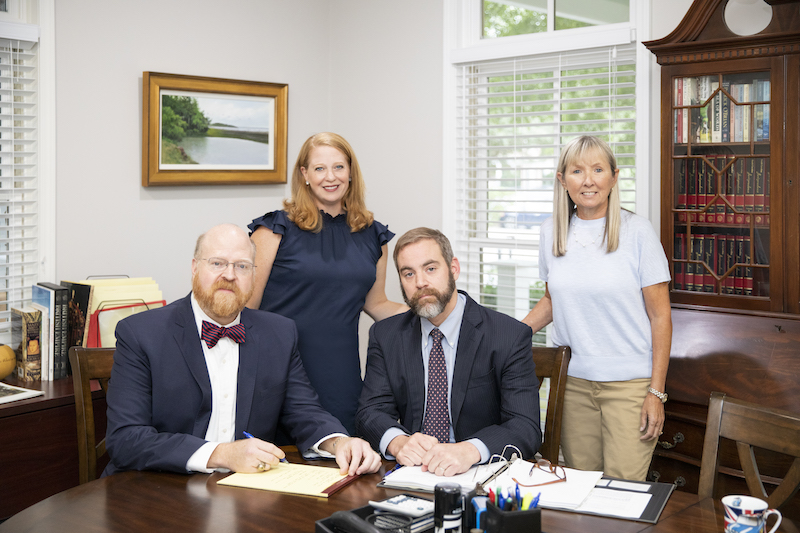 This unique perspective on the law comes from Montgomery's background, studying architectural engineering and science at Clemson until his grandfather suffered a stroke. The Hilton Head Island semi-native (he moved here when he was just nine years old) saw the ensuing decade unfold as his grandfather's legacy was defined and litigated as a pivotal moment for him.
"My grandfather's stroke changed the course of my life," he said. "I wanted to use my penchant for organization to help, but I was an 18-year-old engineering kid. I had no idea what a will or a power of attorney was. I just felt there had to be a better way to help people avoid this kind of situation."
So, like any architect, he built a better way. Returning to school, he pursued the law, focusing his efforts on estate and probate law.
"I found out there's this nerdy kind of lawyer who doesn't go to court; they make flowcharts and keep the tax man at bay," he said. "I like to do things behind the scenes. I was more comfortable helping draw out plans."
That all changed one fateful day nearly a decade into his law career. His law partner at the time had been leading educational seminars to help people better understand the law, but he wasn't going to be able to make his 10 a.m. seminar at the Westin. Since Montgomery had heard the seminar several times, it was suggested that he take this one.
"It was a trial by fire," he said. "But that was a beautiful thing. I'm glad I had to go through that very anxious situation, because I quickly learned I enjoyed it. It's actually given me new focus."
His seminars have quickly grown in popularity, becoming a cornerstone of Montgomery Law Firm. Covering all the finer points of estate planning and end-of-life preparation with all the fastidious, detail-oriented fervor he utilizes in service to his clients, he is helping people in a way he never thought possible before.
"Giving these seminars, converting these dry and complex subjects into plain English, and then seeing that lightbulb go off over someone's head gives me immense satisfaction," he said. "I really enjoy helping people understand the 'why' behind something."
These regular seminars have added an entirely new dynamic to a law practice that has evolved and changed ever since Montgomery founded it. Today, they handle a range of cases from estate planning, asset protection and trust administration to special needs planning, incapacity planning and small business planning.
"All those things really fall underneath the umbrella of estate planning, at least the way I see it," Montgomery said. "There's connectivity … we really like to hold people's hands to minimize the stepping-on of landmines."
In short, they are in the business of offering you nothing less than the utmost protection under the law for your estate and your assets. Building that protection takes a keen mind, clear and concise directions, and a passion for sweating the details.
It's a suite of capabilities that Montgomery Law Firm brings to every client that walks through their door.
To learn more, visit montgomeryestateplanning.com.