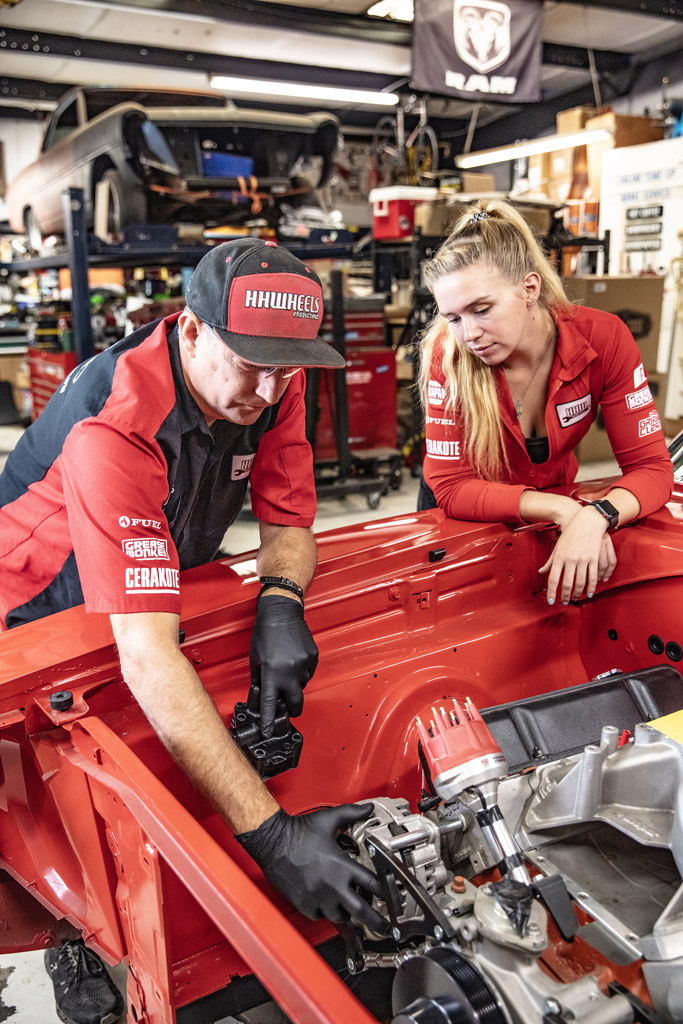 One of the most curious aspects of modern life is that some of the biggest names in entertainment might live right across the street from you and you'd never know it. TikTok, YouTube, Instagram … these platforms have allowed ordinary everyday people the opportunity to be globally recognized stars while remaining virtually unknown in their own communities. (The most followed person on TikTok, Khaby Lame, lives in Italy in nearly anonymity).
While they might not have reached the level of international fame that the top TikTokers enjoy, James Bradford and Caroline Richey have been able to generate massive amounts of buzz. But to look at their garage from the outside, a nondescript door in a nondescript industrial warehouse on Hunter Road, you'd never know. In fact, apart from the rusted-out husk of an '80s-era sedan with "HH Motors" spraypainted on it, you wouldn't even know there was a garage here.
But thousands of people have already seen the surprises that line the inside of that garage, as it takes center stage on their HH Wheels YouTube channel (youtube.com/HHWheels). The channel takes viewers on the father-daughter journey around the island and around the country, tracking down what diamonds may lie in the rough of online car sales. In one episode, they may be fixing up a banged-up Humvee they purchased from government surplus. In another, they may be sharing a cross-country road trip in the aged remains of a 1990 Silverado 1500 that had been specially modified for desert racing.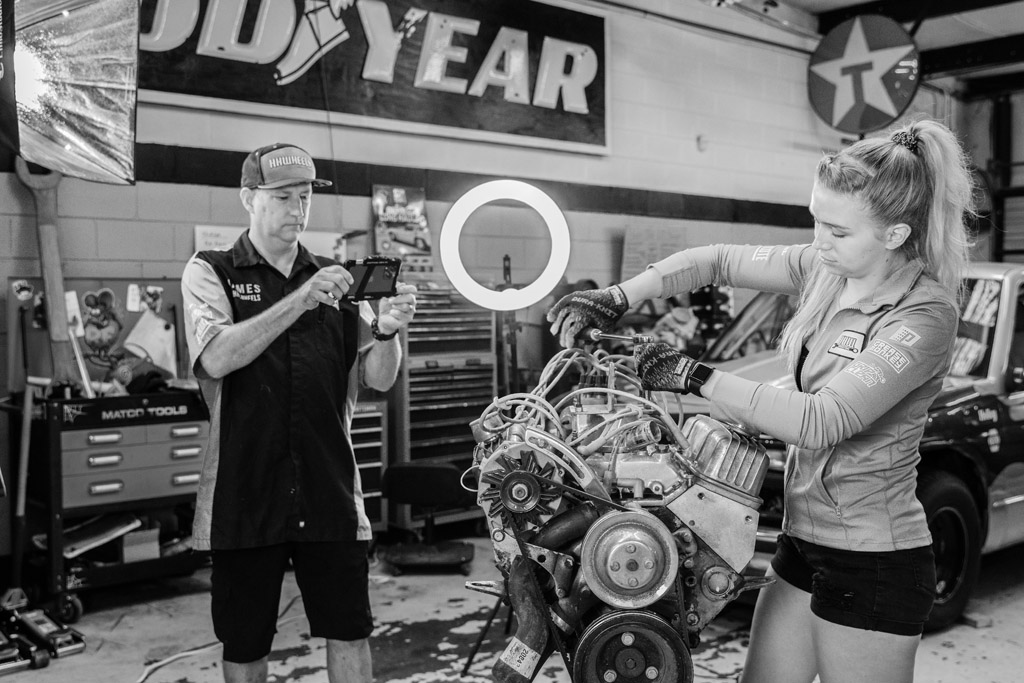 Bradford films a segment about engines with Caroline. 
The one through line that runs across all their videos is the love they share for wrenching on old cars and spending quality family time.
"That's where our personalities really come in. We asked ourselves how we're going to make this also fun for people to watch while we do it," Richey said. "We really have fun with it. We educate ourselves and we educate other people, and that's where our motto, 'Get Wrenching' comes in.'"
While the pair are quick to stress that they are not professionals (despite obliging many requests from friends to help fix their own cars), their expertise is just a small part of the appeal. It's their willingness to admit what they don't know, calling in friends like their "A-Team" of Alex Starkey and Jeff Patterson; it's the effortless rapport they share as father and daughter; and above all, it's the infectious love they have for car culture.
"We would just sit here and watch videos while we worked on cars. We had YouTube on, and we saw this Richard Petty video where he had a 1971 Dodge Charger or a Road Runner he was driving. Later, I saw one on Facebook marketplace. When I got back, we ended up getting it," Bradford said. "We had been kind of just throwing the idea around of a YouTube, so I said let's just build a car and see what happens."
What happened was the duo captured lightning in a bottle. They found the perfect outlet to not only showcase their love of fixing up cars together, but to let Richey flex her creative muscles. Not only does she run her own popular Instagram (@reelcaroline), she edits and puts the finishing touches on every episode before it goes live.
"It's a really cool creative outlet. Because if you really think about it, it's pretty much never ending. And if we get bored with something, we can go to something else," she said. "The upside of YouTube is you don't necessarily have to have a full [episode] with a beginning, middle and end. But you can give yourself stupid deadlines like we do."
With a one-week turnaround, that doesn't leave much wiggle room. And yet HH Wheels doesn't ever let a short deadline stop them, with adventures across the country and new projects cropping up all the time and at all points of the map.
Not only are those stories told on their YouTube channel, but they're told with a simple walk around the fascinating garage they call home.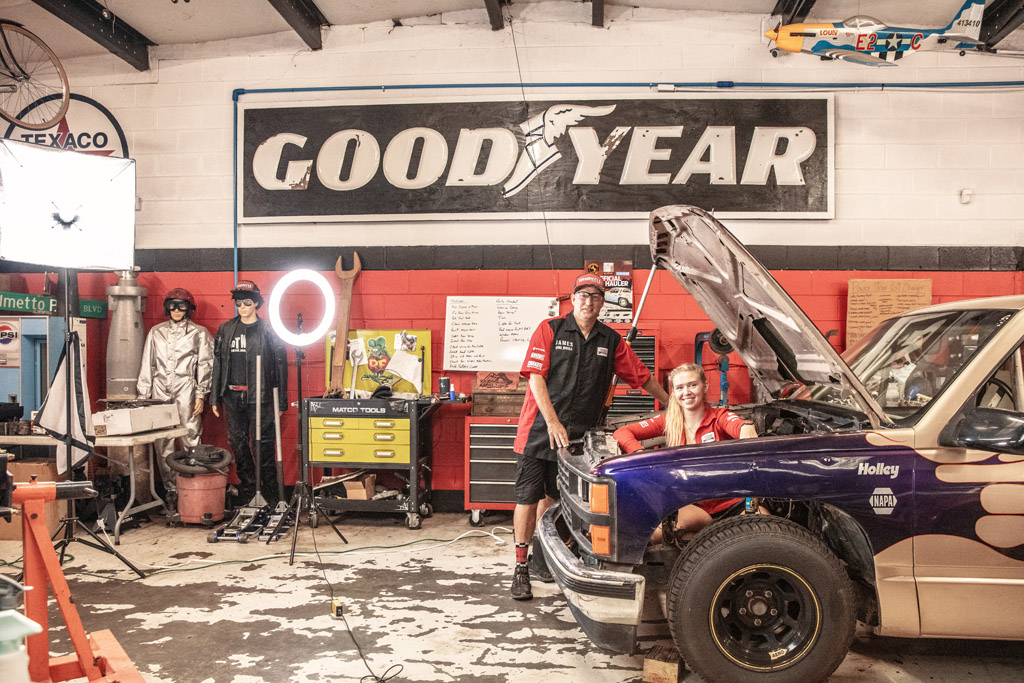 At one end of the shop, you'll see the remains of "Skullclops," a tricked-out car originally built in 72 hours for the old Speed Network show Car Warriors, then abandoned for 12 years. After they resurrected Skullclops, Bradford reached out to automotive icons Ian Roussel and Ryno, who had originally built it. "(Roussel) said, 'Don't you know that's nothing but a TV prop?' And I said, 'Yeah, we're gonna make that TV prop roadworthy, and we're gonna drive it across country.'"
At another end of the shop sits the aforementioned Silverado, its empty engine compartment awaiting installment of a first-gen small-block Chevy engine upgraded with a Holley Sniper EFI kit. Apart from the "James Stinky Butt" written in Sharpie by a mystery vandal on the foam padding that serves as a driver seat, it is filled with stories. Bradford had bought it while visiting his brothers and fixed it up with his brother Gene, their first project together since 1985. Later that year, Gene passed from a heart attack. "If I hadn't worked on that car with Gene…" Bradford began, not needing to finish the statement, as the profound regret of missing that opportunity is evident on his face.
And taking those opportunities, sharing that joy with the world, and encouraging them to get out and 'Get Wrenching,' is what it's all about.
"We're gonna be doing this anyway; we might as well document it," Richey said. "Resurrecting cars allows us to build this really cool and unique connection with people online and in person. There's so much depth and so many aspects to these vehicles that I don't think are showcased enough … I think that's what's extraordinary about what we get to do every day with YouTube. We not only get to showcase these stories, but we share why cars matter."
A passion for storytelling and endlessly watchable chemistry have made this father-daughter duo YouTube sensations. But it's their love of cars, and the time spent fixing them up together, that truly powers HH Wheels.
"These are great projects, and we love doing it," Bradford said. "That's the number one thing. Just getting to share with the world is like icing on the cake."