We aren't trying to tell you something you already know. Here, we're going to showcase some showstopping brunch spots that you might not have thought about … but you should.
First up is Kenny B's, where you'd typically go for gumbo and other Cajun specialties. We're here to tell you, though, that a Cajun brunch is sometimes just the spice you need. Both the Cajun Creole Quiche (made with crawfish, andouille, and boudin) or the Lafayette Hash (blackened crawfish, andouille, and Cajun potatoes, topped with poached eggs and hollandaise) will make you holler "Ayyyeeee!" And you can't live without some fresh, hot, homemade beignets and a steamy cuppa café au lait to finish you off right! eatatkennybs.com
Next is Holy Tequila, an island favorite Mexican joint, but one that might just become your new brunch spot. We love the Churro pancakes, which are exactly what you think: crispy cinnamon pancakes, sugar churros, strawberries, and syrup. For a more classic south-of-the-border style brunch, however, we love the chilaquiles, which are breakfast nachos made with scrambled eggs, tortillas, guacamole, queso fresco, pico de gallo, and fresh crema. To keep it auténtico, order a classic Margarita for only $4 on Saturday or Sunday. Bueno! holytequila.com
Watusi is one of our island gems for a great brunch experience. They have three menus: breakfast (served all day), lunch, and coffee. You can't go wrong with any of their hash offerings, which include blackened shrimp (baby spinach, bell peppers, topped with eggs, hollandaise, and served over hash browns), corned beef (red onion, fennel, napa cabbage-topped eggs over hash browns), or red chorizo (medley of sweet potato, bell peppers, red onion, and Brussels sprouts, garnished with cilantro and topped with eggs). Good luck deciding on just one. And their certified organic, fair trade, bird-friendly, shade-grown coffees are a great complement to any menu item or can even stand alone. With names like "Pecan Pie," "Honey Bun," and "S'more," you might need a second cup. watusicafe.com
When we are craving some good ol' Southern-style country biscuits and gravy, we head over to Bad Biscuit. But you don't have to stop at that. Their biscuit sandwiches are AHHH-mazing! Our faves are the Big Bad BLT, made with a stack (that's right) of bacon, or the Hot Shot Chicken, made with a boneless breast, pimento cheese, and spicy local honey. And don't even get us started about the Cinnamon Roll biscuits. OOOO-weee! badbiscuit.com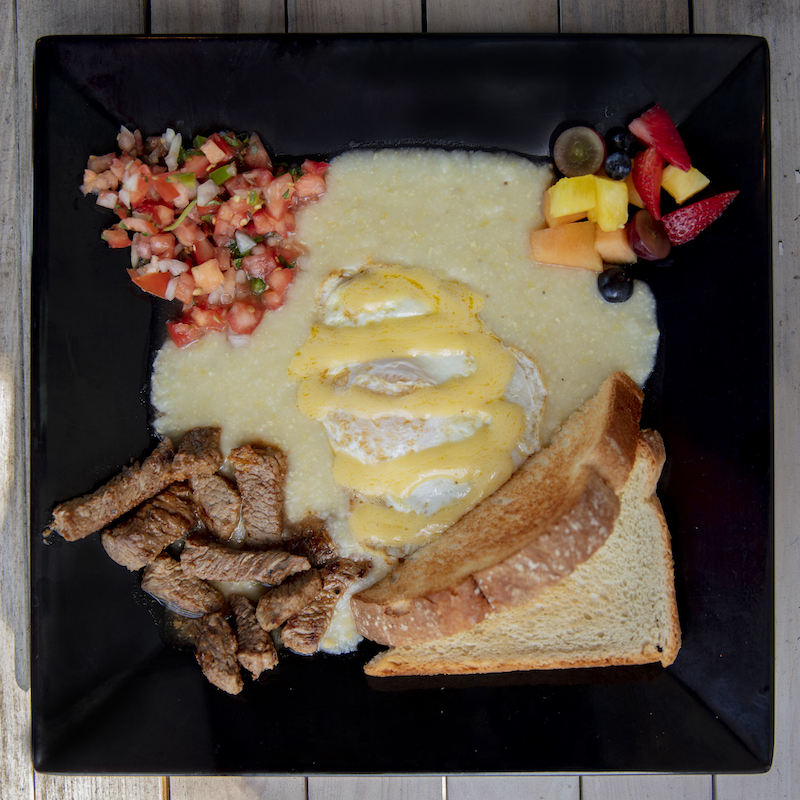 Put Carolina Coffee & Crumbs on your list. We thoroughly enjoy their Tips & Grits, (cheddar cheese grits, beef tenderloin, eggs, and hollandaise) and their Brie, LT (open-faced toast with brie, bacon, lettuce, and tomato, topped with red onion and a balsamic drizzle). For something lighter, all their salads are great or even a simple bagel and schmear with a great cup of matcha tea will set you straight. carolinacoffeehhi.com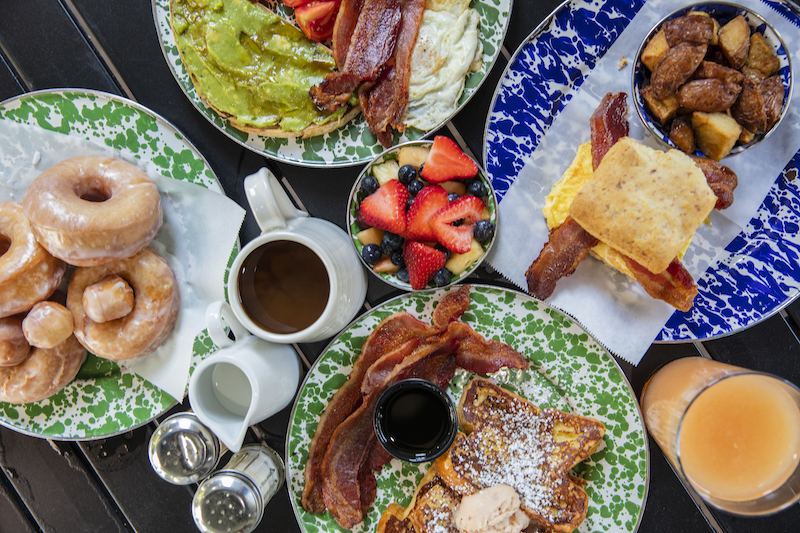 There are a couple of Sea Pines spots you need to try, too. In the Shops at Sea Pines Center, we love Lowcountry Produce. For your sweet tooth, we highly recommend their made-to-order glazed donuts or their brioche French toast, either with an espresso or a dirty chai. For something a bit more savory, go all in with the BBQ Cheddar Burger (eight ounces of ground chuck topped with cheddar, crispy bacon, fried onions, LCP sweet pickles and LCP grill sauce) or the Oooey Gooey (grilled pimento cheese, bacon, and LCP garlic pepper jelly on your choice of bread). Then finish up with a quick walk through the gift shop for sundries, canned goods, and even cute kitchen items. lowcountryproduce.com
The Harbour Town Bakery and Café is a hidden treasure beneath the big oaks in Harbour Town. You can't beat a blueberry biscuit and one of their specialty coffees for something quick and yummy. For a heartier option, try the Rueben sandwich (choose from pastrami or turkey) or the Pharos and Kremser fried chicken sandwich (fried chicken breast, pepper jack cheese, chipotle aioli on toasted Kaiser roll). Then simply sit outside in the big shade and enjoy! seapines.com/pdf/HTBakeryMenu.pdf
Our favorite "if you blink you might miss it" brunch spot is Harold's Diner. It's right on William Hilton Parkway next to the Exxon, but it's so non-descript that it may go unnoticed—but it shouldn't. Anything on this diner menu will satisfy you, whether you go for the "as big as your head" Trash Can Omelet, the Steak & Eggs, or the Big "H" Sandwich. You can even create your own sandwich if you don't see a combo on the menu that suits you. haroldsdinerhiltonhead.com
Brunch is a must-have vacation meal, and now you have the inside scoop on all the island's best brunch spots you may never have thought about. Bon appétit!