Emily Jeffords is photographed during summer break in the garden at the school. 
Emily Jeffords was the kid who came home from school to play school. "I've known I wanted to be a teacher my whole life," she said. "My mother was a first-grade teacher, and learning—not education—was at the forefront of everything we did. It seemed only natural to follow in her footsteps."
Indeed, it's clear the apple doesn't fall far from the tree, as Jeffords' commitment to early childhood education seems to stem from a place where a lifetime of learning and leading by example is at its very root. It's an effortless and natural dedication inspired by a simple idea: that every child will learn in her classroom.
Jeffords, Hilton Head Island's School for the Creative Arts 2022-2023 Teacher of the Year, shares that even from her earliest days as an educator—returning home to her native Florence, South Carolina after receiving an undergraduate degree from Clemson University—her primary goal has always been to help each child work towards their personal best.
"There's magic in watching each child work up to their potential," she explained heartily. "Some students need more assistance to gain skills while others are ready to excel and be challenged. It's important to make connections to each student and their families so I better understand what they need academically, socially, and emotionally. My job is figuring out how to help each child thrive in a learning environment."
This can-do attitude has certainly had a positive effect on Jeffords' impressive 21-year career. Just a few short years after graduation, she was elevated to curriculum coordinator while still in Florence. Since relocating to Hilton Head Island in 2007 to join her long-distance fiancé and now husband, she's worked in both the public and private sectors of the island, teaching Pre-K through third grade. Yet somehow, she always knew HHISCA was home.
"I was working on my master's in administration while teaching at the Early Childhood Center and wanted more experience. While interviewing with Gretchen Keefner, the Creative Arts principle at the time, I was struck by how easy the conversation felt, like family talk. Gretchen was incredibly supportive of my master's, and I fell in love with the hands-on learning approach which encourages children to explore their curiosities deeper. It just felt like the right fit."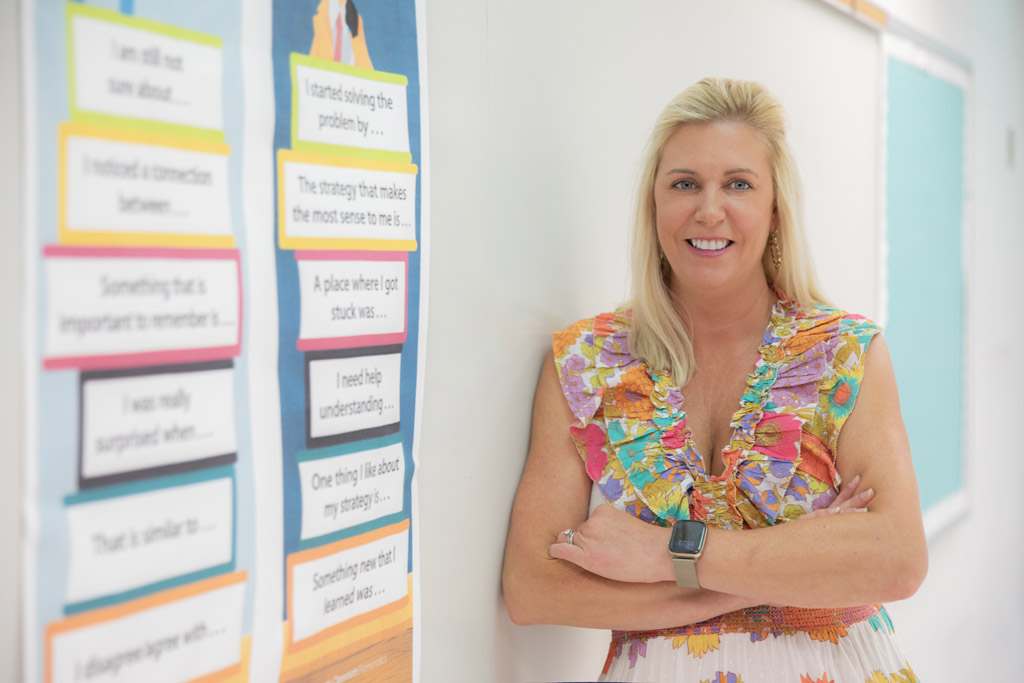 "It's wonderful being in a family environment committed to understanding and supporting the whole child and the whole learning experience."
Jeffords notes that Creative Arts excels at child-led learning, with a community of teachers working together to ensure students are participating in a curriculum that combines meaningful art activities with state standards, a unique blend of instruction that reinforces new processes and vocabulary.
"Creative Arts is filled with so many educators passionate about whole learning," she said. "It's wonderful being in a family environment committed to understanding and supporting the whole child and the whole learning experience."
It's evident the Creative Arts staff feels the same way about Jeffords, as the distinction of Teacher of the Year is bestowed on an educator by the co-workers and peers who have front-row seats to the attitudes and practices of the honoree on a daily basis.
Fellow educator Justin Vaughn said, "Emily [Jeffords] always goes the extra mile to make sure students and colleagues feel welcome and at home. She's heavily involved in authentic arts integration and a model for new and veteran teachers, so she was a natural fit for Teacher of the Year."
Principle Nikki Lucas echoes that sentiment, saying, "Mrs. Jeffords creates an inspiring classroom where children can explore learning through an engaging approach that facilitates deep understanding of the content. She is a master in cultivating positive relationships with students and families, honoring each child's unique talents, and building upon these to provide a magical learning environment. We are so fortunate to have her as part of our Creative Arts team!"
In Beaufort County, it's worth noting that the Teacher of the Year recognition isn't merely a title but a role in which the individual voluntarily takes on more responsibility, working towards the betterment and enrichment of the school by running a teacher forum and acting as an ambassador between the committee and administration to improve school culture and academics. 
"Creative Arts is filled with so many different educators full of enthusiasm for the arts and incorporating arts intentionally into our curriculum," Jeffords said. "I feel privileged to learn from them and hope to have inspired other educators in return, so being recognized by them is humbling and rewarding."
In addition to being an acknowledged and beloved educator, Jeffords is also a hands-on parent, something that's allowed her to gain additional perspective on learning.
"Being a parent is a totally different experience that's allowed me to see education from all sides," she said. "Looking at it, not just as a teacher, but navigating the feelings of the parent as you're working with your own child has been amazingly eye-opening."
It's this knowledge that motivated one of Jeffords' greatest strengths: staying connected to her students' families. Whether through emails or phone calls, or her favorite app Bloomz, which allows direct messaging and photo sharing, Jeffords stresses the importance of getting to know her students and their families on a personal level.
"It takes a village," she laughed. "I'm grateful to have connections with strong educators, past and present, who support and share my vision in making each student love learning and rise to their potential in all academic areas so I, in turn, can be supportive of the families at home."
And clearly, that commitment to family communication has paid off. Jeffords has taught Lindsay Tilton's children three times between preschool and elementary, and Tilton not only says that Jeffords is loving and kind, but that, "she makes learning fun!"
"Every time we see her, whether it's at school, baseball, or church, it's like a celebrity sighting," Tilton jokes. "Children are just drawn to her warmth." 
Jeffords is looking forward to another year at Hilton Head Island's School for the Creative Arts and will be returning as a third-grade teacher.  
For more information about HHISCA, please visit their website at hhisca.beaufortschools.net.