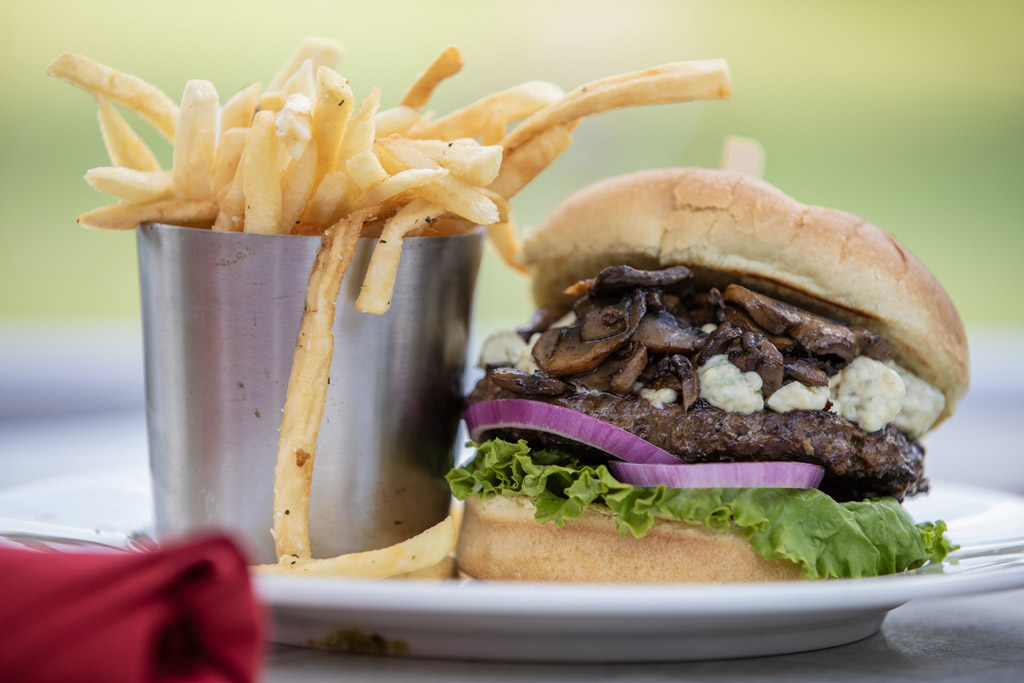 Black and Blue Burger
Something delicious for everyone.
The kids are begging for pizza; teenage daughter demands salad; teenage son wants hot wings; Dad has a hankering for barbecue and a cold beer; Mom's in the mood for grilled shrimp and a glass of Prosecco; Grandad's craving a burger; and Grandmom requires a gluten-free option. What's a family to do? You could go your separate ways, or you could head to Big Jim's, located at the Robert Trent Jones Golf Course in Palmetto Dunes Oceanfront Resort, and make everybody happy.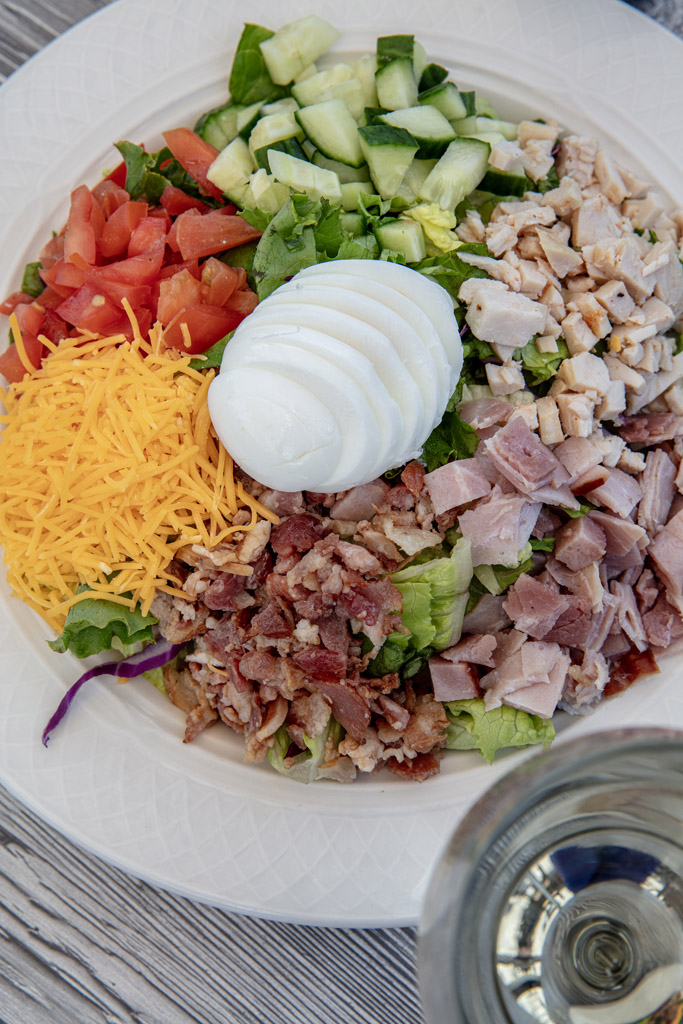 A delicious Cobb salad and a glass of wine at Big Jim's BBQ. 
While Big Jim's is known for its barbecue, burgers and pizza, they have expanded their menu to include an array of specialty items and regional fare to please every palate.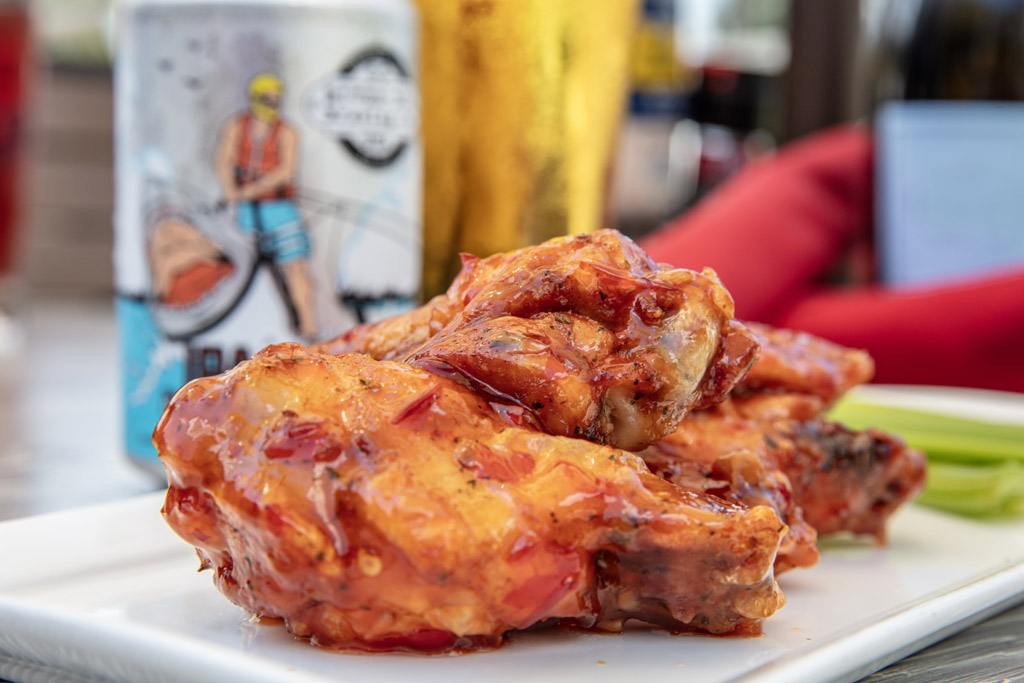 Big Wings
"When I started working here about three years ago, one of my goals was not to just have the standard golf fare you can get anywhere in the country—a grilled chicken club or a cheeseburger. We have those things. But when you're here, there should be a sense of place, and food relates to that," said Justin Rowland, Palmetto Dunes Resort's Director of Food & Beverage. "It's important to offer things that represent our region, so it's not just burgers and pizza. The plan is not to be the same as everybody else."
Examples of regionally inspired dishes now on the menu include Big Jim's Fish Tacos (grilled and blackened grouper served in a flour tortilla with all the yummy accompaniments); the Po'Boy sandwich (fried shrimp lettuce, tomato and remoulade sauce); and the BBQ Crispy Spring Roll (a fusion of pulled pork with a sweet & spicy Asian-style dipping sauce). Sides such as collard greens and corn muffins add a Southern flair, with baked beans, mac & cheese, coleslaw, and fries (or sweet potato fries) bringing a down-home sense of comfort to the table.
Recently added special offerings that speak to our local culture include a Lowcountry Boil, available every Thursday night from 5-8 p.m. or until it sells out ($30 serves 3-4 people); and fried oysters/fried okra, served on Friday nights from 5-8 p.m. or until it's gone. As with all Big Jim's offerings, these meals can be savored in the restaurant or packed to go with everything you need to serve and enjoy them at home.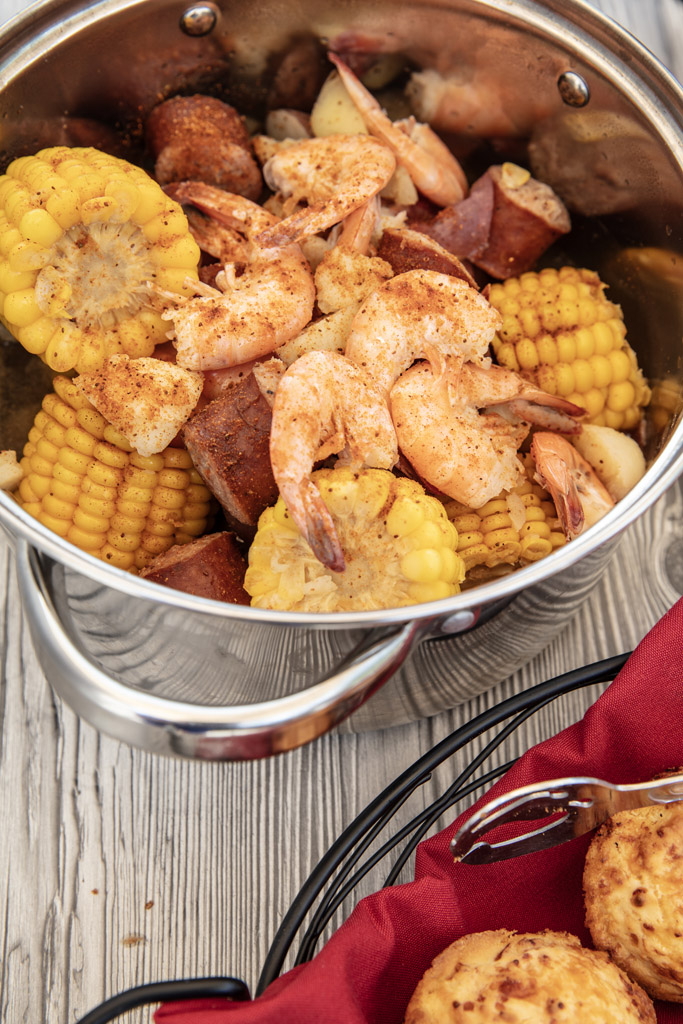 Low Country Boil & Garlic Biscuits
Not your average golf grill
Yes, Big Jim's is known for a broad range of menu options, but what truly sets this restaurant apart is the quality of the food. A peek inside the kitchen reveals a dedication to freshness that is beyond what you might expect at a typical golf grill: not a frozen pizza crust or pre-breaded chicken tender in sight. Nor will you find a gallon jug of sauce or a factory-made spring roll. According to Rowland, every item is crafted to order. "We're leaning into what we're slated as—a BBQ, burger, and pizza restaurant—but trying to stay fresh and creative even with those items," he said.
For example, you can have a cheese pizza, but if you're feeling a bit more adventurous, you might try one of the specialty pizzas such as the BBQ Chicken Pizza, Caprese Pizza, Veggie Pizza, or Big Jim's Special. You can also have it your way with toppings of your choice.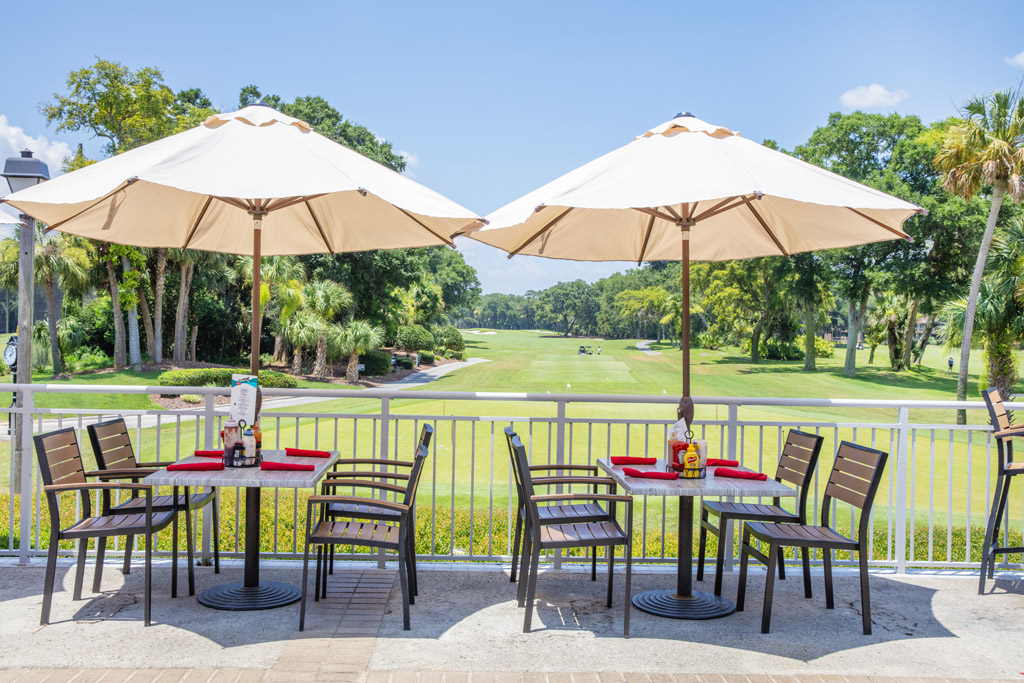 View of the Golf Course outside of Big Jim's
The same applies to the gourmet burgers—all prime Angus beef with a variety of flavor profiles from Big Jim's Classic Cheeseburger to the Black & Blue to the Southern Burger, dressed up with fried green tomatoes and pimento cheese.
Leading the way in the kitchen is Chef Patrick Blankenship, long-time island resident, and former Italian restaurant owner—thus his famous New York style pizzas with hand-tossed crusts and fresh sauces made in-house daily. "People come in here and say it's the best pizza they've ever had," Blankenship said. "I like to do simple food that tastes great—nothing too fancy, nothing too extravagant, but it's a little more upscale than what people are expecting."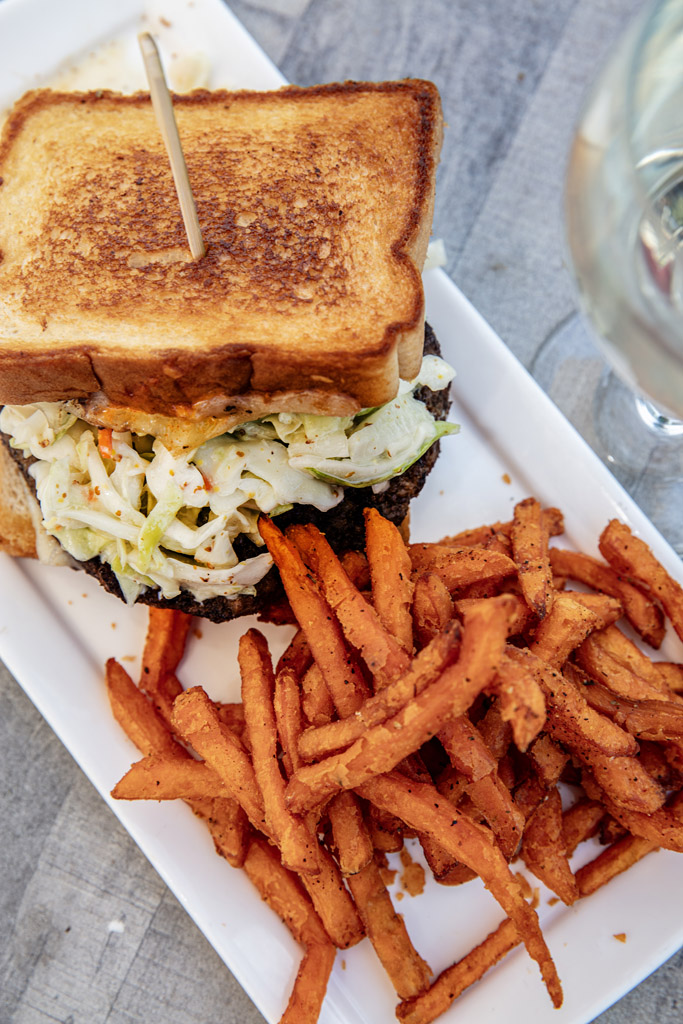 Birdie Patty Melt with Sweet Potato Fries
Come one, come all—no tee time or gate pass required
What you may not know or understand is that Big Jim's is accessible to all. "This is not just for golfers. We're a three-meal, seven-day-a week restaurant. This is open to locals and all visitors—no gate pass required," Rowland said. "Anybody can come here."
If you are a golfer, you'll find all the sustenance you need before, during, and after your round of golf—full breakfast or a breakfast sandwich to go, box lunches for takeout, and, of course, full-service at the restaurant.
Stick around for happy hour (weekdays 4-6 p.m.) and enjoy nightly drink specials and weekend beer bucket specials. Beer lovers will want to try a cold PDR. (That's not a typo but a play on the famous brand with a different middle initial.) Palmetto Dunes Resort has partnered with Shellring Ale Works, a Port Royal, S.C.-based brewery, to produce its own signature beer. "It's been super popular," Rowland said. "They're even selling it at Kroger now."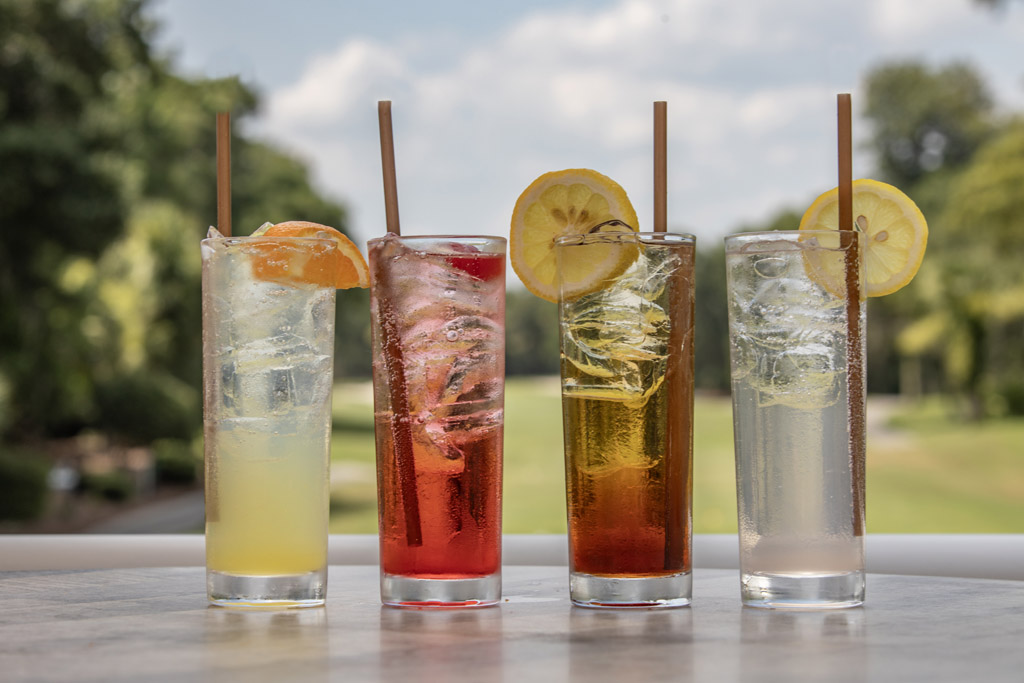 A line of refreshing cocktails
If you are just finishing your round of golf, don't miss your 15 minutes of fame on the big screen at the "nineteenth hole"—aka Big Jim's. A webcam captures all the live action on the eighteenth; it only plays once before the next group comes through, so make your way in before it disappears.
Golfers warming up for their game or groups who don't wish to play the full course will enjoy Toptracer Range (a 15-bay high-tech golf driving range adjacent to the Robert Trent Jones course). The same food provided at Big Jim's is also available there. "You can come down with the family and have a golf experience for a couple of hours and have pizza, nachos, hot wings, chicken fingers—all the kid favorites and family favorites. There's also a full-service bar there, and you can even rent the bays for parties," Rowland explained.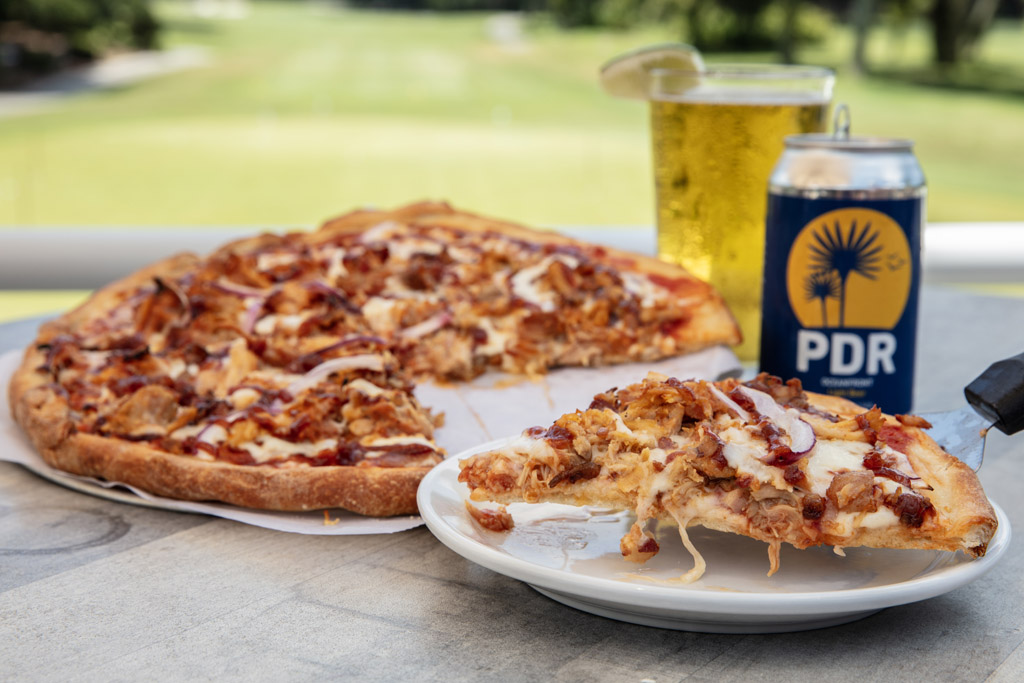 Buffalo Chicken Pizza and a frosty PDR
Whether you're looking for a casual breakfast, lunch, or dinner, or planning a corporate event, wedding reception, or party, Big Jim's is at your service. Stop by today and discover all the delicious food you've been craving in a relaxing setting overlooking the gorgeous fairway and eighteenth green of the Robert Trent Jones golf course. Your taste buds will thank you!  
Sweet Chili Crispy Shrimp with Creamy Sweet Thai Chili Sauce 
A Side of Retail Therapy 
While you're dining at Big Jim's, be sure to stop in the adjacent golf pro shop—the largest on Hilton Head Island. You'll find an expansive selection of men's and women's golf attire and accessories as well as a colorful selection of resort wear and gift options for the non-golfer.
Don't miss the new Palmetto Dunes-branded merchandise, a custom pattern in pastel colors—skirts, tops, dresses, and accessories—perfect for looking and feeling cool both on and off the golf course.
Here's what people are saying:
"Aesome bartenders and helped me order the best food. Fried pickles are made on site and the best I've had. Southern Burger was amazing."
"We just moved to Palmetto Dunes this past year and have absolutely loved it. Big Jim's pizza is now our favorite! My husband and I love the thin crust, and the wait staff are so kind and attentive. Definitely recommend if you are staying in the area and want quality food and service!"
"We are locals with family visiting from out of town. Had a group of nine, and Big Jim's was a convenient spot for dinner. The staff quickly accommodated our group. We ordered drinks and dinner and were busy catching up with each other. When a few drinks needed refilling, Wendy (the bartender) noticed that we had empty drinks and helped expedite refills. We appreciated the service. Our food was delicious—some of us had special instructions for our food—and everything came out just as we ordered it. Highly recommend Big Jim's."
"We had a very nice dinner at Big Jim's. My son and I had bacon cheeseburgers, and my wife had a shrimp Po'Boy. The food was great. Our server provided outstanding service. And, the atmosphere is very nice, with a terrific view of the golf course."
Big Jim's is located at 7 Trent Jones Lane, inside Palmetto Dunes Oceanfront Resort at the Robert Trent Jones Golf Course Clubhouse and is open daily from 7 a.m.-9 p.m. for take-out, indoor, and outdoor dining. To see the full menu and find out about upcoming specials and events, visit bigjimsbbqcatering.com or call (866) 420-4478.