Ballard and her husband Tommy decided to leave their residence in Charlotte and come to their home on Hilton Head Island for a respite in the sunshine. On one of their outings to Bluffton, they ventured into the Red Piano Gallery where Susan was inspired by a floral painting that had bits of ripped paper incorporated in it, lending a wonderful texture to the piece.
Ballard has always been creative, making collages, decoupaging, and creating 3D art using found objects. She also discovered ATC's (Artist Trading Cards) collages made on paper the size of playing cards. When she saw that piece in Bluffton, she thought, "I'd like to try that."
As soon as she got back to Charlotte, Ballard bought some paint, brushes and canvases and just went for it. "As far as an art education, I had none," she said. "I had no style to speak of, I didn't even know how to begin. I'd just paint and paint, then get frustrated because nothing was very good. I didn't know how to make it better."
It was then that Ballard turned to—of all things—Instagram for answers. She searched for artists and inspiration, and slowly she found artists she liked. She started following several of them and attempted to make her own version of their art. Knowing she couldn't simply copy what they were painting and do it like them, she had to find her own style.
"My very first floral painting wasn't much of a painting," Ballard said. "Instead of paint, I used markers and glitter pens. The flowers and stems were geometric shapes. You could tell they were meant to be flowers, but because I'd never actually painted a flower before, I made them very abstract."
She started posting her paintings on her own Instagram page, and people started responding with comments praising her work. Soon they began asking if any of it was for sale. She admits she had no idea what to tell them or what to charge. She didn't even believe her paintings worthy to be purchased, although naturally, it increased her confidence when others liked her work.
She didn't feel like an "artist," so she enrolled in an online course called "Path to Abstraction," offered by artist Pat Butynski. The course taught Ballard how to look at a white canvas and begin by "just getting some paint on the canvas."
"It was so liberating," Ballard explained, "because I learned that I didn't have to know how the painting would end up. I just chose colors I liked. Then we would make marks around the canvas—initially only in black and white. Then we'd add some color and make more marks on top of that. We continued building layers of paint and marks. It was all about freedom and playing with the paint. I also learned I didn't need to get frustrated or discouraged if it wasn't very good. Pat would always say, 'It's just paint!' I managed to save a lot of canvases by painting over what I didn't like."
For the longest time, Ballard would look at her work and think it was finished. A day or two later, she'd look again and realize something wasn't quite right. She'd return to the piece and paint over the parts she didn't like. Inevitably, the revision was better than the previous "finished" piece.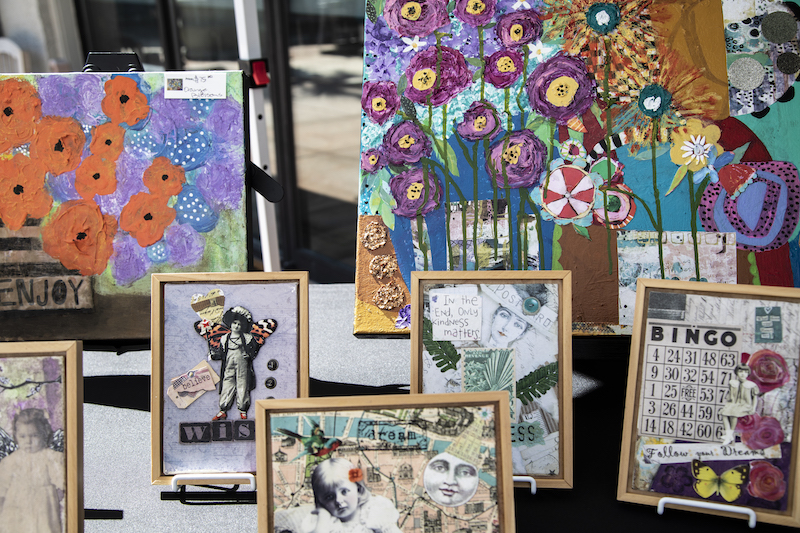 Unlike artists who only paint landscapes, florals, or portraits, Ballard found that she became bored painting the same thing all the time. That's when she started painting abstracts and playing with a variety of mediums beyond acrylics. She experimented with watercolor, oil pastels, and India ink. She also started adding collage and tissue paper as the first layer of her painting.
In 2020, Ballard sold a lot of what she painted through her Instagram account, and everything grew from there. Every morning after her coffee, she'd go into her art space to paint. It became her obsession. Through the Instagram course, she learned about value, how to use light and dark colors, and different shades of color to make the painting interesting. She learned it was important to make a person's eye travel around the painting as well, and Butynski became a mentor she still relies on today.
"Now I'm painting like I want to paint," Ballard said. "I'm not copying anyone else. It's all instinctual and coming from me."
Ballard learned that the Shain Gallery in Charlotte was having an open call for submissions to the Up and Coming Charlotte Artist Show. She submitted her work, was accepted, and even sold one of her pieces. With bolstered confidence, this accidental artist began submitting her work to more shows. Soon she entered Art Party 2021, her first juried art show in Rock Hill, South Carolina. This meant her work would be judged by professional artists and prizes for the top three submissions would be awarded. She submitted three pieces, and all were accepted.
After the exhibition, the Ballards went to Rock Hill to attend the awards party where Susan introduced herself to a man who looked as though he was in charge.
"He seemed a little overly friendly and happy that we were there," Ballard said, "and though we were a bit late—everyone else was seated and had already eaten—he managed to find us a table up front. We watched a performance artist and then it was time for the awards. He announced third place, but the winner wasn't there, and the same with second place."
When the emcee announced that he was afraid the first-place artist was also going to be a no-show, Susan and Tommy looked at each other in complete surprise and shock. They realized he was talking about her.
Ballard's winning piece was an 8×10 "doodle"—a small abstract she made using paint markers and pens. She admitted that she really wasn't thinking about it while she made it. "I was just playing," she said. She was awarded $1,500 dollars for that little doodle. Her advice to anyone who wants to make art is to remember to play and have fun.
"Making art should not be frustrating" Ballard advised. "Just like my online teacher said, 'If you don't like it, paint over it.' And maintain your sense of play. I never know how anything I start will end up. I encourage everyone to add some texture—to add depth—and make your paintings more visually stimulating."
To see Ballard's work in person, you can find her each Tuesday at the Farmers & Makers Market at The Shops at Sea Pines Center, as well as the Art Market the First Thursdays Art Market, also at The Shops at Sea Pines Center. Her studio is available to visit by appointment. For more information, email Ballard at spbm59@gmail.com or find her on Instagram @ballardesign.