Today, beneath sunny skies, it's not hard to look at the sprawling covered patio that runs along four restaurants at Port Royal Plaza and think that good times have come again. It was a little harder to think that just a few years ago, when Port Royal Plaza's future seemed perilous. Seemingly back-to-back, both Sam's Club and BI-LO had shuttered their doors, leaving this perennial shopping and dining destination without two of its largest anchors. The tenants between these anchors remained, and for the most part thrived, but those two For Lease signs cast two very large shadows.
Kung Fu Tea
The first sign of hope, the arrival of Planet Fitness in the old BI-LO spot, came in 2020. But that was 2020, when the optimism created by the new tenant would prove short-lived in the face of a global pandemic. Not only was Port Royal Plaza hit by the chaos that ensued, but commercial real estate across the country went into panic mode. That's to say nothing of restaurants, who suddenly found themselves squeezed between confusing mandates, customers hesitant to venture out, and a crushing labor shortage.
As a restaurant owner inside a plaza that had just been on the cusp of reinvigorating itself when the pandemic hit, Wei Zhu would have had every reason to panic. Instead, the entrepreneur who has made OKKO the island's biggest hibachi hotspot, saw potential. 
"During the pandemic, we lost almost half the tenants here," Zhu said. "A lot of the retail stores shut down here on this strip, and I thought this might be a good opportunity."
That's underselling it just a bit. Gazing out from OKKO, the row of empty storefronts could have been an eyesore. But Zhu moved quickly to snap up those spaces with the aim of creating a new set of dining experiences unlike anything else on Hilton Head Island.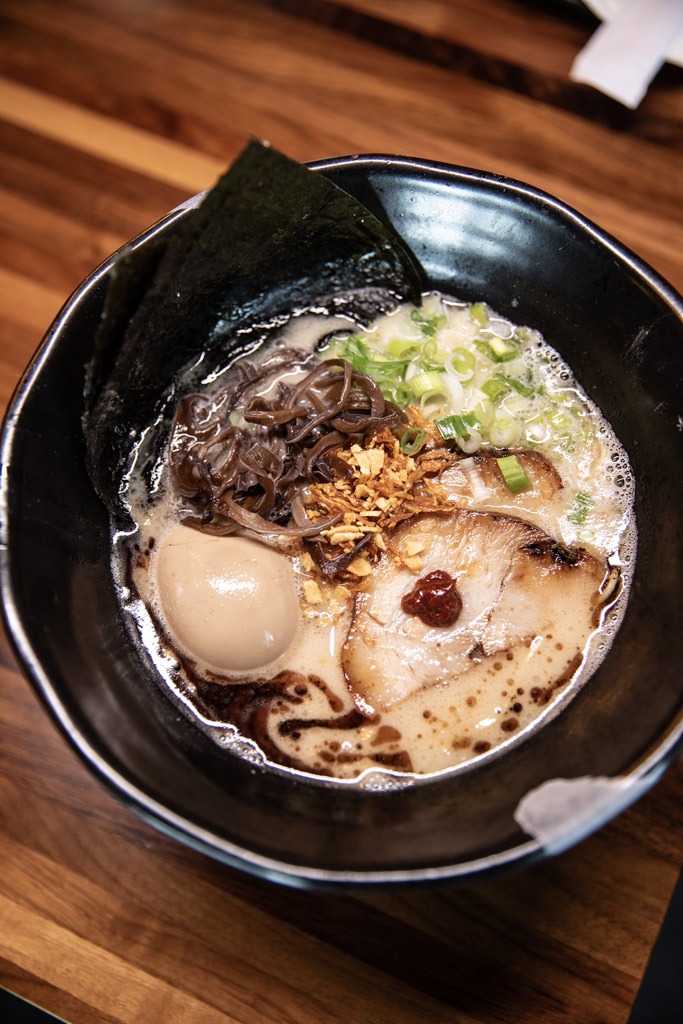 JINYA Tonkotsu Black Pork broth, pork chashu, kikurage, green onion, nori dried seaweed, seasoned egg, garlic chips, garlic oil, fried onion and spicy sauce. Served with thin noodles.
The first move was to purchase a franchise of California-based Jinya Ramen Bar. Embracing the culture of Japanese street food, Jinya was among the first big franchises to adapt the classic ramen bowl for our shores. A far cry from the ramen you might have experienced in college, authentic Japanese ramen pairs a thick, bold broth with rich homemade noodles swimming in fresh ingredients from octopus to pork belly to an entire poached egg.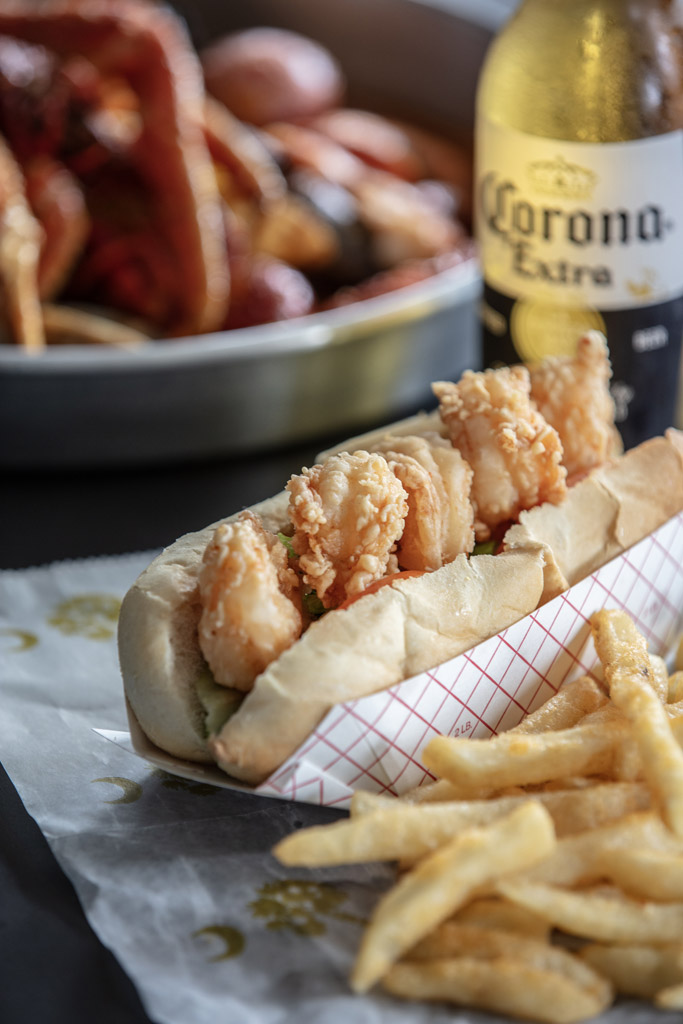 Fried Shrimp with french fries and an icy cold Corona. 
"Jinya was my first because every time I'd go into a Jinya location, it would be very busy," he said. "The food is so consistently good, and they train people very well…. There are so many places here to get steak and seafood, but people who come here from big cities want something new."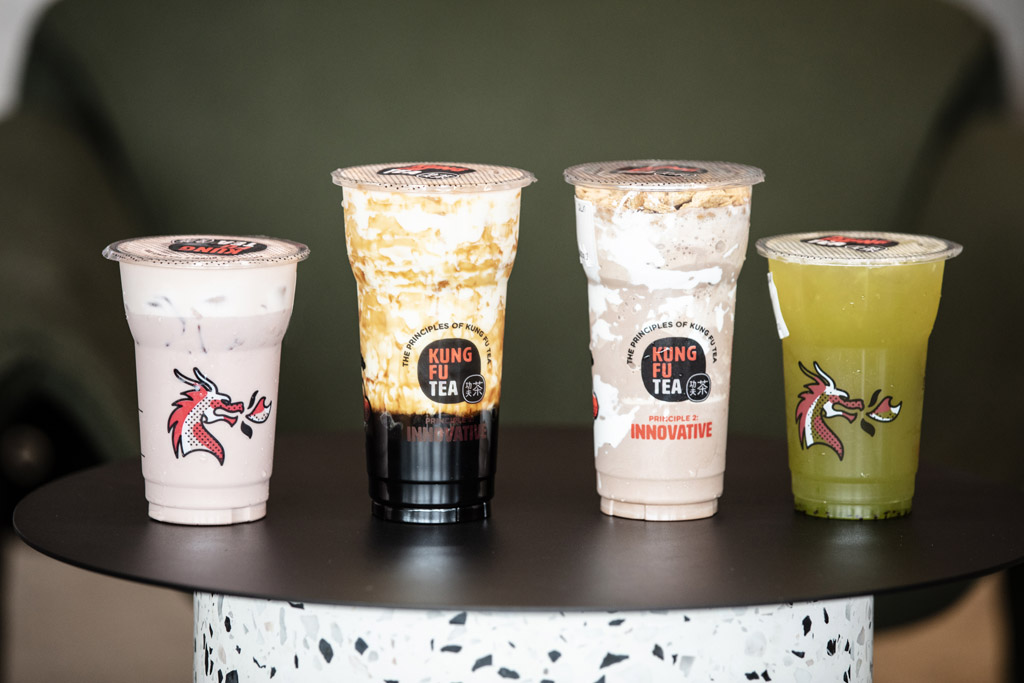 A wide variety of delicious and refreshing Boba Tea
It certainly delivers on the promise of something new, as does its neighbor. Kung Fu Tea, is a concept based around the skyrocketing popularity of bubble tea. Infused with tiny orbs that pop in your mouth with fresh flavors, the more than 100 varieties on hand ensure a new experience each time. And the contemporary, metropolitan vibe creates an atmosphere that can be hard to leave until you've tried a few flavors.
"We have a really nice environment in here," Zhu said, standing amid the Day-Glo furnishings of Kung Fu Tea. "We have a lot of kids coming in here to study and groups that meet up here."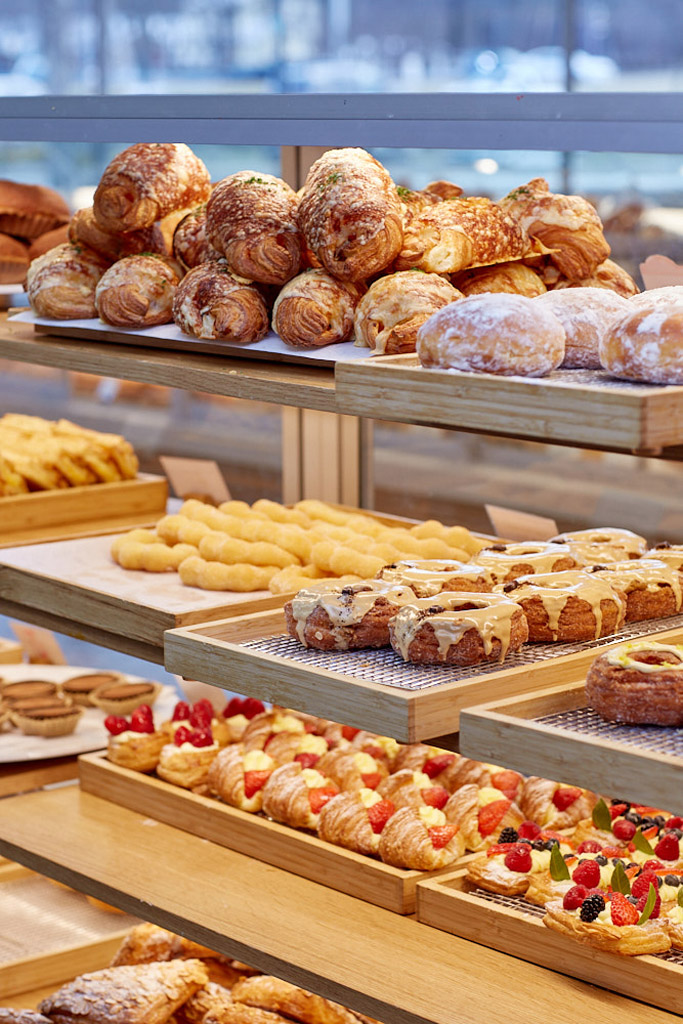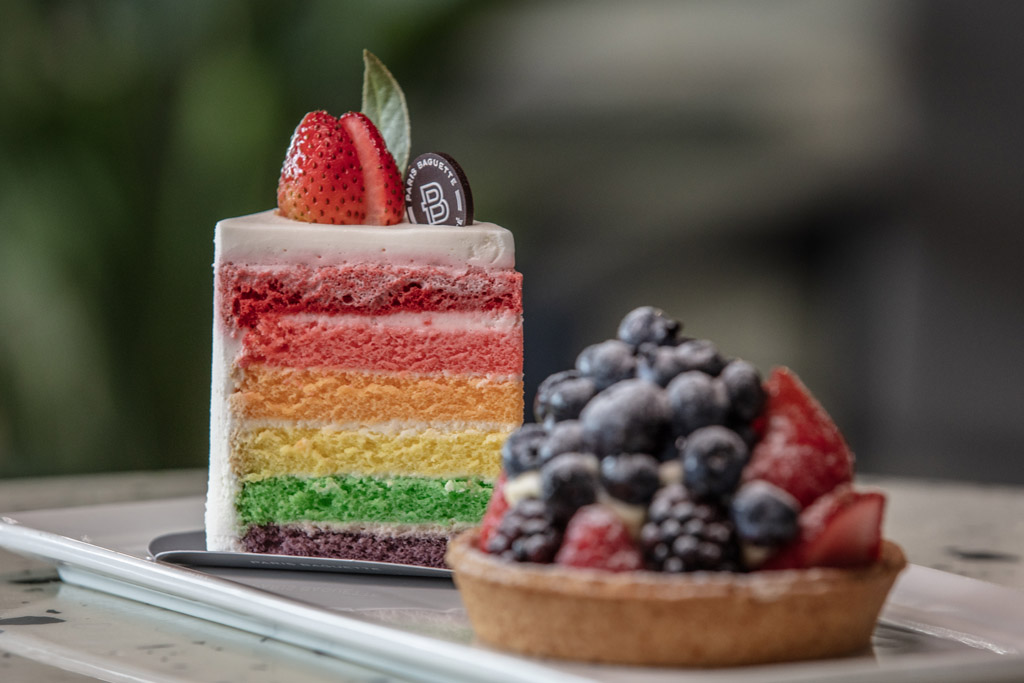 Fresh  and colorful pastries are made daily at the Paris Baguette.  
The third piece in the puzzle was Paris Baguette, a concept that looks to bring back the classic neighborhood bakery. Inside, display cases dazzle with pastry and cakes of every kind, while a wide window on the back wall lets you watch the bakers at work.
"That was a big piece of what we wanted to bring to this strip; we wanted to give people a few places to stop. Maybe you grab dinner at Jinya, a drink at Kung Fu Tea after, and then come by Paris Baguette for dessert or something to bring home for the morning," Zhu said.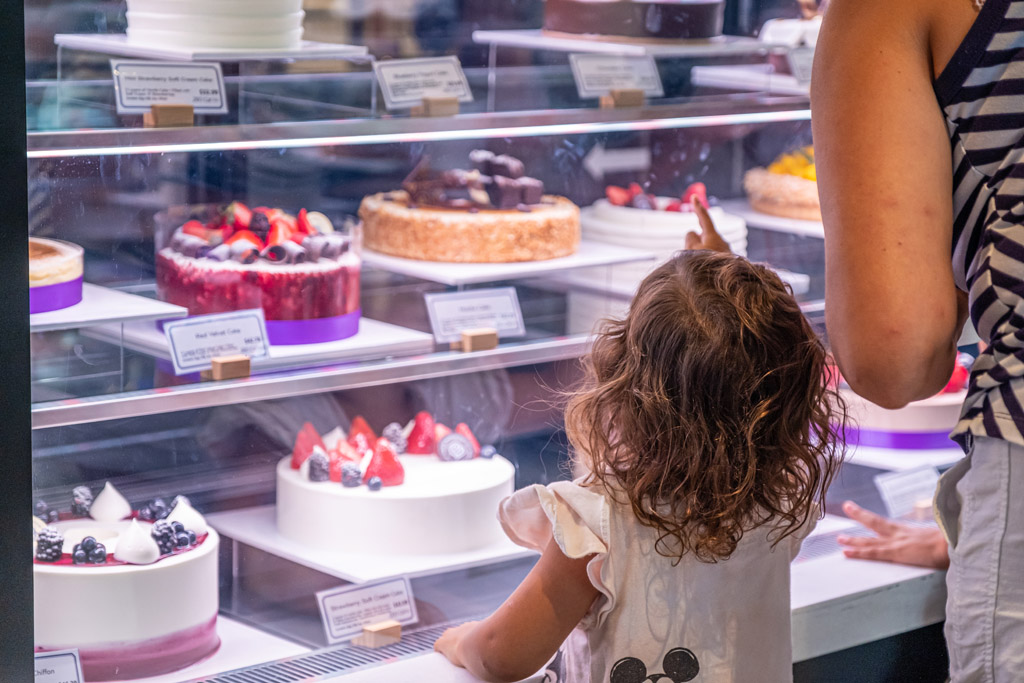 A tiny customer makes her selection at the Paris Baguette. 
This one-stop-dining trifecta was rounded out when Zhu brought his second Hook & Reel location to the island. The first he opened in Bluffton has served as a popular anchor in the Best Buy plaza off-island. It only made sense to bring it to the island. Standing in stark contrast to its mainland counterpart's rustic aesthetic, the island location shines with clean concrete walls and white marble-topped tables. It's a more cosmopolitan look, but that fits overall with the motif established across all four restaurants. With covered outdoor dining that runs the entire length, it almost feels like a stretch of city block transplanted onto the north end of Hilton Head Island.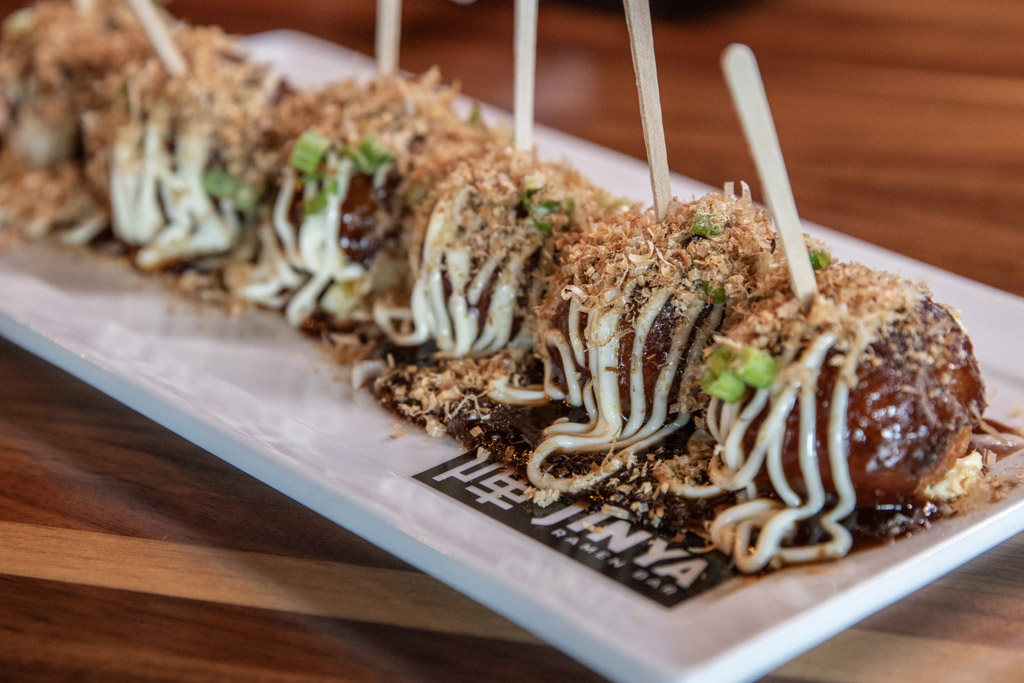 Takoyaki (Octopus Balls) Battered octopus over egg tartar topped with mayonnaise, okonomiyaki sauce, fresh cut green onion and smoked bonito flakes.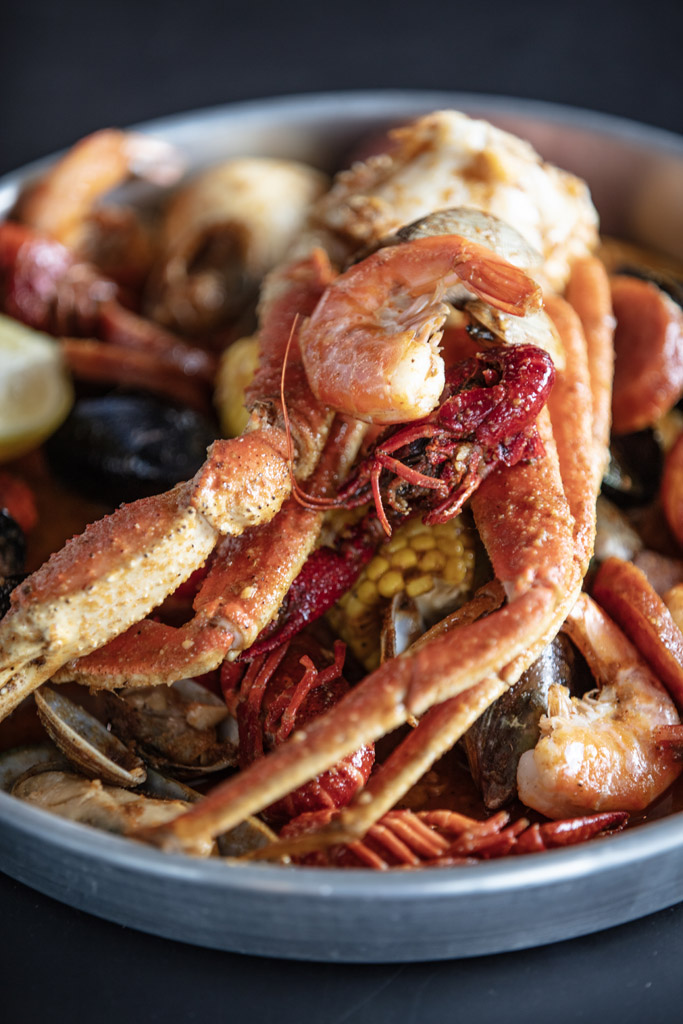 At Hook & Reel, you curate your own fresh seafood platter, with options ranging from snow crab legs and crawfish to lobster tails and shrimp. 
"It's challenging to open a franchise in a small town," Zhu said. "They usually go to big areas like Atlanta, Charlotte, or Orlando. I knew that, but I just wanted to give people these opportunities to try new flavors and expand a little bit."
It was a leap of faith, but as hundreds of diners who now get to experience a taste of city living in the heart of paradise will tell you, it was worth it.