There are as many social occasions and parties in the spring as there are flowers blooming in the South. Easter, the RBC Heritage, school graduations and Mother's Day are just a few reasons we gather to celebrate. The weather is generally stunning, and every day is perfect for an outdoor soirée. Chef Lynn Michelle and Cassandra Shultz pulled some of their favorite seasonal dishes to inspire your next gathering.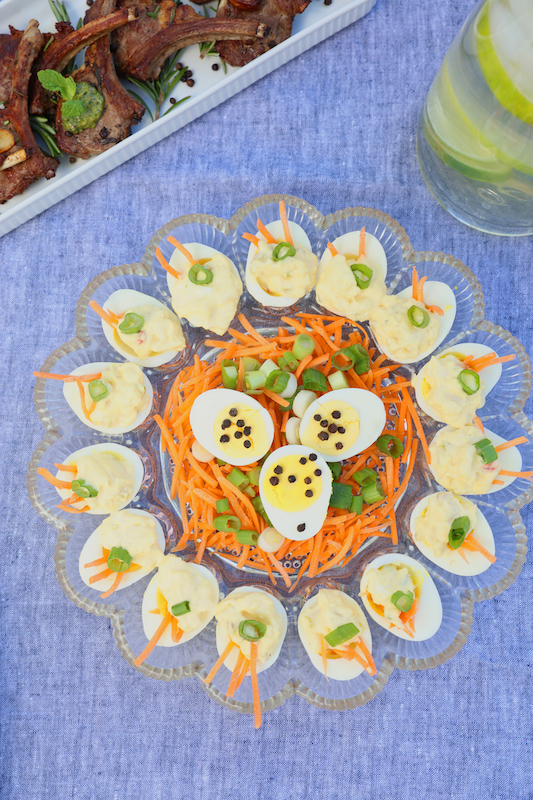 VEGETARIAN POTATO SALAD EGG BOATS
By Chef Lynn Michelle
8 Russet Potatoes, peeled and cut into large, bitesize pieces
¾ cup mayonnaise 
1½ cups celery, finely chopped
1/3 cup apple cider vinegar
1½ teaspoon salt
1 teaspoon black pepper
2 teaspoons sugar (optional)
1/3 cup green pepper, finely chopped
1/3 cup sweet onion, finely chopped
¾ cup carrots, shredded
2 scallions, finely sliced
12 boiled eggs, peeled and cut in half (remove yolks for salad and reserve whites for egg boats)
Place cut potatoes into a large pot of water and cook until al dente; drain and let cool.
In a large bowl, mix mayonnaise, apple cider vinegar, salt, black pepper, and sugar together; add green peppers, carrots, cooked egg yolk, sweet onion; blend well.
Fold cooled potatoes into the mayonnaise mixture. Place in the refrigerator for several hours.
Place egg boat halves on a plate and fill with the vegetarian potato salad; top with the finely sliced scallions and a few shredded carrots.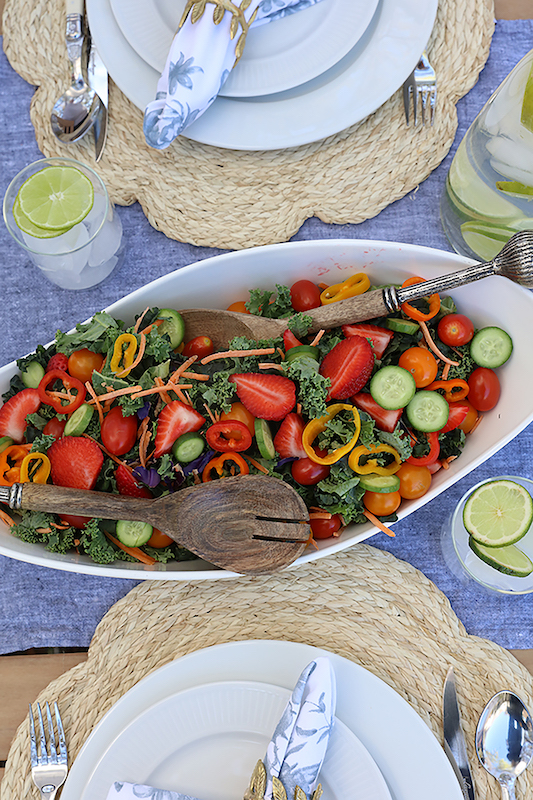 SPRING KALE SALAD WITH TANGY VINAIGRETTE 
By Chef Lynn Michelle
Spring Kale Salad
1 bag chopped kale, rinsed and drained
1 container strawberries, rinsed and cut into bitesize pieces
1 large cucumber, rinsed and sliced
8 small colored peppers, rinsed and sliced
¾ cup carrots, shredded
¼ cup sweet onion, chopped
2 cups red cabbage, chopped
¼ cup red onion, finely sliced
1 package small tomatoes, rinsed and sliced or whole
Place the kale into a large bowl and mix in half of the salad dressing. Blend. Top with all toppings and sprinkle the remaining salad dressing on top. 
Optional: top with nuts and cheese.
Tangy Vinaigrette
½ cup olive oil
¼ cup red wine vinegar
Juice of 1 tangerine, seeds removed
Juice of ½ lemon, seeds removed
Juice of ½ lime, seeds removed
½ teaspoon salt 
1/8 teaspoon black pepper
A few dashes sugar
Blend together in a food blender or processor.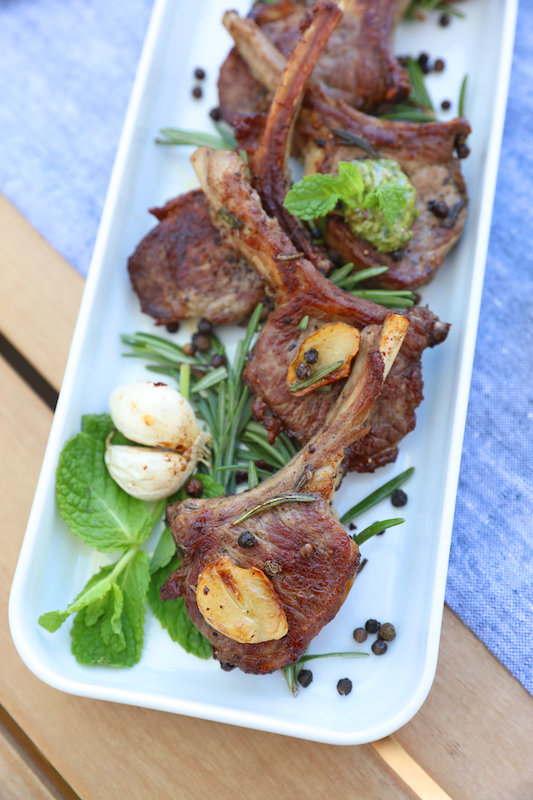 GRILLED LOLLIPOP LAMB CHOPS
By Chef Lynn Michelle
2 racks of lamb, fat trimmed away from the bone
¼ cup olive oil
Fresh juice of 2 limes
1teaspoon salt 
½ teaspoon black pepper
 teaspoon garlic powder
Mix all marinade ingredients together in a Ziplock bag. Add lamb, marinate in refrigerator 2 hours minimum or up to 6 hours.
Remove lamb from marinade and discard marinade.
Grill, without grill lid (300 to 350 degrees F) 5 to 7 minutes on each side or until a thermometer inserted in thickest portion register 130 degrees for medium-rare.
Let stand 10 minutes before cutting. Cut into individual, one-bone "lollipops."
Top with Mint Emulsion Sauce or serve on the side.
Mint Emulsion Sauce 
For Grilled Lamb Chops
By Chef Lynn Michelle
2 small containers fresh mint, stems removed
1 small container fresh rosemary, stems removed
1 clove garlic, peeled
2 tablespoons olive oil 
1/8 teaspoon salt
1/8 teaspoon black pepper
Dash or 2 of sugar
Blend all ingredients in a food blender or processor. Season to taste.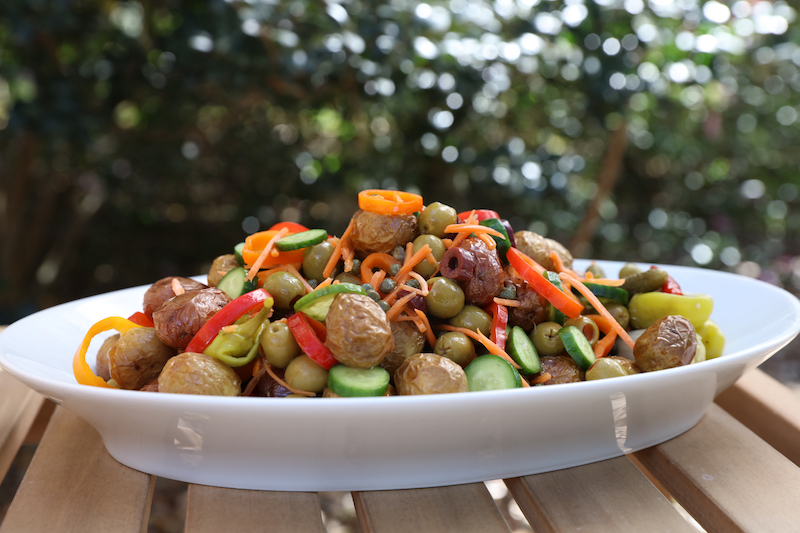 VEGAN POTATO SALAD
By Chef Lynn Michelle
1 pound mini potatoes
1 cup olive oil
1 tablespoon Italian seasoning
½ teaspoon salt
½ teaspoon ground black pepper
1 whole sweet onion, sliced
6 small colored peppers, sliced
½ cup variety of olives, whole and sliced
¼ cup capers
1 cup carrots, shredded
1 large cucumber, sliced
1 cup banana peppers (whole and sliced)
Preheat oven to 425F. Rinse small potatoes with water and drain. Place drained potatoes into an edged baking pan; add sliced sweet onion, ½ cup olive oil, Italian seasoning, salt, and black pepper. Mix well. Place in oven and bake for about 25 minutes or until potatoes are just done. Do not overbake. Place in a large bowl.
Blend in peppers, olives, capers, carrots, cucumbers, banana peppers and ½ cup olive oil. Season to taste. Serve hot or cold. Optional: Sprinkle with nuts and/or vegan or regular cheese.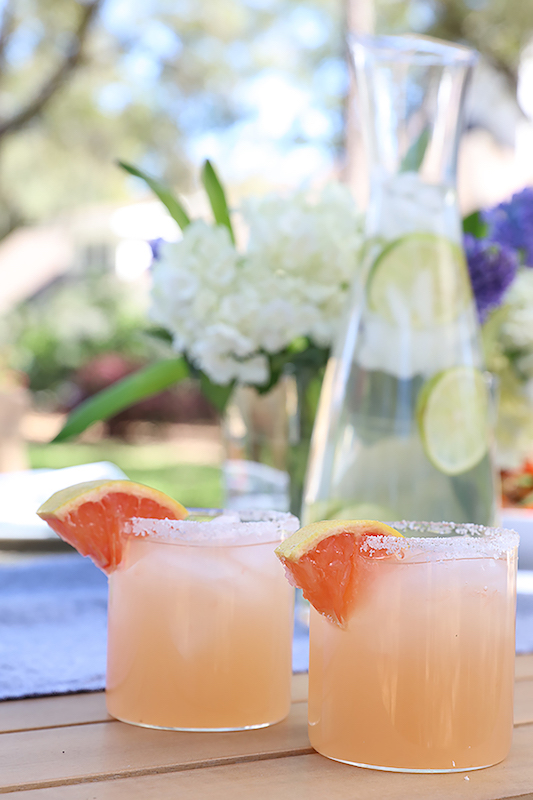 PALOMAS 
Recipe courtesy of Ina Garten
¼ cup granulated sugar
½ cup kosher salt
Wedges of grapefruit
1 cup freshly squeezed pink grapefruit juice
1 cup white tequila, preferably Casamigos
¼ cup freshly squeezed lime juice
*1 tablespoon sugar syrup
Combine ¼ cup sugar and ½ cup salt on a small plate. Run a wedge of grapefruit around the rim of 4 glasses to moisten the rims. Lightly dip the rims in the sugar mixture and set aside to dry.
Combine the grapefruit juice, tequila, lime juice, sugar syrup, and a pinch of salt together in a pitcher. Fill a cocktail shaker ½ full of ice and pour in the drink mixture. Shake the cocktail shaker for 30 seconds to chill and dilute the drink. Pour into the 4 prepared glasses; add a few ice cubes, and a wedge of grapefruit and serve ice cold.
*To make sugar syrup, combine 1 cup sugar and 1 cup water in a small saucepan and bring to a boil over medium heat. Cook until the mixture is clear. Cool and refrigerate indefinitely.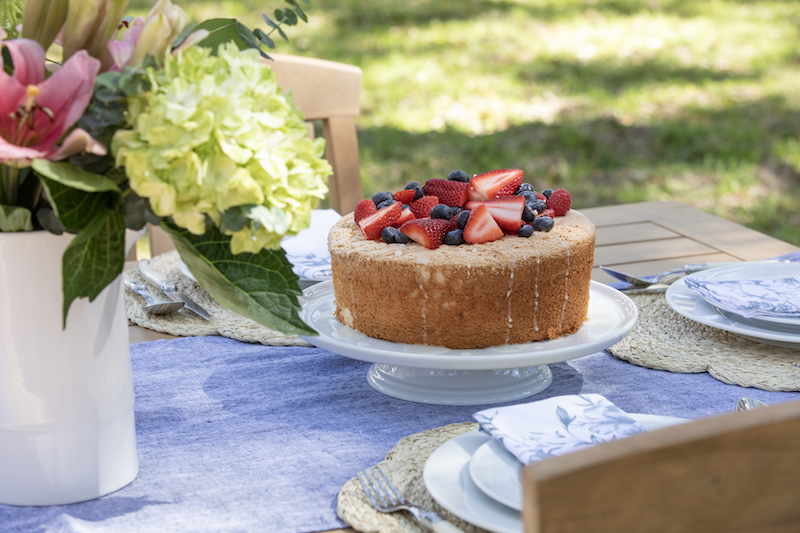 LEMON ANGEL FOOD CAKE 
Recipe courtesy of Ina Garten
2 cups sifted superfine sugar, divided
1-1/3 cups sifted cake flour (not self-rising)
1½ cups egg whites, at room temperature (10 to 12 eggs)
¾ teaspoon kosher salt
1½ teaspoons cream of tartar
¾ teaspoon pure vanilla extract
1½ teaspoons grated lemon zest (2 lemons)
Preheat the oven to 350 degrees F.
Combine ½ cup of sugar with the flour and sift together 4 times. Set aside.
Place the egg whites, salt, and cream of tartar in the bowl of an electric mixer fitted with a whisk attachment and beat on high speed until the eggs make medium-firm peaks, about 1 minute. With the mixer on medium speed, add the remaining 1½ cups of sugar by sprinkling it over the beaten egg whites. Whisk for a few minutes until thick and shiny. Whisk in the vanilla and lemon zest and continue to whisk until very thick, about 1 more minute. Sift about ¼ of the flour mixture over the egg whites and fold it into the batter with a rubber spatula. Continue adding the flour by fourths by sifting and folding until it's all incorporated.
Pour the batter into an ungreased 10-inch tube pan, smooth the top, and bake for 35 to 40 minutes, until it springs back to the touch. Remove the cake from the oven and invert the pan on a cooling rack until cool.