If you're anything like me, you'll joyfully make the drive to another coastal town just to check out what it offers to do, see, and eat. Johns Island, South Carolina, one of the Charleston metro's most unspoiled portions, is about two hours by car from Hilton Head Island and well worth a foodie road trip this fall. I spoke to a few of my close friends in the area, who all moved to Johns Island in the last few years (it's the new "cool" place to be), and they were kind enough to brief me on their island favorites, both those we've frequented and brand-new ones. You won't have to venture to downtown Charleston; Johns Island has everything you could possibly crave. No matter what you feel like eating, you're bound to find it, from delicious seafood and sandwiches to pizza and Southern suppers.
While you can make your foodie trip to Johns Island a day trip, once you read over this list, you might feel compelled to book an entire weekend. My suggestion is to skip the hotel scene and seek out one of the cushy vacation rentals available in the area. That way, you can relax after stuffing yourself with a great meal and a few cocktails, then do it all again the next day!
The Southern General
Several years back, a big group of girls, myself included, visited The Southern General for drinks and sandwiches on a random Saturday. I was thrilled to discover that this "craft sandwich shop and bar" is still going strong and still offering a slew of sandwiches in both the "general" and the "craft" varieties. Picky types can build their own mammoth sandwich, while the adventurous can opt for a "Lowcountry Sloppy Joe," featuring both pork and beef; the "Southern Pot Roast" with house-braised sirloin; or the "Cu-Bahn Mi," with candied pork belly, plus many others.
There are also burgers, cheesesteaks, Italians, and clubs—pretty much everything in between bread—plus a couple of platter options. In case you're still hungry, desserts are available. Ask for the featured dessert ahead of time and plan accordingly.
Seanachai Whiskey and Cocktail Bar
Frankly, these guys had me at whiskey, but there's more to enjoy at this Irish-influenced establishment than just booze. The usual Irish suspects are on the menu—bangers & mash, shepherd's pie, meatloaf—but Seanachai also caters to the local bar crowd with a double bacon pimento cheeseburger with house-made pimento cheese, fried chicken sliders, smothered fries or tots and, of course, hot wings.
The cocktail menu is no slouch either, whether you want something Irish (in which case we suggest "Crossing the Water," with Irish Whisky, Scotch and local honey) or something more like the "Coconut Tequila Daiquiri." And don't miss the homemade ice cream on the dessert menu—ask for a liquor floater!
Minero
The downtown location of this restaurant attracted scores of locals and tourists for their upscale tequila cocktails and delicious tacos. So, when the East Bay location closed, no one was happy—that is, until the Neighborhood Dining Group announced plans to reopen the establishment on none other than Johns Island. Though the pandemic slowed the plans a bit, group president David Howard was optimistic about a "bigger, better" restaurant location in late summer 2021.
"The restaurant will feature the signature house-made tortillas, slow-cooked meats, tacos, acclaimed burritos, live-fire grilled wings, margaritas and extensive tequila and mezcal offerings for which Minero is known," Howard noted, adding that the Johns Island restaurant will be open for dining seven days a week. Now there's a reason to drink more tequila!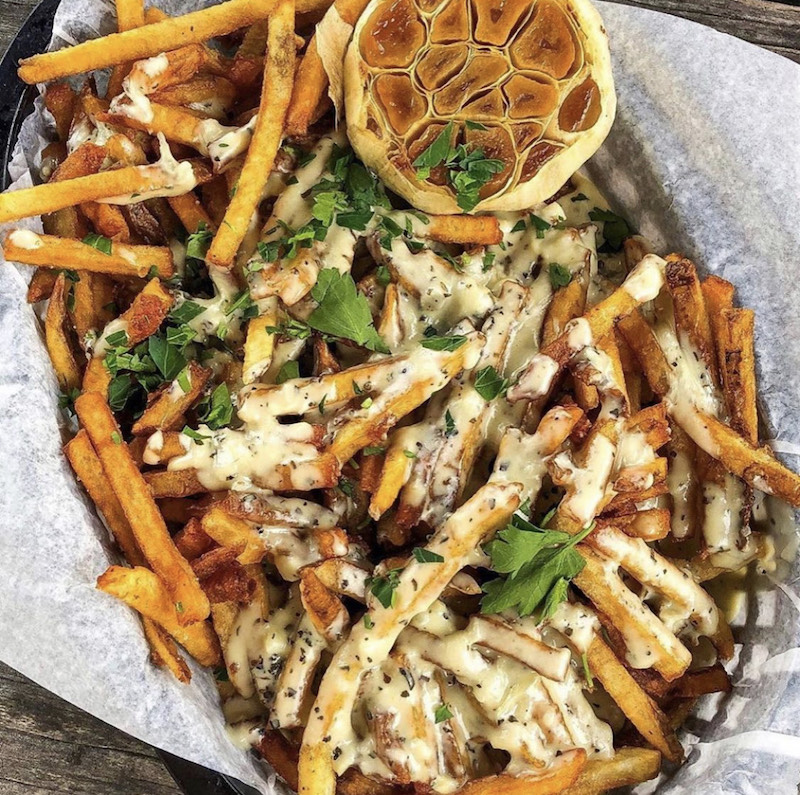 The Tattooed Moose
I can hardly pen a food article about Johns Island and not include one of my all-time favorite haunts, The Tattooed Moose. I started out going to the one downtown, and then, when another location opened right in the thick of where all my newly relocated Johns Island pals live, it was a dream come true.
Make sure someone at your table gets their legendary wings, duck club or fries cooked in duck fat. But there's much more to be had on this menu, including the "Thanksgiving Sammy," with roasted turkey and cornbread stuffing; the "Lucky #1 Sub" with Chinese barbecued pork belly and house-made kimchi; or, if you just want a snack, the Philly cheesesteak egg rolls, or homemade pimento cheese. Vegetarian options abound, too; you can make the burger, chicken sandwich or gyro vegetarian for no additional charge.
The Royal Tern
If you're sticking around for dinner and in the mood for seafood and steak, The Royal Tern (named after a bird, which I love, frankly) is a fantastic option and family owned. With a raw bar that rivals anything downtown, freshly caught entrées and wood-fired steaks, the menu is mouthwatering and, best of all, affordable for this caliber of cuisine.
For dessert, indulge in the hazelnut carrot cake or the peach upside-down cake, and pair everything with a glass of wine, an oyster shooter or "Classic Hemingway Daiquiri." BTW, the place has a decidedly Hemingway theme, a surefire win for literary types. There's even a Hemmy quote on the menu about how oysters make life better. I can't help but agree.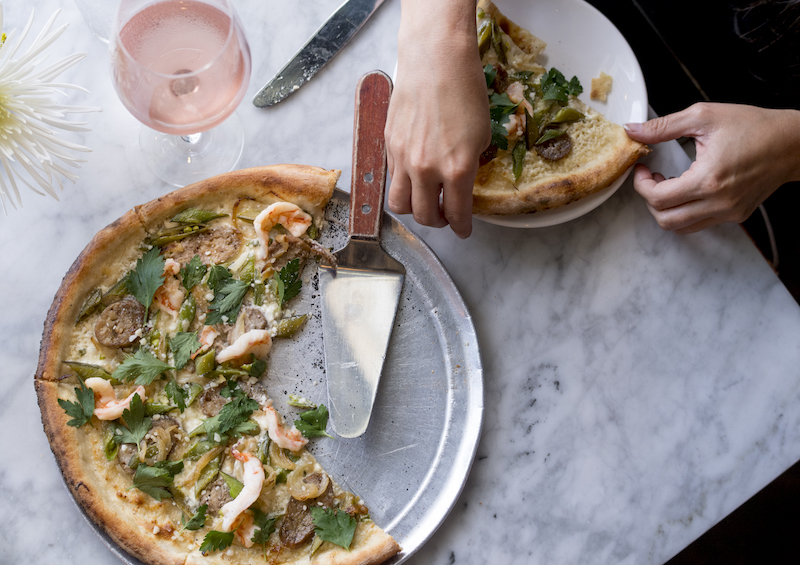 La Tela Pizzeria
Just a bit past Johns Island proper and close to the pristine shores of Kiawah, La Tela is a delicious option for either lunch or dinner, serving wood-fired pizzas and house-made traditional Italian cuisine. Start with either the beet or butternut squash salads and move on to either delicious pasta or a specialty pizza such as the fig pizza with apple-smoked bacon or the mushroom pie with garlic and goat cheese.
And save some room because the Italian desserts are a must-have at La Tela. I don't even drink Scotch (much), but I couldn't decide between the 10-year Scotch gelato, the vanilla bean panna cotta and the affogato with hazelnut biscotti. Wash it all down with the Italian greyhound cocktail or a glass of wine from the expansive menu.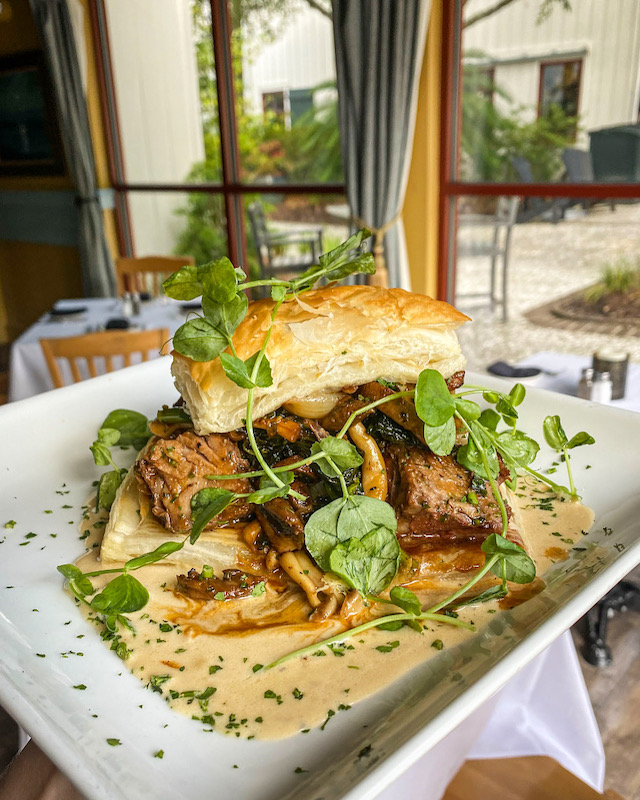 Hege's Restaurant
A charming restaurant with French influences, Hege's offers dinner six days a week, prepared with fresh, seasonal ingredients from farms around the Lowcountry. Start your meal with either the French country pâté or the classic French onion soup. The raw bar at Hege's offers shrimp and lobster cocktail, oysters on the half shell and a Thai tuna tartare, while the main menu is an array of local chicken, duck, and veggies.
Whether you opt for one of the traditional entrées (I'm a fan of Joyce Farm's Chicken Saltimbocca or the Lobster, Crawfish and Shrimp Étouffée) or you treat yourself to one of the steak and seafood signatures, you won't go wrong. Pair everything with either a perfectly crafted cocktail or a bottle of wine for the table.
Stono Market & Tomato Shed Cafe
For a slice of local history, don't miss a meal at the Tomato Shed Café, locally owned by the Ambrose family. Originally opened by local shrimper and farmer Pete Ambrose and his wife Babs, the Stono Market has been around since 1987, and the Tomato Shed Café has served Southern dishes since 1991.
Get the fried green tomatoes or homemade spicy pimento cheese to start off, then I suggest either the whole fried flounder (when available), the baked chicken (local and organic, of course) or the Farmhouse Meatloaf, topped with pork gravy. The sides, too, are stars of the show, so order a few and don't be bashful. My favorites are the tomato pie, green butter beans and Geechie Boy grits—but get whatever's in season. Dessert is the "Baker's Choice," and will always pair well with a glass of crisp white wine or a beer. Cheers!