It's 2 a.m. on Hilton Head Island. Most of us are asleep, but at Island Bagel, of course, at 2 a.m. they're just getting started.
"This is a 24-hour operation," said owner Ana Rojas. That's not to say that Island Bagel is open 24 hours a day, it's just that creating the perfect bagel means that the hard-working staff members at Island Bagel think outside the schedule.
"One of our bakers is in here right now getting the dough prepared for the next person, who will come in at 2 a.m.," Rojas said. "They need to be ready before we open because we have people coming in at 7 a.m. ready for fresh bagels."
And fresh bagels is exactly what they'll get—warm, fluffy rings of perfection, elegantly balanced between chewy and light. We all know people who grew up in the northeast, those who will proudly proclaim that the only good bagels can be found among the five boroughs of NYC. Even those transplants will be quick to add Island Bagel as the sole outpost for mouth-watering bagels outside the Big Apple.
The only thing warmer and more welcoming than the bagels is the atmosphere. Everything about it feels like that hometown bagel spot where you simply want to wile the morning away over coffee and a bagel.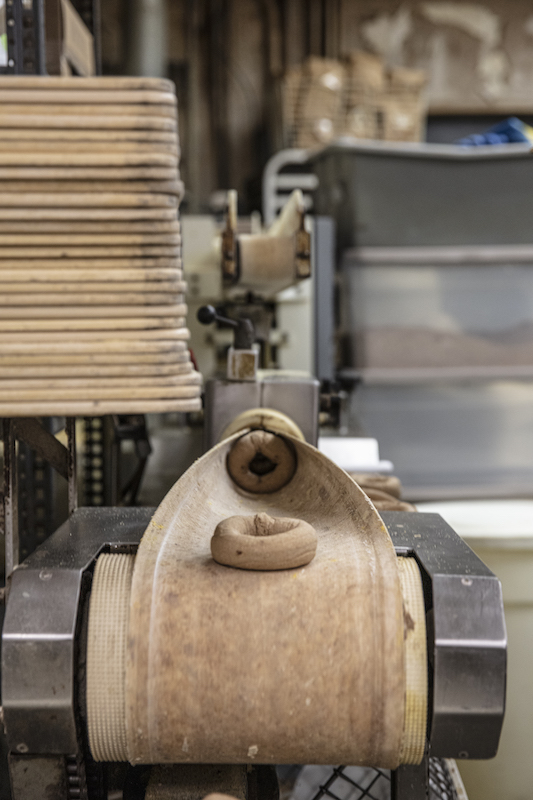 "I have always loved this place," Rojas said. "I know a lot of the customers who come in here every day, and they feel like family."
And the regulars know her well. Even before Rojas took over ownership last year, she had been a familiar face for eight years. She took a brief break to explore other opportunities, including owning her own cleaning business and setting up Jesse's Island Food Truck with her brother. It was this venture that brought her back to Island Bagel, using their kitchen to prepare the day's fare for the mobile eatery.
When the previous owner was looking to sell, Rojas was a natural fit. She was back behind the counter, this time as the boss. It would have been a fairytale ending, were it not for the fact that 2020 wasn't the best year to go into the restaurant business. The same post-pandemic labor shortage hit our hospitality industry hard, and the island's favorite bagel shop was no exception.
"It wasn't easy," she said with a smile. "I was working here seven days a week for eight months straight. It's something that I never expected."
It was unexpected, but Rojas was dauntless as she kept the 24-hour cycle of delicious bagels rolling. "My son had to bring in some friends from high school to run the register and run out food," she said. "We had people lined up outside the door."
It's a testament to just how indescribably good the menu is at Island Bagel. The same care that goes into making each bagel simply perfect goes into every item on the board. The "Our Favorite" sandwich, as an example, features turkey pulled by hand from a fresh turkey, roasted right there in the kitchen. Boar's Head meats and cheeses are sliced by hand for every mouth-watering sandwich and wrap. Each cream cheese is hand crafted in an array of flavors. And the baked goods, from cookies and Danishes to scones and muffins, are all created from scratch in the back.
The army of regulars show their appreciation for this culinary craftsmanship by playing their own part in the 24-hour cycle at Island Bagel, appearing like clockwork for their daily bagel.
"We have people where, as soon as they walk in, we start on their order," Rojas said. "We just tell them, 'We know what you want. It's already in the toaster.' It's nice; I love the support from locals."
Carrying over her years behind the counter to her new role as owner, Rojas knew that the menu was untouchable and that everything was somebody's favorite. But that doesn't mean she isn't prepared to make a good thing even better.
"We have a lot of plans," she said. "And we are truly grateful for our customers and for their support during our first year. We hope everyone has a wonderful new year!"
Fans of Island Bagel can look forward to an expanding menu in the next few years, one that may feature breakfast burritos and smoothies. There's also talk of renovation, updating the décor somewhat while still maintaining that comfort and hospitality that has made Island Bagel a hangout.
In the meantime, your perfect bagel awaits. You're just going to have to be patient and wait until 7 a.m. Trust us, the wait is worth it.
Island Bagel & Deli is located at 841 William Hilton Pkwy. on Hilton Head Island and at 17 Sherington Dr. #6039 in Bluffton.