Thanksgiving often means a rare and precious time of togetherness, and traditions surrounding the holiday are as unique as the families who enjoy them.
"It's a special day to fulfill the scriptural command to 'give thanks always for all things' (Ephesians 5:20), and to celebrate and remember the very first Thanksgiving as the Pilgrims and the Wampanoag people celebrated the first harvest," said Jeff Cranston, lead pastor of Bluffton's own Lowcountry Community Church.
Cranston's family gives thanks by, "going around the table during the meal and sharing what we are individually thankful for." Laughter fills the atmosphere with joy and memories made, and of course, we can't forget the important ritual of watching the big game, bellies and hearts full.
Local librarian, Jo Gaillard, who serves at the Hilton Head Island Library, remembers her grandfather at Thanksgiving and cherishes the opportunity to spend time with those who matter most.
"In recent years, Thanksgiving has taken on a special meaning," Gaillard said. "My grandfather passed away during this time in 2018. It was bittersweet; because of the holiday, we were able to spend more time together as we prepared for his passing and immediately afterward. The day before he died, we gathered at my grandmother's house, spread out the food everyone had prepared, and just spent the time together."
From watching the Macy's Thanksgiving Day Parade on television together, to perusing Black Friday sales ads and enjoying a round of leftovers before parting ways, Gaillard's family makes the most of Thanksgiving by embracing it as an "all-day affair."
Bluffton Mayor, Lisa Sulka, describes Thanksgiving as a favorite holiday in which family gathers together and everyone has the opportunity to choose their favorite side dish. (Hers? Crockpot Mac and Cheese!) The menu is mouthwatering.
"We start every Thanksgiving morning with an oyster roast with our neighbors," Sulka said. "In between the oyster roast and dinner, we fry and smoke two turkeys and begin making all of the sides: two types of sweet potatoes, mashed potatoes, rice, mac and cheese, beans (string, lima, and sweet peas), two types of stuffing, two types of cranberry sauce, two types of gravy, rolls and biscuits…. If the weather is right, we set up a long table outside, have a fire in the fire pit (just for ambiance) and always have the TV on for any football game that may be played."
Mayor Sulka has a "sweet" tradition with dear friends that has stood the test of time. "I bake more pies than we need, and take a few to my closest friends, Michael and Corinne Reeves, and in return they make me a sweet potato casserole. This has been a tradition for over 20 years," she said. Finishing off the day with a trip to Pinckney Island for the family's annual Christmas card photo, another long-standing tradition, rounds out a holiday filled with food, friends, family and football.
For many of us, Thanksgiving Day is all about the food. From mac and cheese to cornbread dressing, there is something special about the holiday meal. Diane Reilley, a partner of The Crazy Crab, the Old Oyster Factory, and Reilley's Grill & Bar, among other beloved local restaurants in the Coastal Restaurants and Bars (CRAB) family, recognizes that the food we love at Thanksgiving goes deeper than taste and tradition; it often embodies our most precious holiday memories, keeping them alive in our hearts, year after year.
"Traditions are so wonderful," Reilley said. "Even though my children somehow never cared for the food traditions I carried over from my family, I still cook them for myself. I never make a Thanksgiving dinner without mashed rutabagas and stuffing with ground sausage and toasted white Arnold's bread. It just wouldn't be the same. I encourage whoever comes for dinner to bring whatever means Thanksgiving to them. So even though the mac and cheese is not a culinary creation, I assume it will grace the tables of my children's Thanksgiving long after I am gone."
May your Thanksgiving be inspired by the richness of our Lowcountry local culture, your sweet memories of holidays past and new memories that will soon become cherished traditions that will live on for generations.
_________________________
"FAMOUS"
LOCAL
RECIPES
Jeff Cranston's Mama Betty's Turkey Dressing
Cornbread
32-oz. bag of cornmeal
3 eggs
2 cups buttermilk
1 teaspoon sugar
2 sticks butter, melted
Beat eggs. Add buttermilk and sugar with cornmeal. Add melted butter and pour into greased and floured pan. Bake at 400 degrees until brown.
Dressing
2 medium onions, minced
1 cup finely chopped celery
1 cup water
Margarine
1 loaf Colonial white bread, torn
4 whole eggs
1/2 teaspoon black pepper
1 cup (2 sticks) butter, melted
Chicken broth
Simmer onions and celery with 1 cup of water and margarine until tender.
Do not trim bread crust. In large, tall pan or container for mixing, beat 4 eggs and pour over loaf bread that has been torn into small pieces; then add other mixture—onions, celery, and butter, simmered. While the mixture is still hot, crumble cornbread into pan.
Use enough liquid (1 cup of chicken broth and fill glass measurer to the top with water) to moisten to pouring consistency. Pour into greased pan or largest Pyrex dish and bake at 350 degree until brown. Remove from oven and pour about 1 cup of chicken broth over dressing and return to oven for a few minutes. Once cooled, freeze or refrigerate.
Bluffton Mayor Lisa Sulka's Crockpot Mac and Cheese
8-oz. pkg. macaroni, cooked
Large can evaporated milk
1-1/2 cups milk
2 or 3 eggs, beaten and mixed with milk
1 stick butter, melted
1 tsp. salt or more to taste
3-1/2 cups shredded cheddar cheese (or more!)
Black pepper for seasoning
Grease crockpot; mix all ingredients and cook 3.25 hours on low or 2 hours on high.
________________________________
Jo Gaillard's Mom's Cornbread Dressing
(Serves 12-15 people)
*For best results, prepare cornbread the day before
Cornbread
3 cups cornmeal mix
1/2 cup Duke's mayonnaise
1-2/3 cup whole milk
Nonstick cooking spray
Preheat oven to 375. Mix ingredients together in a large bowl. Spray 9×9×2 baking pan with nonstick cooking spray. Bake for 30-40 minutes. Allow to cool completely or make a day ahead.
Dressing
Cornbread (as prepared with above recipe), broken into chunks
1 large onion, diced and softened
4 hard boiled eggs, chopped
1 sleeve saltine crackers, crumbled
1/3 cup melted butter
6 cups chicken broth (sodium free)*
2 teaspoons rubbed sage (more or less to taste)
1/2 teaspoon ground black pepper
Salt to taste
Nonstick cooking spray
Aluminum foil
*It's important to use sodium free broth, because the saltine crackers are going to add a good bit of saltiness.
Preheat oven to 375
Put diced onion and about a teaspoon of water in a microwave-safe bowl. Microwave for 1 minute to soften onion. Mix ingredients together for a batter-like consistency, adding spices last.
Taste for seasoning—more sage or other spices may be needed.
Spray 9×13 casserole dish with nonstick cooking spray. Pour dressing into casserole dish. Cover with aluminum foil. Bake, covered, at 375, for 45 minutes. Uncover and continue baking for 15 minutes Allow to rest about 15 minutes before serving
"It is a tradition in our family to eat a small cup of 'raw' dressing while the main dish is being baked. It should be noted that nothing is truly raw at this point, so it is safe to do so."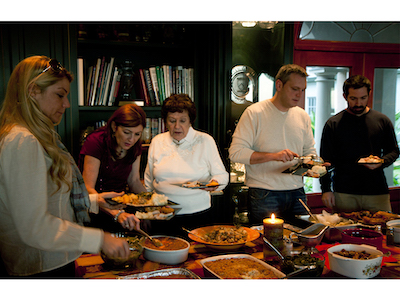 Reilley Family Favorite Mac and Cheese
16-ounce box of elbow macaroni
16-ounce box of Velveeta cheese
1/4 cup margarine
1/4 cup flour
2 tsp. mustard powder
5 cups milk
Salt and pepper to taste
Buttered breadcrumbs
Cook macaroni al dente. Melt margarine in small pan and add flour. Whisk until blended and allow to simmer for a minute or two. Add salt, pepper and mustard powder. Gradually add milk stirring until it just starts to thicken. Add about 12 ounces of cheese, a few ounces at a time, until it all melts and is a creamy consistency.
Put macaroni in a baking pan or large casserole and cover with cheese sauce. Melt a few tablespoons of butter and mix with breadcrumbs, either plain or seasoned. Cut up the remaining cheese and place on top of macaroni mixture; cover with buttered breadcrumbs.
Bake in a 350-degree oven about 45 minutes or until bubbly.
Consistency of sauce can be adjusted by either adding more milk or more cheese.