Despite repeated viewings ensuring that we know every joke before it arrives, every moment before it happens, A Christmas Story always seems to remain fresh. Maybe it's because of the way it's become so intrinsically linked with the season. Maybe it is the effortless way Jean Shepherd reminds us all of our own childhoods through the lens of Ralphie and his Indiana upbringing. Regardless, it seems like no matter how many times you see A Christmas Story, it never gets old.
But no matter how many times you've seen it, you've never seen it like you'll see it this December at The Arts Center of Coastal Carolina. Running December 6-31, A Christmas Story: The Musical takes all the great moments that made the 1983 film a classic and puts a Broadway spin on it, courtesy of the songwriting team behind Dear Evan Hansen and La La Land.
Making its Broadway debut in 2013, the show became a runaway hit, with three Tony nominations, six Drama Desk nominations and two Outer Critics Circle nominations.
"It's a fantastic musical version of movie everyone knows," said Director Mark Martino. "It's such a good story that isn't sticky or sentimental, and it's surrounded with great music."
For New York City-based Martino, a return to the Arts Center of Coastal Carolina stage represents somewhat of a holiday tradition at this point, having directed Elf, Kiss Me, Kate, An American in Paris, and White Christmas over the last four consecutive holiday seasons. "I've been a part of the Arts Center for the last five or six years now, which makes me very happy," he said. "It's not a bad place to be at Thanksgiving."
The joy of returning to direct A Christmas Story is two-fold for the director. As a native son of Indiana, the stories that Shepherd spun about his hometown, first on radio, then in the book, In God We Trust, All Others Pay Cash on which A Christmas Story was based, always resonated with Martino.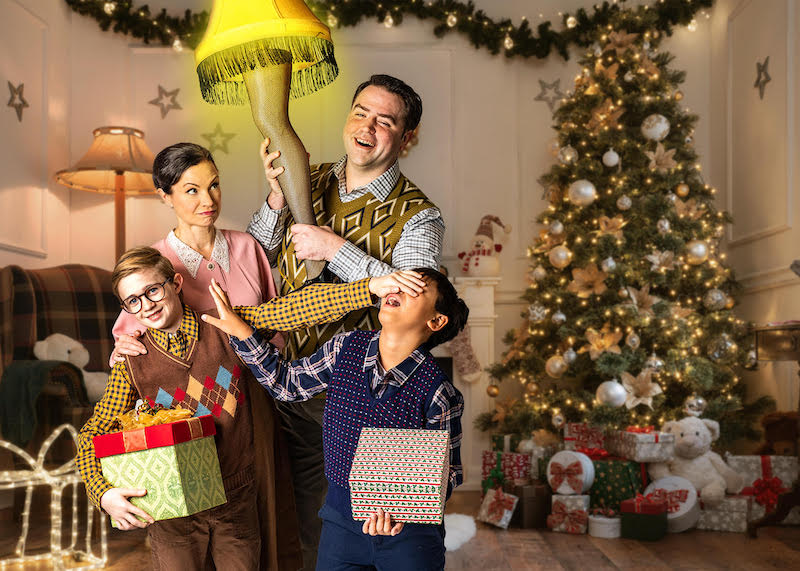 "I grew up there. He (Jean Shepherd) and my dad were childhood friends. He grew up in freezing cold Hobart, Indiana (fictionalized in the play as Hohman, Indiana) and these are his stories," Martino said. "I love Randy in his snowsuit. Why do I want to be on Hilton Head Island when it's cold? Because of that."
But beyond his own personal connection, Martino is as much a fan of the classic film as anyone. If the line about Randy in his snowsuit didn't make sense, go back and rewatch the classic moment when Ralphie's little brother can't put his arms down to the layers upon layers of snow jackets. Or the victorious upset against neighborhood bully Scut Farkus. Or the moment Santa crushes our hero's dreams by denying his request for a Red Ryder BB gun.
Or better yet, make this year's repeat viewing a completely new experience by seeing these classic moments translated to a high-energy blockbuster musical.
"You don't try to reinvent the wheel, but by choosing a cast that's vibrant and fun, they help you find new things in the story that you didn't expect," he said. "With a project like this, reconceived is ill-conceived. You have to respect the source material."
Enhancing the classic story is an extraordinarily talented cast, including Sam Hartley as "The Old Man," and Kelly McCormick as "The Mom." But the real stars of the show are the precocious youngsters filling out the roles of Ralphie, Randy, Flick, Schwartz and the whole gang.
"It really stars the children. Generally, kids have a supporting role, but these kids are the stars of this musical," Martino said. "It was a casting challenge, particularly finding the two boys to shoulder the principal roles…. This is a role you want to hand to a seasoned pro, and when you're 10, that doesn't exist unless you're Shirley Temple."
And while Martino was elated to find talented young actors in Nicholas Reed (Ralphie) in Texas and Max Clifford (Randy) from upstate New York, he was able to round out his cast of talented kids by looking a little closer to home.
"All six of Ralphie's friends are from the island or Bluffton," he said. "Their excitement is so much fun to be around. The learning curve for a musical like this is huge, but they're all so smart."
Timing-wise, you couldn't pick a better time to head back to Hohman, especially with the debut of A Christmas Story Christmas on HBO Max bringing back original star Peter Billingsley for a long-anticipated sequel.
"We swear we didn't know about that when we chose this show," said the Arts Center's Andrea Gannon with a laugh. In fact, this isn't the first time this has happened with an Arts Center production. In 2017, just as they were raising the curtain on their production of Newsies, Disney + began streaming a film version of the Broadway play.
"The relationship between film and theater and television has really become more symbiotic than problematic," Martino said. "If you like the story, you can enjoy it in a multitude of versions. Where this show really succeeds is in taking something so familiar and adding all these new elements. It really enhances it. When you see this show, your response isn't, 'I saw this in the movie.' You're just thinking 'Wow, those eight children just did a fantastic musical number.'"
So, get on your most comfortable pink bunny pajamas, pour a glass of Ovaltine and head to The Arts Center of Coastal Carolina December 6-31 for A Christmas Story: The Musical. You probably won't shoot your eye out, but you may laugh your butt off.
Call (843) 842-ARTS (2787) or visit artshhi.com for tickets.