But that obviously isn't the only way our island is 'consumed.' A fair number of business travelers will work their way through for a few days, then pop in on either their favorite restaurant or a particularly new hot spot that has blasted on to the food scene. There have been a few the last two years.
Then there are the couples who may fly in from a big city up north and spend a quick weekend here. Flights are short enough to be here mid-afternoon if you work a half day in say, Washington D.C., so the itineraries are popular.
That got me to thinking. If I hopped a jet in Philadelphia for a weekend on Hilton Head Island and I wanted to eat my way around as a first timer, where would I send a couple? Loaded question, isn't it? If you asked 10 people to develop their own weekend eating agenda for a couple, you'd undoubtedly get 10 different paths. That's a good thing. Options are always a plus.
But this is my column, so I get the honors of drawing the map around the island, sending some first timers here, there, and everywhere to get a taste of what Hilton Head has to offer. My 48 hours for first timers might look something like this: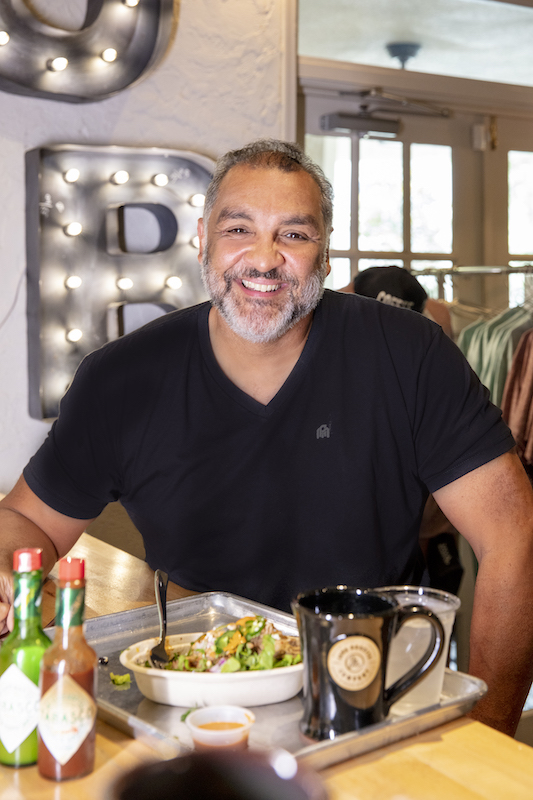 Arrival Friday afternoon:
Java Burrito Company
The common thought here is to race somewhere beachfront, stick your feet in the sand, and enjoy a fruity drink. I certainly have no problem with that, and Pool Bar Jim's is as good a choice as any. But if you want to avoid the sand and the heat and the crowds for a hot minute, then Java Burrito Company in the Village at Wexford is a good choice.
JBC is without question one of the most popular lunch spots on the island. The line out the door every day during the lunch rush will tell you that. I like it for the variety. Sure, you can get a burrito. Sure, you can get some tacos. But I like their champagne offerings and the coffee bar. Sometimes all you need is a caramel macchiato. But then maybe one of the two of you want to nosh on something. Java Burrito Company checks a series of boxes. It's a solid choice for a hit-and-run before you check into your room.
Other options: The Tiki Hut, Hudson's or Delisheeyo if vegan is your thing.
Dinner Friday night:
The Sage Room
I don't typically dabble in favorites. Where I end up is largely dependent on what I am in the mood for. But if I had to name two or three favorites on the island, this would be one of them. Matt Jording and his wife Carol have had this high-energy restaurant on lock down since practically day one. The kitchen sits in the middle of the room—all dishes prepared for the world to see. It's no wonder the most popular seats in the place line the bar that faces the kitchen. All of it is good, but the scallops are legendary on the island. Two weeks ago, I texted a local chef asking him who has the best steak on the island, and I got a one-word response: "Sage" Reservations highly recommended.
Other options: Jazz Corner, Alexanders, Sea Pines Beach Club
Saturday Morning brunch
Palmetto Bay Sunrise Café
Old school? Yes. Consistently fabulous? That too. Paul and Leslie Stewart opened Sunrise back in 2002 after working in F&B on the island for seemingly forever. They started slow but have built a solid reputation with locals looking for a strong cup of coffee in a diner-style mug and a beautiful benedict. All dishes are made to order and done well every single time. On the weekends, depending on what time you roll in there, you are going to wait for a table. It is very popular. What to order? It's eggs. It's all great and a perfect way to start your day, depending on how much Molly Dooker you enjoyed last night at The Sage Room.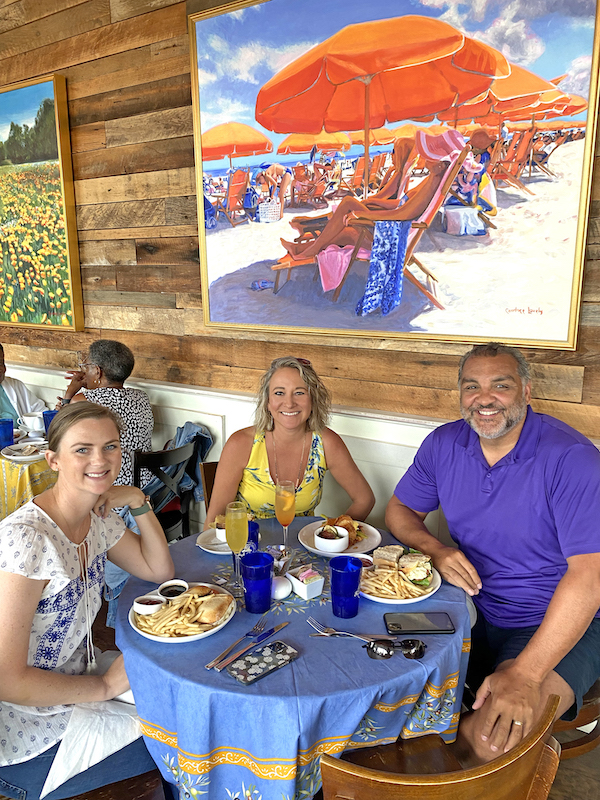 Saturday lunch
The French Bakery
If brunch isn't your thing and you want to sleep in and roll up on lunch, The French Bakery, mid-island at Shelter Cove Towne Center, is a great choice. They've got it all at The French Bakery including eggs, omelets, and French toast, but they also offer crpes, sandwiches on fresh-baked bread, burgers and, of course, salads. Their 'signature' chicken salad sandwich on homemade cranberry apricot bread was as good as advertised. The Monte Cristo is also everything it should be on a sandwich you don't see much on menus anymore. Full bar too. Go for it; it's the weekend.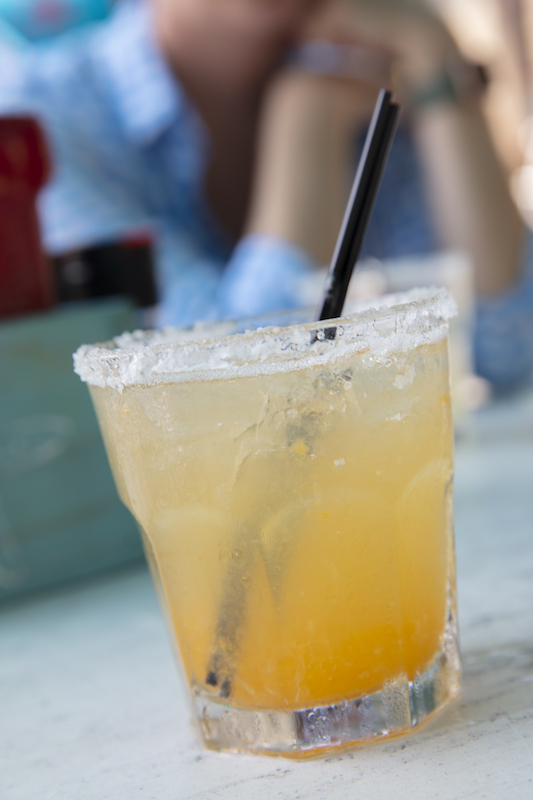 Saturday afternoon break
The SandBar Beach Eats
A margarita straw poll on the island will probably get you a handful of answers. There are a few good ones here, there, and everywhere. My favorite is The SandBar. The SandBar is an interesting spot. It's got all the vibes of a beach front restaurant, but it's several hundred yards at a minimum from the first grain of sand. The good news is you can walk around Coligny Circle and be on that sand in about six minutes. The drinks are all the usual suspects—the fruity stuff, the strong stuff, the beachy stuff. I've had them all, but I always drift back to their margarita. Owner Erika Waronsky tells me they try to make as much as they can at The Sand Bar from scratch—especially the margaritas. In the summer, they go through boxes and boxes of limes, squeezed every morning—no pre-made mixes here. They taste fresh. They taste great. They are my go-to when I need to cool off and I'm down near the beach.
Other options: Holy Tequila's margaritas are solid; Monica Collins at Lucky Rooster is an island mainstay behind the bar.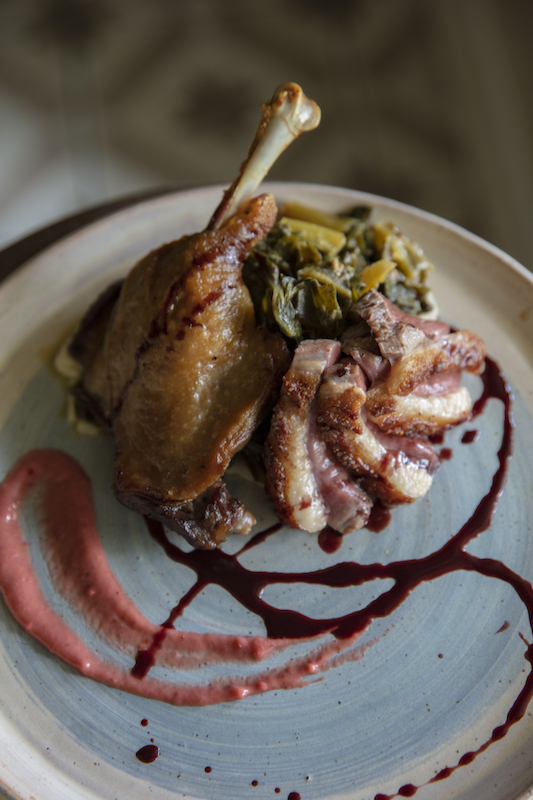 Saturday dinner
Chez Georges Bistro
George Casalicchio had the bright idea to open a classic French bistro on the island. Fair enough. What he didn't count on was having to during the heart of a global pandemic. But he did. Chez Georges opened summer 2020 to magnificent reviews from practically day one. On an island that relies largely on word-of-mouth advertising with locals, the word got out pretty quickly that Chez Georges was legit. Now, a year later, George and his staff remain a model of consistency in a beautiful atmosphere. The talent behind the bar is arguably the best on the island, and the wine list is large enough to satisfy as well. The food? Everything I've had there I've loved. In fact, the last time I was there, we ordered more than half the menu just to graze and sample. We did, and we ate it and liked it. You've got to start with Mussels Pistou. After that? Steak frites, seared duck breast, veal chop, you name it. Chez Georges is a great spot for dinner on the island.
Other options: OMBRA Cucina Italiana, Pomodori, Red Fish, or leave the island and drive up to Bluffton to FARM—one of the best restaurants in the region.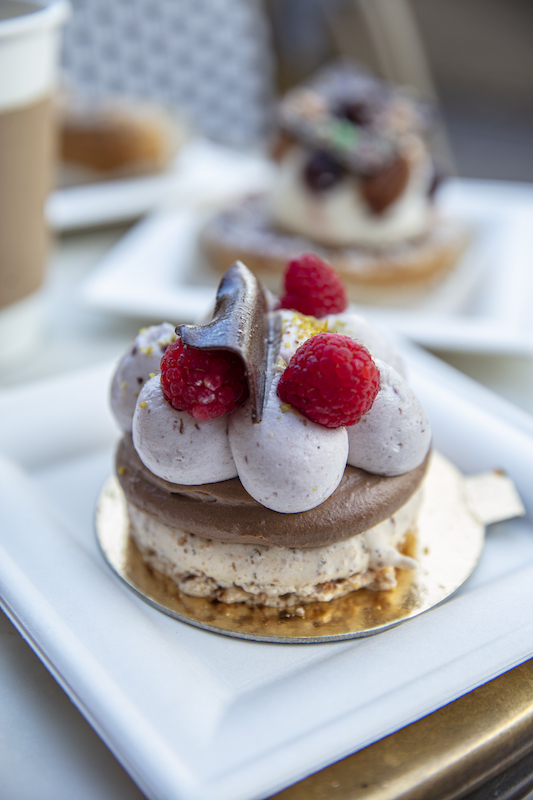 Sunday snack before you go
The possibilities are endless here. If you wanted to try another brunch, I might suggest Nectar. Right next door is one of my favorite burgers on the island at Marley's Shrimp and Burger Shack. You know, one of those smash burgers with all the gooey goodness running down your wrist? Yeah. That's Marley's, and I love them. If you wanted to go lighter and just want to snack on something before you make your way to the airport, then I have saved my best for last.
Hilton Head Social Bakery is maybe the best bakery in the state—certainly one of the best in the region. Owner Philippe Ferret is a once-upon-a-time New York City chef who decided to slow down a little bit and set up shop on the island. He's been a hit since day one. The pastry case will transport you directly to 6th arrondissement in Paris. Colorful, rich, and decadent, the desserts here are as stunning as are the fresh breads and, of course, coffee. A perfect pitstop before you go, and you can even take some of it with you.