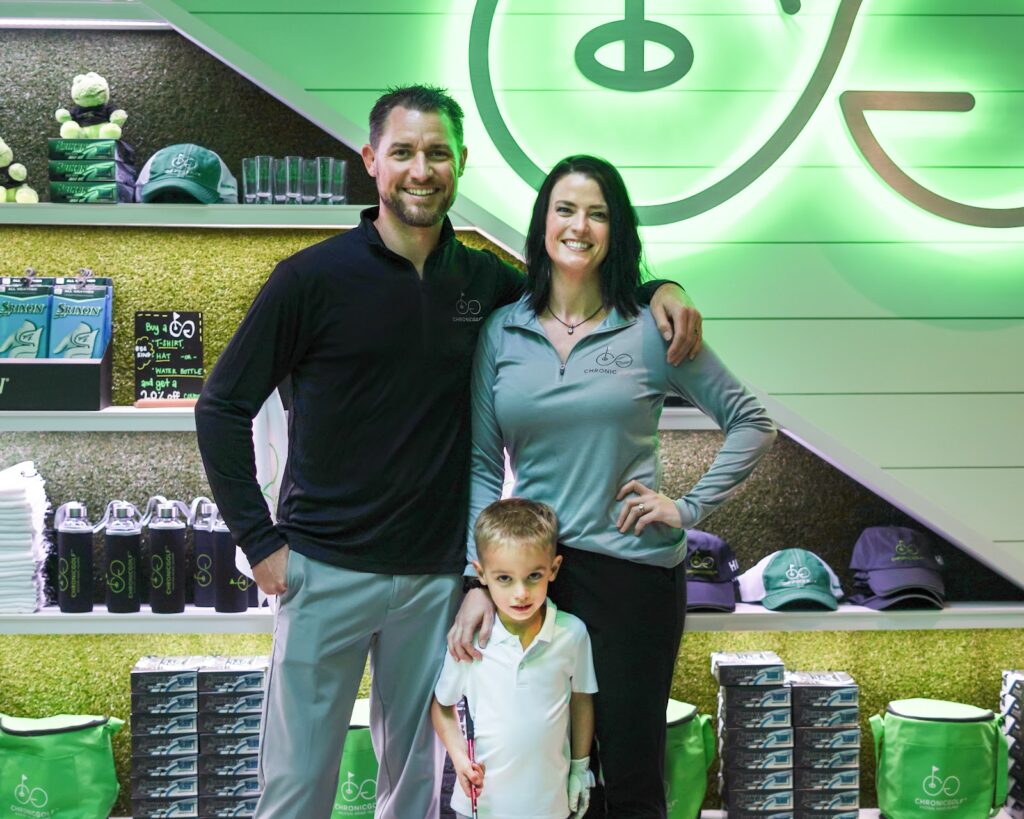 Chronic Golf
Jeff Smith & Ashley Pemberton
59A New Orleans Rd.
Hilton Head Island, SC 29928
(833) 987- GOLF (4653)
mychronicgolf.com
Open Since: August 2021
How did you get your idea or concept for the business?
During an out of town weekend getaway, we stumbled upon an indoor golf bar and quickly realized what a great addition one would be on Hilton Head Island. We also realized a lot could be improved within the indoor golf model—such as uninterrupted play time, extending the model to include all ages, and sports other than golf.
What service(s) or products do you offer?
We have five simulator bays, each offering 14 sports and over 120 virtual golf courses. We are partners of Srixon and Cleveland golf, who have provided their latest models available in three different flexes at every bay. In addition to US Kids Golf clubs for the blooming Chronic Golfers, we provide all other sports equipment. Each rental is per bay, not per person, seats six comfortably and includes a private TV. There is a full bar and plenty of food options! We are quickly becoming Hilton Head's most sought after special event space with the ability to accommodate up to 90 people with platter menu options. Other sports include baseball, soccer, football, hockey, rugby, bocce, carnival games, and the fan favorite—zombie dodgeball.
Why did you choose your current location?
We sought out this location a year prior for another business idea. As things evolved and our family and friends jumped on board, Chronic Golf was born, and we started this venture in the town we love and call home! Spoiler alert: This won't be the last CG you see … franchises coming 2022. Shhhh!
What is unique about your business?
By far, the best part of our business is providing all ages access to hands-on fun no matter the weather. Though we have all grown accustomed to being in front of a screen throughout each day, we especially love that you can be in front of our big screens while being active and having a blast! Our tablet-based self-order menu keeps you in the fun with minimal interruptions from our staff. And now, with gift cards, league night, trivia night, and various membership levels available, there is even more fun to be had!
What advice would you give to someone who is just starting out?
Buckle up and don't give up! Entrepreneurship is like riding a roller coaster. When you feel like you can't do it anymore, remember that there will be another moment to breathe just around the corner. Relish the positives—each one is a milestone that will give you what you need to keep pushing. Our constant positives were our son, family, friends, and community. There are always more people cheering for you than you realize.
Who is your clientele?
That is the best part of our business! EVERYONE! We have toddlers to elderly come in to play or just watch. It's an all-inclusive environment. We see our members working on their golf games alone and with their coaches, walk-in customers who just want to get a drink and some food, and all ages having parties here. Corporate events are becoming very popular as well. It's really a cool business model that enables us to see such diversity daily.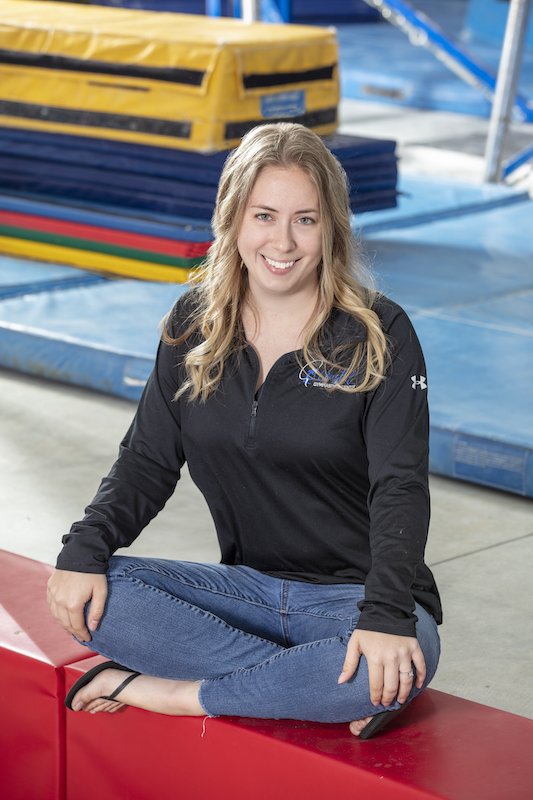 Carrie Conway
Coastal Gymnastics of Hilton Head
84D Beach City Rd.
(843) 686-3496
coastalgymnasticscenter.com
Open Since: 2021
How did you get your idea or concept for the business?
Our original location is in Bluffton, and when the opportunity arose to expand on the island, I took it.
What service(s) or product(s) do you offer?
We offer recreational and competitive gymnastics instruction, judo, birthday parties, and summer camp.
Why did you choose your current location?
We took over Southern Elite Gymnastics Academy.
What is unique about your business?
Between our two locations, we are able to offer a wide variety of classes, competitive teams, and special events. There is an opportunity for everyone to participate in the sport.
Rocky and Taylor Whitehead
EnviroClean Air
(843) 540-6973
EnviroCleanAir.com
Open Since: July of 2020
How did you get your idea or concept for the business?
The products are in hospitals, schools and long-term care facilities all over Europe. We wanted to bring this medical device to the U.S.
What service(s) or product(s) do you offer?
Indoor air decontamination units
Why did you choose your current location?
This is where we are located. The Lowcountry is home to us, and we saw a need for locals and tourists in our area.
What is unique about your business?
Our units are medical grade. They have been tested and proven to get rid of 99.999% of viruses (including COVID and flu), mold, pollen, hazardous air, odors, fumes, and more in one single air pass.
What advice would you give to someone just starting out?
To believe in and be passionate about your product.
Who is your clientele?
Our product is perfect for any home or business. We have focused on areas hit hard by COVID such as schools, restaurants, pharmacies, nursing homes, hospitals, long term care facilities, etc.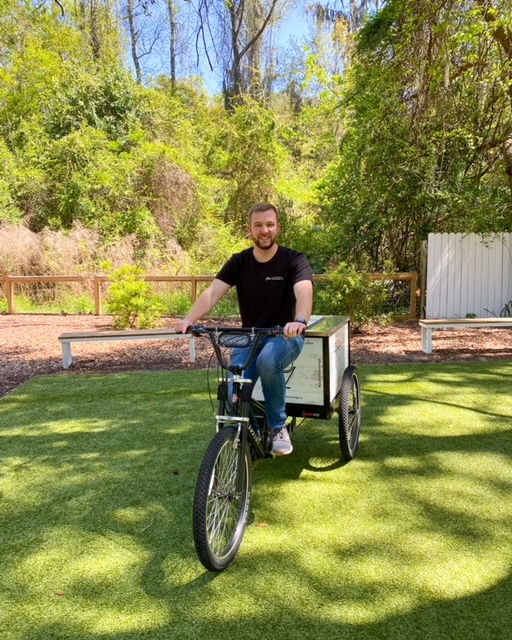 Joe O'Rourke
Joe's Ice Cream & Beverage Co.
15 Bruin Rd.
Bluffton, SC 29910
(843) 707-9514
joesicecreambeverage.com
Open Since: 2020
How did you get your idea or concept for the business?
Drunk in college while eating ice cream with friends, I said, "I bet you can put alcohol in this…Long story short, here we are with coffee too!
What service(s) or product(s) do you offer?
We offer a Lowcountry experience unlike any other. Kick back on our tree deck under our 100-plus-year-old live oaks and enjoy time with your loved ones and closest friends while sipping on one of your favorite organic coffee beverages or boozy shakes.
P.S. We have something big brewing for spring 2022!
Why did you choose your current location?
I grew up in a small town working with my dad in our family business. I wanted to get back to my roots. I launched the Joe's concept to honor them, even though I didn't know a thing about the food and beverage industry. Where we call home is special; the property was severely distressed in Bluffton's Historic District. We undertook a multi-year revitalization project and completed the vision of preserving the structure and surrounding landscape. Thank you to everyone who helped see the vision through—especially Ken Tosky of Kenneth Scott Builders for completing it!
What is unique about your business?
We are the original alcoholic ice cream company of the Lowcountry and probably beyond in a one-of-kind unique operation. (We are a kid- and dog-friendly operation with daily rotating traditional ice cream flavors as well.)
What advice would you give to someone just starting out?
Be original. You are what you eat!
Who is your clientele?
The people who drop by! Kind, genuine, and amazing people—locals and tourists alike. It's been fun. We have had great conversations and shared some laughs. Don't get me wrong, somehow we do get some "grumpies," but it's all good!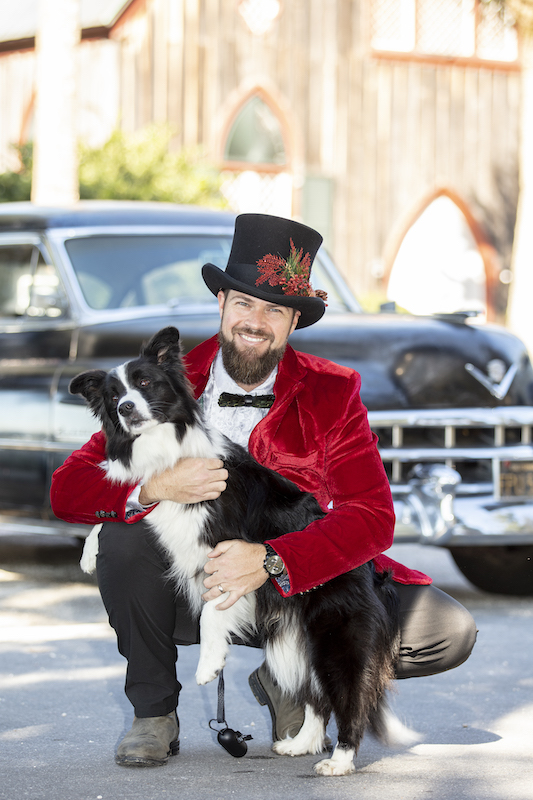 Matthew Tenwolde
Carolina Veterinary Critical Care
21 Buck Island Road
Bluffton, SC 29910
(843) 706-9200
carolinavcc.com
Open Since: January 1, 2021
How did you get your idea or concept for the business?
My wife is a lifelong Blufftonian. When we came to Bluffton to raise our family, I was astounded that the Lowcountry had such a lack of emergency care. Bringing more than a decade of emergency and surgical experience with me as we moved to Bluffton, I realized my background provided a perfect opportunity to serve my community and bring the Bluffton and Hilton Head areas the after-hours emergency veterinary care it so desperately needed.
What service(s) or product(s) do you offer?
Carolina Veterinary Critical Care provides urgent and emergency veterinary services after hours and on weekends when their primary vet may not be available. Our services include urgent care, inpatient hospitalization, and surgical treatment of nearly any veterinary emergency (big or small). If you're worried about your pet, we are too.
Why did you choose your current location?
We wanted to be in the middle of the Hilton Head Island and quickly expanding Bluffton communities. Every extra mile you have to drive during an emergency can feel like forever and sometimes can mean the difference between life or death.
What is unique about your business?
We are the first and only emergency and after-hours veterinary hospital in Bluffton. While many other local veterinarians offer emergency services, we provide treatment and hospitalization all throughout the nights, weekends and holidays when most clinics close their doors and turn off the lights.
What advice would you give to someone just starting out?
Surround yourself with the right people; our staff is our biggest asset. Our amazing doctors, technicians and receptionists are dedicated, compassionate and skilled. We are blessed to have such an amazing team.
Who is your clientele?
All of the Lowcountry's fur babies, grand dogs and kitty companions. If you're within driving distance, we want to help you and your pet!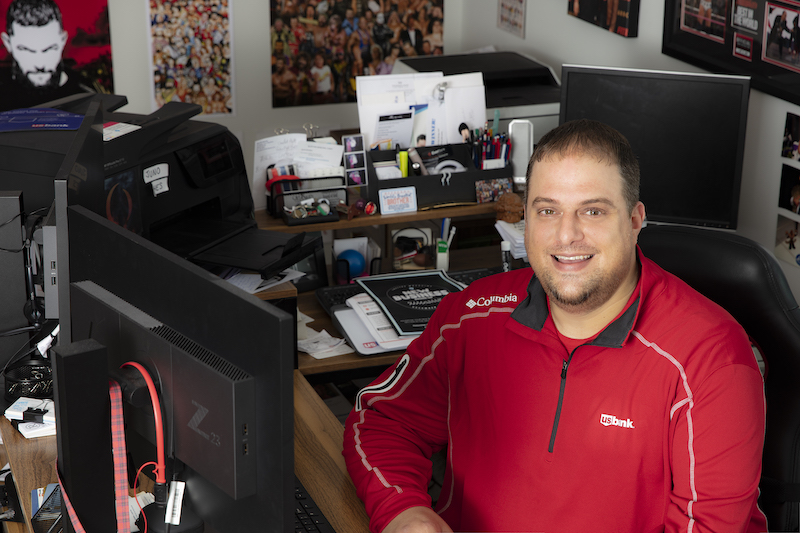 Nick De Simone
U.S. Bank Home Mortgage
(201) 745-3846
mortgage.usbank.com/nickdesimone
Open Since: 2006 (2021 here in Bluffton)
How did you get your idea or concept for the business?
I fell into the mortgage industry 15 years ago, working part-time marketing for a friend, and ended up between jobs. So, I decided to give it a shot as a career.
What services or products do you offer?
I offer residential mortgage for one- to four-family homes and condominiums for primary, second (vacation) homes, or investment.
Why did you choose your current location?
My family and I (and eventually my wife Jocelyn) had been vacationing on Hilton Head Island for years and loved the area (and restaurants!) so much that we decided to make it our permanent home.
What is unique about your business?
We help our customers achieve their dream of owning a home and provide real estate agents with a trusted local advisor they can refer their clients to that will provide advice and great customer service to make what can be a stressful process much easier and more efficient.
What advice would you give to someone who is just starting out?
Find your niche, be responsive to phone calls and emails, and most important, be yourself—even if you are a 12-year-old degenerate wrestling fan trapped in a 42-year-old loan officer's body!
Who is your clientele?
Anyone looking to purchase a home or refinance their mortgage; real estate agents, attorneys, and financial advisors who want a reliable referral partner for mortgage loans; or anyone who wants to discuss why Shawn Michaels versus The Undertaker is the greatest WrestleMania match of all. Hit me up on Instagram @locountrylife and check out my food page @eatHHI!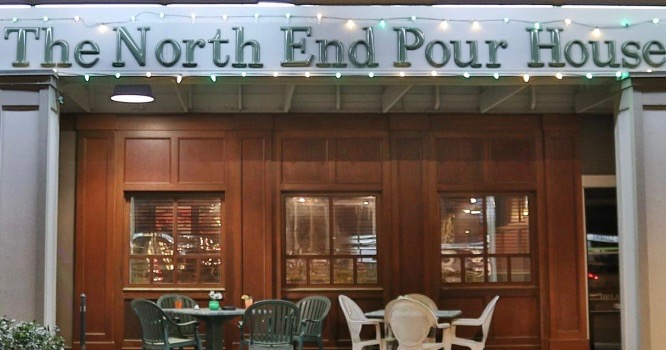 Chip Dolfi
The North End Pour House
Thenorthendpourhouse.com
Open Since: March 15, 2021 for us
How did you get your idea or concept for the business?
I was looking for an opportunity on the island, and this was the best one—a great place run by a terrific family. Our goal is to take the opportunity afforded us—not to change what was working but make our own mark.
What product(s) or service(s) do you offer?
We're a full-service restaurant and bar. Great daily specials, 10 TVs for college games, and with the NFL package, we have all the NFL games every week.
Why did you choose your current location?
The restaurant has been located at the same address for more than 20 years.
What is unique about your business?
We're a locals restaurant with a great vibe—live music three days a week, daily destination specials. Every Tuesday, we will be partnering with a local charity. They will receive 20 percent of all the revenue from the dining room that night. We held our first one with Fresh Start. Additionally, we have live music and dancing every Wednesday night with Ross2 and every Thursday night with The Bobby Ryder Quartet. We have terrific dinner special tied to each evening.
What advice would you give to someone just starting out?
Know your market. Know your audience. Surround yourself with good people. Trust your instincts. Keep true to yourself, your goals, and your values.
Who is your clientele?
We're a locals bar that makes visitors to the island feel welcome.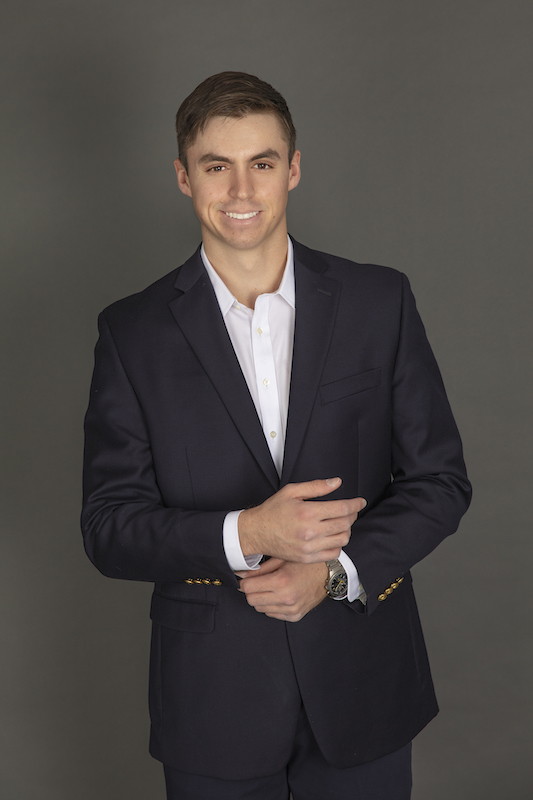 Tyler Dykes
Technology King of the Lowcountry
LowcountryTechnologyKing.com
(843) 481-2228
Cornell dropout turned Marine Corps veteran and now entrepreneur, Tyler Dykes, founder of Technology King of the Lowcountry, turned his vision of merging excellence and computing into the Lowcountry's best source for timely, quality technology and computing solutions. From reassembling '98 desktop computers when he was six years old to coordinating airstrikes and directing air warfare on the most up-to-date and modern systems the Marine Corps has to offer, Tyler has always demanded the best—both of himself and the people he works with. His vision of delivering excellence and his heart for service has led him to create this new company here in the Lowcountry.
After finishing his active-duty Marine Corps service, Tyler moved to Bluffton/Hilton Head Island from North Carolina, following his parents as they retired here. He initially worked at Target Tech and noticed how, instead of scanning purchases, he spent most of his time helping people with their smartphones and other devices. He became the go-to employee whenever a customer had a technology problem. Having learned that he enjoyed helping people and making a difference, he quickly left to pursue his dreams and goals.
Tyler believes that nothing comes for free—you have to work for it. He also believes that a company should benefit everyone it touches: customers, employees, and other companies that provide supplies, services, equipment, and a place to work. He resolved to form a company that would not only help his customers but also contribute positively to our community. He provides employees competitive compensation so they can live in our community and raise families, which he believes is the only way to end the current workforce shortage. Higher wages, in turn, assure that you will receive excellent service from highly qualified technicians—a "one-and-done" approach to getting you back up and running. Caring for others, delivering excellence to customers every day, being dependable, and being available whenever needed drives his entire business model.
Beyond serving our community through his business, Tyler helps others learn how to create their own solutions. He truly embodies the "teach a man to fish" mentality, as while he works, he also teaches and trains clients, friends, and families how they can better understand the computing technology they are working with. In addition to doing private consultations and working with clients, Tyler plans to host free classes for the public to help teach and educate the community. Above all, Tyler believes in excellence and achievement for all.
To learn more, visit LowcountryTechnologyKing.com or contact Tyler at his personal number (843) 481-2228.