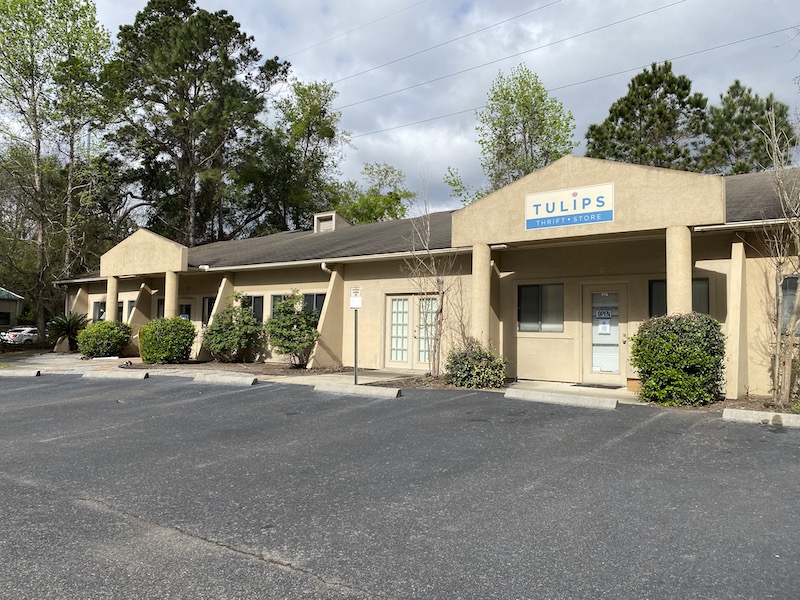 As you page through listings or directories of local thrift, consignment, and secondhand shops, like the southeast region's "Treasure Guide," you'll find exactly that: a guide to treasures tucked in our favorite browsable nooks and crannies sprinkled clear from Wilmington to Jacksonville. On one of those pages, you find a little bit more. It's a touching story of two friends, Patricia Lopez and Lorena Hernández, who came together not just to help your loved items find a second chance in a new home, but to help hurting women find the same second chance and more—a second chance at life.
"We started this dream a year ago," Lopez said. "The only motive of this store is to be able to obtain a house for abused women. It hasn't been easy, but to be able to see and receive how the community has responded to this dream … we are thankful. We appreciate the support from our customers!"
The most common questions they get at Tulips is the same song at any thrift or consignment: Where can donations be dropped off? (At the shop's front door, off Sheridan Park Circle.) Do you pick up? (It depends; contact the shop for more info.) What kind of donations do you take? (A variety of clothing and household goods including but not limited to furniture, jewelry, art, luggage, and children's items.) But as word spreads about the mission behind the shop, their second most common question is to tell their story of purpose.
Lopez explained that she and co-founder Hernandez are dedicated members of Fe y Gloria Church located in Hardeeville where Lopez is also the pastor. They came together with the hope of establishing a safe-home—a battered women's shelter for women and children escaping abuse and seeking a fresh start and an opportunity to heal from the inside out. "The dream came true for both of us when this store began, and hopefully it continues when we have the home for abused women. We want to see women not only have a place to live but to be restored and healed internally with God's help," she said.
This project has three phases, starting with the launch and success of the store and now working toward establishing the affiliated home for women, and finally becoming an active, occupied home with a history of restored hearts and changed lives. "We have finally finished the first phase," Lopez said, "and we are ready for the second. We are asking help from the community to be a part of this project, either lending, donating, or renting a low-cost home."
It's not just the big-picture participation that makes a difference; the day-to-day patronage is what's building the dream, brick-by-brick, through shoppers and donations. "We love our customers because they support our mission too!" Lopez said, telling the story of repeat-customers, some of whom donate specifically because of how the shop is handled. Lopez mentioned one customer who came back and donated her wedding dress "because she felt our place will handle it with care as it deserves." At every turn she emphasizes how thankful they are to those who have donated.
Those who love to thrift, LOVE to thrift. At Tulips, you can fulfill two passions: the hunt for that elusive treasure to bring home with you today, and the heart-filling hope that your purchase or donation builds for each woman who is helped. Of the two takeaways, it's easy to measure which is the greater treasure. 
Tulips Thrift Store is located at 57 Sheridan Park Cir. in Bluffton. For more information, visit their Facebook and Instagram pages @tulipthriftstore or call (843) 227-3326