Article by Courtney Hampson
I owe the absence of panic to The Wealth Edit, a woman-only community, where talking about money is encouraged. I joined the community last spring just as it was launching. I was paired with a small cohort of other like-minded women on a similar path as me. Like clockwork, we hopped on a Zoom call once a week for a "Financial Minimalism" course and to air our dirty checkbooks. Wealth Edit founder, Lauren Pearson, calls it "an ecosystem where we could easily connect." And we did. We talked about our childhoods and how our parents managed money. We discussed budgeting and where we over-spend and how and if we should save for a rainy day. We lamented about buying a $150 beach bag when we already have three beach bags in the closet (guilty). And we discussed our goals, short- and long-term.
There is something about having to tell eight other people what you spent money on that really gets you thinking. Saying, "Well, I bought it because I can…" really puts things into perspective. What I learned quickly was that while I was saving money, I was also wasting money, and I didn't have a plan. Three months later, I had a financial planner and a pile of homework to complete.
But let's rewind and ask the obvious question: why are women so uncomfortable talking about money? Pearson says it is because "the financial system is one built by men, for men." However, women make most purchase decisions for their household and family, so not only should they be a part of the conversation, they can and should lead the conversation.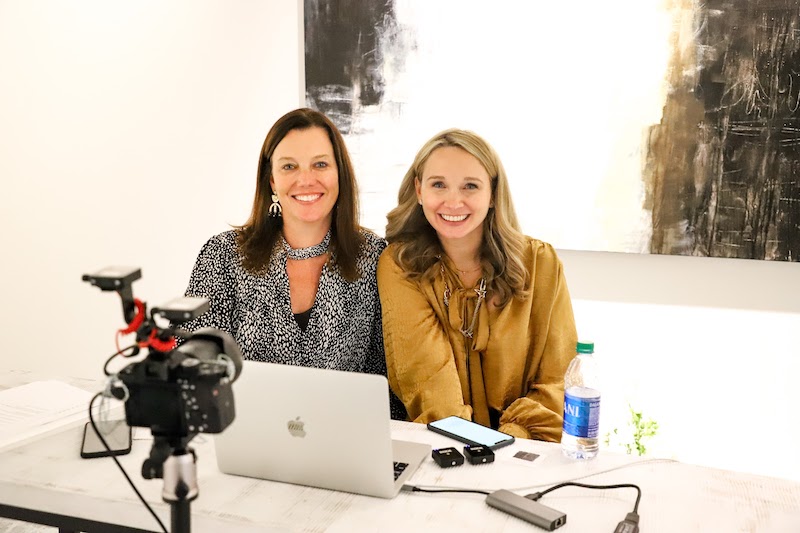 After a 10-year career at Merrill Lynch, Pearson launched Somerset Advisory Group, and slowly the idea of The Wealth Edit began to form in her head. She was struck by the fact that women were so often and so nonchalantly saying, "I don't know anything about money." "If you weren't familiar with a restaurant, you wouldn't say, 'I don't know anything about food.' The reality is, women know plenty about money, but we were taught not to talk about it," Pearson said.
So, she went on a year-long journey studying women and wealth. She conducted more than 500 in-person and roundtable interviews and found that, for the most part, women found it "tacky" to talk about money (because that is "what their mamas taught them"). Furthermore, they weren't confident having the conversation.
From this, The Wealth Edit was born to provide a financial education for women, build a skill set and create a space where women could learn from one another. Ultimately, the goal was to get women "unstuck," Pearson said. "When you join The Wealth Edit, you are instantly connected with women who are on a similar path. We are women. We have studied women and the issues they care about when thinking about their lifestyles."
When you join, the first step is to take The Wealth Edit's quiz to determine your "glidepath" or distinct trajectory, of which they have identified six. Each glidepath contains customized content focused on you—who you are and where you are in your financial journey.
My glidepath is a "PRIM": a pivoting, resilient, investigating, motivating woman. In the Wealth Edit world, PRIMs have many layers. PRIMs have been through it all and have come out stronger and more beautiful. People respect PRIMs from nearly the moment they meet them, and when PRIM talks, people listen. A PRIM is loved for her spirit and her quiet drive.
In the past year since joining the Wealth Edit, I engaged a financial planner, began my estate planning, paid off my debt (including my graduate school student loan that embarrassingly celebrated its twentieth anniversary this year), and saved half of my salary. So, when I got the news that my job was a goner, I was okay.
Finding a financial planner is a little bit like dating. The pool of good prospects is shallow and you're going to have some bad conversations before you click. Pearson said, "Look for the certified financial planner who is going to serve as your fiduciary." While I nodded along and pretended to know what that meant, Pearson continued, "Think of it like a butcher and a nutritionist. The butcher is going to sell you their best meat. A nutritionist is going to give you the advice that is best for your health and say, 'Here is the best meat, but why don't you add some vegetables to that.'" Bottom line, your fiduciary should be steering you toward the veggies and a well-thought out and balanced plan.
Today, the Wealth Edit boasts more than 200 members, and what began as a handful of small cohorts and conversations is a growing group of unstoppable women. In addition to the online content and community, meet-ups are taking place in cities across the South, and the Wealth Edit podcast (featuring conversations with female founders and businesswomen) is 54 episodes deep. (Check out episode three, where the Wealth Edit co-founder, Emily Lassiter talks about becoming a young widow and how that shaped her finances and her future.)
Pearson urges all women to commit to one year with the Wealth Edit. I concur. The Wealth Edit changed my life. I have a plan and I am okay.
Learn more at wealthedit.com.