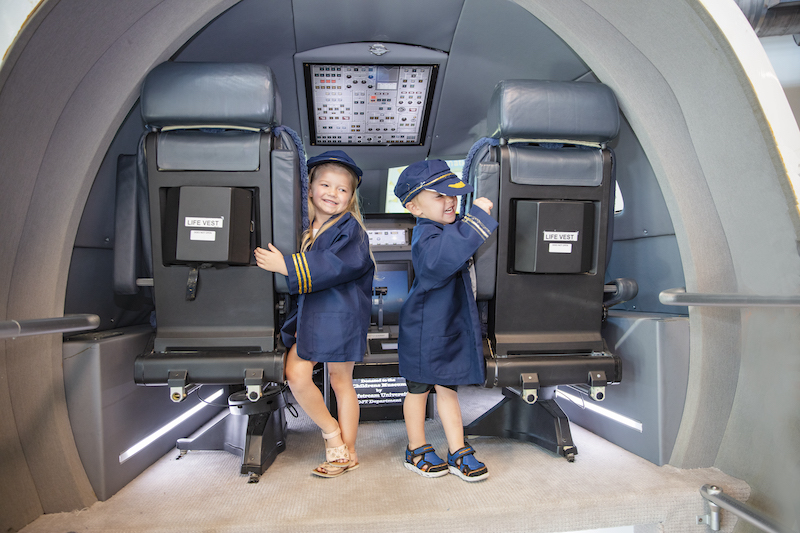 The Sandbox opened a second location at Tanger 2 in Bluffton in 2019, and in July of 2021, they moved their island location from St. Andrew by the Sea Methodist Church to the new Lowcountry Celebration Park.
"With the support of, donors, sponsors, and volunteers, The Sandbox shines as a premiere family destination, and we couldn't be more excited about our new location," said Nancy Fowler Fish, executive director.
The new space encourages children to play freely and discover their surroundings while positively impacting them through age-appropriate activities and memorable moments that inspire both the children and their families. The child-friendly environment is as safe as it is fun. The new building at Lowcountry Celebration Park has both indoor exhibit space and outdoor exhibit space as well as two separate programing rooms. It was completed through support from board leadership, the community, the Town of Hilton Head Island, Community Foundation of the Lowcountry, VanLandingham Rotary Club, and many others. As a nonprofit, the children's museum relies on community support to keep its doors open so they can provide quality programming and staffing for everyone who visits and is an important and critical community resource.
When the pandemic happened and schools closed, the Sandbox offered a vital service to community children by creating a pod learning program for Beaufort County students, giving support for virtual learning to both students and parents. As a children's museum, the Sandbox was uniquely positioned to enrich what the students were learning and their Zoom lessons with interactive learning experiences. The participants were from extremely diverse backgrounds, and many were on scholarships provided by other community organizations. It was a great experience, and they became a family. Out of this program, the museum started a scholarship program for these children to attend their summer camp.
"Play is more important than ever now, due to the pandemic," Fowler Fish said. "We offer children an opportunity to connect with adults and other children while learning through hands-on interactive exhibits and play. We are still adding exhibits to the new space, so every time you come in, there is something new, and we are constantly introducing new art and Maker's Space projects."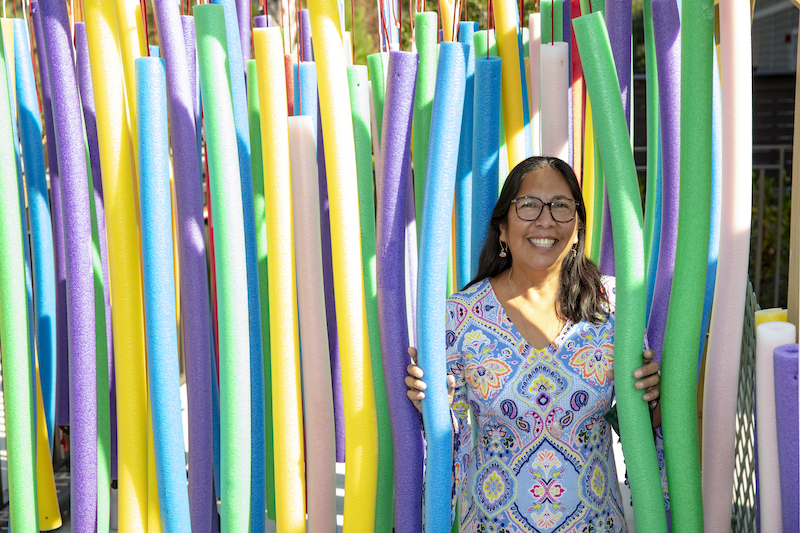 A variety of free programming is available at both Sandbox locations including the weekly DIG: Discover, Imagine, Grow Kindergarten readiness program, for ages 3-5 that correlates with S.C. Early Learning Standards. DIG is available at both locations during the school year. Free Family Fun Night is scheduled once a month during the school year with support from The Bargain Box and allows families to experience the museum at no charge.
"Family Fun Night is a popular event," Fowler Fish said. "Plus, we always try to partner with other community organizations for this event. We recently had a vaccine clinic and had the Lion's Club offering free vision screenings. We have had the Sea Turtle Patrol, a Big Truck Night, and Pirate Night as some of our themes. Everyone also loves the Second Sunday Author Series (at the Hilton Head Island location) because local children's authors come over and read their books to the children."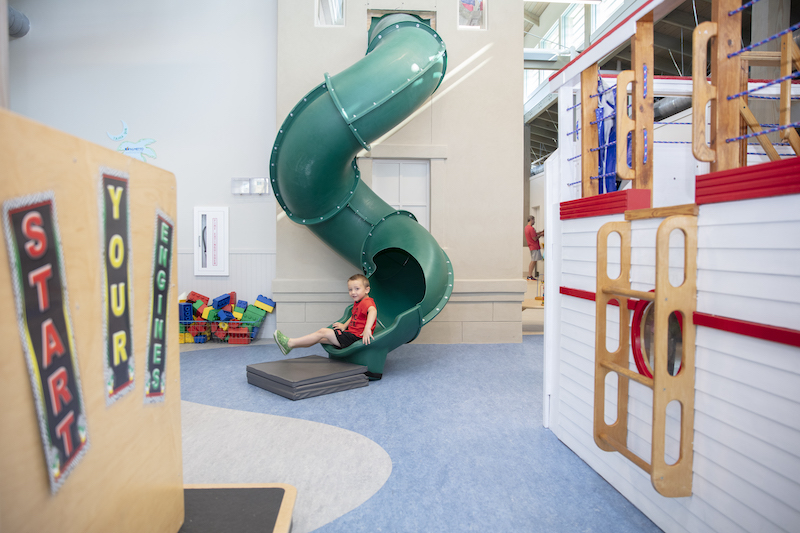 Some of the favorite programs include STEAM TIME, a science program for ages 5-12, where physics, chemistry or biology are made fun; Bilingual Story Time (only at the Bluffton location); a Toddler's Program for parents and children (ages 1-3) where each week there is a different activity centered around math, art, or gross motor development; and Imagination Hour, a story followed by a craft that goes with the story.
The Sandbox also serves as resource for other community organizations such as the Lowcountry Autism Foundation that meets at the Tanger location monthly for a Parents' Night Out; they provide free field trips for Camp Leo and Pockets Full of Sunshine, and admission is always free for Hilton Head Heroes families. They also offer reduced admission for anyone who is on SNAP.
Executive director Nancy Fowler Fish has lived on Hilton Head Island since she was nine years old and has overseen operations and programming at the Sandbox for three and a half years. With more than 30 years' experience in educational administration (specializing in early childhood education), her expertise has proven invaluable to the growth of the children's museum. She volunteers on the council of The Women's Association of Hilton Head Island (WAHHI); she is on the alumni board of Hilton Head Prep; she serves on the Association of Children's Museum Conference Committee; and she is chairperson of the Childcare Committee of the Heritage Classic Golf Tournament. She conducts alumni interviews for her college alma mater, Dartmouth; she holds a master's degree in education from Lesley University and has completed her Montessori training.
"Children are my inspiration," Fowler Fish said, "particularly when I see the light in their eyes as they realize something new or witness the joy of them simply having fun playing and learning."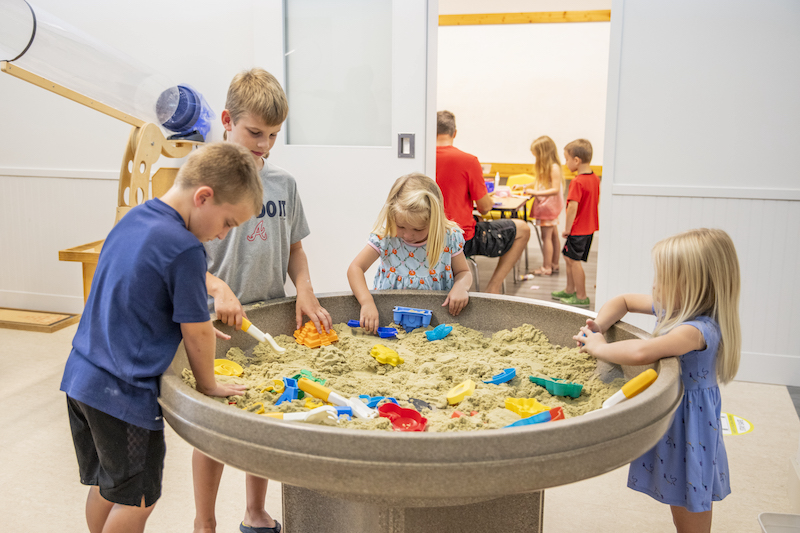 The staff at the Sandbox includes Tanger manager Eric Nelson, whose specialty is science, and who came to Bluffton from the Boston Museum of Science. Additional staff members are professionals with specializations in early childhood education, art, and technology, including retired teachers and retired pediatric nurses.
The pandemic created a challenge for the Sandbox to change how they do hands-on interactive learning. The museum is currently open for three-hour play sessions, with a strict cleaning protocol between and after sessions. Masks are encouraged and staff members are responsive to all concerns regarding cleanliness. As well, the museum utilizes touchless ticketing and reservations and currently operates at a reduced capacity.
Visit the Sandbox where you'll find that a mess is simply evidence of creativity, where new friends are just around the corner and where exploring new things doesn't feel quite so scary.
For more information, visit thesandbox.org.